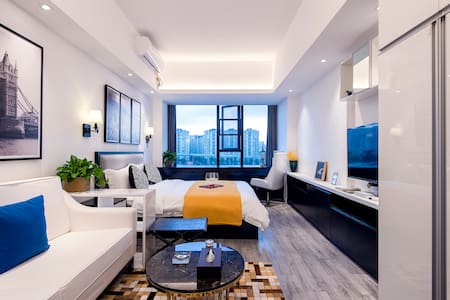 SUPERHOST
Entire apartment · 2 guests · 1 bed · 1 bathroom
米诺|高空观景公寓 已消毒可入住/近地铁/春熙路/熊猫基地/建设路小吃街/免费行李寄存
Understand before ordering (Internet Red High-altitude Garden and Library, 1.8-meter double bed, 24-hour butler service, refrigerator kitchen, also equipped with high-end washing and washing machine) ▶ Convenient transportation: It is located in the North Second Ring Road of Chengdu, only 600 meters from Lijiabang Station of Metro Line 3. It can easily reach Chunxi Road, Taikoo Li, Kuanzhai Alley and other attractions. ▶ Facilities and equipment: --Elevator, air-conditioning, quiet environment --Provide disposable dental appliances, shower gel, shampoo, hair dryer, disinfected towels, bath towels and 24-hour hot water bath; -Washing and washing machine, refrigerator, TV, kettle, 24-hour free Wi-Fi ▶ Must-eat apartment The apartment downstairs has a variety of specialty Chengdu snacks such as a movie theater and a variety of international cuisines, big dragon hot pot, Pakistani Buyi Chinese restaurant, etc. In addition, the apartment is very close to Jianshe Lane snack street. Go check in
What guests are saying:
"The surrounding facilities are complete, travel is very convenient, the room you stayed in is cleaned very well, the epidemic prevention work is done well, the toiletries are enough, and you can sleep peacefully and comfortably at night, very good, comfortable and at ease!"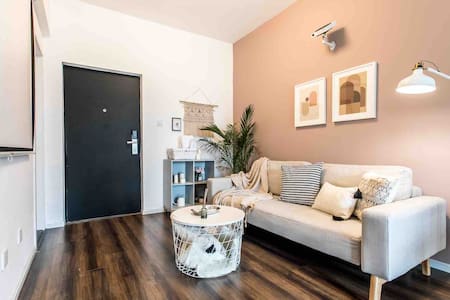 SUPERHOST
Entire flat · 3 guests · 2 beds · 1.5 bathrooms
【小坐|浆果】新房特惠!!步行至春熙路太古里商圈/100寸私人影院/地铁1号线旁/宽窄巷子/北欧套房
Little B&B | Take A Break This is the source of our fifth suite. Whether it's entertainment or life, it's perfect for you. It's located next to Chunxi Road, the new Nordic-style furniture appliances, and the private cinema built by the projector, so you can enjoy the cinematic effect and cleanliness. Beauty and connotation combine to give you the most comfortable journey. The residential area is located in the bustling business district of Chunxi Road in the city center, but the house is located on the upper level and is not very quiet on the street. You don't have to worry about the quality of your sleep. If you like the bustling area and don't want to endure the noisy, then this suite source is perfect for you. If you want to book a date that has already been booked, you can click on my avatar and have other equally fine listings to choose from. [Location] The city center is 700 meters away from Chengdu's famous Tianfu Square, Chunxi Road shopping district, Jinjiang Hotel Metro Line 1, and Airport Bus Terminal. It is 800 meters away from Taikooli and IFS Financial Center. The traffic is extremely convenient. [Room type] 50 square meters of luxury standard, one room, one kitchen, one kitchen and one bathroom. [Environmental Support] The 1-4 floors of the residential area are large shopping malls. There are 24-hour convenience stores, Xiaolongkan Hot Pot, Starbucks, KFC, a little bit, Wanda Cinema, high-end shopping malls and ATMs.
What guests are saying:
"Downstairs is a shopping mall and seafood market. Generally speaking, it is very convenient to travel. The location is also very convenient for the attractions I go to. Because I went with a friend of the opposite sex, I temporarily asked the host to help me set up a sofa bed so that I could watch movies together and sleep comfortably"
The travel of the boat and the warm home after the long flight, the warm and quiet sleeping environment makes people get the biggest rest from the scalp to the toes. There is also a day when you don't want to go out, and the lazy lover is soft and comfortable. On the sofa, the giant screen home theater slowly puts the movie, then walks to experience the local restaurant and sit in the cafe.
What guests are saying:
"I stayed with my girlfriend for 6 nights. The accommodation was clean, comfortable, and most importantly quiet! It has the quality of a hotel and the quaintness of a cosy home. The large sized mirror was fantastic, I couldn't stop looking at myself in it 😛"