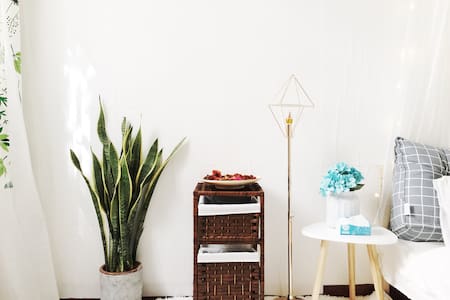 SUPERHOST
Entire guest suite · 2 guests · 1 bed · 1 bathroom
大敏3号【无额外清洁费 请爱护卫生】----珠江边 近沙面 上下九 北京路一室一厅
1. 投影,沏茶,煲剧,撸喵,听对楼邻居戏剧轻声唱 2.老西关楼改造,闹中取静,带你感受最地道老广生活 3.毗邻珠江,步行3-5分钟,珠江夜游就在家门口 4.【地铁】地处交通枢纽中心, 2号线市二宫地铁站,9分钟地铁到广州火车站,26分钟到东站,25分钟到广州南站, 35分钟地铁到长隆乐园,45分钟到机场南 pls note!!! : 距离2号线市二宫地铁站1.1km左右,地铁D口旁就是一点点, E口是银记肠粉,我平常步行12分钟左右,不熟悉路的可能需要更久点 10~20分钟看个人哦,地铁到家沿途都是老广特色小吃 ,芬芳甜品,品味碗仔翅, 熊记鸡粥,森记小食,银记肠粉, 食盈碗仔翅, 5.安全文明小区,全是电子眼,旁边就是海珠区警察总局,和小区的视频监控中心绝对安全
What guests are saying:
"The bedroom with a large projector is also very comfortable, a little smaller than I thought. It is colder and has heating! Overall, the rooms are very comfortable. The homestay is really good and the price / performance ratio is very high! The most important thing is that Da Min's attitude is so good ~ Many of my questions are answered with super patience ~ Also helped me check in early. Any problems will be solved quickly! Very intimate to ask if we have anything to improve! Finally, I wish my boyfriend a happy birthday ha ha ha ha ha ha! !!"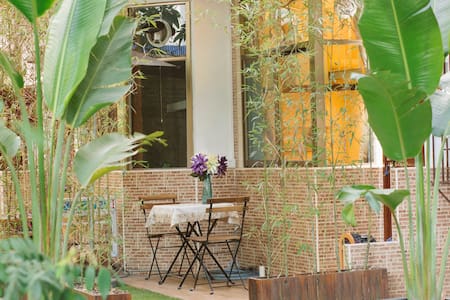 SUPERHOST
Entire apartment · 2 guests · 1 bed · 1 bathroom
Boutique Apartment | 廣州市中心 | 江南西地鐵站 | Loft公寓整租
公寓簡潔舒適,擁有一房間一衛浴。位於江南西一小區內的一樓,無需上樓梯。 公寓是由80年代的建築改造的,不僅室內重新設計了,室外的花園也重新打造而且佈置了不少佛系生活必須的竹樹。曾有西藏的高僧在公寓小住數月,絕對是繁華城市的一片淨土。 公寓位於江南西地鐵站附近,只需步行5分鐘即可到達,周邊配套完善,吃喝玩樂齊全,更是廣州其中一片網紅店聚集區。交通方便,地鐵10分鐘到達越秀區/20分鐘到達琶洲/25分鐘到達天河區。 请注意:洗衣机和烘干机在公寓门外的木屋内,如需使用请告知
What guests are saying:
"The boss is invincible and has not finished his trip, thinking about giving him a thumbs up! Although the picture is a bit big but the house is very comfortable and very clean. Our luggage has no place to deposit on the day of checkout. The boss is very happy to let me stay in the house. Because it is the boss's own house, I will store the baggage. He will come to me. It's really awkward for the boss to go back and forth. I really feel that the boss is too good. It's because we're not very patient after checking out. It's a very interesting process and it's a very interesting process. Hahaha"
Nomad's是由广州传统建筑-骑楼改造而成的公寓,让您更加深入体验广州本地生活特色 步行7和分钟即可到达广州最繁华的商业美食步行街--北京路。5分钟步行距离到达地铁站。 --更优质的睡眠体验-- 我们关心您的睡眠质量,特别配备1.80米的de Rucci护脊床垫,让您的脊椎"0"压力,放下旅行中的所有疲惫 ***房子位于三楼, 房东们已经尽全力为大家打造一个方便上下的楼梯,但由于骑楼老房的结构独特,也为了让大家更好的体验老广州特色,公寓里的楼梯比较陡和窄,介意的客人请先于房东Chloe沟通喔!
What guests are saying:
"# 广州 民宿 # This time I lived in Guangzhou, a traditional feature of Guangzhou—the converted bed and breakfast Nomad's, close to Beijing Road Pedestrian Street ... convenient transportation and gourmet gathering place !! The host and assistant were very kind and friendly ~ Changed on Christmas Eve on the 24th I found that the TV could not be watched in the second suite ... LeTV super member must be contacted remotely. After contacting the landlord (嘞 Australia in Australia), the barbecue beer was settled. [[笑] [坏笑] [坏笑] The room was clean and tidy Although the appearance of the gate is not good (I have walked for the first time ... [wiping sweat]), there should be no holes in it ~ And the sanitary toiletries are also available, it can't be more intimate ~ It's just that the stairs are a bit narrow and not easy to walk ... but worth it ~ !! The first set has a large rooftop ~ but my personal favorite is the second one ... hehehehe ..."