The room is located on the top of Gangding subway station, close to the BRT bus line and convenient transportation, adjacent to South China Normal University and Taikoo Hui of Jinan University. Many mature business districts in the surrounding area can be reached within 10 minutes on foot. The sofa area inside the room was changed to a tatami cushion, adding two lazy sofas and a woven swing are very comfortable. Equipped with a 300-inch nut projector, it is very convenient whether it is a mobile phone screen or online viewing. The bedroom area uses a full set of IKEA products, and the mattress is comfortably equipped with a 60-piece cotton four-piece suit.
What guests are saying:
"The corner of the room is a little different from the imagination. It is a small table. If you want to see the projection, you can't lie on the bed. You are sitting on the bean bag on the small table, but it feels like this is not bedding. I often wash it, so it is not convenient to see the projection after taking a bath. The second is that the room lights are too dim. I think a brighter light is also needed. Then Miss Landlord's sister is very good, very good communication, there are no other problems, and the cost performance is relatively high. It is better to suggest that small problems can be improved."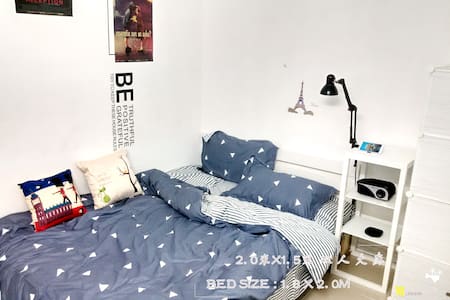 SUPERHOST
Private room · 2 guests · 1 bed · 2 shared bathrooms
Movie room 10 MINS to Metro,fully equipped
Welcome to M.room! lt is a spare room in my warm apartment, With Movie Screen size:1.86m*1.05m. With convenient transports including subway and bus station. if you want any movie,I could do my best to prepare for you.
What guests are saying:
"The host is very nice, and responded quickly with questions, very enthusiastic! The room is clean and tidy, the screen movies can be used normally, and watching movies is very comfortable. Moreover, there are a lot of food and various facilities around the downstairs. It is also very close to the Feixiang Park subway station. It is very convenient to travel and the location is good. Highly recommended"
Be sure to read the following, otherwise at your own risk: 1 Bath towels and towels were not provided! 2 There is an entrance guard downstairs, and guests who can check-in after ten o'clock in the evening cannot make reservations. After check-in, you can get in and out freely after you get the access card, and you are not afraid of returning late. 3 Check out on time before 12 o'clock 4 Only one bed is needed to choose 1 to 2 guests; Need to provide a large bed➕ a single bed, please choose 3 guests; Need to provide a large bed➕ two single beds, please choose 4 guests. An extra bed will be charged extra. If you think the price is high, don't order it and don't bargain. No extra bed offline 5 single rooms, complete sets for rent! Complete rental! All our listings are full rentals! No need to share space with others, no sharing! 38 square meters, independent bathroom, no kitchen. There is a projector and the air-conditioning can be used for heating 6 One passenger, one change, no cleaning during stay 7 It is strictly forbidden to stick balloons and other stickers on the wall and everywhere in the room! We also have many beautiful small houses. Click our avatar to view other listings~ The detailed address of the small room: Bainaohui Science and Technology Building, downstairs is the subway Take the subway to: Baiyun International Airport 43 minutes 40 minutes from Guangzhou South Railway Station 12 minutes from Guangzhou East Railway Station 10 minutes from Xiaoman waist Beijing Road, Shangxiajiu, Changlong, Canton Fair 28 minutes Olympic Games 25 minutes Shahe Wanjia Clothing 25 minutes Walk to: Jinan University 10 minutes Date Dude 3 minutes 13 minutes to TaiKoo Hui, One Link, Grandview, Tianhuan
What guests are saying:
"The location is really good, nearby are all Guangzhou food, movie theaters, milk tea shops, and business districts. The check-in process is very convenient and it is also very convenient to walk out of the subway and take a taxi. The rooms are warmly furnished, clean and hygienic, with projection, bears, and Japanese-style feel. The host was very enthusiastic and communicated in a timely manner. I will book this next time I come to Guangzhou."