小屋地址:黄山市屯溪区屯光转盘天一国际momo house 机场~ 由于黄山机场正在扩建,大巴不完善,可以滴滴打车或者出租车,约30元,半小时可以到达。公交车18路转15路,约10.7公里。 高铁~黄山北站 乘坐高铁专线到屯光转盘下即可,5元大约40分钟。 火车~黄山站(3个方式) 1,步行10分钟。 2,公交12路到屯光转盘下。 3,公交9路到检察院下。 汽车站~ 步行200米到市交通运输局乘坐9路公交到市检察院下。 老街~ 打车起步价,公交12路,11路,9路均可到达。 滨江路世纪广场~ 步行5分钟~沿岸往下走就是新安江延伸段,有一些老建筑很美。 黎阳水街 12路公交可直接到达。 小屋地理位置优越,对面就是永辉超市。到市区内各景点基本是起步价。 楼下停车场10元一天。免费停车场大约步行10分钟有。 楼下屯光转盘有直达客车去徽州古城歙县。 momo是土生土长的徽州人,有什么问题都可以问我。 momo house 床品,毛巾都是一客一换,这些都是momo按照星级标准定制的,保证每一位房客都有家的感觉。 若你买了礼品不方便携带,可以告诉momo帮您联系快递。
What guests are saying:
"I rented an apartment in Airbnb for the first time. I saw this place with a high rating and carefully read it. The procedure was very simple. With the WeChat of the host, the host immediately sent a "guide" and check-in instructions. Answer, I am very satisfied after a smooth stay! Three main characteristics: First, intentions. I didn't see the landlord, but felt that they were working very hard. The house is a small duplex, with two bedrooms upstairs, plus a bathroom, a small living room, dining room, kitchen and bathroom downstairs. The decoration style is simple and practical, and the coordination of supplies and appliances reflects a good aesthetic level. The second is clean. People who consider themselves more discerning have higher requirements for beds and bathrooms. The house is well-lit and ventilated, and not only the bedroom but also the dining room and kitchen are very bright under the sun. The third is warmth. Checked in at night, there is a feeling of home. Friends who asked Xing were also very satisfied and thought that the choice was right. Maybe this is what makes Airbnb attractive ..."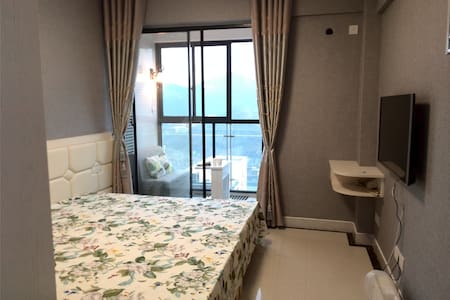 SUPERHOST
Entire flat · 2 guests · 1 bed · 1 bathroom
独立房源可做饭,黄山绝美江景电梯房 2M超大床Big bed Fabulous riverview
黄山北站可坐大巴30分钟左右到小屋附近然后步行几分钟即可。飞机场到此半小时。 超大床2MX2M合适情侣或者一家三口。不想分享可变两小床。 远山江景让您入住心情放松。晚上和爱人或者亲人小酌一杯红酒,实在是人生悦事。 小屋有缘,祝愿您度过美好时光。 It takes about half an hour from the airport or high speed rail station to the apartment. The Super big bed, 2MX2M, is suitable for couple or a family of three. If you don't want to share, it can be two small ones. The river scenery makes you relax. Especially at night, drinking a glass of wine with your lover or families is really a pleasure in life. A blessing to meet you.
What guests are saying:
"The room is very clean, the room is very complete (there are cooking utensils, washing machine), the location is also good, very easy to find, the traffic is also very convenient, by the river, you can view the river view, sleep at night is very quiet, in short, the experience is very happy"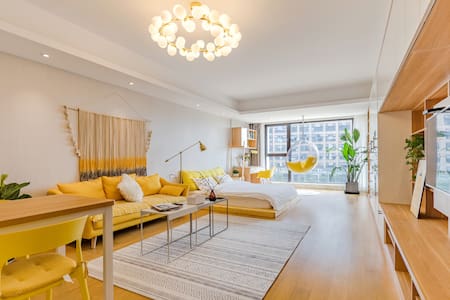 SUPERHOST
Entire apartment · 2 guests · 1 bed · 1.5 bathrooms
【Asif.Home610】榻榻米+网红球+落地窗+中央空调+大浴缸+黎阳in巷老街新安江太平洋商场
屯溪老街 黎阳in巷旁 柏悅居公寓俯瞰外黄金位置 落地窗景观 市中心位置交通方便、文锋橋 、新安江、黃山學院校区 太平洋購物中心 等 . 公寓高品質装修,公共空间大,高品質,家居设备,55寸电视、全自動烘干洗衣機、冰箱 油煙機 熱水器 中央空調 地暖 等等应有尽有 床品浴巾毛巾 每客更换、公共空间保证卫生条件.
What guests are saying:
"The room is large, it is a soothing warm yellow tone, the bed is super soft, the design is also very nice, the most like the bathroom is super big and very clean and there is a bathtub, praise! The only thing is that the room is a little soundproof, but it is still a great homestay!"