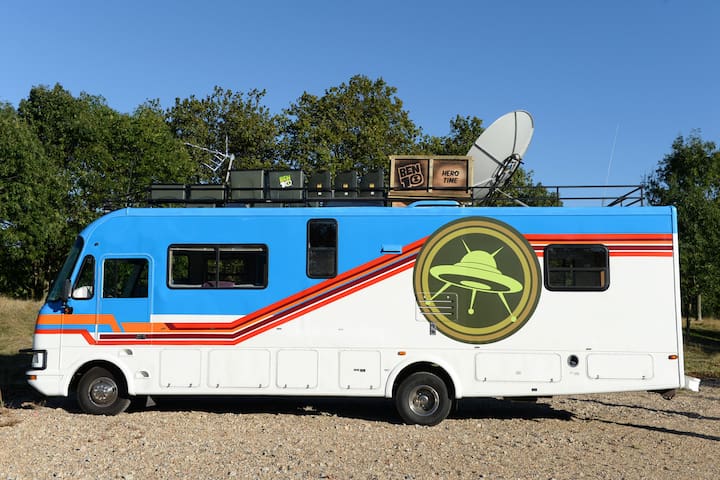 Night At
The Ben 10 Rust Bucket
Entire home/flat
4 Guests
2 Bedrooms
2 Beds
About this listing
Are your kids fans of Ben 10? You and your family have the chance to spend a night in the trusty-but-rusty motorhome featured in the world-renowned animated series.
---
Room type: Entire home/flat
Accommodates: 4
Bedrooms: 2
Bathrooms: 1
Bed: 2
Check In: After 3PM
---
Amenities
Kitchen
Space where guests can cook their own meals
Essentials
Towels, bed sheets, soap, and toilet paper
Heating
Central heating or a heater in the listing
Kitchen
Kitchen
Space where guests can cook their own meals
Internet
TV
Essentials
Essentials
Towels, bed sheets, soap, and toilet paper
Heating
Heating
Central heating or a heater in the listing
Air Conditioning
Washer
Washer
In the building, free or for a fee
Dryer
Dryer
In the building, free or for a fee
Free parking on premises
Free street parking
Paid parking off premises
Wireless Internet
Wireless Internet
Continuous access in the listing
Cable TV
Breakfast
Breakfast
Breakfast is provided
Pets Allowed
Pets Allowed
Assistance animals are always allowed
Family/Kid Friendly
Suitable for events
Suitable for events
The listing can accommodate a gathering of 25 or more attendees
Smoking Allowed
Wheelchair accessible
Wheelchair accessible
Easy access to the building and listing for guests in wheelchairs
Elevator in Building
Indoor Fireplace
Buzzer/wireless intercom
Doorman
Pool
Hot Tub
Gym
Gym
Free, in the building or nearby
Hangers
Iron
Hair dryer
Laptop friendly workspace
Laptop friendly workspace
A table or desk with space for a laptop and a chair that's comfortable to work in
Private living room
Private entrance
Private entrance
Separate street or building entrance
24-hour check-in
24-hour check-in
Lockbox, keyless entry, buzzer, or someone available at any time
---
Description
The space
Located in Rendlesham Forest in Suffolk, Britain's answer to Roswell and the extra-terrestrial hub of the UK, the Rust Bucket will truly be your home away from home for one unforgettable family getaway whilst I'm overseas with my grandkids Ben and Gwen.
The Rust Bucket features everything from a working toilet to a state of the art gas hob. There's a bit of rust on it… but that's all part of the charm. The RV is also equipped with a Galactic Explor-o-Scope, binoculars for spotting any pesky creatures causing trouble in the vicinity, and the latest game station so you too can become a virtual hero, even if you don't own the most powerful device in the universe – the Omnitrix. Ben's a bit overprotective of his game station, but Gwen persuaded him to let you use it. After all, sharing is caring!
Inside the spacious cabin you'll find a double bedroom with a mattress perfect for bouncing on (however much we try, Gwen and I just can't stop Ben). You can curl up in the cosy bed just like Ben's alien, Cannonbolt - although we'd recommend you don't imitate him too much as we don't want you ricocheting off any surfaces! There are also some handy cupboards – apologies if I have left a couple of shirts and waistcoats hanging in there.
You'll love the comfortable dining area – perfect for plotting your next adventure. A small kitchenette features a fridge, oven, gas hob and sink, and comes stocked up with everything you need to make Ben's favourite recipe using Goat's Beard and Piranha Liver. There's Squid Surprise in the freezer for pudding. I'm salivating just thinking about it, but then again I've always had pretty strange taste in food.
The lounge space is great for playing cards, chatting – and just goofing around. There are some swivel chairs which – warning – persistent swivelling on will cause dizziness. There's also a TV and DVD player so you can watch what we get up to in the new series before anyone else in the UK. Two comfy sofas turn into additional sleeping spaces.
And your little Bens can put their Omnitrix watches away - there's no need for Diamondhead's light refraction and energy beams, or Heatblast's fire balls. The Rust Bucket will be warm, cosy and comfortable, and you'll be connected to the campsite's electricity so you can keep the lights on all night if you want to.
Upon arrival you'll meet the campsite host who will show you to the RV. My home is your home, so get yourself settled before heading off to follow the UFO trail through the forest. Rendlesham has had many suspicious UFO sightings throughout the last three decades so keep your eyes peeled for any unusual activity.
Once you've worked up an appetite you'll head back to the Rust Bucket to prepare yourselves a delicious meal of Goat's Beard – don't worry it tastes better than it sounds!
The afternoon is yours to do what you like with, before you spend the night in the Rust Bucket immersed in your peaceful – and otherworldly – surroundings.
Guest access
Entrants must be UK resident, over 18 years old, medically fit and able to stay in a motorhome on the nights of 22nd, 24th, 26th and 28th October. Families of up to four members and must have a child between the age of 5-12 are able to redeem the prize.
Other things to note
Submissions must be between 50 and 500 characters long and submitted in English only. Please read the full Contest Rules below.
---
• Channel Ben 10 and use your ben-tuition – if you see any evil villains or anything suspicious then get out into the outdoors and investigate!
• No cursing
• Complete daily chores (with or without the help of XLR8)
• Remember that every day is hero time! Look for ways you can save the day, from rescuing a spider that has lost its way to helping out mum and dad
• Make sure to capture your stay on the cameras provided (and share using #Ben10 and #NightAt on social media!)
The Stuff Our Lawyers Want Us To Say:
Night at The Ben 10 Rust Bucket on 22nd, 24th, 26th and 28th October
NO PURCHASE OR PAYMENT NECESSARY TO ENTER OR WIN. A PURCHASE OR PAYMENT WILL NOT INCREASE YOUR CHANCES OF WINNING.
When you submit a submission for this Contest, you agree with the Official Rules below.
Sponsor. The Sponsors of this Contest ("Contest") are Airbnb Ireland, The Watermarque Building, South Lotts Road, Dublin 4, Ireland ("Airbnb") and Turner Broadcasting System Europe Limited ("Partner") (Airbnb and Partner together are the "Sponsors").
How to Enter. Participants who have reached the age of 18 at the time of participation, may enter the Contest from 6th October at 10 am Central European Time until 13th October at 11:59 pm Central European Time by following the process below. Submissions must be received through the below process by the close of the Contest to be eligible.
Process: To participate in the Contest and to try to win the prize described below, you have to:
1. Sign in with an Airbnb account
2. Go to the 'Night At The Ben 10 Rust Bucket' competition listing page
3. Click on the "Enter to Win" button
4. In the form provided write an artistic and creative story of 100 words maximum in English explaining why you should be the one to stay one night in the Ben 10 Rust Bucket (the "Submission").
The Submission must be sent from the participant's Airbnb account to be verified and reviewed. Each participant can only participate once and you represent that you are more than 18 years old. Sponsors are not responsible for computer or network problems, problems with servers, problems with email accounts or the failure to receive any Submission for any reason whatsoever. By entering the Contest, participants agree, on their behalf and if applicable any guest that as a winner they are permitted to share the prize with, that they may be contacted by Airbnb in relation to the Contest and agree to take part in any publicity that occurs as a result of the Contest and grant Airbnb and Partner and their group companies and agents the right to use their name and/or image and/or town/country of residence.
Eligibility. The Contest is open to UK residents only. Applicants must be available to attend the Night At the Ben 10 Rust Bucket on the specified dates. The prize is for 2 adults and 2 children and at least one child must be between 5 and 12 years old. Both adults must be the parents or legal guardians of the children.
Directors, officers, employees, independent contractors and agents of Partner and Airbnb, or their subsidiaries or affiliates, and the members of their immediate families or households, are not eligible.
Winner Selection. Four (4) participant(s) will be selected from the Submissions and will be nominated winner(s) and best story writer(s) of the Contest. The winners will be chosen entirely on merit, based on the following criteria applied by a panel of judges:
- Originality and creativity of the submitted story. Does it surprise and delight us?
- Spirit of the Submission. How does your Submission relate to The Ben 10 Rust Bucket?
The panel of judges will be comprised of members of the marketing teams of Airbnb and Partner, and one independent judge. The judges' decisions are final and binding. If substantially similar Submissions are submitted by different entrants, judges will select only the best version of that idea, as determined by the judges in their sole discretion. If in the opinion of the judges no suitable Submissions are received, or no winner can be contacted or responds as set out in these Official Rules, then the Sponsors may cancel, extend or repeat the Contest in their sole discretion.
Prohibited Content. Submissions/content must be the original work of the participant and not have been previously published, or entered in any other competition, and must not violate the rights of any other party, including but not limited to intellectual property rights or rights of privacy, publicity or other moral rights. Submissions must NOT contain: (a) advertising or commercial content for any party other than Airbnb or Partner; (b) content that endorses/promotes illegal or harmful activity; (c) violent, profane, vulgar, obscene, defamatory or otherwise objectionable material; (d) adult material; or (e) defamatory content. The Sponsors reserve the right to disqualify any participant who violates these prohibitions or any other provision of these Official Rules, or that the Sponsors deem inappropriate for any reason, in their sole discretion.
Additional Terms and Conditions for Night At the Ben 10 Rust Bucket winners:
The following additional terms and conditions apply to the winners' stay at the Night At The Ben 10 Rust Bucket:
NO FIRES ALLOWED:
There is always a fire risk in the forest and there are by-laws restricting the lighting of fires.
To protect the forest and for public safety, please observe the following:
● Contained charcoal or gas barbecue units only (NO wood, cones or other material to be burnt inside or outside the contained units)
● Disposable contained barbecues must be on bricks, to avoid burning the grass
● Barbecues are to be kept away from trees and bushes
● Please leave ashes in the barbecue until COLD then place them in a bag before disposal
● No hot objects on the picnic tables
● Barbecues must be extinguished by 10pm
● Barbecues after 10pm may be extinguished without warning
● Any fires will be extinguished immediately without warning
Noise & Light Pollution:
Out of the respect for fellow campers and those who live in the area, please do not use radios/audio equipment at any time and please keep all other noise to a minimum at all times, especially after 10pm when others will be sleeping. Do not use flashing fairy lights for the same reasons.
Gazebos & Cooking Tents:
We do not allow gazebos with sides or marquees. 
Visitors:
● No visitor cars allowed into the camping area
Waste & Recycling:
● Only food waste, food packaging and COLD barbecue ashes (in bags) permitted in bins
● Glass milk bottles must be returned to the crates at the front of the shop
● ALL other waste is to be taken home especially camping items and packaging from camping items
● We also have facilities to recycle glass
Dogs:
● No dogs are allowed in the Rust Bucket
Arrival & Departure Times:
● Please arrive after 12 midday on the date of your arrival
● Please depart before 12 midday on the date of your departure
License. By submitting a Submission, participants grant each of Airbnb and Partner a perpetual (or for the term of the protection granted by the relevant intellectual property rights), worldwide, irrevocable, royalty-free license to transform, edit, modify, reproduce, distribute, transmit, publish, communicate to the public, broadcast, perform, display, or otherwise use the submitted story, in whole or in part, with or without modifications, in any form or medium (including but not limited to: internet, any printed medium distributed via press, billposting, point of sale advertising, flyers, leaflets…), whether now existing or later developed, for entertainment, promotional and/or advertising purposes and/or any other purpose. To the greatest extent permitted by law, participants agree to waive and not to assert or invoke any so-called moral rights in relation to their Submissions (including without limitation the right to be identified as the creator of the work and the right to object to derogatory treatment of the work). For the avoidance of doubt, the license referred to in this paragraph is a fully paid-up license. By entering, you guarantee that your Submission is original as referred to above, and that you have all necessary rights to provide the Submission and to grant to Airbnb and Partner as applicable the rights set out in these Official Rules, as well as the consent of any person identified, depicted or referred to in the Submission. You will indemnify and hold Airbnb harmless for any breach of these provisions. Only the winner(s) will receive a prize according to the next paragraph: 'Prize'.
Prize. Each winner will receive, in recognition of their personal writing talent and as full and comprehensive consideration for the License described above, the following trip:
- A one (1) night stay for 2 adults and 2 children on a room only board basis at a real life replica of the Rust Bucket at Forest Camping, Rendlesham Forest, Suffolk ("Venue"). At least one child must between 5 and 12 years old. Both adults must be the parents or legal guardians of the children.
-
- Hamper of items to make one of Grandpa Max's favourite recipes
- Goodie bag for kids containing Ben 10 merchandise
The prize does not include:
o Travel or transport expenses from the winner's home to/from the Venue
o Any meals except for those which are expressly included in the prize description
o Any other expenses not expressly stated in the prize description
Participants represent that they are available to travel to and stay overnight at the Venue on 22nd, 24th, 26th and 28th October 2016. The Sponsors will allocate each winner one of the four dates for their overnight stay, in their sole discretion. The prize may not be redeemed for cash. If due to circumstances beyond Airbnb's or Partner's control, Airbnb or Partner are unable to provide the stated prize, Airbnb and Partner reserve the right to award, as substitute, a prize of equal or higher value.
Notification/Announcement of Winner.
The winners will be selected on Monday 17th October 2016 and will be notified by email or via the Airbnb message centre within 24 hours. Each winner must confirm their acceptance of the Prize in writing within 24 hours of such notification. The Sponsors reserve the right to disqualify any winner who does not confirm acceptance of the Prize in accordance with these Official Rules, and reserve the right to select an alternative winner in such event. In the event of a dispute about the identity of a winner, the Sponsors will award the prize to the authorized account holder of the Airbnb account from which the winning Submission was sent. The Sponsors may publicly announce the name of the winner within 30 days of the close of the Contest, including through social media channels such as Twitter (@airbnb or Partner equivalent) and Facebook
Prize Conditions. Save as may be required by any applicable mandatory laws, the prize will be as referred to in these Official Rules and is provided as-is with no express or implied warranty or guarantee. This Contest is subject to applicable local laws and regulations, including but not limited to tax laws. The winner is solely responsible for any taxes applicable to or resulting from the award of the prize, and the Sponsor will have no obligation for any taxes that may be payable. Sponsors may require the winner, and where applicable, the winner's guest, to sign and return an affidavit of eligibility, a liability release and a publicity release permitting the Sponsors to use the winner's name, image and winning Submission in promotional materials where permitted by law and subject to applicable rules. Refusal or inability to sign and return such forms within 24 hours of receipt may result in disqualification and awarding of prize to an alternate winner. The winner and guest represent they will behave as good citizens during their stay at the Venue and that they will cooperate with the security personnel that will be present on the nights of 22nd, 24th, 26th and 28th October 2016.
General Liability Release. By entering this Contest, participants release the Sponsors and their agents from any liability whatsoever, on any theory, and waive all claims and causes of action arising from or related to this Contest and/or fulfillment and/or use of the Prize, to the extent permitted by applicable law. However, nothing in these Official Rules limits or excludes any person's or entity's liability for death or personal injury caused by their negligence or any other liability which may not as a matter of law be limited.
Data. By entering the Contest and submitting a Submission and any other personal information, participants are expressly consenting to the processing of their personal information by the Sponsors for the purpose of the Contest or any associated publicity by Airbnb or Partner. Airbnb's privacy policy will apply. Airbnb may share the Submissions with Partner and third party prize providers for Contest administration and prize fulfillment purposes.
Interpretation and Disputes. Participants agree: (a) to be bound by these Official Rules and all decisions of the judges, which are final and binding; (b) that any disputes shall be governed by the laws of England and Wales (or by mandatory local laws, if applicable), and shall be resolved only in the courts in England or Wales (or in mandatory local jurisdiction, if applicable), without resort to any form of class action or other form of collective action, to the extent permitted by applicable law; and (c) that they consent and waive any objection to the jurisdiction of said courts for any such disputes.
Miscellaneous. The Contest is void where prohibited. If any provision or part-provision of these Official Rules is held by a court of competent jurisdiction to be invalid, illegal or unenforceable, it shall be deemed modified to the minimum extent necessary to make it valid, legal and enforceable. If such modification is not possible, the relevant provision or part-provision shall be deemed deleted. Any modification to or deletion of a provision or part-provision under this clause shall not affect the validity and enforceability of the rest of these Official Rules. To the extent permitted by applicable law, the Sponsor may suspend, modify or terminate the Contest if they believe, in their sole discretion, that malfunction, error, disruption or damage is impairing or will impair the administration, security, fairness, integrity or proper conduct of the Contest, in which case the prizes will be awarded among the eligible Submissions received that were unaffected by the problem, if possible.
---
About the Host, Grandpa Max
Hi folks, I'm Max Tennyson – otherwise known as Grandpa Max.
You may recognise me from my exceptional fashion sense. I love a Hawaiian shirt. I used to be an astronaut and would have been the first man on the moon, but left the program before the Apollo Moon mission. I took my step for mankind in other ways. I'm quite skilled in combat and like to think I'm in good shape for my age.
I have owned the Rust Bucket for years, letting my grandkids Ben and Gwen travel with me on road trips during the school holidays. Family is so important, which is why I'm giving you the opportunity to have some quality family time together this half term and stay in this motorhome I've loved for years.