"After disinfection, stay at ease" The monthly rent is 3200, and the long-term rent does not exceed three months. 1. The best location in Ningbo, no second, double subway line exit, Gulou station, direct access to high-speed rail station airport, Yuehu and Tianyi Square 3 minutes walk 2. The room is equipped with a projector 3.High-rise, quiet and comfortable, good vision The five suite features are as follows: [Rita's House] Drum Tower double subway entrance, suitable for long-term residence, high-rise lake-view room, no slot, you can also cook it, the room type is 30 square meters comfortable. soft bed. [Rita's Loft] Drum Tower double subway entrance, loft, classic American-style MCM, 90-degree high-rise invincible city view, no cooking, projection, fan-shaped 40-level. Hard bed. [Rita's Gallery] Drum Tower double subway entrance, a hard art resort, can not cook, floor-to-ceiling windows on the 5th floor, home theater thief stick, 30 flat. Hard bed. [Metrópole] Old Bund invincible river view room, independent kitchen (recommended for friends who want to cook), superb home theater, comfortable lazy sofa, light luxury urban style, 7th floor 50 square meters, larger than a four-star hotel room standard, cost-effective Extremely high. soft bed. [Midsummer's night] Invincible river view room on the Old Bund, independent kitchen (recommended for friends who want to cook), Moroccan Romanticism, white curtain bed, tatami, home theater, 66th floor, 66 square meters, comparable to the size of a five-star room, beautiful cry. Hard bed.
What guests are saying:
"Your home is as beautiful as the photos on the Internet. The rooms are clean and hygienic. Some basic facilities such as hot water, internet, and sound insulation are all available. The service attitude of the host is excellent, and I will continue to be repeat customers in Ningbo in the future."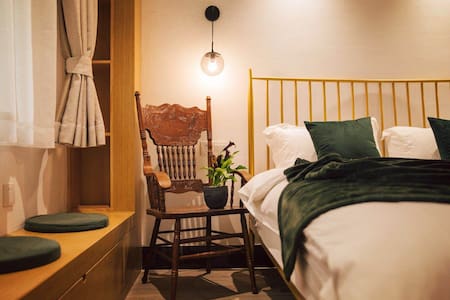 SUPERHOST
Entire flat · 4 guests · 2 beds · 1.5 bathrooms
「陋室」 已开放 有折扣 新中式舒适小屋带院儿 火车站地铁口旁 步行五分钟至南塘老街 月湖 天一阁
This room is called "The Humble Room" "Room" is actually the name of our own photography studio. At first, the decoration was to give ourselves a more comfortable office environment. It is located on the first floor and has a small yard, which is my favorite place. Before I started working, I had already imagined sitting in the yard and working in the sun. Then one day, I suddenly thought that a room with two rooms and one hall, one for office work, and the other one can be used as a bed and breakfast, let's make various friends and listen to different interesting things from everyone, maybe It can inspire more creative inspiration. Second, I think of the nature of our work. In the future, it is likely that we will not work indoors for a long time. It 's a pity how empty it is. The house has more people to live. So, you are welcome to live in the "rough room" and make friends with us. (Ps. Has changed the studio into a living room with a sofa bed and projector, and can instantly transform into a second bedroom when needed.) Excellent location: Located next to Ningbo Railway Station, a five-minute walk away. It is close to Yuehu Scenic Area, Yuehu Shengyuan, City God Temple, Drum Tower, Tianyi Square and other central business districts, with convenient transportation. To arrive by car, there is a toll parking lot across the road. Complete equipment: our house provides smart toilets, bathtub, Internet TV, hair dryer, clothes dryer, kitchen supplies, coffee machine, refrigerator, safe, etc. I can think of the most practical and comfortable equipment for tenants , Hoping to have a better housing experience.
What guests are saying:
"The house is large, the decoration is very nice and exquisite, and the bathroom is perfect! !! !! It's too beautiful, the location is easy to find, the projection effect is not good, or the TV in the room is comfortable to watch It's big, the heating is better, the kitchen's induction cooker is very good, and the dishes are complete. The best homestay I have lived in so far is clean and hygienic. I will choose this one next time."