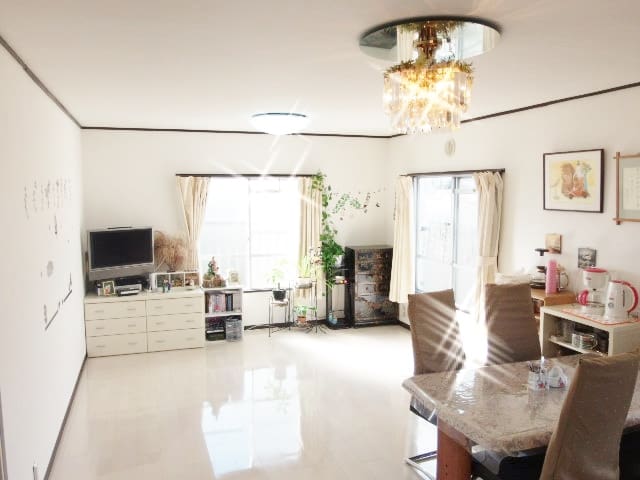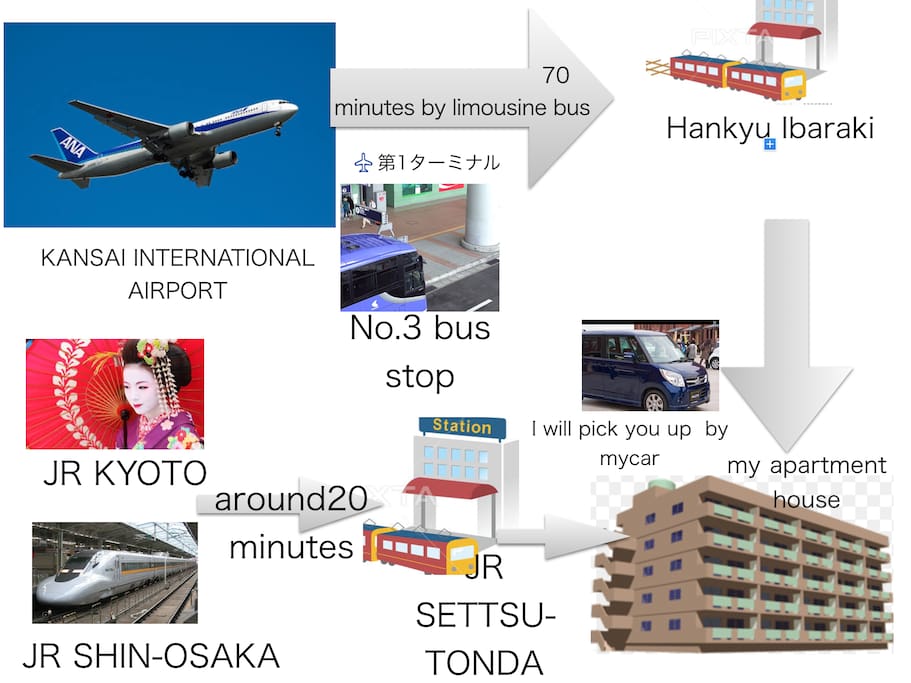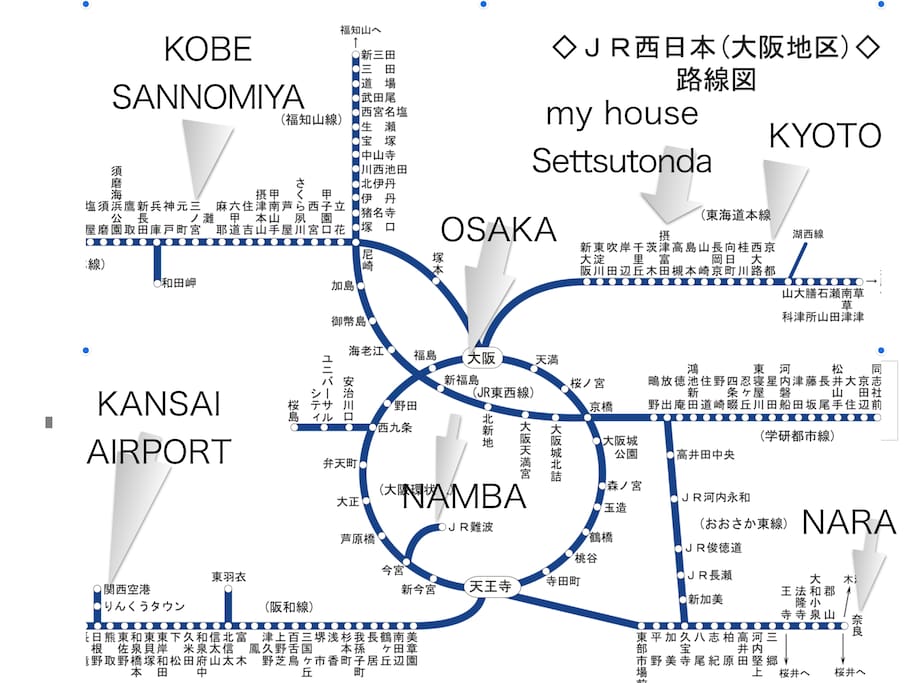 free picking up service between JR KYOTO&OSAKA
from KANSAI airport to Ibaraki 70minutes by limousine bus without transfer. costs 3100yen round way.We will pick you up there. My house locales only 12 minutes from JR Settsutonda by bus. very comvenient to visit Osaka&Kyoto.
with free unlimited wifi and pocket limited wifi. welcome You.
---
---
Extra people £14 / night after 2 guests
Weekend Price £23 / night
Always communicate through Airbnb
To protect your payment, never transfer money or communicate outside of the Airbnb website or app.
Learn more
---
---
---
---
---
Hello! I'm middle aged man running a business in Osaka city.

The main business is managing real estates.
My motto is "making people happy beyond the expectation."
"To make people happy is my happiness. ''
I run these businesses with heart.
I have known Airbnb for two years, but nowadays I would like to do it by myself because I have the following experiences.
I have travelled 52 countries until now, but I haven't been able to enjoy the trip to my heart's content before because language and cultural barriers made me passive. I regret it.

I think many people have been through the same kind of experience.
I would really like to enjoy the trip. I think you would, too. Therefore, I think I will try to welcome travelers to make everyone feel relieved. I would you like to enjoy the trip with peace of mind.

I would like to travel as a guest sometime soon.
I would like to go to even the areas which I don't understand the languages at all.
Please imagine you can travel without any worries about languages. How wonderful it is!
I'll do something for guests as I would be done by. I really think so.

I like travel, sports, and eat something delicious, of course talking in English and Korean.
Especially I'm particular about space.
I'm going to start my life as a host with the aspiration I described above.
I think it is an achievement of my challenge to receive much happiness from other hosts and guests.
I would like to welcome the guests as if I could enjoy myself without any worries when I travel all over the world.
This is my hope as a host.
When I see you, please tell me about your culture. I'll tell you how wonderful
barrier free world is.In fact I am not a patriotist. I hate nationalism. l like people who has a wide heart. We welcome you.
Thank you very much for reading to the end.
안녕하세요, 저는 오사카에서 비즈니스를 전개하고 있는 중년남성입니다. 주요한 사업은 셋 집업입니다. 제 모토는 「여러분의 기대를 넘어서 감동을 준다」라고 하는 것입니다. 사람에게 행복을 느끼게 하는 것, 그것이 내가 행복합니다. 저는 자신의 사업을 정성을 들여 가고 있습니다. AIRBNB를 알아서 2년입니다만, 지금이야말로 다음과 같은 경험을 한 것에 의해 스스로 경영하고 싶다고 느끼게 되었습니다. 지금까지 52개국을 여행해 왔습니다만, 지금까지는 마음속으로부터의 만족을 느낄 것이 없었습니다. 그것은 말이나 문화의 벽이 나를 소극적으로 하고 있었기 때문입니다. 정말 후회됩니다. 저는 많은 사람도 같은 경험을 해 왔다고 느끼고 있습니다. 저는 정말로 여행을 즐기고 싶습니다. 여러분도 그렇지요. 그래서 저는 여러분이 흡족할 때까지 편히 쉴 수 있게, 접대를 하려고 생각했습니다. 기분이 좋은 여행을 낙낙하게 즐기으면 좋겠다고 생각합니다.
때때로 우리들도 손님으로서도 여행을 하고 싶습니다. 완전히 말이 통하지 않는 지역에마저 가고 싶습니다. 말의 걱정이 필요없는 여행을 상상해 보아 주세요. 어떻게인가 훌륭하지요. 지금까지 우리들이 여행지에서 받아 온 것 같은 친절을 우리들도 하고 싶습니다. 정말로, 그러길 바랍니다. 저는 여행, 스포츠, 맛있는 것을 먹는 것, 물론 영어나 한국어를 이야기하는 것을 좋아합니다. 특히 우주에 관심이 있습니다.
저는 상기에 말한 것 같은 바램을 가져서 호스트로서의 생활을 스타트하려고 하고 있습니다. 저는 다른 호스트나 손님에게 행복을 느끼게 하는 것이, 제 도전에 대한 보수라고 생각하고 있습니다. 제가 온세계를 여행했을 때에 걱정 없게 즐길 수 있었던 것 같이, 고객을 마중 나가고 싶습니다. 이것이 제 호스트로서의 바램입니다. 만나 뵈면 당신의 나라 문화에 대해서 이야기해주세요. 저는 장벽이 없는 세계가 어떻게 훌륭할지를 전할 생각입니다. 사실은 저는 애국주의자가 아닙니다. 저는 국가 주의를 싫어합니다. 넓은 마음을 가진 사람을 좋아합니다. 마음속으로부터 환영합니다. 최후까지 읽어 주시고, 감사합니다
你好,我是在大阪开展商务的中年男性。主要的事业是出租的房子业。我的座右铭是「超越诸位的期待将感动给予」。请人觉得幸福,那个我幸福。我放入自己的事业真心。是知道AIRBNB2年,不过通过,现在正是经验象下面一样的变得觉得想自己经营。到现在为止52个国家旅行了,不过,到现在为止没有可能感到衷心的满足。那个言词和文化的墙消极我。非常被懊悔。我感到许多人也经验了象一样一样的。我想真的享受旅行。诸位也是那样吧。因此诸位到心满意足为使舒畅,我想接待。我想希望宽敞舒适地享受愉快的旅行。
我也想时常我们即使客人也旅行。我想去连完全不懂言词的地域。请试着想象不需要言词的担心的旅行。会怎么极好。我想我们也做到现在为止我们在旅途象受到一样的热情。真的,那样请求。我旅行,吃体育,好吃东西,喜欢当然谈英语和韩语的。特对宇宙有关心。
我在上述里包含象叙述一样的拜托打算开始作为主人的生活。我由请其他的主人和客人觉得幸福的,想对我的挑战的报酬。我我在全世界旅行时没有担心地为使能享受,想迎接顾客。这个是作为我的主人的拜托。如果能见请谈关于你的国家的文化。我打算传达屏障没有的世界如何极好。其实我不是爱国主义者。我讨厌国家主义。喜欢包含宽广的心的人。衷心欢迎。到最后读,谢谢
こんにちは、私は大阪でビジネスを展開している中年男性です。主要な事業は貸家業です。私のモットーは「皆さんの期待を超えて感動を与える」というものです。人に幸せを感じてもらうこと、それが私の幸せです。私は自分の事業を真心を込めて行っています。AIRBNBを知って2年ですが、今や次のような経験をしたことにより自分で経営したいと感じるようになりました。これまで52カ国を旅してきましたが、これまでは心からの満足を感じることがありませんでした。それは言葉や文化の壁が私を消極的にしていたからです。とても悔やまれます。私は多くの人も同じような経験をしてきたと感じています。私は本当に旅を楽しみたいです。皆さんもそうでしょう。それで私は皆さんが心ゆくまで寛げるように、御もてなしをしようと思いました。心地よい旅をゆったり楽しんで欲しいと思います。
時々 私たちも客としても旅行をしたいと思っています。全く言葉の通じない地域にさえ行きたいと思っています。言葉の心配が要らない旅を想像してみてください。どんなにか素晴らしいでしょう。これまで私たちが旅先で受けてきたような親切を私たちもしたいと思います。本当に、そう願います。私は旅行、スポーツ、美味しいものを食べること、もちろん英語や韓国語を話すことが好きです。特に宇宙に関心があります。
私は上記に述べたような願いをもってホストとしての生活をスタートしようとしています。私は他のホストや客に幸せを感じてもらうことが、私の挑戦に対する報酬と思っています。私が世界中を旅したときに心配なく楽しむことができたように、お客様をお迎えしたいと思っています。これが私のホストとしての願いです。お会いできたらあなたの国の文化について話してください。私は障壁の無い世界がいかに素晴らしいかをお伝えするつもりです。実は私は愛国主義者ではありません。私は国家主義が嫌いです。広い心をもった人が好きです。心から歓迎します。最後まで読んでくださり、ありがとうございました。

Response rate:
100%
Response time:
within an hour
Explore other options in and around 高槻市
More places to stay in 高槻市: