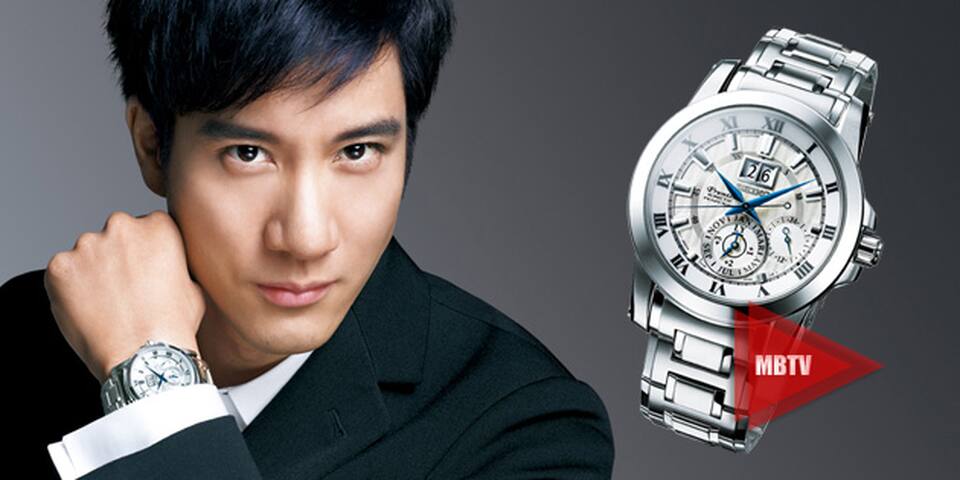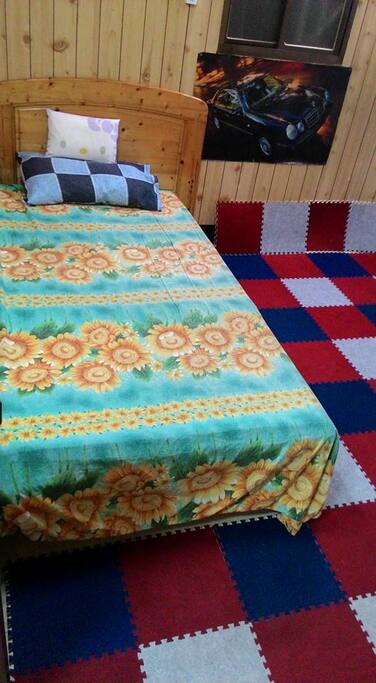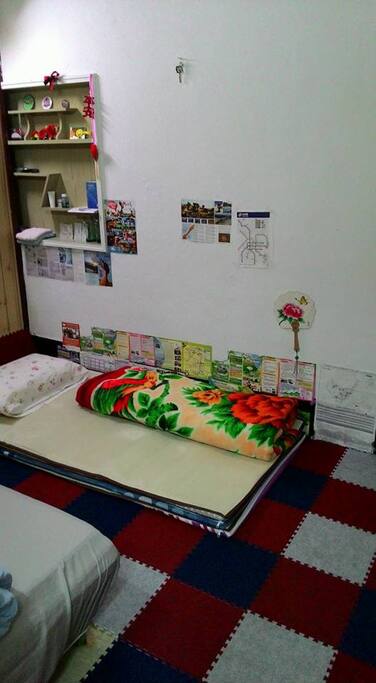 Only 5 min walk to metro Ximen station! So Central
Only 5 min walk to metro Ximen station! So Central
My place is only 5 min walk to MRT Ximen! : )

Ximending has been called the "Shibuya of Taipei". Ximending is the source of Taiwan's fashion, subculture, and Japanese culture.
Everything Ximending has to offer is within a very short walking distance, including 24hr supermarket, 24 hr Carrefour, Mcdonald's and cinema, and plenty of restaurants and cafes, 5 minutes walk from metro Ximen station and only 1 stop from Taipei Central train station, where your bus arrive from Taoyuan airport.
---
---
Extra people £9 / night after the first guest
Always communicate through Airbnb
To protect your payment, never transfer money or communicate outside of the Airbnb website or app.
Learn more
---
1. No smoking. Smokers are nasty people. I don't care about your money.
吸烟者请不要住这里, 我也不想见到你, 因为我也不在乎你的钱。
吸菸者請不要住這裡, 我也不想見到你, 因為我也不在乎你的錢。
2. No extra people. Fine: 600 NTD per person.
请不要偷偷带人进来,我会偷偷来抓你的! 被我抓到罚600元台币!
請不要偷偷帶人進來,我會偷偷來抓你的! 被我抓到罰600元台幣!
3. Free Towel provided
我将会向客人免费提供毛巾, 退房时请将毛巾归还给我。
我將會向客人免費提供毛巾, 退房時請將毛巾歸還給我。
4. Latest check in time: 9 pm. No 24hr service. (无24小时服务)
最迟入住时间 : 9 pm. 如果您是晚上 9:00以后才要入住, 你就别来了。
最遲入住時間 : 9 pm. 如果您是晚上 9:00以後才要入住, 你就別來了。
5. If you really want to stay my place but you know you will come after 9 pm. Please don't be sad. I still love you. I suggest you stay in a 24hr reception hostel for the 1st night, and you change to my room on the 2nd day morning! As soon as you wake up, you come here so it won't cost much time. And you will be shocked how "wonderful" my place is! Super "value for money!" My place is far better than local hostel under this unbelievable price! Welcome!
如果您知道您晚上9:00 后才能来,我建议您第一晚去住24小时服务的青年旅馆,第二天早上再转到我家,其实不会花太多时间,当你一来我家你会吓一大跳!性价比超高!
如果您知道您晚上 9:00 後才能來,我建議您第一晚去住24小時服務的青年旅館,第二天早上再轉到我家,其實不會花太多時間,當你一來我家你會嚇一大跳!性價比超高!
6. If you arrive in Taiwan very early, our earliest time is 9 am. You can leave your luggage at 9 am. I won't let you come earlier than 9 am because other people still sleeping.
我们的入住时间原则是 3:00 pm 但是最早可以 9:00 am 来放行李。 9:00 就是9:00 喔 (我不会让您早于9:00 进来的)
我們的入住時間原則是 3:00 pm 但是最早可以 9:00 am 來放行李。 9:00 就是9:00 喔 (我不會讓您早於9:00 進來的)
7. You can leave your luggage in the living room and get your keys at 9 am, not check in. Only if no one stayed in your room last night, you can check in at 9 am.
我们的入住时间原则是3:00 pm 但是最早可以9:00 am 来放行李,只是(( 放行李+ 拿钥匙)) 喔~ 不是check in 喔~ 因为如果前天晚上有客人睡你们的房间,一样他也是可以睡到12:00 的,接着我还要打扫喔~ 不过如果前一天晚上您的房间没人住,那当然可以9:00 check in.
我們的入住時間原則是 3:00 pm 但是最早可以 9:00 am 來放行李,只是(( 放行李 + 拿鑰匙 )) 喔~ 不是check in 喔~ 因為如果前天晚上有客人睡你們的房間,一樣他也是可以睡到 12:00 的,接著我還要打掃喔~ 不過如果前一天晚上您的房間沒人住,那當然可以9:00 check in.
8. You will realize from 9 pm ~ 9 am no new people will come because I want to ensure the great "sleeping quality" of other guests. I have bad experience in Barcelona because my host bring new guest check in at 1 am. It was really annoying. Of course, my host didn't did anything wrong because there's a free room, he can bring new guests to make money. But it destroyed my sleeping quality and I don't have any power on the next day. That's why I am willing to earn less money but get better review. I care about my guests feeling.
你发现从 9 pm~9 am 不会有新的人来,我之前在西班牙巴塞隆纳的时候,我的房东为了赚钱,在1:00 am 带新的房客入住。当时我很不爽,因为我被吵醒了,结果隔天去圣家堂的时候精神很不好,整天迷迷糊糊的。当然,我的房东并没有错,有空房间新的房客当然可以住进来,但是我的睡眠品质& 我的时间也很宝贵啊! 我在巴塞隆纳也才待三天,结果一天就毁了! 有鉴于此,我宁愿赚少一点钱,获得更高的评价,我在乎你的感受。
你發現從 9 pm~9 am 不會有新的人來,我之前在西班牙巴塞隆納的時候,我的房東為了賺錢,在1:00 am 帶新的房客入住。當時我很不爽,因為我被吵醒了,結果隔天去聖家堂的時候精神很不好,整天迷迷糊糊的。當然,我的房東並沒有錯,有空房間新的房客當然可以住進來,但是我的睡眠品質 & 我的時間也很寶貴啊! 我在巴塞隆納也才待三天,結果一天就毀了! 有鑑於此,我寧願賺少一點錢,獲得更高的評價,我在乎你的感受。
9. Check out time is 12:00. However, you can check out anytime you want. If someone will stay in your room on the last day, you have to move the luggage to the living room by 12 :00. If no one will stay in your room on the last day, you can stay in your room and check out anytime you want. (But you have to let me know in advanced)
退房时间原则上 12:00 ,不过您想几点离开都可以。但是如果您的房间当天有人要入住,就必须要在12:00 把行李拿出来放在客厅喔,因为我要去打扫。如果您的房间当天没人要入住,那你就可以待在房间内,几点离开都可以。 (请先通知我喔~)
退房時間原則上 12:00 ,不過您想幾點離開都可以。但是如果您的房間當天有人要入住,就必須要在12:00 把行李拿出來放在客廳喔,因為我要去打掃。如果您的房間當天沒人要入住,那你就可以待在房間內,幾點離開都可以。(請先通知我喔~)
10. No curfew
我们家没有宵禁
我們家沒有宵禁
11. Bathroom is shared.
卫浴共用
衛浴共用
12. It is FREE no matter you check in early or check out late.
无论是提前入住 或是 延迟退房 我不会收费的
無論是提前入住 或是 延遲退房 我不會收費的
13. Only if you come more than 7 people, I will give you a private apartment. Otherwise, you will only have 1 or 2 private rooms.
如果您来超过 7 个人,才会有整层公寓,否则只会有 1~ 2 间私人房喔~
如果您來超過 7 個人,才會有整層公寓,否則只會有 1~ 2 間私人房喔~

DO NOT WELCOME SMOKER! 拒絕會抽菸的客人! 拒绝会抽烟的客人!
---
---
---
---
Pls spend a lot more money to have a better night rather than staying at Ian's place, the room was terrible and not cleaned! Overall everything is old and dirty, facilities were not fully furnished, the photos in airbnb are not the actual image of the house, the street going back to the house is dark and no lift going up to the house, sound proof was bad, can hear ppl talking from the next door, towels and linens provided got yellow spots on them, I felt itchiness on my chin during the night because of the dirty pillows! Pillows are flat and uncomfortable to sleep in. Pls choose another hotel!
This review is totally ridiculous! I spent so much time to do the "cleaning" and you are talking nonsense.I vacuum the floor, mop the floor, take away all the garbage to make this place as clean as possible. However, the moment you walk into my house,you had make it very dirty,you dress up also like dirty person.the shirts seems many days never wash them.THIS IS A COMPLETE LIE: "The photos in Airbnb are not the actual image." I pledge allegiance to Airbnb: The photos are exactly the same!!! Hey! Future guests! If you find the photos are not the same when you enter my house, I will give you a FREE dinner to you! I PROMISED. This lady came to disturb me,eating the whole day in my place,dirty the room also. She just stay one night and talking rubbish.I don't think u are coming for holidays because I didn't see your luggage with you.I guess my competitors sent you to come here because you smile to me superficially, but in your deep dirty heart you are coming to spoil me,on purpose.
---
This place more suitable for men staying,no mirror in room n bathroom, only a big mirror in living room..The bathroom all cover by map paper,thay make me a girl feel like no feel at ease for bath..
---
Ian is such a GREAT host ! He is a HANDSOME magician! He is very helpful & respectful. His peaceful place is well located in Ximending. Located 5 minutes only from metro ximen station. Very efficient & convenient public transport to explore everywhere in Taipei city. Because ximen is in the center of Taipi city! My room is pretty nice and there are colorful carpets on the ground! Pillow, blankets are clean. A lot of extension sockets so there is no problem to charge my phone. I have my own keys so I feel pretty safe. There are free shower gel, shampoo in the bathroom. 24hr hot water and toilet paper provided. Ian is a funny, flexible, and considerate host as well. He let us check in at 11 am and he tries his best to make this place as clean as possible, always thinks on guests side. He let me check out anytime I wish. His English is very good so there is no problem to communicate with him. His magic show is amazing! He puts a candle in the middle of the 4 packs of pokers and tells me a Taiwanese legend! As soon as he blew up the candle a MAGIC happens! IT IS UNBELIEVABLE! Ian also gave me a warm hug! I love my host! What's more, Ian is super fast to respond and willing to answer to any questions to make sure I have a great trip in Taipei. I would definitely recommend this room to a family or group of friends !!
Jeff and his partner (not boyfriend) are very funny! Jeff is 37 years old from Dabaw, Mindanao, the Philippines. He is single now and looking for a handsome boyfriend in Taiwan. His partner has a boyfriend with a good relationship for 7 years! They love travelling and they also join the gay pride in Taipei. I am so shocked they already made their "TAIWAN LGBT" T-shirt in the Philippines and brought it to Taiwan! We have gay pride every year in late October and always attracts tons of people to join! Taiwanese are very open-minded to LGBT! Our president also support LGBT as well! She said, "我是蔡英文,我支持婚姻平权! 愿天下有情人都能得到大家的祝福!! " There's a gay flag on our Taipei city hall on that day! I super super welcome LGBT to my lovely place! (= ̄ω ̄=)
---
Here is the answer for budge traveler like me who are still a student and can't make much money.Lan's place is very nice.t hey provide everything such as shampoo,shower cream,little towel an, hair dryer ++ and LAN is really nice person so don't think much you book and stay there for your pleasure in taipei.
---
Communication with the Ian was good, very prompt reply with accurate instruction which lead us to the homestay. We managed to follow the direction and he lead us to the homestay.The homestay is just 5 minutes walking distance to ximen MRT which is located in the heart of Ximending, which is just a station away from Taipei Main Station. There are a lot of convenient stores nearby too. The homestay which located at the second floor provide you with the basic needs for a stay, such as hairdryer, shampoo etc. WIFI was great too. I would recommend this house for my friend who are plan to go to Taiwan. ---traveler from Malaysia ---
---
我是全宇宙最「热情」的房东!!!!!!!!!!!!! 哈哈哈!!!


性别 : 男生

血型 : B

年龄: 27岁

学校 : 政大商学院毕业, 美国哈佛大学, 国立台湾大学管院

英文程度:多益 TOEIC 980

职业 : 台大学生 (研究生)

出生地 : 台北市万华区

兴趣 : 游泳、练肌肉

生日:我的生日是一个很特别的节日!

星座:见了面再告诉您

感情状态:单身

( 我相信爱情,我们一起加油!)

优点:个性很好,没有什么脾气,希望可以认识高EQ的朋友。重承诺,答应对方的事情,都会一定做到。

缺点:走在路上常被搭讪(男女都有,我经验丰富),但是我不喜欢在路上被搭讪,所以我对搭讪的陌生人很冷酷。

生活:我很喜欢旅游。我去过冰岛、挪威、瑞典、丹麦、英国、法国、德国、荷兰、西班牙、葡萄牙、义大利、瑞士、匈牙利、捷克、奥地利、爱沙尼亚、拉脱维亚、爱尔兰、美国、加拿大、澳大利亚、新西兰、日本、韩国、中国、新加坡、泰国。
我曾经在挪威以及美国住了很长一段时间。希望可以跟您一起分享旅游的乐趣! : )

偶像: 王力宏! 因此我把他的照片放在我的第一页!

座右铭: 奉献自己,让世界更美好!
(^o^)

Q: 为什么我放工藤新一的照片?
A:
1. 我长得其实很安全@@
2. 他是我的偶像! 用理性的态度解决所有问题,任何困难都迎刃而解,「真相永远只有一个!!!」帅呆了!



----------------------------------------------------------------------------------
I am the MOST enthusiastic host in the world!!!! Hahaha!

Name : Ian

Gender : M

Age: 27

Job: Student (Master)

School: National Chengchi University (NCCU), Harvard Univeristy,National Taiwan University (NTU)

Birth of place : Taipei City

Blood type: B

Hobby : Play basketball, swimming, weight-lifting

Movie: Romantic Movie

English level : I can speak English very fluently. TOEIC 980.

Relationship status: Single

Birthday: A very special day! Everybody knows!

Constellation: I will tell you when we meet. : )

Model: Leehom Wang! That's why I post his pic on my first page.
(^o^)

"You should be open to an international experience and, in a way, ready to break the connections with your old life and ways of thinking."

I am open to all types of guests. I am UNBELIEVABLE open-minded because I want this world to become a better place. No discrimination, no fight, and no war. I have "passion" to serve my lovely guests. : )

Your life will change radically once you come to this lovely Asian Hawaii-- Taiwan! Live in a different country than where you were born; Staying here will make a difference in your life, for sure! (^o^)

WELCOME MY HOME : )

I will sing this wonderful song to you when you come, " Bayang magiliw perlas ng silanganganan alab ng puso sa dibdib mo'y buhay Lupang Hinirang duyan ka nang magiting sa manlulupig di ka pasisiil Sa Dagat At bundok sa simoy at sa langit mong bughaw may dilag ang tula at awit sa paglayang minamahal ang kislap ng watawat mo'y tagumpay na nagniningning ang bituin at araw niya'y kailan pama'y di magdidili "

Here is my best advice //////// 20 years from now you will be more disappointed by THE THINGS YOU DIDN'T DO than by the once you did do///////////////////////
- in the end we only regret the chances we didn't take
-travel, it leaves you speechless, then turns you into a storyteller
-to travel is to take a journey into yourself
-it feels good to be lost in the right direction
-travel is the only thing you buy, that makes you richer
-if you think Adventure is dangerous, try routine, it is lethal
-to travel is to live, if not now, when?
- you cannot buy happiness, but you can buy a ticket
-to travel is to take a journey into yourself
-I am in love with cities I've never been to and with people I've never met
-you don't need magic to disappear, all you need is a destination
-the best is yet to come
-IF YOUR DREAMS DO NOT SCARE YOU, THEY ARE NOT BIG ENOUGH
-Buy the ticket and take the ride + the journey is the reward, that's why you do it
did I miss something???
The slower you move the faster you die, moving is living
Live is what you make it

----------------------------------------------------------------------------------
我是全宇宙最「熱情」的房東!!!!!!!!!!!!! 哈哈哈!!!

性別 : 男生

血型 : B

年齡:27歲

出生地 : 台北市萬華區

學校 : 政大商學院畢業,美國哈佛大學,國立台灣大學管院

職業 : 台灣大學學生 (研究生)

英文程度:多益 TOEIC 980

興趣 : 游泳、練肌肉

生日:我的生日是一個很特別的節日!

星座:見了面再告訴您

感情狀態:單身

( 我相信愛情,我們一起加油!)

優點:個性很好,沒有甚麼脾氣,希望可以認識高EQ的朋友。重承諾,答應對方的事情,都會一定做到。

缺點:走在路上常被搭訕(男女都有,我經驗豐富),但是我不喜歡在路上被搭訕,所以我對搭訕的陌生人很冷酷。

生活:我很喜歡旅遊。我去過冰島、挪威、瑞典、丹麥、英國、法國、德國、荷蘭、西班牙、葡萄牙、義大利、瑞士、匈牙利、捷克、奧地利、愛沙尼亞、拉脫維亞、愛爾蘭、美國、加拿大、澳大利亞、新西蘭、日本、韓國、中 國、新加坡、泰國。

我曾經在挪威以及美國住了很長一段時間。希望可以跟您一起分享旅遊的樂趣! : )

偶像: 王力宏!! 因此我把他的照片放在我的第一頁!

座右銘: 奉獻自己,讓世界更美好!

Q: 為什麼我放工藤新一的照片?
A:
1. 我長得其實很安全@@
2. 他是我的偶像! 用理性的態度解決所有問題,任何困難都迎刃而解,「真相永遠只有一個!!!」帥呆了!


----------------------------------------------------------------------------------
성별 : 남성
나이 : 27 살
혈액형 : B
출생 : 타이페이 의 완화 구
직업 : 학생
환영합니다! 환영합니다! 환영합니다! 환영합니다! 환영합니다!
동해물과 백두산이 마르고 닳도록
하느님이 보우하사 우리 나라만세 ^0^
----------------------------------------------------------------------------------
性別:男性
年齢: 27歳
血液型: B
出身地:台北の万華区
趣味:水泳
おかえりなさい!!! おかえりなさい!!! おかえりなさい!!! おかえりなさい!! (^o^)
すこしだけ日本語を話すことができます (= ̄ω ̄=)
----------------------------------------------------------------------------------

Jeg kan snakke litt Norsk fordi Jeg bo i Oslo!
Jeg elsker Norge! : )


Ja, vi elsker dette landet,
som det stiger frem,
furet, værbitt over vannet,
med de tusen hjem, —
elsker, elsker det og tenker
på vår far og mor
og den saganatt som senker
drømmer på vår jord.
Og den saganatt som senker,
senker drømmer på vår jord.

Velkomen! (= ̄ω ̄=)

Languages:
English, 中文
Response rate:
100%
Response time:
within a day
Explore other options in and around Wanhua District
More places to stay in Wanhua District: