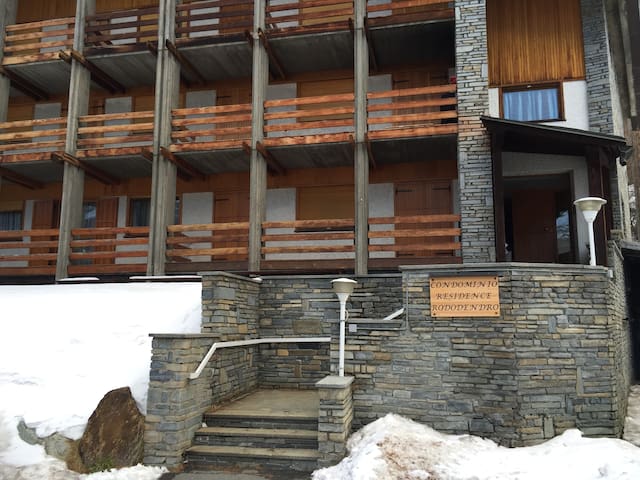 About this listing
Offriamo un comodo, ampio monolocale con balcone e box auto, direttamente sulla pista di Cielo Alto. È possibile raggiungere le funivie e rientrare alla sera con sci ai piedi. A pochi passi dal centro, silenzioso, con vista rigenerante. Pulito ed igenizzato da una impresa di pulizie ad ogni soggiorno.
---
---
---
Offriamo un comodo, ampio monolocale con balcone e box auto, direttamente sulla pista di Cielo Alto. È possibile raggiungere le funivie e rientrare alla sera con sci ai piedi. A pochi passi dal centro, silenzioso, con vista rigenerante. Pulito ed igenizzato da una impresa di pulizie ad ogni soggiorno.
Il nostro è un grazioso ed ampio monolocale, recentemente ristrutturato, situato in uno stabile signorile con portineria full-time. E' situato a ridosso della pista di Cielo Alto, che consente di raggiungere gli impianti di risalita del Breuil. E' possibile quindi partire e rientrare sci ai piedi, arrivando direttamente davanti all'ingresso dei box auto. Un ampio balcone ed un box auto coperto completano l'offerta. Il centro è facilmente raggiungibile a piedi; risalendo la pista di cielo alto oppure la strada, invece, si raggiungono altri negozi, bar, ristoranti e pizzerie. L'appartamento è molto caldo, ed è silenziosissimo. Viene pulito, riordinato ed igenizzato da una impresa di pulizia al temine di ogni soggiorno. Oltre allo sci, Cervinia offre percorsi con ciaspole (quattro paia di ciaspole sono disponibili per gli ospiti nell'appartamento), innumerevoli SPA, pattinaggio sul ghiaccio, ice go-kart, slitte trainate da cani e molto altro ancora. In estate Cervinia è l'unica località della Valle d'Aosta dove si può sciare sul ghiacciaio del Plateu Rosa, ad oltre 4000 mt di altezza; potrete inoltre godere delle meraviglie di Cervinia, che, offre moltissimi percorsi di escursione in trekking adatti a chiunque, down-hill, golf, escursioni in elicottero, parapendio, mountain-bike, down hill, e molto altro ancora, visionabile sul sito ufficiale di Cervinia.
Gli ospiti potranno accedere all'appartamento ed al box-auto riscaldato, molto utile quando c'è neve o freddo per riparare la vostra auto. L'appartamento è facilmente raggiungibile anche dal box con due ascensori.
Siamo a disposizione per ogni informazione relativa alla vostra vacanza ed alle vostre esigenze di check in o check out.
L'appartamento è situato nel residence "Rododendro", accanto al Club Med, all'inizio del quartiere di Cielo Alto. Si trova dunque a metà strada tra il centro di Cervinia ed il centro di Cielo Alto, così da poter sfruttare ambedue le situazioni. Il centro di Cervinia è raggiungibile a piedi, mentre il centro di Cielo Alto è raggiungibile in auto, oppure percorrendo a piedi la pista da sci che costeggia l'immobile. Il centro di riferimento per l'appartamento è Cervinia, poiché più vicino e maggiormente servito anche da un bus-navetta; offre negozi, bar ed apres-ski, ristoranti, noleggio attrezzature, hotel con SPA accessibile agli esterni, locali e discoteca. Qui si svolgono le manifestazioni organizzate dal Comune di Valtournanche, come la fiaccolata di fine anno, i fuochi d'artificio e le manifestazioni di carnevale, con la sfilata della Dama Bianca. Il centro di Cielo Alto, invece, è più modesto, con qualche ristorante-pizzeria, bar e noleggio attrezzatura.
Il comprensorio di Cervinia è senza dubbio il più esteso della Valle d'Aosta; include le piste di Breuil Cervinia e di Cime Bianche Valtournanche. Inoltre, acquistando il giornaliero internazionale, è possibile raggiungere Zermatt, raggiungendo così oltre 400km di piste (si segnala la pista Ventina che dal piccolo Cervino raggiunge il paese di Breuil, con oltre 22 km di discesa) . E' presente inoltre uno snow park per gli amanti dello snowboard e del free-ride, con evoluzioni, rampe, loop, con accesso incluso nel giornaliero. Gli amanti dello sci estremo possono usufruire del servizio di eliski, con guida alpina di accompagnamento oppure di escursioni in sci d'alpinismo o di parapendio con sci, sempre accompagnati da guide. In estate è possibile svolgere attività di down-hill, trekking, MTB, golf, parapendio, e molto altro ancora. Innumerevoli sono le attività per chi non scia, come il pattinaggio sul ghiaccio, le ciaspolate, l'ice go-kart, il trekking sulla neve, il bob, le SPA, e molto altro ancora. E' possibile raggiungere Plain Maison anche senza sci, ove potersi rilassare, camminare, abbronzarsi e gustare cibi tipici nei molti locali presenti.
Nell'appartamento sono disponibili quattro paia di ciaspole per le vostre escursioni sulla neve ed anche degli slittini.
Sci estivo sul ghiacciaio del Plateu Rosà.
Escursioni a piedi, con ciaspole, con sci d'alpinismo, con motoslitte, con slitte trainate da cani ed altro.
---
Check in time is 10AM - 7PM
Obbligo di contattare sempre l'host all'arrivo e per qualsiasi altra esigenza, necessità, problema.
Non è consentito fumare nell'appartamento.
Non è consentito ospitare altre persone oltre a quelle incluse nella prenotazione e presentate all'host.
Non è consentito organizzare feste, ascoltare o divulgare musica ad alto volume e disturbare il vicinato.
Agli ospiti vengono messi a disposizione stoviglie, posate, piatti, bicchieri e tutto il necessario per la cucina; non è consentito agli ospiti utilizzare ciò che non è messo a loro disposizione.
Non è consentito tenere un comportamento indecoroso e contrario al buon costume.
Non è consentito lasciare indumenti, scarpe o attrezzature nei corridoi; tutta l'attrezzatura, le scarpe e gli indumenti dovranno essere collocati all'interno dell'appartamento oppure sul balcone.
Non è consentito sparare petardi, fuochi d'artificio ed ogni altro gioco pirotecnico.
Non è consentito utilizzare griglie o fuochi sul balcone né all'interno dell'appartamento.
Non è consentito parcheggiare auto o mezzi al di fuori degli spazi assegnati.
Non è consentito disturbare la portineria al di fuori degli orari di apertura; in caso di necessità contattare l'host.
Non è consentito gettare nel wc assorbenti, profilattici, carta assorbente, salviette, ed altro diverso dalla carta igienica che possa anche in potenza otturare le tubature.
Gli oggetti eventualmente dimenticati nell'appartamento saranno spediti al proprietario a spese di quest'ultimo.
Non è consentito apportare modifiche all'appartamento, spostare mobili o arredi o introdurre arredi o complementi senza l'espressa autorizzazione dell'host.
E' severamente vietato utilizzare il riscaldamento condominiale; l'appartamento è riscaldato mediante una stufa a combustibile e tale costituisce l'unico mezzo per riscaldare l'appartamento. Il combustibile è disponibile presso l'appartamento e dovrà essere caricato nella stufa dagli ospiti, in funzione delle esigenze. A chiunque utilizzi il riscaldamento condominiale, verranno addebitati i costi di gestione pari ad E. 50,00 per ora o frazione.
Non è consentito invadere i balconi confinanti, né gettare dal balcone alcunché.
L'host non risponde dei danni occorsi agli ospiti o a terzi per loro negligenza, imperizia od imprudenza.
---
This host has a Strict Cancellation Policy
Cancel up to 30 days before your trip and get a full refund. Cancel within 30 days of the trip and get a 50% refund of the nightly rate, as well as a full refund of fees.
---
---
The location is good, ski in nearly ski out with a clamber over a wall. Purpose built apartment block with underground car parking. The accommodation is basic with minimal heating. But plenty of hot water. the location on Air BnB app was incorrect. But Mario talked us in. The keys were with the caretaker who was difficult get hold off, friendly, with only a smattering of English. All in all it was fit for purpose and we had a great weekend skiing.
Hi Dave, The location on Airbnb is correct; the street where the building is situated is private and often it doesn't appear on the navigation maps. anyway we sent you an email with the informations and directions to the apartment. Mario, as you wrote, talked you to drive you in. The heating is not minimal. The fuel heater is very very warm, like the instructions say. Anyway, thank you so much. We wait for you for another time.
---
The apartment is good value for money and just about enough room for 4 people. Mario was easy to communicate with and responded quickly to our questions. The ski resort itself is fantastic, and we were blessed with sunny but very cold weather! As a result we needed to use the electric fan heater to warm up the flat, and there were occasional problems with the electricity cutting out (as warned). It's a basic place but convenient, and suited our needs: thanks Mario and Emanuele!
Hi Neill, Thank you for your rewiev. The flat is warmed up by a fuel heater very hot and comfortable. In cervinia many apartments use this kind of heating (no gas in cervinia). Anyway, we put furthermore two electric heaters if the guests wants more. Is very important for us they stay well.
---
We had a great time in Cervinia at the beginning of March, but that wasn't particularly due to the apartment. I don't really want to get into too much detail, but there were some real issues that need to be addressed for the sake of future tenants. So it's not against the hosts, who were both helpful, except for the handing over of the keys. Two of us arrived in the morning at Malpensa Airport. Mario didn't want to meet them there, so the keys had to be collected from him in Milan, which is about an hour drive from the airport towards the opposite direction. So about 2-3 hours plus to Cervinia with the morning traffic. Would have been only 2 hours straight from the airport. The apartment wasn't easy to find for the first time, since we only received a written itinerary without any maps location (e.g.). That would have been handy as it turned out. The car could be parked in an underground garage. That was a really good feature. But there were immediately two major problems in the apartment: 1. We couldn't flush the toilet. Mario saw about the problem quickly, but in spite of that, the toilet was only repaired the day after in the afternoon. 2. The heating. It runs with fuel as it is in the description. It does make the apartment warm, but the smell of burnt fuel, which stays as long as the heater is on and the apartment is not cross-ventilated, was unbearable for us. If you ventilate, you can start the heating process again of course. The heater ran out of fuel in the middle of the first night anyway (resulted in having 12°C by morning) and there was only a little left in the tank to refill, which was – by the way – only allowed to be done on the terrace. So we ended up buying two small fan heaters. These were kindly refunded by Mario, as expected. Other things, that we weren't happy about: Easy to overload the electrical network: 1-2 hobs on, lights on, 2 phones charging and a hairdryer might just do the job. And circuit breakers are downstairs in the electrical room, pretty inconvenient in this case. Hobs are very old and weak (1 was not working), they hardly do the job, if one wants to cook. There's not enough space to unpack, which is quite uncomfortable, if there are more than 2 people in the apartment. The location of the apartment is very good for skiers/snowboarders. It's right on a slope that takes you 1 minute away from the main lift. And it's possible to ski straight in from the top of the mountain. So except for the problem with the keys, in case of a problem Mario was easy to reach and was helpful. There's a good potential in this apartment. So if these problems get fixed in the future, it's going to be a very good place to stay.
I'm sorry Daniel , but some clarifications are necessary. First of all about the keys. Mario asked your friend if it was a problem to get to Milan; your friend has answered negatively. If your friend had replied that it was a problem, Mario would have achieved your friend at the airport without problem. TO REACH APARTMENT: we sent you a detailed email with all the directions to the apartment, located in a private road that is not always indicated on the GPS; sincerely the indications are accurate and no one has ever had problems. WC: You called Mario in the evening of your arrival, and Mario called the plumber immediately after your phone call; we could not certainly know that it was broken. In any case, in Cervinia there is only one plumber and he came to the apartment the afternoon after your call, since you were skiing in the morning. HEATER: In Cervinia, over 2000 meters high there are few easy ways to heat, and what we use is the best in value for money; the stove is in accordance with the law; when the fuel is over, none of you have called to have it again, and you preferred to buy on your own an electric heater, which in any case it has been refunded. We knew of the stove because we were contacted by Airbnb San Francisco; surely they were contacted by you. It was enough to call us. ELECTRIC POWER: The electric power of any ordinary apartment doesn't allow switching on simultaneously two plates, hair dryer, lights and phone chargers; the power is 3kWh, and it allows switching on only one big appliance. This is not strange or different from others apartments in Cervinia. It is not our fault if the switches are placed in a room outside the apartment, since we have not built the building. In cervinia GAS does not exist and the only way for cooking are the electric plates. They work well, except for one, but you were notified. About the space to unpack, I regret to say that there are many spaces (closets, drawers, etc ..), but because of your disorder, you have not seen the spaces. I am sorry to write this, but if you accuse me, I have to answer: When Mario came into the apartment, he found clothes everywhere, scattered on the bed and on the floor, two bags of smelly garbage, leftover food and beers on the table. The beds were unmade, and the house was very untidy, but the closet and drawers were empty. The air was heavy and stifling. I can not upload the photos, but Mario made them. We have always expressed our willingness to solve your requests and what you have written leaves us surprised.
---
Mario met us at Milan airport, gave us keys and drew maps to the apartment and slopes. He also recommended some nice restaurants and when we lost car keys he arranged food delivery to the apartment by phoning restaurants, even though he was in Milan. Very nice people, and nice quiet apartment. Shower was perfect!!! very therapeutic and powerful - or maybe I am a man ;-)
---
Response rate:
86%
Response time:
within a few hours
Exact location information is provided after a booking is confirmed.
Explore other options in and around Breuil Cervinia
More places to stay in Breuil Cervinia :