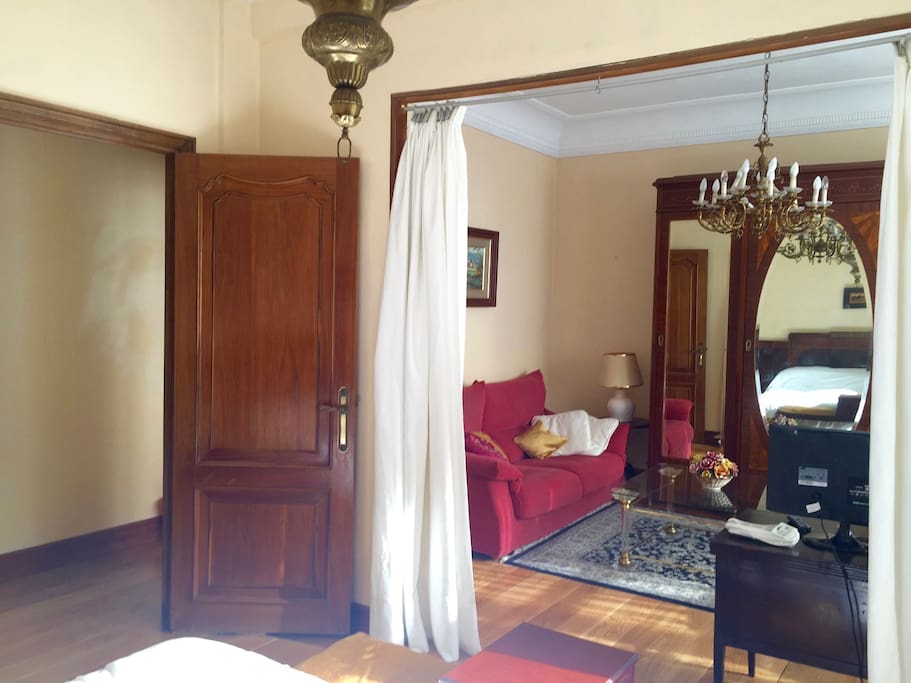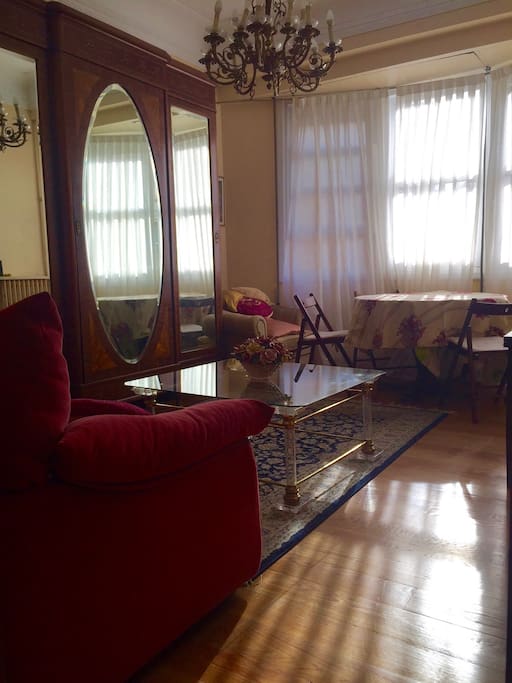 BILBAO TOURIST CITY CENTRE - GUGGENHEIM MUSEUM 5´
BILBAO TOURIST CITY CENTRE - GUGGENHEIM MUSEUM 5´
Apartment in the Gran Via of Bilbao Bilbao. Very quiet. Sleeps up to 4 guests. Museums, Euskalduna Congress Palace 2 min. walk, Museums 5 min. walk. Airport bus in front of the building. Special prices from one week stays. Parking optional: 15€/night
---
Check In: Anytime after 4PM
Room type: Entire home/flat
---
---
Always communicate through Airbnb
To protect your payment, never transfer money or communicate outside of the Airbnb website or app.
Learn more
---
El apartamento está situado en un edificio residencial por lo que no se permite celebrar fiestas ni hacer ruido que pueda molestar a los vecinos, especialmente a partir de las 21:00h.
En el apartamento se agradecería no fumar y las mascotas en principio no están permitidas.
Ideal para familia, viajes de negocios y turismo.
Not accepted:
Parties (stag parties etc.)
Pets
only adults over 25 years or children accompanied.
Arrival time:from 15:30 before 22:00
Departure time:before 11:00
Check-in with extra cost:
30€ After 22:00.
Check-out with extra cost:
No extra costs
---
---
---
Good things: The person who greeted me was very nice and attentive, and the apartment is located very close to Plaza Moyua, the shopping mall, stores, supermarkets, Deusto University and the Guggenheim, just like in the description. Bad things: The apartment needs a major fixing (very old furniture, peeling ceiling, nor working faucets, missing window shades, not working iron, smelly carpets, etc.), the kitchen is very small and limited (not appropriate for stays longer than 7 days), there is no air conditioning, and the windows look very dangerous if you bring a child into the apartment. The WiFi works all right but it gets very slow if you stream movies (slightly better with a Ethernet cable). One of the bedrooms has privacy, but the larger bedroom is separated from the living room by a curtain, so this is a problem if more than 2 people stay in the apartment.
---
ATTENTION, I am going to be very honest about my Airbnb experience at this location. I am also a Airbnb host and was not satisfied and actually disappointed with my visit. First off, the host was very kind and welcoming when we arrived at the apartment even though there was a miscommunication about the day we would arrive. The best thing about the apartment is that it is very well located. NOW, this apartment is very outdated and old. Most of the things in the apartment are falling apart and are in need of repair. The whole place needs a MASSIVE spring cleaning because there was so much dust in this house that for two weeks I was having allergic reactions. The house is not stocked at all for anything you might need to do. Even the smallest amenities like salt and pepper, oil to cook with, toilet paper, whatever you might need will need to be bought yourself. The kitchen has a permanent stench to it that didn't go away the whole month we were there. I would only recommend this place to those who don't care about being comfortable when they travel. If you only want to sleep here, are not going to eat here, and don't expect better conditions; this place is for you. I'm sorry to review this place so poorly just because the host was very nice, but people have to know what they are buying at such a high price also.
We will fix this things as soon as possible. I would have like that you had told me during your stay that you needed anything. As my mother went to see you and you told her and me that everything was great and that you were very happy, I am really sock about your opinion. About the miscommunication on the arrival day, my mother was all day waiting for you, but you told me in the evening that you were coming next day. Finally, everything was cleared. Thank you. Hope you had a nice trip back.
---
We had problems with this host in all three categories: cleanliness, missing amenities, and changes made without our consent. Because of her inability to fulfill her end of our agreement, we left one day early. Her mission statement declares: "My family and I take pride in our properties and are responsive to any of our renters needs. Most of the times, we deal with our guests directly, from key exchanges, to cleaning, to repairs, and anything in between. The property is fully furnished and have all the amenities of home!" She did not deal with us directly, only through various intermediaries. The maid was incapable of answering the most basic questions. Not being able to do a "walkthrough" meant we were never able to use the microwave or the washing machine because of various operational issues. All the amenities of home is a deceitful exaggeration; I have never been in a home that lacked an over in the kitchen. She was unresponsive concerning the full use of the Internet. Had we known we would have had only four day of Internet service, we would never had rented her space! We have documented many more serious issues that she concealed or would not acknowledge and we have pictures to prove her apt was not as advertised. What we eventually found is well documented in the photos we sent her. The maid saw the broken chair back which had been broken by previous tenants. Of course, she could deny this, but we recorded all of the anomalies: the leaky shower head, the broken chair, the washing machine without instructions, the exposed socket next the the kitchen sink, the broken kitchen cabinet, the kitchen without an oven, the not-working-now washing machine. Given that we were staying for 9 nights, it would be nice to have enough sheets and towels for a nine day stay. My wife had already spent 10€ for essentials. I don't think we should have had buy sheets and towels, as well. As for the maid, all the maid did was to sweep a French fry lying in full view on the living room floor under the rug, move it along under the rug to the opposite end of the table, then pick it up, hoping that I wasn't watching, but I was. That French fry on the floor is emblematic of her management. She wasn't there because she didn't seem to care. And the maid didn't know how to manage this type of negotiation. When we mentioned Wi-Fi to the maid, it took 20 minutes of pantomime for her to understand what we were talking about, much less to know what the internet or wi-fi was or to know what to do. Hardly the person to manage a walkthrough. We asked for a refund for the one less night we didn't stay there. She refused; we still want a refund.
---
We were very well received by Ariadna's sister, even being late. The check-in was smooth and everything was ready and clean, and Tatiana showed us a bit around and where we could park. The apartment is very quiet and comfortable and the location is excellent, there is no need for car really. The neighborhood is outstanding, there is a nice park across the street, there are several supermarkets and shops nearby and you are only 2 blocks away from Pozas where there are lots of bars with Pintxos. During our stay everything was fine, only the oven didn't work properly, but it was swiftly replaced by a new one!!! Furthermore, Ariadna's mother was sometimes around and she was also very helpful providing us with everything we needed! We would absolutely be back in this apartment!
---
Ariadna's mother promptly received us with the keys. It's a quite neighbourhood, furnished and clean house. All the things required for comfortable stay are in the house. The host was also very kind, easy going and thoughtful of our needs. Had no problem to contact her in case of trouble. The house is located in the Gran Via, absolutely close to so many places including Guggenheim, Euskalduna Theatre, San Mames , Termi Bus station, Plaza Moyua and the city centre and easy accessible by bus as well. Since it's in the Gran Via, you could walk to home anytime of the day/night without any problem. Amazingly the bus to the airport stops right in front of the house which was quite convenient. I would book it next time if I ever needed. Highly recommended!!!!
---
My family and I take pride in our properties and are responsive to any of our renters needs. Most of the times, we deal with our guests directly, from key exchanges, to cleaning, to repairs, and anything in between. The property is fully furnished and have all the amenities of home!
Languages:
English, Español, Français, Italiano
Response rate:
88%
Response time:
within a few hours
Explore other options in and around Bilbao
More places to stay in Bilbao: