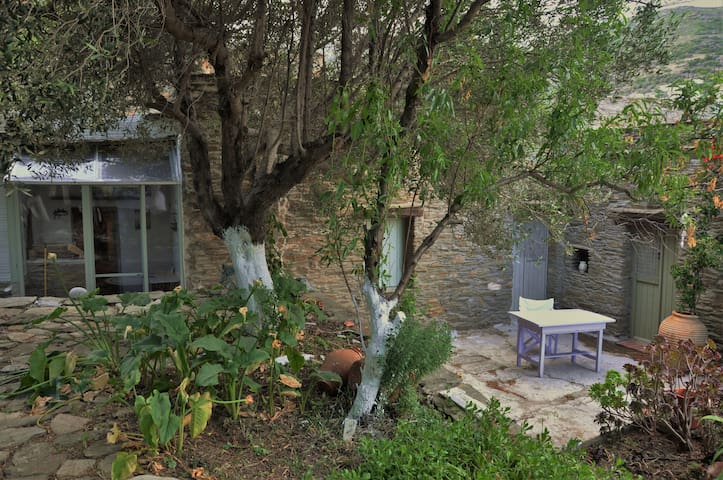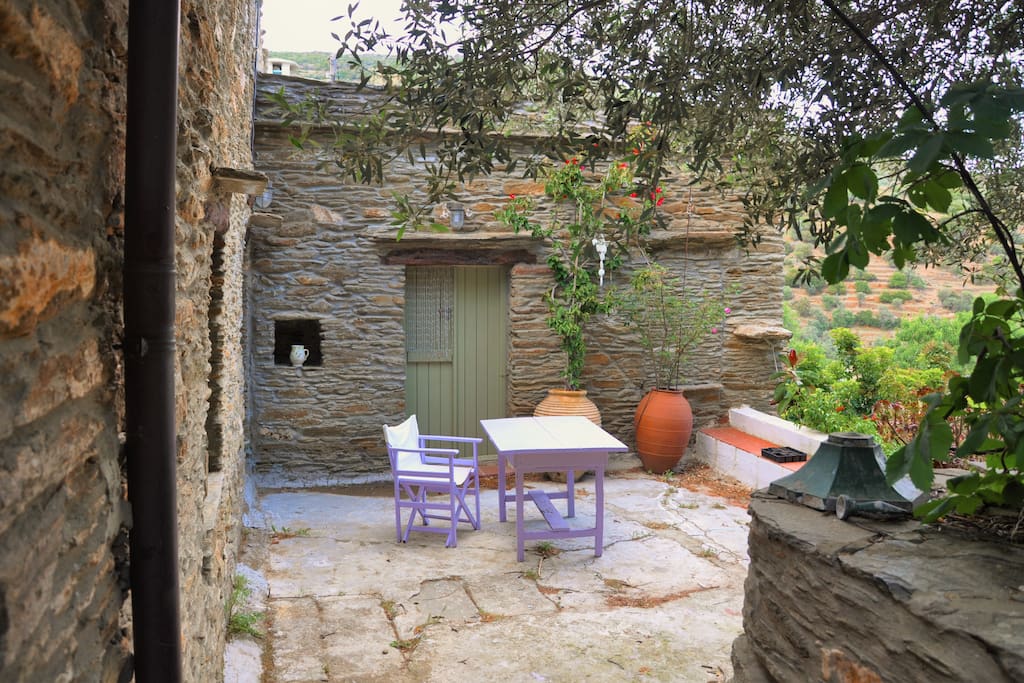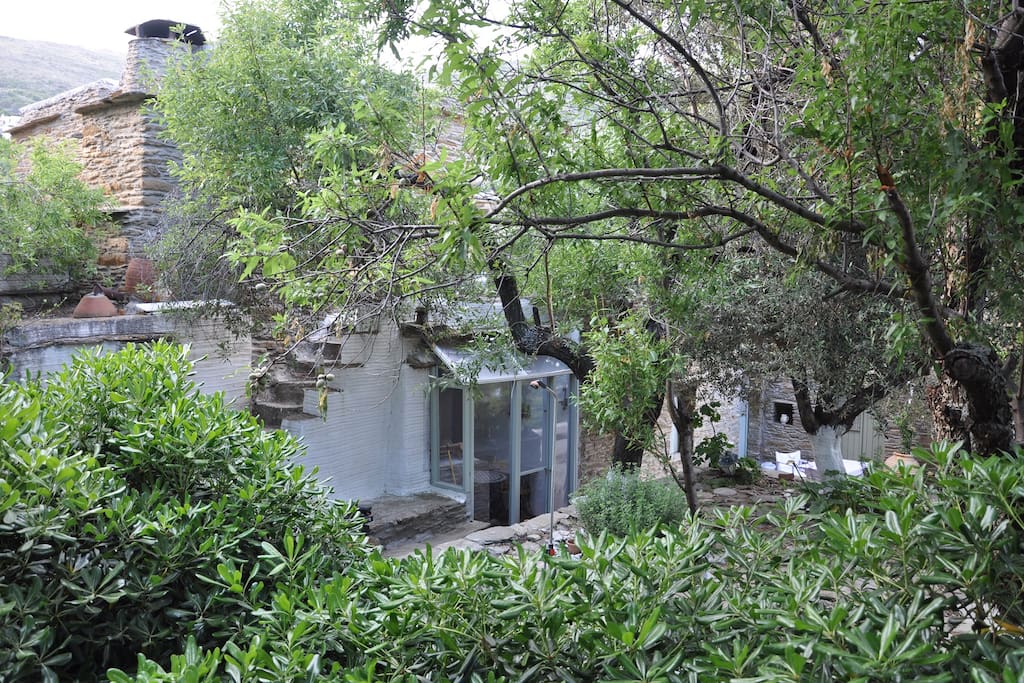 About this listing
Traditional village house, 120 m2, in a 600 m2 garden with almond trees. 3 indepentent rooms, livingroom, kitchen, bathroom. Fully equipped. Suitable for groups of friends, 2-3 couples, families. In a green valley of Andros, 8 km from Korthi bay.
The space
The house is convenient for families or 2 friendly couples with their kids. Being a traditional village house, it is organised as such not like a typical city apartment, with all rooms having direct access to the yard. You will share a common living-room, kitchen and bathroom, all big enough, but you will soon realize that the real area around which you will organize your stay is the yard, under the shadow of the wild-olive tree.
Guest access
The whole place is at your disposal.
Interaction with guests
Access to Andros island is via Rafina port (there is direct connection from Athens Airport, and bus from Athens downtown (Pedion Areos. I can meet you to give you the keys and all the necessary information either at the port, or the airport or anywhere in Athens.
Other things to note
Please have in mind that it is a village house, not a city appartment. It is in the country, and in the country there are small animals, like lizards, frogs, mice and the village cats that walk around, looking for food! Also flies, butterflies, moscitos, bees, ants and insects in general!
---
---
---
Extra people: £5 / night after 4 guests
Always communicate through Airbnb
To protect your payment, never transfer money or communicate outside of the Airbnb website or app.
Learn more
---
Just enjoy the place as if it was your own. Please don;t try to use the agricultural tools, unless you are really familiar with them.
---
Moderate
Cancel up to 5 days before your trip and get a full refund, including service fees.
---
---
This village house is situated in a very calm location in the beautiful little mountain village of Morakaioi. It offers an amazing experience of the far side of the island ! The hosts are very helpful and kind and the house is really cosy with great amenities and fully equipped. You have access to a marvelous and spacious garden with vegetables and trees, in a completely relaxing atmosphere...! We had a really good time and we would definitely stay there again if we have the chance! It is the ideal summer holiday destination for enjoying the absolute calmness and beauty of the mountains in the vicinity of the sea. Efi and Kostas thank you so much!
---
Me and my family spent 17 wonderful days in Kosta's and Effie's house in Morakeoi. It is really, like the advertisment says, a traditional stone house in a small traditional village. The village has paved paths instead of roads. (You hear goats bleat instead of traffic noices:-)) You see all the stars at night. The house is beautifully restaured with a tasteful mixture of old and modern. If you seek harmony and calm it's the perfect place. Or also if you want to concentrate and work, maybe write, this could be the perfect spot. There are many places to dwell on in the house and in the garden, so you never feel crowded even though you are quite a big party. We were five persons wich seemed to be a perfect number. You could always find a place where you could sit alone for a while, but the house and garden also offers plenty of places to sit together and enjoy. The garden is relaxing, a mixture of sun and shadow, with trees and colourful flowers. The place feels secure if you want to bring children. Everything is neat, tidy and very complete: in this home you find everything you need. The island of Andros is also very enjoyable. To get around from the house you need a car or a scooter. There are not many tourists on the island, and the people of Andros are nice, friendly and extremely helpful. Along the coast you find beautiful beaches, not crowded. In Korthi, a town some kilometres from the house, you can find anything you need. Kapparia, the bigger village in the neighbourhood, has a nice pub were the locals meet in the evening (the owner can prepare fantastic food for you! Ask for the moussaka!) and the village also surprises you by having a fantastic confectionary. Do not forget to taste the homemade icecream! Nearby is a spring where you can get crystal clear water. Every morning and evening some cats gather in the garden of the house and expect to be fed. Do so, and they will eat and then disappear for the rest of the day. After a few days you get to know them and their personalities, which is quite fun. Now to Effie and Kostas: they were the most wonderful hosts! They were quick in response and extremely helpful. They showed genuine hospitality and were eager to show us how to get the most out of our time in the house and on Andros. Their generosity and most welcoming personalities gave our visit in Greece a real silver lining. I see that Kostas has received the Airbnb title Superhost. He really deserves it!
---
Οι φωτογραφίες και η περιγραφή του σπιτιού ανταποκρίνονται πλήρως στην πραγματικότητα, και ίσως αδικούν λιγάκι τον κήπο, γιατί δεν δείχνουν το ωραίο 'ανοιγμά' του στην απέναντι πλαγιά (στις φωτογραφίες ο κήπος μοιάζει πιο 'εσωστρεφής'). Συμμερίζομαι απολύτως τις ενθουσιώδεις κριτικές των προηγούμενων επισκεπτών, τόσο ως προς το σπίτι, όσο και ως προς τον ιδιοκτήτη του, και προσθέτω τα εξής: το δεύτερο υπνοδωμάτιο έχει ένα γραφείο τοποθετημένο μπροστά από ένα μεγάλο παράθυρο με εξαιρετική θέα, και είναι ιδανικό, για όποιον θέλει να δουλέψει με τον υπολογιστή του. Επιπλέον, η τοποθεσία είναι ιδανική: υπάρχει άνετο παρκιγκ μόλις 100 μ. από το σπίτι, πράγμα που δεν είναι συχνό για σπίτι σε νησί και διευκολύνει αφάνταστα τις μετακινήσεις, όπως και ο δρόμος για το Κόρθι, που ακολουθεί την κοιλάδα και είναι εξαιρετικά ομαλός και σύντομος στην οδήγηση (12 λεπτά). Το ίδιο το Κόρθι είναι εξαιρετικά οργανωμένο (από σούπερ μάρκετ έως μπαράκια και τράπεζα, και επίσης πολύ άνετο πάρκιγκ) και, κυρίως, δεν είναι επιθετικά τουριστικό: αυτό του δίνει μια πολύτιμη ηρεμία, ακόμη και στην καρδιά του Αυγούστου. Όλα αυτά λειτουργούν πολύ κατευναστικά και χαλαρωτικά για τον επισκέπτη. Τέλος, βρίσκω ότι η προειδοποίηση του ιδιοκτήτη για τα έντομα κλπ και δεν είναι αναγκαία: το σπίτι δεν έχει ούτε λιγότερα, ούτε περισσότερα έντομα από ένα συνηθισμένο εξοχικό σπίτι. Ωστόσο, προϋπόθεση για να περάσει κανείς καλά σε αυτό το σπίτι είναι να αγαπάει τις γάτες! Μαζεύονται καμιά δεκαριά, μικρές και μεγάλες, και ζητούν επιτακτικά την τροφή τους δύο φορές τη μέρα. Αλλά είναι πολύ χαριτωμένες, με διακριτές προσωπικότητες, και έχουν μεγάλο χάζι! Περάσαμε υπέροχα σε αυτό το σπίτι και σίγουρα θα προσπαθήσουμε να ξαναέρθουμε. Ευχαριστούμε πολύ Έφη και Κώστα!
---
Το σπίτι του Κώστα είναι ένα πολύ όμορφα ανακαινισμένο πέτρινο χωριάτικο σπίτι. Σε κάθε γωνιά ανακαλύπτεις το γούστο και το μεράκι των ιδιοκτητών. Πολύ ευρύχωρο-ακόμα και για 5 άτομα όπως ήμασταν εμείς, άρτια επιπλωμένο και εξοπλισμένο ακόμη και με βιβλία, DVD και παιδικά παιχνίδια... ο δε κήπος με την αιώρα, τα δέντρα, τα λουλούδια και τις γάτες που τριγυρίζουν, ήταν ανάσα δροσιάς και αγαλλίασης. Η τοποθεσία του χωριού μας φάνηκε βολική γιατί, για κάποιον που θέλει να γυρίσει το νησί, βρίσκεται σε καλή απόσταση από πολλές παραλίες, πόλεις και αξιοθέατα. Τον Κώστα δεν στάθηκε δυνατόν να τον γνωρίσουμε από κοντά. Ήταν όμως πριν το ταξίδι μας άμεσα διαθέσιμος και πολύ εξυπηρετικός. Στην Άνδρο μας υποδέχθηκε η σύζυγός του Έφη, που παρά το πιεστικό της πρόγραμμα, ήταν φιλικότατη, ευγενέστατη και πολύ πρόθυμα μας έδωσε πληροφορίες "εκ των έσω" για ότι μπορεί να μας ενδιέφερε. Συνολικά, το νησί είναι όμορφο και έχει μερικές πανέμορφες παραλίες. Και το σπίτι του Κώστα είναι εξαιρετική επιλογή διαμονής για ξεκούραστες ΔΙΑΚΟΠΕΣ!!!
Ευχαριστω πολυ Γεσθημανη για υα καλα λογια! σιτες ειχα σε κρεββατοκαμαρα, γραφειο, τα τρια παραθυρα στο πανω δωματιο, το ενα στο σαλονι! μου λειπει μια στο πισω παραθυρο του σαλονιου. Οσο για τις πορτες, η ευθυνη στην Εφη γιατι καθε χρονο μαλλωναμε για τα διαφορα κρεμαστα που ειναι για να διωχνουν τα εντομα! κριμα ομως που δεν μας το ειπατε, γιατι καπου στο σπιτι ειχε 3 κουνουπιερες κρεβατιου, απο αυτες που τις κρεμας απο το ταβανι - κανουν και μεσαιωνικη ατμοσφαιρα!
---
Athens, Greece

·

Joined in November 2015
Response rate:
100%
Response time:
within an hour
Exact location information is provided after a booking is confirmed.
Explore other options in and around Andros
More places to stay in Andros: