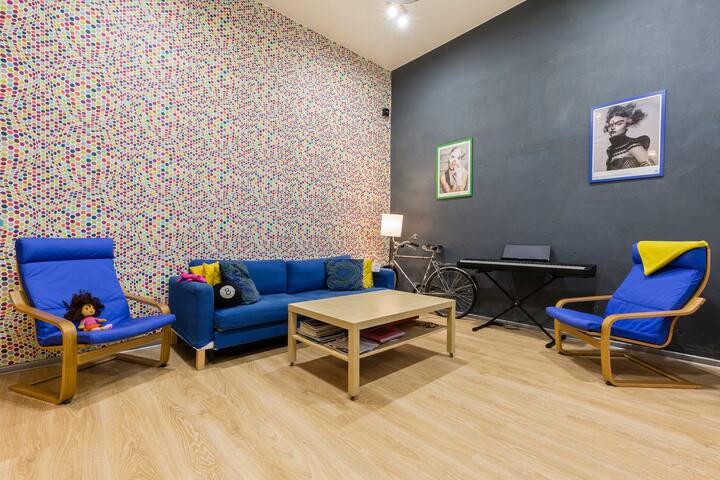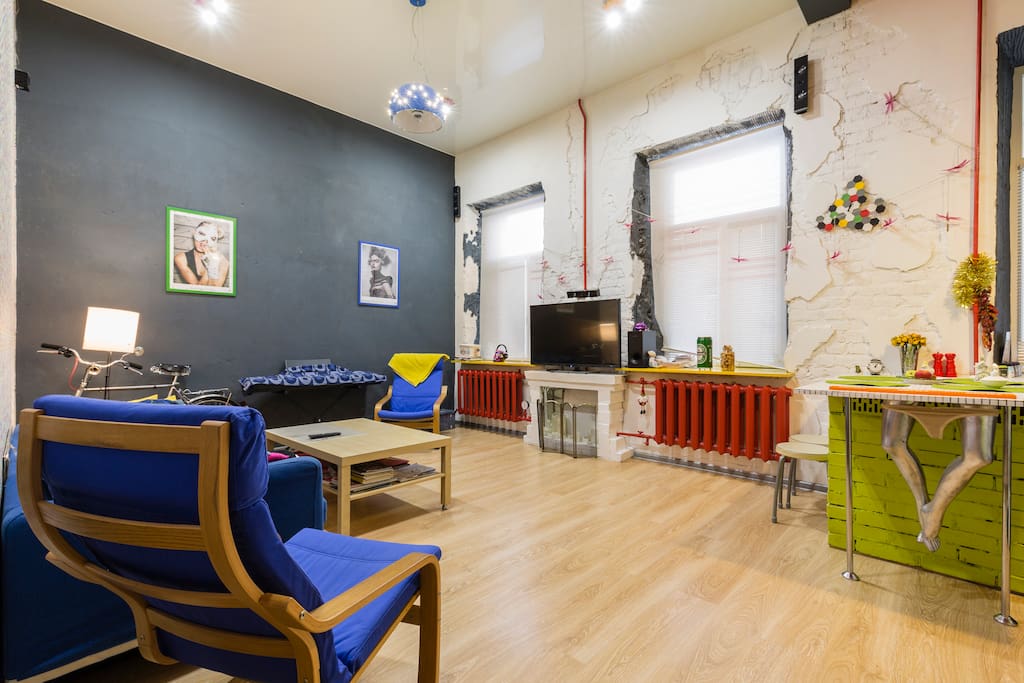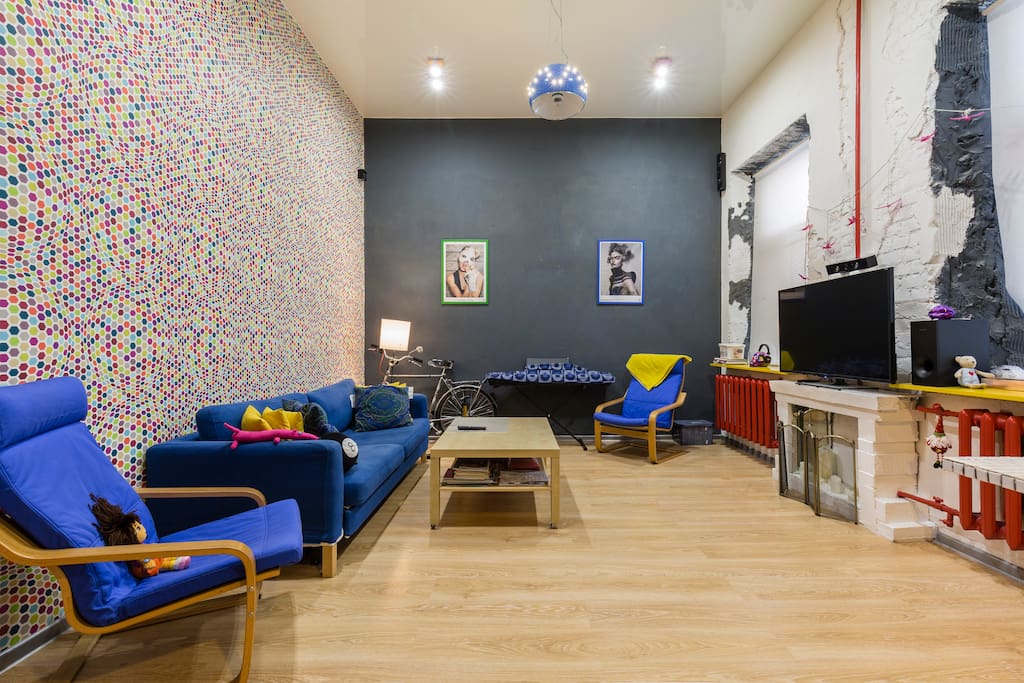 Яркая квартира - Лиговский проспект
Яркая квартира - Лиговский проспект
Design apartment with energy that can please. A huge TV with home cinema - easy immersion in the world of multimedia. View from the windows into a quiet guarded yard. It is easy to sleep after walking around the city. NEW furniture and bright repairs. Parking area
Дизайнерская квартира с энергией способной радовать. Огромный телевизор c домашним кинотеатром - легкое погружение в мир мультимедиа. Вид из окон в тихий охраняемый двор. Легко выспаться после прогулок по городу. НОвая мебель и яркий ремонт. Парковка
The space
Unique design! Gives unforgettable emotions. It is cozy as in a dream house.
Уникальный дизайн! Дарит незабываемые эмоции. Уютно как в доме мечты.
Guest access
The apartment is rented entirely (some guests ask whether the neighbors will)! At your disposal is a home theater 5.1 and a huge TV.
Квартира сдается целиком (некоторые гости спрашивают будут ли соседи)! В вашем распоряжении домашний кинотеатр 5.1 и огромный телевизор.
Interaction with guests
Anytime ready to help. Phone is included round the clock.
В любое время готов помочь. Телефон включен круглосуточно.
---
This listing has essential business travel amenities.
---
Common spaces
1 sofa bed, 1 air mattress
---
---
Extra people £7 / night after 3 guests
Always communicate through Airbnb
To protect your payment, never transfer money or communicate outside of the Airbnb website or app.
Learn more
---
Check in is anytime after 2PM
В квартире запрещено курить. Она расположена на 1 этаже. Можно прогуляться по уютному двору.
---
---
---
---
Apartment has nice location, about 5 minutes from Ligovskaya. The apartment is quite spacious, however no place to unpack your clothes to. By the designated check-in time, the apartment was still being cleaned without any prior warning by the host. We had a rather strange talk initiated by the host about how he can improve the situation so it wouldn't happen in the future. When we said that the apartment should be ready in accordance with the time specified, the host seemed to blame us for not being flexible enough. Cannot be said that check-in was friendly. We had to go eat for another hour before we could check-in. The apartment is clean; the pictures describe it fairly well. The shower was semi-broken, host proposed to fix it during our stay, but we declined because we did not want to be intruded. Apartment had 3 blankets but one 2 blanket covers. By the end of our stay, the host proposed a late check-out, which was nice. Overall, our stay was positive and would recommend.
Новые гости, всех приветствую от души!!!! Принимаю гостей вот уже 12 лет. Все люди разные и 100% счастья в мире быть не может. Вы читаете этот отзыв со своим ударением и интонацией, в электричке метро или на коленке в пробке, прошу ПРОЧТИТЕ ЛЮБОЙ ОТЗЫВ ОБО МНЕ С УЛЫБКОЙ и вам покажется что лучше меня нет, прочтите отзыв если голодны и не выспались - новый эффект. Вопрос - ДЛЯ ЧЕГО НУЖНЫ ОТЗЫВЫ? Вы задумывались? Они отражают действительность? Прочтите отзывы об отеле в котором вы провели супер отпуск или о своем мобильном телефоне который обожаете больше всего на свете))) По существу - нельзя быть Coca Cola которая всем по вкусу. В самом дорогом отеле мира тоже есть недовольные, верно? Одни рады что меня не видят, ключ в почтовом ящике.... Кто-то не рад что видел как я убираю квартиру... Некоторые думают что если увидели в квартире поломку (я не живу в квартирах и не могу увидеть некоторые поломки, которые бывают как и во всех домах и отелях мира....) то это мое к ним отношение и мне не важно как себя чувствует гость. Принимаю звонки и гостей круглосуточно и живу чужой жизнью уже 12 лет. Мне это нравится. Люблю принимать гостей и обеспечивать их уют. Стандартное время выезда 12:00. Новые гости прибывают в чистую квартиру в 14:00. Люди которые привыкли к гаджетам не могут понять что есть человеческий фактор. Порой на уборку нужно больше времени, но я стараюсь чтобы гости не ждали размещения и позволяю положить чемоданы сразу после выезда предыдущих гостей! У меня 7 квартир. Зимой часик них я сдаю на длительный срок до лета. Мои цены (стоимость моего труда) радует большинство гостей. Мне приятно что я помогаю вам экономить и предоставляю услугу максимально возможного качества. Последнее время люди разбалованы. Так происходит из-за растущей конкуренции на рынке. Вы работаете и у вас тоже бывают недовольные посетители. После работы вы можете передать эту энергию по цепочке в продуктовом магазине, в спортивном зале... Я пишу все это для того кто понимает слова (большинство гостей ничего не читает и спрашивает у меня адрес куда ОН едет!) и кто дочитает мой ответ на этот отзыв. Мы все участники одного сообщества airbnb. Нужно разговаривать. Люди проживают в квартире а потом пишут что не горела лампочка. Вопрос - почему они не могут позвонить или написать смс с просьбой поменять. Я могу приехать во время вашего нахождения в квартире или, если позволите, без вас, что запрещают правила сайта. Вывод - доброта порождает непонимание. Могу написать - ПРИБЫТИЕ НОВЫХ ГОСТЕЙ В 15:00 или 16:00, но это не гуманно. БОльшинство гостей приезжает в город до 12:00 и я стараюсь МАКСИМАЛЬНО рано навести порядок в квартире и разместить новых гостей. New guests, I greet everyone from the heart !!!! I've been taking guests for 12 years. All people are different and 100% of happiness in the world can not be. You read this review with your accent and intonation, in the subway train or on the knee in the traffic jam, please READ ANY ANSWER ABOUT ME WITH A SMILE and you will seem better than me not, read the review if you are hungry and do not get enough sleep - a new effect. Question - WHY REQUIRE REFERENCES? Have you thought about it? Do they reflect reality? Read the reviews about the hotel in which you spent a super vacation or your mobile phone which you most admire in the world))) In essence - you can not be a Coca Cola which is to everyone's liking. In the most expensive hotel in the world there are also dissatisfied, right? Some are glad that they do not see me, the key in the mailbox .... Someone is not happy that I saw how I clean the apartment ... Some people think that if they see a breakdown in the apartment (I do not live in apartments and can not see some of the breakdowns that happen like in all the houses and hotels of the world ....) then this is my attitude to them and I do not care how the guest feels . I receive calls and guests around the clock and have been living another's life for 12 years. I like it. I love to receive guests and provide their comfort. Standard check-out time is 12:00. New guests arrive in a clean apartment at 14:00. People who are used to gadgets can not understand what is the human factor. Sometimes it takes more time to clean up, but I try not to wait for guests to stay and let me put my bags right after the departure of previous guests! I have 7 apartments. In the winter, I give them an hour for a long time until summer. My prices (the cost of my work) pleases most of the guests. I am pleased that I help you to save and provide the service of the highest possible quality. Recently, people are spoiled. This is due to the growing competition in the market. You work and you also have dissatisfied visitors. After work, you can transfer this energy through a chain in the grocery store, in the gym ... I write all this for the one who understands the words (most of the guests do not read anything and asks me for the address where HE is going!) And who will finish reading my answer to this review. We are all members of the same airbnb community. We need to talk. People live in an apartment and then write that the light bulb did not burn. The question is why they can not call or write an SMS requesting a change. I can come during your stay in the apartment or, if I may, without you, which prohibits site rules. Conclusion - kindness generates misunderstanding. I can write - ARRIVAL OF NEW GUESTS At 15:00 or 16:00, but this is not humane. Most guests arrive in the city before 12:00 and I try to fix the apartment in the apartment and accommodate new guests.
---
Our stay was quite disappointing. Check in was late because of the mess that previous guests left (obviously not Denis's fault) which meant we had to wait outside while Denis cleaned. We finally managed to leave our suitcase in the flat but were now in a hurry to go central. Denis did recommend a really nice place for dinner though (thanks!). When we came back and tried to shower, we discovered the shower head didn't work properly - which it turned out Denis knew about after the previous guests. We could thus barely shower. We then tried to set up the sofa and discovered a urine/vomit stain when opened into a bed. On top of being disgusting, it means we had to share a bed when we specifically booked a 2 bed flat. Denis is a very responsive host which is amazing when it comes to arranging stuff but then becomes slightly irritating when being contacted everyday to be reminded to leave the bathroom door opened for humidity. All in all, the flat has everything you need and it's close enough to the city centre but we didn't really enjoy our time there.
---
A simple unit with lots of character. It suited us (a couple) for a week long stay. Denis was friendly and quick to make our stay a pleasant one. Note: no English TV (so if you can't understand Russian the "home theatre" is if no use AND no oven, just a stove top. This wasn't an issue for us though as eating out was cheap and a better option.
---
PERFECT PLACE This place is really awesome, spacious, well located, stylish and amazing!! I had the best time ever in Deni's House, perfect kitchen, living room amazing TV and bike, very very very comfortable bed, perfect hot shower I travel a lot so I know when an airbnb is worth it in a good price, and I have just one advice if you are reading it, BOOK IT, YOU WILL LOVE IT!
---
I was in the Denis Apartment for 9 days. Very nice and cozy especially the light are very funny for several events ! Big television and cousin with need tools.Very near to the metro ( 5 min ) . Denis was very hospitable and help me in little problem as smartphones card and registration. Thanks again to him.
---
Родился в Германии в городе Магдебург. Влюбился в Петербург во время учебы в Военном институте физической культуры. До поступления в него, жил в городе - Самара.
10 лет сдаю свои квартиры.
Живу ощущениями. Всегда что-то новое и экстремальное вызывает интерес: парашют, горные лыжи, дайвинг, пулевая стрельба, мотоциклы, плавание...
Путешествовать люблю налегке: MasterCard и зонт - все что мне нужно!
Люблю принимать гостей. Общение - важная составляющая моей жизни.

I was born in Magdeburg, Germany. My father was a military officer.
I fell in love with St. Petersburg where I have studied at the Military Institute of Physical Culture. Before joining the Institute, I lived in Samara.
I rent out my apartments for 10 years.
I live by sensations. Something new and extreme always makes me interested: parasailing, skiing, scuba diving, shooting, motorcycles, swimming etc.
I like to travel light. MasterCard and an umbrella - is all I need!
I like to receive guests. Communication is an important part of my life.
Languages:
English, Русский
Response rate:
100%
Response time:
within an hour
Explore other options in and around Sankt-Peterburg
More places to stay in Sankt-Peterburg: