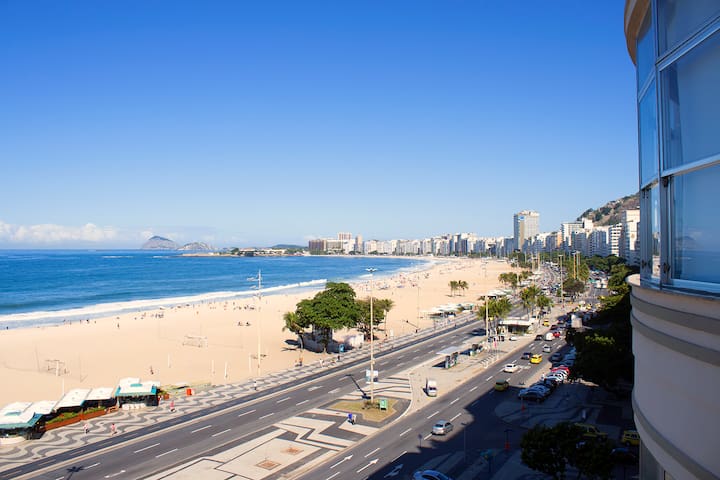 Amazing view from the apartment on ALL the beachfront of Copacabana. 3 bedrooms for 8 people at most! Doormen ensure the safety of the building 24 hours a day. Metro within 5 minutes! Wifi, TV, equipped kitchen, etc.
The space
Excellent value for money! Beautiful apartment with 3 bedrooms for up to 8 people. Opposite the famous Copacabana beach, Posto 3, you can not ask for more in terms of location. Peace, quiet (apartment on the 8th floor), brightness and especially 24hours security ensured by the guards of the building. This little corner of paradise is simply one of the most secure districts of Rio de Janeiro.
The 200m2 apartment is ideal for 8 people, rooms are made up as follows:
- Bedroom 1: 1 double bed + 1 sofa bed for 2, WITH conditioning.
- Bedroom 2: 1 double bed + 2 single beds, air conditioning WITH.
- Bedroom 3: 2 single beds, air conditioning WITH.
You can cook good food in the kitchen: microwave, coffee machine, fridge-freezer, stove, kitchen utensils, etc. We are far from a modern kitchen, but it is sufficiently equipped for a pleasant stay.
Guest access
The apartment has a parking space included in the rental price of the apartment, as well as free unlimited WiFi.
Interaction with guests
In any case, if you have questions or problems during your stay, do not hesitate to contact me directly, I always hold myself at your disposal.
Other things to note
I am French, my name is Benjamin, and manage the apartment since December 2015 on behalf of the owner. After booking, I will send you my phone number and my personal email. I speak French, English, and Portuguese.
Regarding the entrance, it is directly at the apartment between 5pm and 10pm. It can not be done before 5pm that if the apartment is ready and there is no state of fixtures scheduled in the morning. An entry after 10pm is also possible but an additional R$ 70,00 will be required in cash upon entry into the premises.
Regarding the release of the premises, it will be at the apartment between 7am and 12am. It may be after 11am if no entry places are planned on the same day. A charge of R$ 70,00 will be required for release before 7am.
---
---
Bedroom 1
1 double bed, 1 couch
Bedroom 2
1 double bed, 2 single beds
---
Check in time is 5PM - 10PM
Important: Antes de confirmar a reserva, gostaria de confirmar o numero de pessoas que ficarão hospedadas, pois a regra interna do condomínio só permetirá no máximo 8 pessoas (com no máximo 4 homens).
Rules:
1. The maximum number of guests is 8 people.
2. Turn off the air conditioning, TV, and lights when you leave the apartment. Charges may be applied in case of overuse.
3. Turn off the gas when not cooking.
4. Agree not to make any copy of the key.
5. Minimum noise after 22h. Music is not allowed in the evenings after 22h.
6. Check-in between 5pm and 10pm. Extra R$ 70,00 after 10pm.
7. Check-out between 7am and 12am. Extra R$ 70,00 before 7am.
8. It is allowed to smoke inside the apartment.
9. Pets are not allowed inside the apartment.
10. If during the stay, a problem (infiltration, a gas problem, internet problem, etc.) occurs, the tenant must allow access to house.
11. At your departure, you are asked to leave the apartment in the same conditions as upon arrival.
12. The security shall be R$ 1,000.00. It will only be debited to your account only if I make a claim within maximum 48 hours after check-out. Otherwise, you will not be debited from the deposit.
REGRAS DA CASA:
Respeitar a convenção do Condomínio:
Não fazer barulho antes das 9 h da manhã, ou depois das 22h.
Quando voltar da praia, entrar pela porta da garagem e tirar a areia.
Colocar o lixo para fora nos horários e locais definidos.
Não colocar roupas molhadas nas janelas para secar (Há secador de roupas na área de serviço).
Quanto ao uso do apartamento:
Manejar as chaves com jeito e não perdê-las.
Na volta da praia, não entrar pela porta da frente. Retirar bem a areia dos pés na bica da garagem, cuidando para não levar areia para dentro de casa e, sobretudo, para o banho, pois entope os ralos dos chuveiros.
Não sentar nas cadeiras, camas e sofás se estiver molhado, ou com óleo de praia para não manchar tecidos, estofados, colchões e móveis.
Tomar cuidado com as janelas de guilhotina do jardim de inverno, observando que as travas estejam sempre armadas dos dois lados.
Ao sair de casa verificar se:
- todas as torneiras e chuveiros estão fechados;
- ventiladores e ar refrigerado desligados;
- registro do gás do fogão na posição fechada.
Porque deixar as luzes, ventiladores e equipamentos elétricos apagadas e desligados quando sair de casa?
Porque além de ser uma recomendação de segurança pedida pelo Corpo de Bombeiros, estamos em crise de energia, com aplicação de multas quando ultrapassamos o limite permitido.
Não deixar toalhas molhadas sobre os móveis. Há secador de roupas na área.
Preservar móveis, utensílios, panelas, copos, talheres, roupas de cama e de banho em bom estado.
Não colocar pregos ou outros itens que prejudiquem paredes, azulejos ou móveis.
Vidros ou utensílios quebrados, alfaias estragadas e manutenção necessária em caso de quebra ou dano, bem como perda de chaves ou utensílios serão descontadas da caução.
Uso dos banheiros:
Não jogar papel ou outros objetos nos vasos sanitários. Há latas de lixo com tampas para esse fim. No armário de itens de limpeza há sacos de lixo para forrá-las.
Não deixar areia de praia entrar nos ralos do chuveiro e do ralo dos banheiros.
Não deixar acumular lixo. Os sacos de lixo devem ser fechados e colocados no hall de serviço para coleta, diariamente.
O apartamento é antigo e você deve tratá-lo como trata sua casa! Esperamos do fundo do coração que você trate bem a sua casa...

REGRAS DO PRÉDIO – Condomínio Maria do Carmo:
1 – É proibido fazer barulho, ruídos, tumulto, ouvir música alta, etc. após as 22h e antes das 9h.
2 – A perturbação da ordem, descumprir as orientações dos porteiros, incomodar os vizinhos são motivo
para multas e até despejo, sem devolução do pagamento, pois constituem motivo para multas d(URL HIDDEN)condomínio para proprietário. Discussões ou ofensas aos porteiros ou aos outros moradores do
prédio ensejam o chamado da polícia para o retorno à ordem;
3 – É terminantemente proibido colocar toalhas, roupas, ou qualquer tipo de coisa nas janelas da
fachada, seja para secar ao sol ou por qualquer outro motivo, incorrendo em multa no valor
de uma taxa mensal de condomínio, atualmente em R$2.000,00 ou seu equivalente em Dolar americano
no câmbio do dia da infração;
4 – É proibido a passagem em trajes de banho pela portaria social;
5 – Quando na volta da praia é obrigatório retirar a areia do corpo utilizando a ducha disponível na
entrada de serviço, bastando avisar ao porteiro para que ele a disponibilize.
6 – Por questão de segurança, os hóspedes devem deixar, com o porteiro, os nomes e os números do
passaporte ( da identidade ou CPF ) em lista própria a ser preenchida no momento do check in;
7 – Também por motivo de segurança, os hóspedes deverão se identificar ao porteiro de plantão, todas
as vezes que entrarem no prédio.
8 – É proibida a entrada de pessoas que não estejam nesta lista. Se desejar receber amigos, ou parentes,(URL HIDDEN)necessário avisar ao proprietário com antecedência e este avisará, se estiver de acordo, ao
porteiro. O visitante deverá mostrar documento de identificação e terá o nome e o número do
passaporte (ou da identidade ou CPF ) anotados na lista;
9 – As portas do prédio são blindadas e não possuem molas automáticas. Por motivo de segurança,
deverão ser sempre fechadas manualmente pelo hóspede após a entrada ou saída pelas mesmas.
O apartamento só comporta 08 hóspedes, como é informado nos sites onde são realizadas as reservas. Qualquer pessoa que exceda este número e que vier a pernoitar no apartamento deverá pagar uma diária, por noite passada no apartamento, no valor de R$100,00 (Cem reais) ou seu equivalente em Dólar americano no câmbio do dia da ocorrência, cujo pagamento deverá ser feito no momento do check out, ou descontado da caução deixada com o site de reserva e autorizado, pelo responsável pela reserva, o referido desconto, junto ao site, no momento do check out.
Todos esses cuidados se devem a questões de respeito às regras do condomínio, à boa convivência com os vizinhos, mas, sobretudo, a questões de segurança.
Os hóspedes se comprometem a respeitar a Convenção do Condomínio e a observar as regras acima para bem poderem cumprir esse compromisso.
---
This is a unique and charming place to stay in the heart of Copacabana. The flat is spacious and airy - with windows that open wide to allow for cooling. We could not have stayed in a better place. Do not expect modern fixtures and fittings, that for us was part of its charm. It is very good value for money. We were made very welcome by Elisabeth.
---
The flat has a fantastic view on the front side to Copacabana beach and quiet rooms on the back side. The living room and two of the rooms are very large. The building is old, charming, secure and located near everything. At the same time, we feel that part of the furniture (one of beds, one of the sofas in particular) are worn down and especially a large table for eight people is missing. The kitchen equipment is below basic. From our point of view, these small investments should be made for the price to be really fair.
---
Great place in a spectacular location overlooking Copacabana beach. Walk to everything or easy to grab a cab at your doorstep. Elisabeth was lovely. She met us at the door, gave us the tour and neighbourhood information. She also let us stay until 4pm because the next group wasn't arriving until the next day. Gave us a whole extra day in Rio! The apartment is huge. Lovely breeze with the windows open and the sound of the waves. Kitchen is well stocked. There is not a lot of furniture, and the beds are futon mattresses. Worked very well for us, and the view and location make the place a real find. If luxury furniture or extremely stylish decor are important to you, this may not be your place. If you want a great place to bring a large group in a perfect location with a great host, definitely recommend it.
---
I loved the apartment and its location! The owner of the apartment is so sweet and nice! It's a huge apartment with ocean view! Loved everything about it!!! It's a apartment to bring a lot of people, but me and my friend stay there by our selves and it was worth it cause it's such a good place! Thank you thank you thank you
---
Obrigado por esta estadia maravilhosa no Rio! A vista do apartamento é incrível, de frente para a praia de Copacabana. O apartamento é grande (muito grande). Benjamin é um host atencioso, apesar da distância. Tivemos um pequeno problema com a cafeteira, mas o proprietário a substituiu rapidamente, 3 horas depois de relatar o problema ao Benjamin. Nós planejamos outra passagem no Rio nas próximas semanas e nós não hesitaremos em voltar aqui.
---
Meu nome é Benjamin, eu sou francês e me estabelece em Paris. Adoro viajar, adoro a vida, os encontros e o trabalho bem feito. Comigo não há surpresas, uma reserva é uma reserva e não será cancelada no último minuto!! Emprego todos meus esforços para que meus convidados fiquem…
Languages:
English, Français, Português
Response rate:
100%
Response time:
within a few hours
Explore other options in and around Rio de Janeiro
More places to stay in Rio de Janeiro: