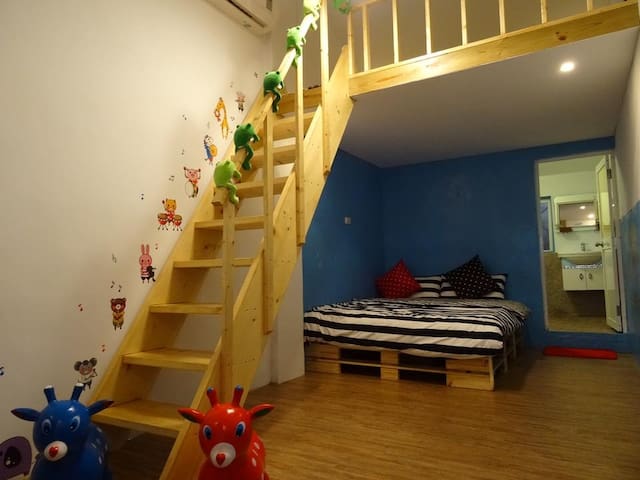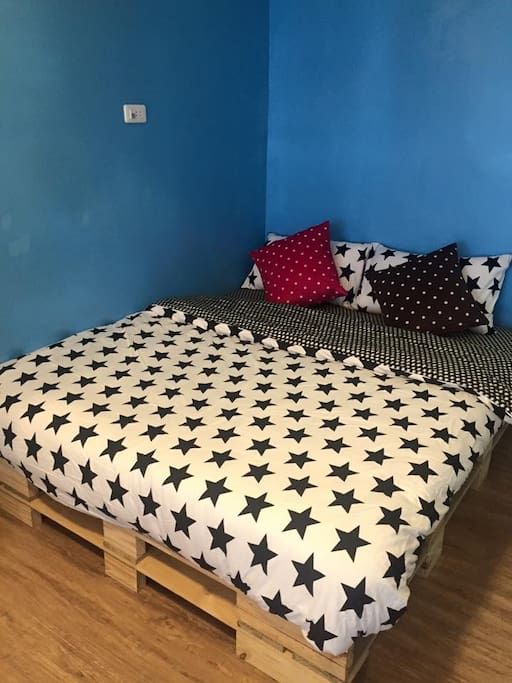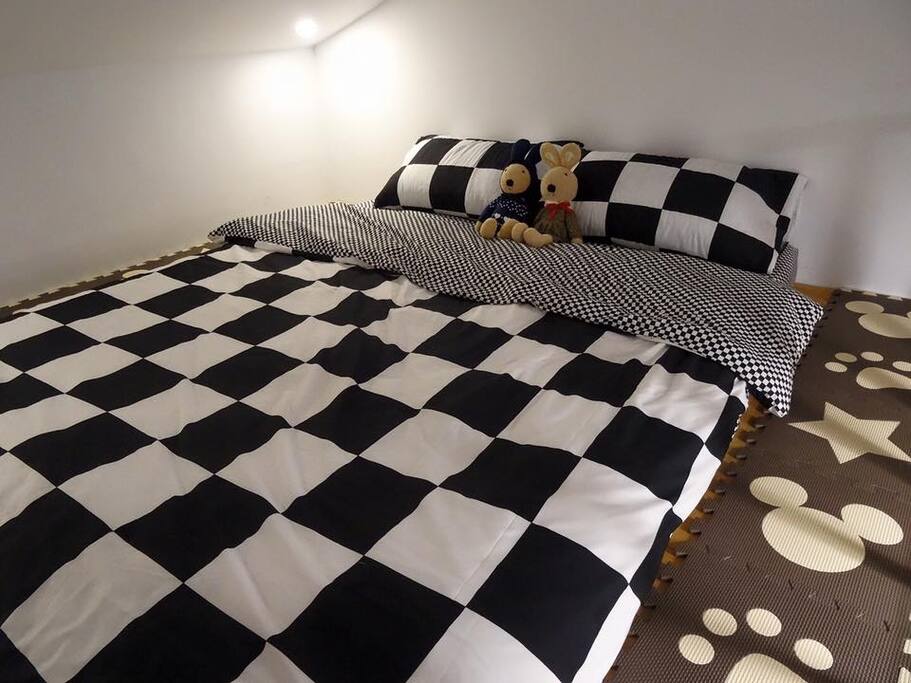 J & J house B & B With the name of the couple and the name of the good couple named in the Jiale water because of surfing and acquaintance together to create their own dream of a new transformation will be the old house out of the new taste to live in every passenger has a warm and relaxed J & J house is located in the opposite side of the nuclear plant in the alley belongs to the old village is not gorgeous decoration is not the same as the children's clothing, Deliberately renovated but provided you with a comfortable and relaxing space
J&J house 民宿以情侶佳宏&佳紋的名字取名 兩人在佳樂水因衝浪相識相戀 兩人一起親手打造夢想 全新改造將老屋蹦出新滋味 讓住進來的每位旅客都有溫馨放鬆的感覺!兩人都喜歡小朋友 所以將房間佈置成溫馨可愛的親子風 喜歡墾丁的朋友帶小朋友一起來渡假吧! J&J house是位於核三廠對面的巷子裡 屬於老式眷村 沒有華麗的裝飾 不刻意改造 但提供給您們舒適放鬆的空間
The space
J & J house self-help management. B & B is the owner of the property to provide their own home for the convenience of accommodation. Bed and the hotel is (URL HIDDEN) be sure to comply with the rules. If you want to compare with the hotel, please think twice - The hostel attaches great importance to health problems, do not cause dirty, the occupants must be responsible for maintaining the accommodation clean and everything contained in the room containing electrical appliances. Do not smoke in the room, please try to avoid eating snacks in the room and the smell of heavy food, so as not to lead mosquitoes, or leave an uncomfortable food smell affect the next group of passengers. After 10:30 pm in the outdoor chat please reduce the volume in order to avoid disturbing neighbors. Such as non-compliance or damage to the owner, the owner has the right to immediately terminate the accommodation can not be refunded and asked to compensate for the loss.
J&J house 採自助式管理。民宿是屋主提供自家房源讓旅客便利入住.民宿與飯店本就有區別.預訂者務必遵守規則.如要與飯店相提並論者請三思再預訂-
民宿主人非常重視衛生問題、勿造成髒亂,入住者請務必共同維護住宿空間整潔以及房內所有用品包含電器。
屋內禁止抽菸、請盡量避免在室內吃零食以及氣味很重的食物、以免引來蚊蟲、或留下不舒服的食物氣味影響到下一組入住旅客。
晚上10點半過後在戶外聊天請降低音量以免打擾鄰居.
如未遵守或有物品損壞者。主人有權立即終止住宿不得退款及要求照價賠償損失。
Interaction with guests
The steward will not stay in the fixed air and other passengers, on the car rental - chartered - the water activities or diving experience. For help please contact the phone directly
管家不會待在固定處空等旅客、關於租車-包車-各項水上活動或潛水體驗.如需協助部份請直接電話聯繫管家
---
---
Check in time is 3PM - 9PM
民宿主人非常重視衛生問題、勿造成髒亂,入住者請務必共同維護住宿空間整潔以及房內所有用品包含電器。
屋內禁止抽菸、請盡量避免在室內吃零食以及氣味很重的食物、以免引來蚊蟲、或留下不舒服的食物氣味影響到下一組入住旅客。
晚上10點半過後在戶外聊天請降低音量以免打擾鄰居.如未遵守或有物品損壞者。主人有權立即終止住宿不得退款及要求照價賠償損失。
---
Our visit was great overall! The location is tucked a little ways into an off-street, so it's a little difficult to find without exterior photo references. Parking is also rather narrow for some larger-sized cars, but having others help direct you park will suffice. We had a minor problem with a water breaker, but our amazing hosts fixed the issue within minutes! For the price and the amenities offered, this place was cute, quaint and pleasant.
---
The hosts were polite and nice. The husband came to pick us up when we couldn't find our way at the bus stop and they were flexible with the check in time. The place is cute and allows one to experience a traditional Taiwanese neighborhood. It's probably best to rent mopeds to get around Kending (the host can help make arrangements) because walking isn't very practical and public transit is a little tricky. Also, since there's no kitchen, don't bring lots of perishable food. There's a small fridge but only the freezer compartment is cold enough to store things. Overall, it was a pleasant stay.
---
Ah Hong was very patient and waited for us when we get the address wrong. Room was clean and spacious. Plenty of privacy. Location very accessible with bike. Don't suggest walking though. 7-11 just across the street.
---
J&J house 民宿以情侶佳宏&佳紋的名字取名 兩人在佳樂水因衝浪相識相戀 兩人一起親手打造夢想 全新改造將老屋蹦出新滋味 讓住進來的每位旅客都有溫馨放鬆的感覺!兩人都喜歡小朋友 所以將房間佈置成溫馨可愛的親子風 喜歡墾丁的朋友帶小朋友一起來渡假吧! J&J house是位於核三廠對面的巷子裡 屬於老式眷村 沒有華麗的裝飾 不刻意改造 但提供給您們舒適放鬆的空間
Languages:
中文
Response rate:
100%
Response time:
within an hour
Explore other options in and around Hengchun Township
More places to stay in Hengchun Township: