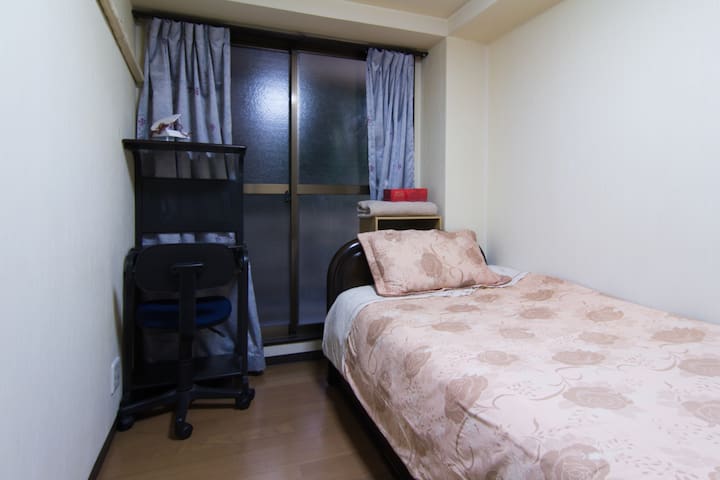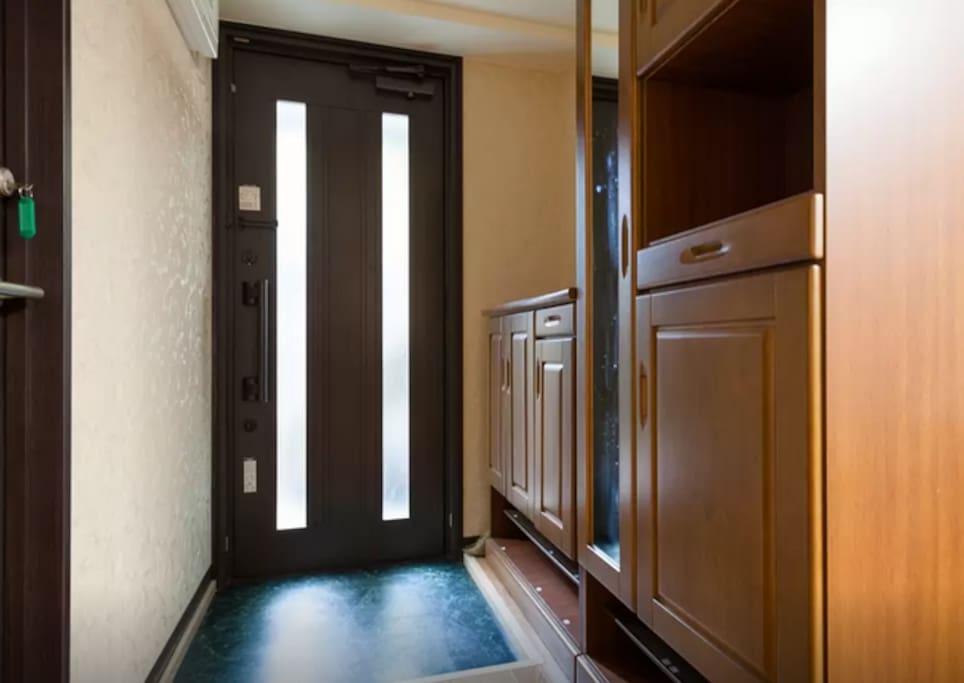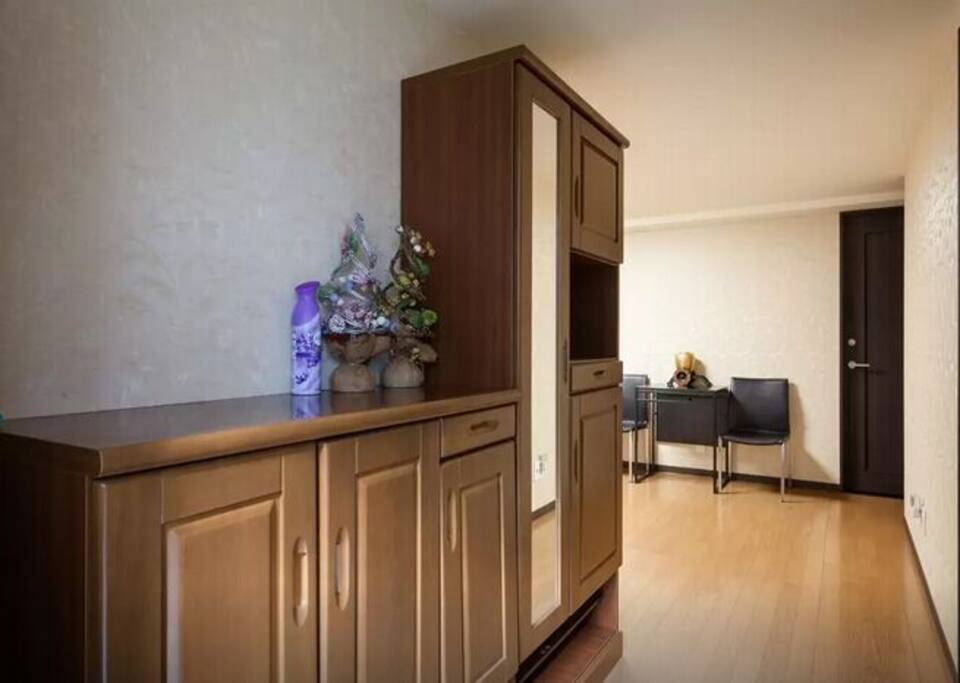 东京市中心池袋附进别墅民宿单人房 free wifi
If you need a friendly host family in Japan, please reserve it as soon as you can. We will try our best to help you. Extremely NEW building and clean environment
The space
A comfortable guest room comes with a Semi-Double bed (100cm*200cm) with fresh sheets, pillow and quilt.
Guest access
Guests will friendly access to Wifi internet, full bath and shower, washing machine, kitchen with fridge and microwave, dining room, and living room with TV.We will also offer shampoo, hair conditioner, clean towels and so on. Three kitchens and two bathrooms for public. There is Wifi in the house. We are also happy to provide Pocket-Wifi for guests. Please book in advance for availability.
Interaction with guests
Our house is located in the center of Tokyo, 7 miniutes to Kami-Itabshi Station on foot. 12 minutes to Ikebukuro Station by Toubutoujou Line.
Ikebukuro is the second biggest transfer station in Tokyo.
The nearest station is Kami-Itabashi Station.
Taking the Toubutoujou Line to Ikebukuro station by 10 minitues.
Other things to note
Ikebukuro To:
Shinjuku - 5 minutes
Shibuya - 11 minutes
Harajuku & Meiji Jingu - 14 minutes
Asakusa - 20 minutes
Tokyo - 17 minutes
Ginza - 20 minutes
Yoyogi - 11 minutes
Ueno & Ueno Park - 17minutes
Akihabara - 18 minutes
Tsukiji - 26 minutes
Korakuen & Tokyo Dome City - 8 minutes
Shimbashi & Hama Riku Koen - 24 minute
From Narita Airport
By Train:
1. Take Keiseihonn Line to Nippori Station, and then change Yamanote Line to Ikebukuro Station, finally change Toubutoujou Line to Kami-Itabshi Station. (Total 1,355 yen, two hours)
By Bus:
Take airport bus to Hotel Metropolitan, and then change Toubutoujou Line to Kami-Itabshi Station. (Total 3,265 yen, two hours)
From Haneda Airport
By Train:
1. Take Haneda Airport Line to Shinjuku Station, and then change Yamanote Line to Ikebukuro Station, finally change Toubutoujou Line to Kami-Itabshi Station. (Total 1,549 yen, one and half hours)
2. Take Kekyu Line to Sinagawa Station, and then change Yamanote Line to Ikebukuro Station, finally change Toubutoujou Line to Kami-Itabshi Station. (Total 831 yen, one hour)
By Bus:
Take Airport Bus to Ikabukuro Nishjiguchi, and then change Toubutoujou Line to Kami-Itabshi Station. (Total 1,395 yen, one and half hours)
---
---
Always communicate through Airbnb
To protect your payment, never transfer money or communicate outside of the Airbnb website or app.
Learn more
---
Check in is anytime after 2PM
If you are Chinese please contact under
我们提供中文服务
日本語のサービスを提供いたします。
In the 4th floor of the house is a terrace, where you are free to make a barbecue or relax in the sun.
---
---
This is a lovely place for anyone looking to stay in the Kamimeguro / Tobu-Nerima area. It's not that far from Ikebukuro, and is very clean and comfortable. Wenjuan is also a very lovely lady who was extremely helpful or supportive. I would highly recommend this place and look forward to staying here on future occasions!
---
Wenjuan, the host, who is super enthusiastic and helpful, she welcomes all the guests from all over the world. The 3-levels house is located in a peaceful Japanese residential area, Kami-Itabashi, in the northwest part of Tokyo, 15 mins from Ikebukuro. I am glad that I met her, and I had a perfect experience in her house and also in Japan, where I falled in love with.
---
Although the room is very clean, but it is far from the station, I need to walk about 15-20minutes. This is a little far away for a girl who is just finish shopping. There are some tenants are really not polite, in the middle of the night to run outside the sound is also very loud. One night is too noisy make me can't fall in sleep. Perhaps this is the same as others with the shortcomings of a (URL HIDDEN) the last, still thanks aunt wenjuan,I have a happy travel. But those tenants really terrible, so I can not sleep well.Aunt is very nice, but I pay more attention to privacy and sleep quality. privacy is very important! for some people, this is public home, not in you home.please keep quite and don't eat hot pot!!! it makes me very uncomfortable!! I mean real!
---
Mrs. Wenjuan already contacted me before my trip and sent me the directions to her house. I called her after I landed in Tokyo airport. She not only told me which bus to take but also sent me an image of the bus ticket which made my trip from Narita airport to Tokyo extremely easy and smooth. She even waited for me at the hotel where my bus dropped me off. I was so happy to meet her when I got off the bus. She helped me with the luggage and the train ticket. We had a wonderful conversation on our way to her house. I told myself "Yeah, I found the right host." My two-day and three-night stay is awesome. I especially appreciated the opportunity to see what a real Japanese family looks like. Wenjuan would greet everybody in the morning and answered questions her guests had. She is available all the time. She definitely went extra mile to make everybody feel at home. Another guest and I even went shopping at nearby stores with her in one of the evenings. Even though I had been to Tokyo several times, I did not know that you could bargain and buy stuff tax-free at certain stores by showing your passport. I learned all of this from Mrs. Wenjuan. Wenjuan is so tidy and neat. She kept the house spotless. I saw how she changed the sheets, cleaned up the rooms after her guests left. She is a hard-working lady. To sum it up, I had a great time staying at Wenjuan's place. I would recommend her place to anybody who will be on vacation in Tokyo. 文娟大姐热情好客,对所有的客人都细心照顾。我感到像呆在自己的家里一样舒服,特别感激她把家保持的一尘不染,极力推荐!!!
---
Aunt WENJUAN is really very good.The first time I went to Japan, what do not understand,Japan's subway is completely different from the subway in China,I took the wrong car but I don't know how to return,aunt was very kind teach to me,also frequently send information to ask me about the situation,As good as a family!When I first arrived in Japan, because I do not understand, I missed the last bus,finally take a taxi(I hope you do not take a taxi in Japan),The time of arrival is one o'clock in the night,aunt is still waiting for me,give me a toast.Thank you very much for the help of aunt.Next time with a friend to come and play with your home!Thank You! 文娟阿姨人真的非常好,我第一次来日本什么都不懂,地铁和国内完全不一样,我连续两天都坐错车还不知道怎么返回,阿姨非常热心的告诉我,还经常发信息问我的情况,和家人一样的好!我第一天来日本的时候因为不会坐车而错过了最后一班车,最后坐出租车去的(劝大家不要在日本打车),抵达的时候已经凌晨1点了,阿姨都还在等我,还给我烤了面包,真的非常感谢阿姨的帮助,下次带朋友过来玩也住您家!谢谢您!
---
我叫文娟,来自中国上海,丈夫是好客的日本人,只会说日语和一点英文,有一个可爱的儿子。我们全家经常出去旅游,我是Airbnb房客,也是Airbnb房东我非常了解客人的需求,我一定会让Airbnb的客人来我这里有家的温心,我的房子是一栋别墅,有四层楼, 有五间房间出租,同时可以住14个人,欢迎大家庭,和朋友一起来住,我家有三个大厨房可以自己做饭吃,有三个洗手间,有二个洗澡间,我文娟住在二楼,不上班每天在家,您们在旅游方面,有什么需求,什么地方有好吃的,有好玩的都可以问我,我家附进有好多小吃店,拉面店,日本居酒屋,有日本小京都,有备用房一次可以接待十位客人,别墅位于东京市中心,距离最近的电车站(东武东上线 上板桥车站)徒步7分钟,离日本第二大站池袋非常近,池袋是个大车站,5分钟到新宿,10分钟到涉谷,原宿,以及上野等各个地点,交通非常便利,住宿条件优越,价格实惠。我来日本近30多年了,对于日本各方面都比较了解,可以为大家的旅程提供很好的建议。如有需要的朋友还可以提供接站服务(上板桥车站)欢迎大家入住!
Languages:
中文, 日本語
Response rate:
100%
Response time:
within an hour
Explore other options in and around Nerima
More places to stay in Nerima: