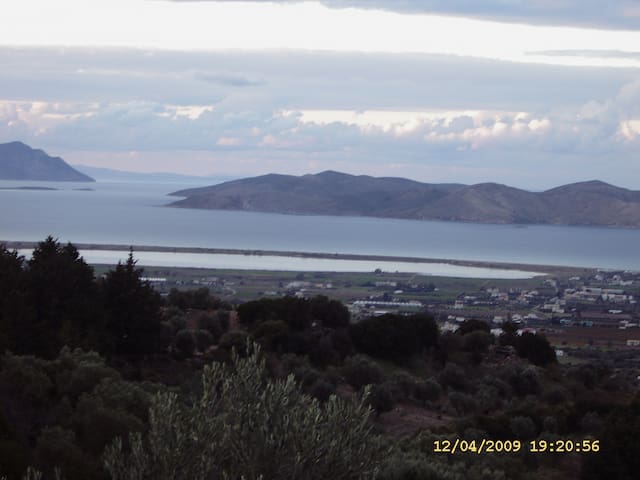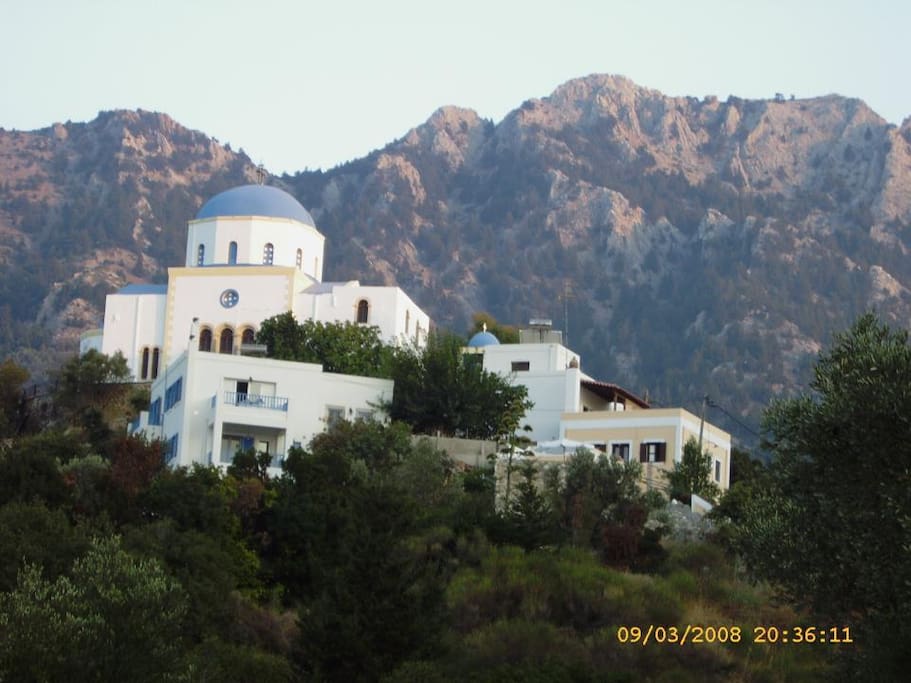 ΤhePotter'sHouse" Fish on the hill"
Nice independent house located on the hill of our village, offers excellent views of the open sea of the Aegean Sea from one side and a spectacular view to the mountains of Kos on the other! The positive energy of the landscape gives you serenity and fullness in the soul.
The space
Dear future "Potter'sHouse"(Fish on the hill" )guest,
I am Mandy and I'm the owner of our lovely little establishment on the hills of Kos, called "Fish on the hill". Welcome to our page!
The house (45 sq.m.+50sg.m.Veranda) is lodged on a hilltop, in the most beautiful village of the island, Lagoudi, next to the church of " Genneseos Theotokou" on a beautiful setting with breath-taking views. This is a place I initially created for myself and my extended family, with lots of loving care, making sure every part and detail of it would fit nicely with the architecture and the traditional techniques used in the area. Being a professional potter, I have been inspired to create a space that reflects my personal experiences with natural materials and have created a series of small artworks which you'll find scattered in various corners of the house.
The house itself is comprised of
-a room with a king-size bed, 2 sofa-beds, desk ,a dining-table for 6 persons .
-a kitchen equipped with electric appliances (fridge, stove and furnace), and another single bed
-a bathroom with shower
-a comfortable, open terrace (50sq.m) with open views to the sea (north) and beautiful mountains(south), the perfect spot to relax and bask in the sun.
Other information:
The house is fully set up with air-conditioning, internet connection and a T.V., has an easy-access parking space and is ideal for families with children. A wonderful beach is located at a distance of 7' by car/motorbike.
Zia, a traditional village on the mountainside with great tavernas, delicious food, an interesting tourist marketplace and its own amazing views is a close destination, as well as Asomatos, another nearby village, with its well-known traditional architecture, its homemade food and one of the best settings for lovely walks in the peaceful, stone paved streets. Old Pyli, yet another village near by, with a fascinating old castle, in an area distinguished for its natural, unspoilt beauty – an excellent all round locale for those who love hiking or those shorter, refreshing walks in nature.
You will find that Kos, the birthplace of Hippocrates, is nowadays a charming island with attractive shores of turqoise seas and sandy beaches, a long history that has granted it a wealth of interesting things to see and many archeological sites to visit, museums and long routes of bike ways that run stretched along its coasts, offering lots of opportunities for great bike rides.
I'm looking forward to welcoming you to the SunHouse and letting you in the secrets and beauties of our island, hoping to offer you the chance to enjoy a great time in Greece and get to know our time-honored Greek hospitality and friendship!
For those of you interested in the local crafts, I'm also offering the opportunity to participate in the pottery seminars I give in a premise nearby and share with you my experiences and knowledge gained from over three decades of working as a professional potter.

Looking forward to hearing from you,
Mandy

(URL HIDDEN) "The Potter's House"
B) "Fish on the hill"

Το σπιτάκι βρίσκεται στο Λαγούδι, δίπλα στην μεγάλη εκκλησία του (URL HIDDEN) νησί μας η ΚΩΣ ανήκει στα 12 νησιά του νοτίου Αιγαίου.
Το ΛΑΓΟΥΔΙ είναι το πιο ήσυχο και όμορφο χωριουδάκι του νησιού.
Βρισκόμαστε μέσα στη φύση, πολύ κοντά στο δάσος και σε δύο άλλα χωριά. Η ΖΙΑ με υπέροχες ταβέρνες και νόστιμα ελληνικά φαγητά,με θέα και εκπληκτικά ηλιοβασιλέματα.
Ο ΑΣΩΜΑΤΟΣ, ένα χωριό κτισμένο με όμορφα παραδοσιακά σπίτια, με μια εκκλησία μοναδικής ατμόσφαιρας, και σπέσιαλ φαγάδικο, που το κάνουν ιδανικό μέρος για περπάτημα στα δρομάκια, στο πάρκο με ζώα και με κάθε λογής μυρωδικά φυτά και λουλούδια!
Κοντά μας επίσης είναι και το Κάστρο στο Παλαιό Πυλί, ένα απο τα πιο αξιόλογα αξιοθέατα στο νησί και ένα από τα ωραιότερα μέρη του κόσμου.
Απέχουμε 5-7' με αυτοκίνητο ή μηχανάκι απο την κοντινότερη παραλία.
Η Κώς, για όσους δε γνωρίζουν το νησί μας, είναι ένα πανέμορφο μέρος, με πεντακάθαρες, κρυστάλλινες παραλίες,
βουνά με μονοπάτια μέσα απο πλούσια χλωρίδα και πανίδα, όπως επίσης και ένα ευρύ δίκτυο ποδηλατοδρόμων, ιδανικό για βολτίτσες με ποδήλατο!!!
Το μουσείο στην πόλη της ΚΩ (15km από εδώ), οι αρχαιολογικοί χώροι, και η ωραία αγορά της, το κάστρο της Νεραντζιάς,το Ασκληπιείο (τόπος απίστευτης ηρεμίας και θετικής ενέργειας) είναι επίσης χώροι εξαιρετικού ενδιαφέροντος.Η ΚΩΣ είναι το νησί του Ιπποκράτη και έχει μια μακρά ιστορία ως χώρος ξεκούρασης και αναζωογόνησης.
Εδώ στο χώρο μας, για όσους το επιθυμούν και με μικρή οικονομική συμμετοχή, λειτουργεί εργαστήρι Κεραμικής Τέχνης όπου μπορείτε να μοιραστείτε μαζί μου την χαρά της δημιουργίας!
Tο σπιτι "Fish on the hill" μπορεί να φιλοξενήσει από 5 έως7 άτομα(γονείς με δύο παιδιά)
Δεν είναι υπερβολή αν πούμε πως σας προσκαλούμε στον παράδεισο ....και μαζί με την φιλία μας θα σας χαρίσουμε αξέχαστες διακοπές!!
(URL HIDDEN) Με θερμούς χαιρετισμούς
(URL HIDDEN) Mandy.
Το σπιτάκι είναι ανεξάρτητο, με δύο χώρους .
1ο.κύριο δωμάτιο
με διπλό μεγάλο κρεβάτι, 2 καναπέδες-κρεβάτια , γραφείο, τραπεζαρία 6 ατόμων
2ο.Κουζίνα με ντουλάπα, ηλεκτρική κουζίνα, ψυγείο, και μονό κρεβάτι.
3ο Μπάνιο με ντους .
4ο Η φανταστική βεράντα (prive) 50t.m. με εξαιρετική θέα.Στην βεράντα υπάρχει τριθέσιος καναπές-κρεβάτι,για ξεκούραση,και ύπνο κάτω απ'τα αστέρια(2 άτομα).
Ξαπλώστρες για ηλιοθεραπεία, τραπεζαρία για ιδιαίτερα νυχτερινά δείπνα! (νότια). Εδώ θα απολαύσετε ήσυχα πρωϊνά και φανταστικά απογεύματα!
Υπάρχει Air Condiτioner.

Η διακόσμηση στο σπιτάκι έχει γίνει με μικρά έργα τέχνης που προσθέτουν στο χώρο ενδιαφέρον και ζεστή ατμόσφαιρα.



'Ολα αυτά και . . . άλλα τόσα που σας περιμένουν να τα ανακαλύψετε απο κοντά, κάνουν Το "Ψάρι στο λοφάκι" μοναδικό.
(URL HIDDEN)Σας περιμένουμε........με θερμούς χαιρετισμούς........ Μάντυ
Guest access
Dear quests we are here for you!we are ready to answer to all of your questions! We can offer you our attention and we can helping you in anything that you need someone next of you!ο
Interaction with guests
Any time you need me you can phone to me!I will be there in some minutes!
---
---
Extra people £14 / night after 3 guests
Weekend Price £59 / night
Always communicate through Airbnb
To protect your payment, never transfer money or communicate outside of the Airbnb website or app.
Learn more
---
Our establishment is based and supports a calm, peaceful, natural way of living, based on respect, kindness and honest communication. We don't endorse any overwhelming or out-of-bounds behavior. We want you happy to enjoy but under the narual rules of good conduct.
---
---
---
---
Mandys place is absolutely lovely. Its an awesome place, very quiet, clean and with an breathtaking view from the terrace. She cares about you no matter what you need and is a very lovely person and one of the best hosts I ever experienced. I can definetly recommend that place and will be there the next time I´m in Kos :)
---
Beyond being a friendly and caring host, Mandy is a *great* person. We all loved her! Within a day, my kids even started sneaking out in the morning to her flat and pottery studio two floors down to spend time with her! The flat itself is spacious and comfortable. It has the largest terrace I've ever seen. There's a very beautiful church right next to the house with a friendly pastor with whom I managed to have a chat in German. Lagoudi is a small village 5 minutes from the more famous and touristy Zia. We drove around a lot to other places in the hills and the beaches, of course.
Oooo my dearest Hakan! Thank you very much for your perfect stay! I miss the sweet Dafne's hugs I missing the exellant drownings of Leon and the clever speaking of him! I hope meeting you again with your mom Of these beautiful children ! Thank you for your gift,the interest book of art,I will be very happy to seeing you again! The best for all of you!
---
Hello everybody! I am Mandy, I am the owner of a small establishment with 4(four)apartments.
I am an optimist and happy ,good heart,person.
I also am a potter and creative many deferent things...giving lessons in pottery and if you want to join us you can have in the same time unforgettable holidays and the pleasure of creating art by clay!
I will be very good care of you and you will enjoy the summer!
I am looking forward to seeing you here!
Languages:
English, Ελληνικά
Response rate:
100%
Response time:
within an hour
Explore other options in and around Lagoudi Zia
More places to stay in Lagoudi Zia: