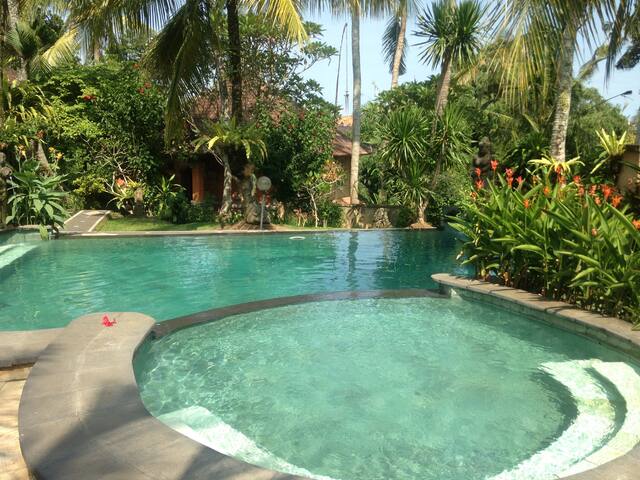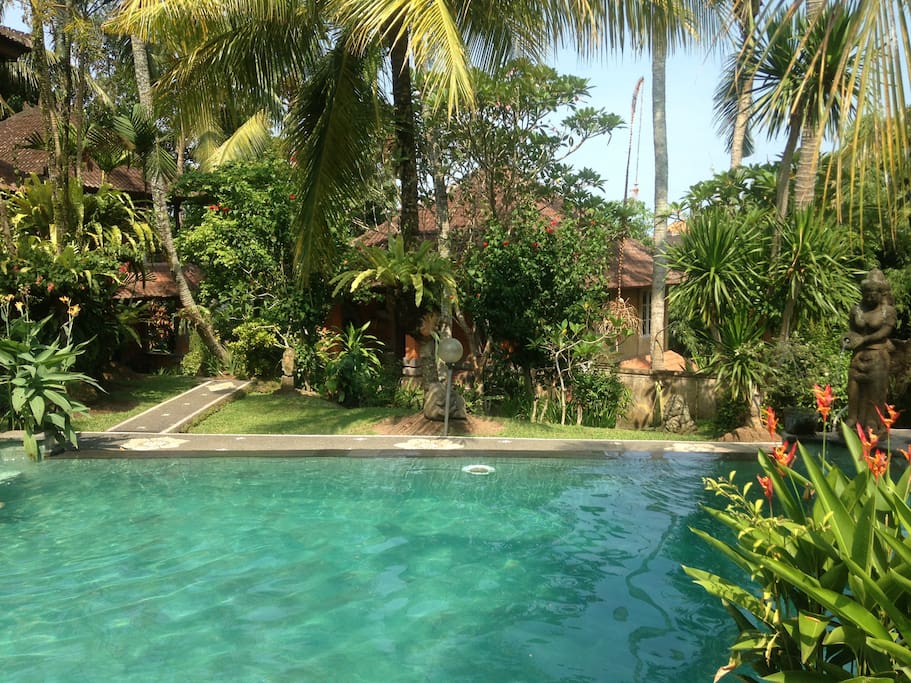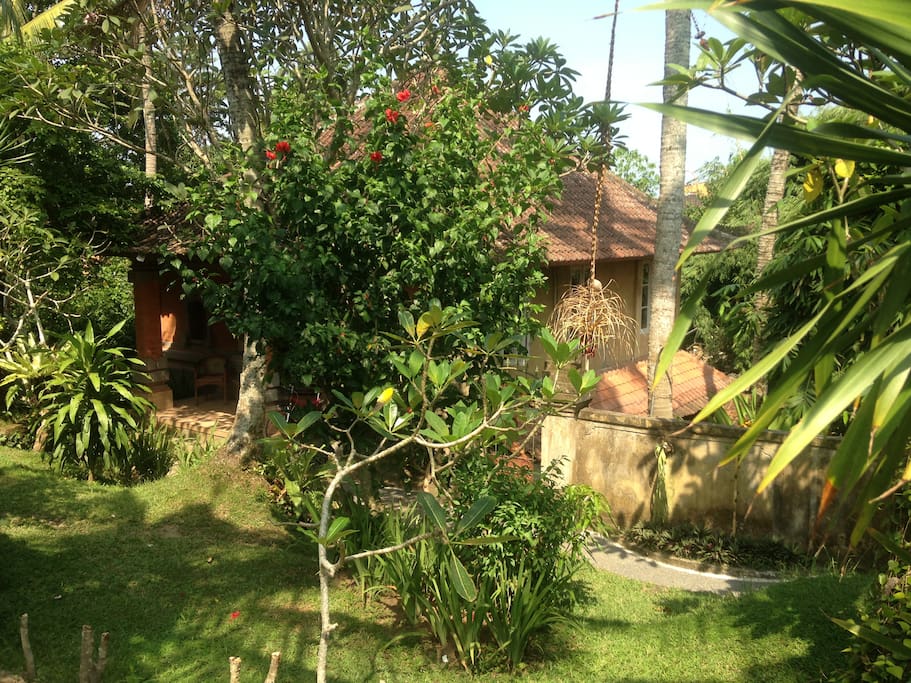 About this listing
---
Check In: Anytime after 12PM (noon)
Room type: Entire home/flat
---
---
Extra people: £9 / night after 4 guests
---
The space
Two story House in Ubud Bali
Located in a unique quiet spot within a few minutes walking distance to all the attractions and cultural activities that Ubud has to offer.
The whole home consists of two tasteful furnished floors with many interior detailed Balinese furnishings, organic lime walls, antique doors and huge windows.
Pleasant open spaces, colorful pillows on the floors, hammocks, fans, mosaic tiled bathrooms, hot water, western style toilets. There are two kitchen areas. Both kitchens have a watercooker, cutlery and plates and glasses. Downstairs has a small fridge and a stove. Upstairs has just a single electric hob and a juicer. Breakfast is not included in the price, but if you wish you can order breakfast at The white House but you will have to pay them.
Great for couples and ideal for big families. Wireless Wifi available. Available for short or long term.
Between the top floor entrance and the common swimming pool (including baby pool) there is a picturesque Balinese garden. Both balconies and the patio overlook tropical greenery. It strongly accentuates the sense of being in Bali. Two apartments are connected by a convenient stairway, lockable by a solid door. Please treat the place with respect and we ask you not to smoke in the whole house. If you prefer we can provide four extra mattresses for on the floor, which means in total we can offer 12 people to stay, but we have on every floor, a bed for four people only (one double and 2 single).
The apartments which form this two story House:
APARTMENT DAMAI ( 85 M2)
Entry is from ground level on pool level, two balconies, air conditioning and wifi. A colonial wooden table with 4 matching chairs and lots of comfy pillows. There is a huge double bed including cotton mosquito net and an extra air conditioned room with 2 single beds.
Sheets, towels, blankets, cushions etc. are clean but according Balinese standards. There is a kitchen area with a single electric hob, a watercooker and a juicer.
APARTMENT SATIGA (125 M2)
Large 4 x 11 m roofed patio, great to be used as an airy outdoor living area, spacey huge bathroom with big bath tub and generous, well designed shower area. We deliver a double bed, a Maroccan style couch in natural stone and colored cushions ( 2 people can sleep on it), selected paintings, various convenient seating areas and a writing desk, all including decorative old wooden chairs, all in order to create a balanced interior based on Feng Shui.
There is a kitchen area (outdoor) with a small fridge, a stove and a watercooker. There is a water gallon holder but no full gallons are provided.

Prices excludes breakfast, to get at the White House Restaurant untilll 11 a.m. or can also be delivered at the pool or in the house and pay their price.
Pick up service from the airport 25 euro during the day 30 euro in the evening or night.
This house is located along the river right in between Jalan Monkey Forest and Hanoman Street in Central Ubud, on the Monkey Forest side.
Bookings by Air BNB or Casey Godrie via the Dutch ASN Bank, a fair bank, taking care of the environment, for a better future.
---
Check in is anytime after 12PM (noon)
Enjoy and be Happy in our House of Love
---
Strict
Cancel up to 7 days before your trip and get a 50% refund plus service fees back.
---
The communication with Elly was good for the booking process and the information about how to reach the place. The location is very good and we enjoyed the White House bungalows' pool and staff if necessary to help with doing laundry( charged). We could meet other tourists around the pool. This was very nice to share about our experience and discoveries. The house is quite old and balinese style. Not enough light in the house. The small beds in the small room were not comfortable for our big boys (must be ok for kids I guess) The help from an Indonesian woman from white house to clean the house prior to our arrival was not very performant. The linen did not seem too clean as it was not either in for the rooms in White House bungalows. We were happy to be able to cook as we were a family with 4 yound adults. There is not really enough pans .... I did not feel very comfortable for cooking. The supermarket is very close. I guess it is fine if you are cool and your children are not scared. We rented the full house for 6 persons. It is a big house. Not enough light inside.
---
We really liked the house, the decor and the quiet location. The short walk to both Jalan Hanaman and Monkey Forest Road was a great bonus. We have some suggestions to enhance the experience for future guests: Clean the house more thoroughly. Hosing out is not effective when dealing with scum and dirt that were clearly visible on tiles and dirt that had built up. Fix water upstairs in the kitchen and bathroom so that the taps work- while the guests are there. Replace broken door handles so it is possible to open doors. Provide toilet paper and soap. Sheets - provide clean (not stained with cigarette holes) sheets that the fit the bed (not single sheets on a queen sized bed). Replace moulded pillows. Provide clean cups or mugs and bowls for the kitchen and replace rusty cutlery. Do not light fires next to the house to burn rubbish when guests are present. Fix gas bottle and fittings so they do not leak, as agreed, and before guests leave. Provide a number of fresh towels - they go musky readily during wet periods. Notify guests that there is no vehicular access to the site and it is a long walk over a rough path. Address safety issues such as lighting on stairs. Install insect screening between wall and ceiling to limit access by mosquitos and other wildlife. Doves were building a nest in the roof cavity. Provide internet access to the house. Open the house before guests arrive to minimise mould. Wash down walls with clove oil and water and air house between guests. Provide a folder with relevant information for guests. Provide improved service to guests. 3 brief meetings is not satisfactory, nor is communicating via notes left on the front desk.
Communication with Arno before arrival was good. As a courtesy to him I told some things about the area ahead of his arrival and when he asked for help with transportation, I arranged a driver. After that I didn't hear anything I mailed to ask if all was right but did not get a response, so I expected everything was fine. But after some days, out of the blue, he sent me a long list of suggestions, as published above. Maybe after, like I just hear after arriving in Bali myself about two weeks later, the whole curtain next to the twin bed downstairs came down from the wall, which he didn't mention at all... I am glad he liked the house, style and location. I wish he had contacted me about his comments; I might have been able to improve/help out on most things right away like his wish to have more toilet paper, towels, not being happy with the cutlery etc; all could have been solved. Our house is next to a guesthouse/hotel and guests or staff are borrowing ( Bali way ;) ) often things to bring over to other rooms and/or things get broken or disappear all the time when the house is not booked. For that we have a lady that cleans, who lives nextdoor and another lady that works in the guesthouse besides our house. I always give the telephone number of the latter one, in case there are questions or problems, because she is not always around/working. (We don't have staff that is 24/7 around to be of service because we are not a hotel.) Arno apparently did not try to call her nor did he contact me. I am truly (!) sorry about the tap in the kitchen and bathroom. I was under the impression this was solved by repair work on the system last month. We will take care of that. (The showers are fine by the way.) As stated before there are more suggestions we could have taken care of right away, but Arno choose not to contact me but make a long list, in my opinion in some cases exaggerated probably even a particularly long one based on his annoyance (there is no scum on the tiles in the bathroom, these were waterstains) and make this public. We will take care of things that can be solved and discuss all with the people that do the maintenance (of course enough toilet paper should be provided and good cleaning) while we are here now ourselves. Also adjust the description of the house, where necessary. A lot of Arno's comments though are mentioned already in the description, like our house has an open construction. Burning of waste is a traditional thing on Bali which I don't like and approve of but which is done on occasion after sunset and I can't control the complete neighborhood. I hope that people who read this will also take in consideration that this was Arno's personal feeling and other expectation of the accommodation. Maybe he will be happier to choose another Airbnb price range in future or stay in a hotel.
---
I enjoyed my time in Ubud greatly, and the Villa, though very rustic, was comfortable. There is lots of room for guests, including many beds and mats to sleep on so my group was very comfortable. The pool was also very enjoyable and Elly was very helpful at coordinating late night airport transportation (highly recommended as the villa would have been very hard to find and identify at night). The place is also very well located for Ubud. Unfortunately, there is currently VERY loud construction happening right next door that made sleeping hard at night. Additionally, we could not lock any doors in the house, which was a little disconcerting.
---
see below my yet unanswered email to the house owner on our stay at the house. Hi Elly, we left The house already after 2 nichts. It was not possible to arrange for hot water (my indonesian is fluent, so it was not due lack of communications), which was a no go for our kids and baby. I also expected somehow a gas stove if you put in kitchen as description. Last but not least, the noise from the dogs steals your sleep. We like to spend money on the accomodation but the house rssp the services just really underdeliver. The Ibu provided also breakfast. To be paid. Again a small misunderstamding from your house description? It was just a big disappointment and out of touch with the house description. It is a nice house but being left alone it just decays... Like The dove nests in the roof and the corresponding shit in the floor. I would expect to have my money returned. Regards Luca
We are very sorry about the bird nests and the inconvenience of it. I checked the lady that maintains the house and she said that she took it right away already but probably the birds came back. She did not have the chance to talk to the guests because they had left the other morning. Because Luca says h speaks Indonesian, I sent him my communication with this lady in Indonesian so he could read all that we disussed about the matter. I feel sorry for the fact that the noise of dogs bothered them, but this is something I can't do anything about; everybody that travelled on Bali and stay in villages, will know that sometimes you hear dogs at night or cockcrows in the morning. That is Bali-life. I checked our description on the Airbnb site (of the villa, which Luca booked); please be my guest and check it yourself .. it says : " ...There are two kitchen areas without fridges and kitchen tools, which we use to borrow from the White House Restaurant, which provides the paid breakfast. ..... APARTMENT DAMAI ( 85 M2) ..... There is a kitchen area but no fridge and stove. ....... APARTMENT SATIGA (125 M2) .... There is a kitchen area (outdoor) without fridge and stove. ..... Prices excludes breakfast, to get at the White House Restaurant untilll 11 a.m. or can also be delivered at the pool or in the house. " As one can read breakfast is NOT included in the rate. We decided to do so because some people prefer to have breakfast somewhere else or prepare it themselves in a simple way, so the rate for the apartment and villa is just for the stay and without breakfast. I guess Luca did not read the description carefully. I am not happy about that because for the reason that guest will come with the right and realistic expectation, we provide this description. There are so many nice, charming (and cheap) restaurants nearby where you can have great breakfast and meals, we decided not to provide a complete kitchen. We provide a waterheater, plates and glasses, utensils etc though. I regret Luca moved out without contacting us or the cleaning lady first; at least the waterheating and removing the birds (nest) could have been solved easily, but he chose to leave...
---
Quite a different experience to the usual villa. This is a rural house without luxuries but with a lot of charm. The location is great and it's as clean as it gets. I loved the stay but if you are not ready to share the house with big spiders and other bugs, be warned. On a final note, the swimming pool is not private of the house, but shared with other properties.
---
"We loved the nice house and the great location but had to stay in Damai, the apartment on the first floor, although we rented the whole villa because the White House management rented the Satiga apartment out on their own to other people, without permission. We contacted Elly and she did her very best to make things happen as promised but the White House refused. Elly sent a lawyer etc. to deliver us the whole house. The management didn't cooperate. We could make a new deal with Elly and she was prepared to give us a bargain price for our stay and apologized. Elly wants to make sure to avoid this kind of problems in the future. The house and location got a great potention when they can improve the management."
---
Zandvoort, Netherlands

·

Joined in October 2012
We're from Amsterdam, live close to the beach over there and are the owner of a gallery in downtown Amsterdam in midcentury top design (URL HIDDEN)
We have a foundation ( (URL HIDDEN) ) to help disabled youngsters in asia.

We try to take it easy, enjoy live in a spiritual way focussing on what we have and can in stead of what we don't have and cannot. Carpe Diem and Be Happy
Response rate:
89%
Response time:
within a day
Exact location information is provided after a booking is confirmed.
Explore other options in and around Ubud
More places to stay in Ubud: