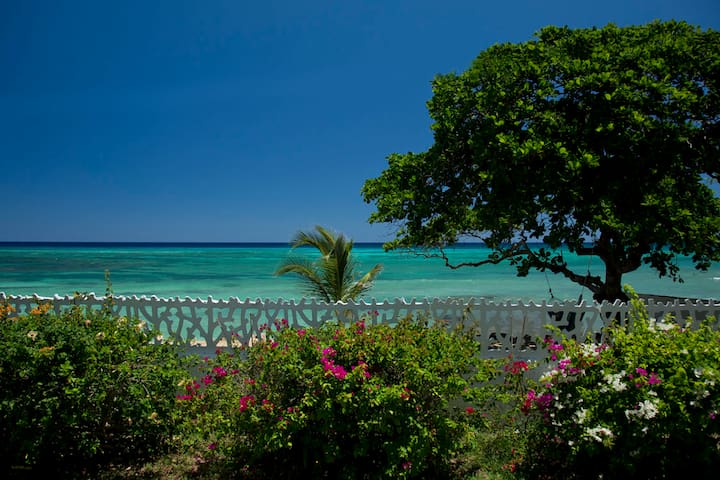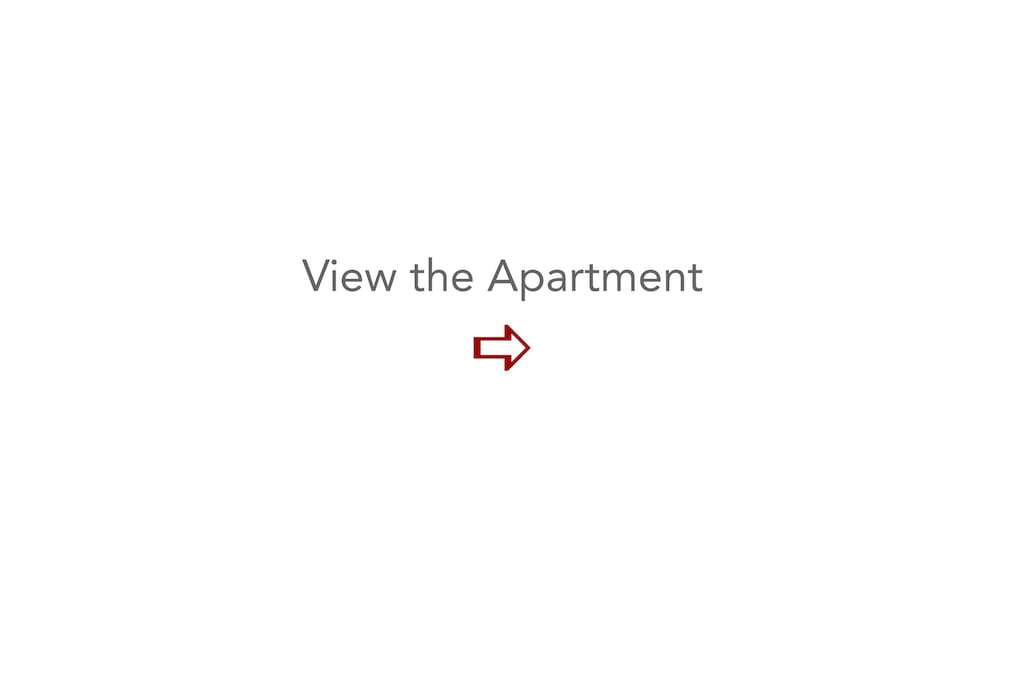 Condominium by the sea (1 bedroom)
Our villa is located 20 min drive away from the airport. This is the only private house in all of Montego Bay area right at the seaside! It is FAR from the noisy center, clubs/bars/nightlife, which makes it perfect for rest and relaxation.
The space
UNIQUE LOCATION
===============
Located within walking distance from IBEROSTAR Hotel. If you look at the map of Montego Bay and St.James area, you will see that there is a main road (A1) along the coast. You will also see that every access to the seaside is filled by the hotels, while private houses are located on the other side of the road - usually high up at top of the hills and mountains.
As a result, there is no private property right by the coast, except for our house! That is why when we saw it - we fell in love with it and made it our home.
The view from veranda (balcony) is simply stunning! What is more, it is never hot there because of the fresh sea breeze and the absence of direct sun on the veranda. We love to spend our days and evenings there talking to our guests.
WATER AND ELECTRICITY SUPPLY
===========================
If you travel to Jamaica for the first time and stay in a private home, you'd soon learn that most locations in Jamaica often have problems with water pressure and electricity supply. What is more, hardly any of them have hot water.
However, we are lucky, because our house is on the water and electricity supply which was specifically created for Iberostar Hotel (*****), and unlike other locations in Montego Bay, we hardly ever experience any water/electricity shortages. Still, please note, that we have a solar heater for hot water, so it can be limited at night or on rainy days. Please, do not expect anything like in Europe or the USA, since even 5 star hotels have issues with water pressure and hot water supply.
INTERNET ACCESS
===============
My work is directly related to the internet and that is why I have to be online 24/7. That is why our house is probably the only place in Jamaica that has FOUR internet accounts!
1, 2, 3. ADSL (by FLOW provider) with extremely fast connection, which is available EVERYWHERE in the unit. Feel free to watch films and talk via (SENSITIVE CONTENTS HIDDEN).
4. 4G- (by DIGICEL provider) fast backup internet connection which is available in case of any technical works done by Flow. This connection allows to use (SENSITIVE CONTENTS HIDDEN)/email etc.
Please beware, many locations in Jamaica say "they have internet", but it usually turns out to be too slow or non-existent. Or it only works at a certain location of the place. The reason for that is - good internet connection is very expensive in Jamaica and people just don't bother buying it. The reason we have them all - I personally have to buy such fast internet due to my work, and of course it is available to our guests for free.
So, when we say we have internet - we mean it!
MOBILE PHONE
============
We provide you with a mobile phone and a local sim card for free. However, you will have to pay for your calls like in any mobile network. About 2 USD per week can be enough if you don't make many calls around Jamaica.
KITCHEN (private)
==============
We are happy to provide you with everything you need for cooking if you wish to cook by yourself. There is a cooker, microwave, pans, plates, cups, forks, knives, spoons etc. If you don't find something you need - just name it and we will bring it for your comfort. HOWEVER, you cannot use the oven (to bake things) due to the strict insurance policy we have, which is applied for your safety and the safety of other guests.
LIVING ROOM (private)
===============
Feel free to enjoy the cosy living room with a day bed, which can be used as an extra space for 3rd guest.
BEDROOM (private)
===============
There is one Double Bed in the bedroom. Bedlinen is provided. Please view photos.
BATHROOM (private)
================
Standard Jamaican bathroom - small, but very comfortable. Bath tab, shower, mirror. Towels, toilet paper and soap are provided.
VERANDA (shared with one more apartment)
==================================
The access to veranda is available directly from your living room, where you can enjoy the view of the ocean while having breakfast/lunch/dinner, simply relax or meet up with us and/or other guests to discuss your trip and/or adventures!
PARKING
=======
The secured parking is available inside the gated area at no additional cost.
GARDEN
=======
Free to enjoy the view of a true Jamaican garden at the back of our house, which includes such exotic plants as coconut, guinep, soursop, breadfruit, ackee and almond trees. You can also try fresh plantains and bananas if there is season for them!
GATED AREA.
===========
Our house is located in our private secured gated area. There are CCTV cameras installed at every corner of our villa. We also have guarding dogs, who are rather small and always friendly to our guests, but they don't let any strangers get anywhere close to the house, unless they are invited by us.
AIR CONDITIONER
===============
A brand new air conditioner is now available in the apartment (from October 2016)!
LAUNDRY
========
Laundry is available at an extra cost of 10 USD per one wash.
Interaction with guests
We live at the premises, that is why we will be at your service whenever you need us!
Welcome
=======
When you arrive we usually give you a tour of the property and the immediate area, to show where the shops, beach, neighbourhood etc to make you feel at home.
We will also be happy to answer all the questions about Jamaica, tell about some amazing places to visit and provide all the essential information about Montego Bay as well as the island in general.
Other things to note
This is Jamaica. This means that you should be ready for the following things:
1. Loud Music (Everywhere in Jamaica).
Loud music. It is everywhere in Jamaica! It would seem as if local people never sleep and listen to the music day and night! Since our house is located away from the neighbourhood, we are lucky not to hear music too much at our place, but sometimes you can still hear it a little bit at veranda.
2. Untidy Paintwork (Everywhere in Jamaica).
I've seen many complaints in the internet for other locations and even for some 5* hotels about the paintwork in Jamaica being not tidy. You would see paint from the walls on the ceiling and vice versa. Well, what can I say.. this is true. ALL houses in Jamaica (literally ALL) have untidy paintwork on the walls and ceiling. Why? It seems to be a special Jamaican style for paintwork, because nobody cares much about this :)
3. Seaweed on the beaches (Everywhere in Jamaica).
Don't look at all these pictures of "Montego Bay white beaches" posted in the internet. They are not true! The only beach that doesn't have too much seaweed is Doctor's Cave Beach, which charges 6 USD entrance fee. All other beaches, including those in 5* hotels – ALL have seaweed. It gets cleaned every day, but it comes back in a few minutes, especially in a stormy weather. The reason for that is a simple one – seaweed is protected by the government as natural eco reserve and it is prohibited to completely remove it from the seafloor.
4. Flying cockroaches, small lizards, mice/rats, bees, mosquitoes.(Everywhere in Jamaica).
Hardly anyone talks about this, BUT please beware, you might encounter any of these creatures while staying in any place of Jamaica. Even though all of them are harmless to human, still - if you are allergic to bees, for example, make sure you have the antidote with you!
Please note, there are certain times of the year when you need to be prepared for the following:
Bees are especially active in spring and summer (April-July). However, in 3-5 star hotels you will often see them all year around, because of syrup and other sweet stuff.
Mice/rats may try to break into the house in the search for shelter right after the rainy season (October-November), but you won't usually see them in other months.
Mosquitoes are especially active during the rainy season (September-November).
Flying cockroaches and lizards are active all year around.
We are doing our best to keep pests away from our house by keeping it clean, putting mesh nets on the windows and asking our guests to keep the doors with mesh nets shut at all times, but if you are afraid of these creatures for one reason or the other, Jamaica might be a bit of a tough place in this case.
---
---
Extra people £8 / night after 2 guests
Always communicate through Airbnb
To protect your payment, never transfer money or communicate outside of the Airbnb website or app.
Learn More
---
Common spaces
1 single bed, 1 couch
---
Check in time is 3PM - 1AM (next day)
Self check-in with doorman
No excessive noise after 11 pm.
Do NOT feed the dogs.
No Smoking in the rooms. (Smoking is allowed on your veranda)
Please, TURN OFF A/C and lights when not inside.
Any broken/torn/damaged items must be replaced or paid for.
For your safety and the safety of other guests, outside visitors are NOT allowed on the premises, unless confirmed with the host in advance.
Thank you for understanding!
You must also acknowledge
Dog(s) live in the house
---
---
---
Irina was the best host. She was helpful and took a real interest in how she might be able to make your stay enjoyable. Although I have been visiting Jamaica for some time, there were still adventures I had not been aware of, such as the Glistening water, whick Irina told me about. It was the highlight of the trip. The apartment was perfect, directly overlooking the sea. At night it was awesome listening to the waves as I went to sleep. Unless it's Saturday night, which is party night in Jamaica, and music booms out until about 3 am. Ear plugs recommended. You definitely need a car, unless like me you just wanted to chill out for a week. Go running every morning, swim, sun bathe and sleep. You are between Falmouth and Montego Bay. There are Route taxis that will take you either way for about $150 JA dollars. There is also the hourly Yellow bus costing less than $100 JA dollars. If you plan your trips a private hire is about $20 US to Montego Bay city centre of $15 US to Falmouth. The Braco horse riding trip that takes you swimming in the sea is awesome, try to do it on a quiet day, more time is spent in the water. Ian or Diane can recommend the best local Caribbean restaurants. Main meal for about $600 JA less than £5. If you're using airbnb you're clearly on a budget, or here doing charity work, like myself, so don't be afraid to speak to the locals. Awesome trip, tried to get an extra day, but Irina was fully booked. Thanks irina Laney
---
I'm an experienced traveller and I know how important it is to be able to find a good place to stay wherever you go, be it in a big city or in the jungle.

When I was younger, I often stayed in 5-star hotels but soon realised that they were all THE SAME! At some point I had enough. I just couldn't get the point in wasting over 10 hours on a plane to get to the different part of the world and then simply sit by the pool or watch TV! What is more, those well-organised trips in a/c buses to the most touristic sites - all of them were just designed to get the money out of tourists for the emotions of getting exactly the same photos as everyone else and put a "I've been there" tick. It was just not enough for me.

That is why I completely changed the way I travelled. I now often travel on a limited budget and for me the most exciting part of any trip is the chance to see places off the tourist track, experience the REAL local style of life (not the one that tour-agency wants us to see), learn something from every culture and share experience with the people I meet.

My lifestyle is also one of the many reasons I decided to become a host in Jamaica, where I live at the moment. I relocated to Jamaica a few years ago and now I can provide accommodation to other travellers and also guide them in person (if I have the time and we pre-arrange the trip) or give them full information and tips about every aspect of travelling around this amazingly beautiful island. I can also introduce my guests to my native Jamaican friends and let them feel what it's like to live here as a local.

Please consider the answers to the most frequently asked questions about Jamaica. I've noticed that most people have HUGE misconceptions about many things when it comes to Jamaica. Here are the most common ones:
FAQ:

Q: Is it true that everybody smokes ganja in Jamaica?
A: NO! I personally don't smoke ganja and I've seen more people smoking ganja in London or NYC, than in Jamaica, even if we take into account the proportion of the population. Only 2% of Jamaican population are true Rastafarian, which is way less people than in Africa, Europe or States. So, don't believe what media tells you.

Q: Is it really dangerous in Jamaica because of the high crime rate?
A: NO! It's perfectly safe to walk, even at night, even if you're a young pretty woman, as long as you don't do anything stupid! E.g. finding a drunk person and flashing 10000 USD in front of his face WILL get you robbed! Otherwise, it's much safer in Jamaica (including Kingston) than in most big European and American cities (e.g. I was robbed 4 times in London in 2 years and 0 times in Kingston during the same 2 years). Once again, just don't believe what media tells you – it's their job to exaggerate to make a sensation. Especially don't believe what tour guides tell you, because it's in their interest to have you pay for their crazily expensive, but "safe" excursions.
Don't get me wrong, of course, there is crime, some people get killed, some people get robbed etc, but it's the same as EVERYWHERE else in the world!

Q: Is it expensive to live and/or travel in Jamaica?
A: YES! Very. It's a very expensive country when it comes to.. pretty much everything: food, clothes, transport - you name it. What is more, local people overestimate everything they provide and put unrealistically high prices on things of very low quality, because they assume you have unlimited budget. E.g. you can be expected to pay over 60 USD to go on a raft along the river (which should really cost next to nothing), 35 USD per person to view a waterfall (which should be free, because they haven't invested anything into it) or 600 USD per person for an individual excursion with some Jamaican tour company, which is simply ridiculous. There are ways to avoid being overcharged for everything, but then it would depend where and how you wish to travel and what you want to see.

Q: Is it possible to travel around Jamaica and see everything in a few days? After all, Jamaica is just "a small island"
A: Well, even though it might seem that Jamaica is a small island, it may take weeks or even months to see everything here. The thing is, most interesting places are located far away from everything and it can take hours or days to get there simply because there are no highways leading to those places as such. Just to give you an example – you might look at the map and assume, that 90 km (56 miles) from Montego Bay to Negril along a good road shouldn't take more than an hour, but in fact this trip might take from 1.30 to 2 hours or even more, depending on the traffic, time of the day and weather conditions. So, if you want to explore the island – give yourself at least 2 full weeks. This will allow you to see about 10% of Jamaican beauty..

Let me know if you have more questions! I'd be happy to help.
Languages:
English, Polski, Русский, українська
Response rate:
100%
Response time:
within an hour
Explore other options in and around Montego Bay
More places to stay in Montego Bay: