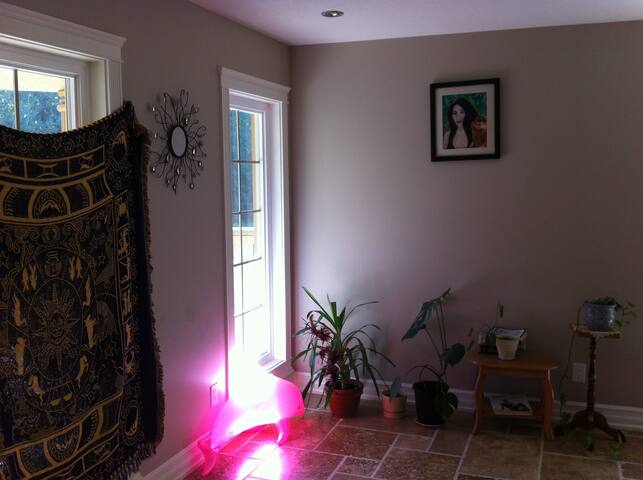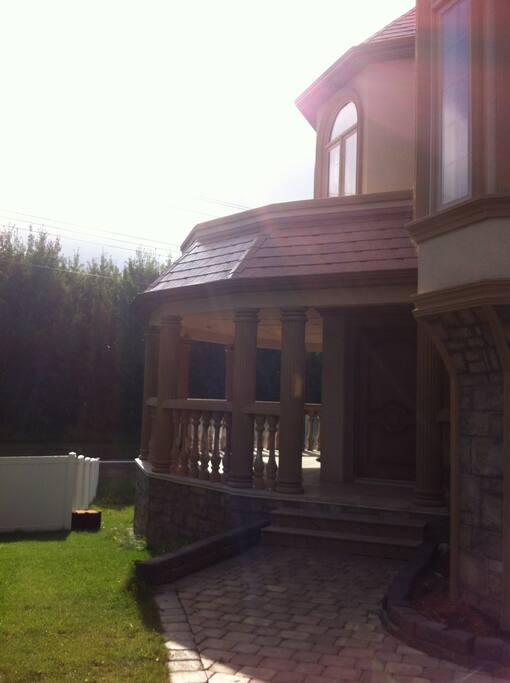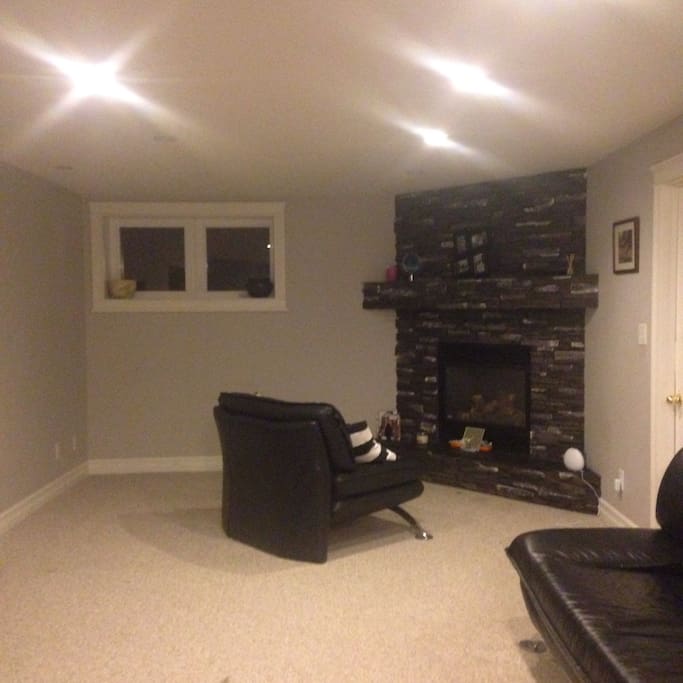 This area has a cozy gas fireplace with access to a bathroom and a small bedroom with a double mattress.
The space
This is a family home, there may be small children present, so keep in mind that there may be limited privacy as the children may roam around and be noisy. We cannot guarantee the night will be quiet, but will make every effort to do so when there is a guest. Once you enter the home, in the main living area, you go down a dark cherry staircase into the shared basement living room area which has some worn carpeting, worn leather seating, a tv and a fireplace. We can bring you Breakfast or tea, coffee with free refills for a small extra fee of $5.00, a service which may or may not be available. On your right hand side of the staircase there is a short hallway with grey tiled infloor heating that leads to a small bedroom on your left and side and a bathroom across. The bedroom has a window with view of a lawn mower and deer have been seen walking by the window since the back of the house faces a large field but cannot be guaranteed. In this carpeted bedroom , the door does not lock but there is a closet and a bed, a simple night table and a lamp. An aroma diffuser may be available for your comfort. The bathroom boasts a longer than average bathtub which fits a taller person comfortably, it also has a shower. Although this basement area is "shared", what is nice about the space is that you have the bedroom and bathroom to yourself and that most likely in the later evening you may also have the living room area to yourself as well and can enjoy the fireplace whilst reading a book and enjoying a tea. It is far from fancy and not recommended for someone who wants guaranteed quiet and privacy due to the fact mostly that children may roam there. Although in the best case scenario, children may be away and in that case you can enjoy the space quietly for yourself. On the upside, there is a beautiful forested walking, biking trail area near the river just walking distance from the house which will lead to a diversified natural marsh area or a recreation pond area that connects to other natural parks depending which direction you take. There is also a public outdoor workout area that can be accessed and seen from the house. The nature walk near the home is highly recommended if you have are looking for something to do outdoors without having to drive. We will do our best to respect your privacy. We are not very curious and like to keep to ourselves, so for the most part , unless you are very sensitive and particular about noises, yelling and such home noises, your stay should be relatively peaceful and private, and we will make all efforts to ensure it is that way.
Guest access
You have access to the basement area Except there is an additional room beside the fireplace that is not accessible yet as the wall and ceiling are under repair and is locked for an undetermined length of time. There is a small furnace room and a 2 storage areas that are also not accessible. The main floor and upper floor of the house are not accesible at the time being.
Interaction with guests
Upon your arrival, you will be warmly greeted, and may be offered some warm beverage and a light snack such as cookies or such (sorry this is an alcohol free, non-smoking home). Someone will show you the areas of the basement you have access to and if not busy will be happy to answer any questions to try and make your stay more comfortable.
Other things to note
The presence of children in the home may or may not disrupt parts of your stay. You may hear yelling, screaming and stomping. Although not in excess usually of what is common to a regular family home. This arrangement we are offering is not a bed and breakfast sort of stay, as we'd like it to be, but perhaps more akin to a hostel with more or less commodities. The benefit or difference from a hostel is that you have the bedroom and bathroom to yourself.
---
---
Your comfort is very important to us and we will make our best efforts to ensure that you your area is sufficiently comfortable. You may call us or find us on the main floor if you need help with anything. We will do our best to accomodate you and offer you any information on transportation to the city or to the mountains or other cities and popular locations outside. This is a non-smoking place, unfortunately, there are smoke allergies so we politely ask that you refrain completely from smoking in or outside of the premises. Since the area is in a small residential area and there is very limited and tight parking, we ask that you not invite any guests as it is a small neighborhood and it may elicit undue attention or complaints from the neighbours.
---
---
My Host was always pleasant and quick to respond to any inquiries prior to my arrival. Upon arrival I was given a detailed tour of both private and common spaces and made to feel at home. breakfast requests were discuss, and a conscious effort was made to ensure that I had all my needs and questions answered to ensure a pleasant stay. The bed and bath are both private areas, clean, comfortable, and all functioning well. The morning was a pleasant surprise with a sunny dining room that overlooks a wooded area. The offering of traditional Columbian foods and Dalilahs friendly manner set the tone for a great day. She cautions her guests that young children are in the house, but they are most respectful, well behaved and did not cause me any concern. She provides great value and comfort and I would highly recommend this establishment which is about 5-10 minutes from downtown.
---
Explore other options in and around Red Deer
More places to stay in Red Deer: