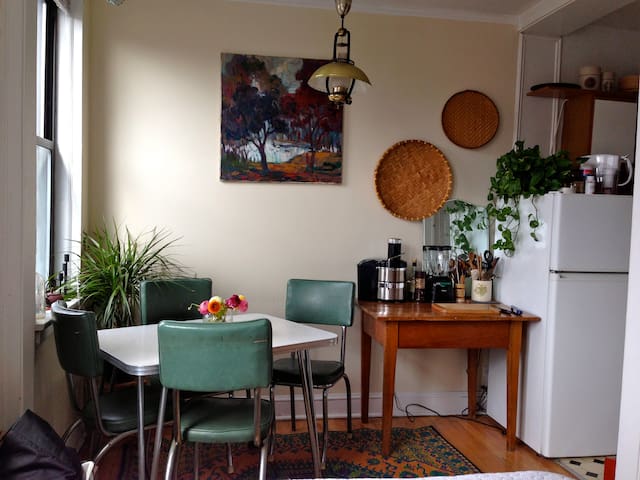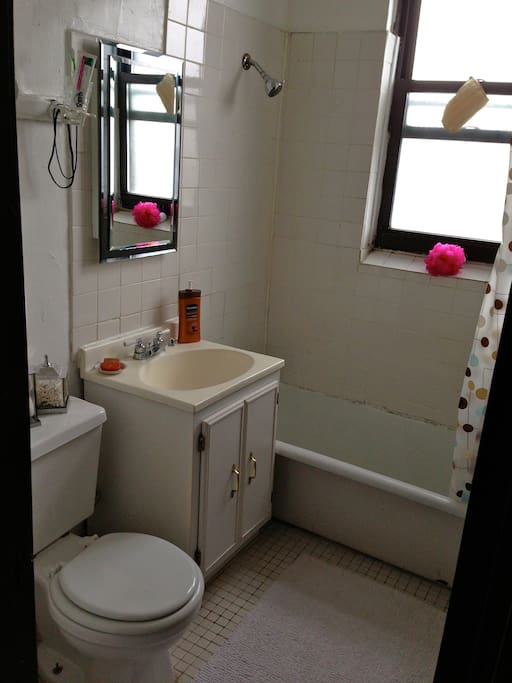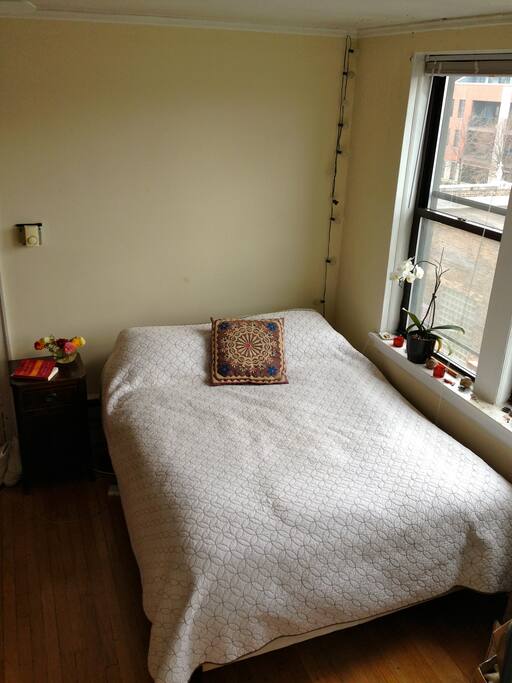 About this listing
My cozy & magical studio apartment, comfortably accommodates 1-2 people for a long weekend. It's on the top floor (3rd) of a vintage bldg, and sits atop a fun second hand shop. It's quiet inside, and bustling outside. Walking distance to Lincoln Park green & Lake Michigan blue! Perfect!
---
Room type: Entire home/flat
---
---
---
The space
I'm all about atmosphere, so I like to keep it cozy. It seems to be popular with all my guests - from a very comfy bed, to great ambient lighting, super hot water & excellent water pressure for showering, fresh towels & linens, and a few surprise treats to make you feel especially welcome.

Guest access
Please see the list of amenities.
My personal items (throughout the apartment), and my closet (clothes, shoes, other personal items) are absolutely OFF LIMITS at all times. :)
Interaction with guests
I may or may not be available to give/receive the keys. Don't worry, we'll make it work. And I'll keep you updated.
I may need to stop by to get clothing, etc. as I'm usually in town while my guests are in my place. I'll let you know - and on that note: NO PETS ALLOWED!!!
Please contact me, day or night, if you do not know what to do about something/anything. You may call or text if you have ANY questions or concerns - at all.
If you think you are about to make a poor decision, PLEASE CALL ME ASAP!
Thanks.
*Please stay OUT of my closet. It's blocked off for good reason. Thanks!*

The neighbourhood
The Lincoln Park/Lakeview neighborhood is loaded with fun things to do & see!
There are great restaurants, pubs, boutiques, second hand shops, convenience stores, a cinema, cafes, Trader Joe's, name-brand stores (Loft, Urban Outfitters, Akira, Hannig's Footwear, etc) all within a stone's throw. Which is to say, easy walking distance.
Everything is conveniently located nearby and easy to find - just walk out the door, and start walking.
In case you're interested in pampering yourself, while visiting, there's a place to get a massage across the street, and a little further down is a great place to get a mani/pedi - both offer great services.
Walgreen's is also across the street, and there's a Home Depot or Ace Hardware for practical things.
A short walk will take you right into the very north end of Lincoln Park, which is one of the biggest and most beautiful parks in the city. It boasts the FREE Lincoln Park Zoo, and Conservatory, and is great for your morning run/walk/bike ride. City bikes (called DIVVY) are close by, if you feel like renting a bike for the day for about $7.
Just east beyond the park, is our beautiful Lake Michigan! There are great beaches & the lakefront path which will lead you south, all the way to the Museum campus of Chicago. (just a head's up, that's about a 2 mile walk - but it's beautiful!) There, you'll find The Art Institute, The Field Museum of Natural History, & the Shedd Aquarium. And from there, you can easily walk across the lawn to Soldier Field to catch a game, or watch a concert.
There's so much to do, you won't know where to start!
Have fun!

Getting around
My place is super conveniently located close to public transportation, called the CTA (Chicago Transit Authority). And I'm very familiar with it, because I don't have a car. :)
Just outside the front door, you can catch the Diversey bus #76, which runs E/W. And if you walk to the nearest intersection, you can catch the bus that runs N/S on Halsted, #8 bus.
A few short blocks west of my bldg is the Brown Line 'EL'. That's what we call the 'subway' or 'metro' (elevated) trains. The Brown Line will take you directly into the Loop (downtown), in about 10-15 minutes. The current cost of a ride is $2.50 (which allows you two 'free' transfers within 2 hours of travel start time). You can purchase one-day, 3-day, 7-day, or 1 month unlimited passes at most convenience stores (Walgreen's, check cashing windows, etc), or in the train stations. You CANNOT purchase a pass on a bus, but you can use cash, if you're just going to your destination and won't need to transfer. The same transit cards are used on buses & trains.
Catching a cab is super easy from the nearest intersection - this is a busy neighborhood, so they're almost always available...just give it a minute. ;) I might recommend using Über or Halo apps on your smart phone, to get a cab quicker, and with less hassle.
If you're driving into town, or planning on renting a car, there is very limited parking available, unfortunately. You can park on the street, which is paid parking from 8am-10pm. The nearby side streets are reserved residential parking, and require a paper permit displayed inside your window. You will get ticketed or towed if you do not pay for parking. Chicago LOVES to ticket & tow. Fair warning!
Other things to note
NO PETS ALLOWED, EVER, AT ANY TIME.
NO smoking!
Keep out of my closet! (for realz, though).
I have a TWO NIGHT minimum and my prices are non-negotiable.
Please, read through my 'house rules' thoroughly before finalizing a booking with me. (trust me, it's entertaining, if nothing else.)

---
May not be safe or suitable for children (0-12 years)
FAIR WARNING!!!: This list of house rules are written based on all the 'amazing' things that past guests have done to/in my place. So, if this sounds harsh, that's why.... you can thank all the previous guests that clearly have no brain/common sense....
1.***Absolutely NO PETS ALLOWED at any time!***
Please, do NOT bring any kind of animal into my home, as I'm severely allergic. I have had past guests do this without telling me, which is completely insensitive & unacceptable.
I found pet food & pet hair all over my apartment.
NOT cool.
2. NO DRUGS & NO SMOKING allowed. This has also been an issue in the past. I will report you to AirBnB, and you'll be charged, and banned from using this site. It's been done.
3. Please make sure that you lock my apartment door EVERY time you leave (BOTH locks) and upon your final departure, you MUST leave the apartment double locked AND make sure the keys are slipped under the door, inside the apartment. (this has also been a problem, as my past guest, Brian, decided it would be cool to leave the place unlocked for 2 days). Clearly, he's not working with a full deck - he & his girlfriend were also the one's that clearly did drugs in my place and left it trashed (I have photos & reported them to AirBnB). NOT COOL.
4. If you decide to use the AC/heating, please make sure the windows are closed. Or if you want the windows open, make sure that the heat/AC is turned off! It's called common sense, people. :)
5. Please make sure that the fridge door shuts completely, as it's old & sits funny, and sometimes it doesn't shut all the way. Same goes for the freezer.
6. Please do not leave the water faucets dripping. That's just wasteful & lazy.
7. Please take ALL your garbage out of the apartment before you leave!!! there are dumpsters behind the bldg for your use.
8. In the kitchen, there are two places for trash - the little white can on the floor is for compost ONLY. The paper bags under the sink are for recycling. Please use them appropriately.
I know we're not in Portland, but do it anyway.
9. Please DO NOT move my furniture. It's my house, not a motel. (as in re-arrange it)
10. If you knock things off my walls - PUT THEM BACK.
duh.
11. If you break something, please replace it.
Little things have been broken or ruined and things have even gone missing - and no one bothered to say anything. LAME.
12. My closet is OFF LIMITS. You MAY NOT use my clothing or shoes, or other personal belongings. (Someone stole one of my jackets, some boots, and used my bathrobe.) Again, it's NOT a hotel, it's MY HOME.
13. Please be thoughtful enough to clean up after yourself - I'm not your mother, and I'm not your maid. Try using common sense & mindfulness.
14. You're more than welcome to use my books & games, but please put them back where you got them.
15. THERE IS NO TV. Please re-read what amenities are available, and don't be surprised when you get here and there's NO TV! Try reading a book, playing a game, or go to the cinema, it's a few blocks away.
Aren't you here to check out Chicago, anyway?
16. Do not touch or move my personal things and do not water my plants. I've got it. They're not yours. :)
17. If you have ANY questions or concerns about ANYTHING, and you're not sure what to do - PLEASE CONTACT ME IMMEDIATELY!!!!! (I don't care what time it is!) Do not assume things, and do something stupid or inconsiderate. You're in someone's HOME, not a hotel - again....
18. My place is not set up to accommodate children. Sorry. I like kids, don't have any, and don't want any in my place. It's not big enough & it's not child proof.
19. DO NOT STEAL from my place. Karma is real.
20. If you make a mess, clean it up - there are cleaning supplies under the kitchen sink and next to the tub/toilet.
Paper towels are suspended under the kitchen cabinets, in the corner. Please make sure you clean your hair out of the bathtub and sink. It's just gross.
21. You may raise and lower the windows/blinds, as you like - please be careful, they are old and don't necessarily work properly.
22. Please make sure the lights are turned off when you're not there.
23. Please turn the ambient kitchen lighting on/off from the power strip on the floor next to the dining table. You may also use this power strip to plug in the blender/juicer.
24. The funny, old lantern light over the dining table turns on/off by twisting the little ball at the very bottom, to the right, two times.
24. Please feel free to light/burn the candles, if you can be responsible with them. DO NOT leave them burning if you leave.
25. There is a washer/dryer available down the hallway. The washers are $1.75-$2.00 per load, and are one floor down. The dryers are on the same floor as my apartment and are $2.00 each load.
26. Please enjoy the breakfast bars, wine & chocolate. You may also make tea, if you like. There's a kettle on the stove top, and the tea selection is in the cabinet above the stove.
(note: I used to leave OJ & fruit, but no one ever drank/ate it, so it always went bad - I stopped providing those).
27. My pricing is based on a competitive scale, recommended by AirBnB, it's NOT negotiable.
28. Check out time is NOT negotiable. Be out before noon on the day of your departure. No exceptions. And NO, you may not leave your bags in my place. Sorry, it's not a hotel.
29. My apartment is in the middle of the city - there are city noises - ALL the time. If you're sensitive (especially if the windows are open (at night) - please make sure you have earplugs to block out the noise.
Again - I know this all my sound harsh, bitchy, strict, etc. but it is all written, and updated based on the unbelievably stupid things that past guests have done in my home, and somehow thought it was okay. So, now, I will write it down - so no one can say, in the future that they didn't know.
Please be mindful and treat my things as if you were at your best friend's grandmother's house. :) With respect.
Many thanks!
---
---
Chicago, Illinois, United States

·

Joined in April 2013
I'm probably best described as an 'urban hippy' (clean, fun-loving, & laid back). I love nature, camping, trekking, travel & adventures of all kinds - and...I live in the city. I grew up in the Midwest, on a farm & feel just as comfortable 'roughing it', as I do dressing up for a great night out in the city.
I'm a people person, and love hosting & showing people around, or just giving some fun tips and sending them out on their own. I've lived in Chicago for 13
+ years and know about many interesting & fun things to do. The restaurant scene is fantastic, as well as live music, and the art & architecture here are unbeatable. There's SO much to offer, all the time.
I'm a fitness instructor, so I'm connected to some interesting & eclectic communities in and around Chicago. My main mode of transportation is by foot or bike (and sometimes public transportation, or CTA) - so, I can help you get around to most places.
Chicago offers loads of things to do from FREE to pricey, and if I don't know about 'it', I can research it, find out & at least point you in the right direction.
I absolutely LOVE to travel, but rarely get the chance because my work is demanding & it's difficult to take time off.
Still, I'm up for any kind of adventure, anywhere - I lived abroad for about 7 years & felt right at home in several European countries, as well as southeast Asia. I'd love to continue travelling & see more of this amazing planet & I think AirBnB is the perfect way to make that happen!

Exact location information is provided after a booking is confirmed.
Explore other options in and around Chicago
More places to stay in Chicago: