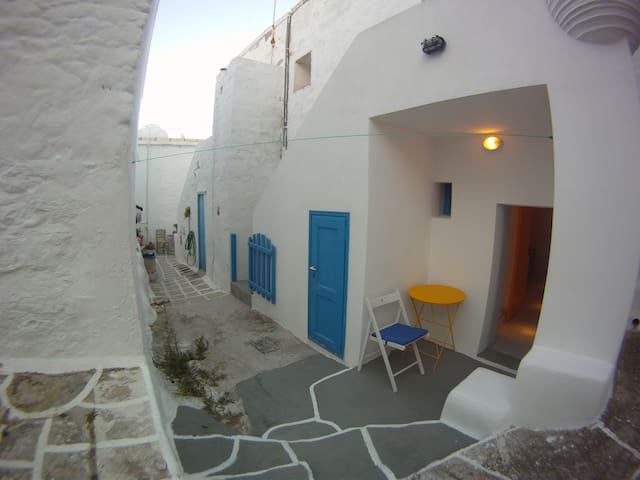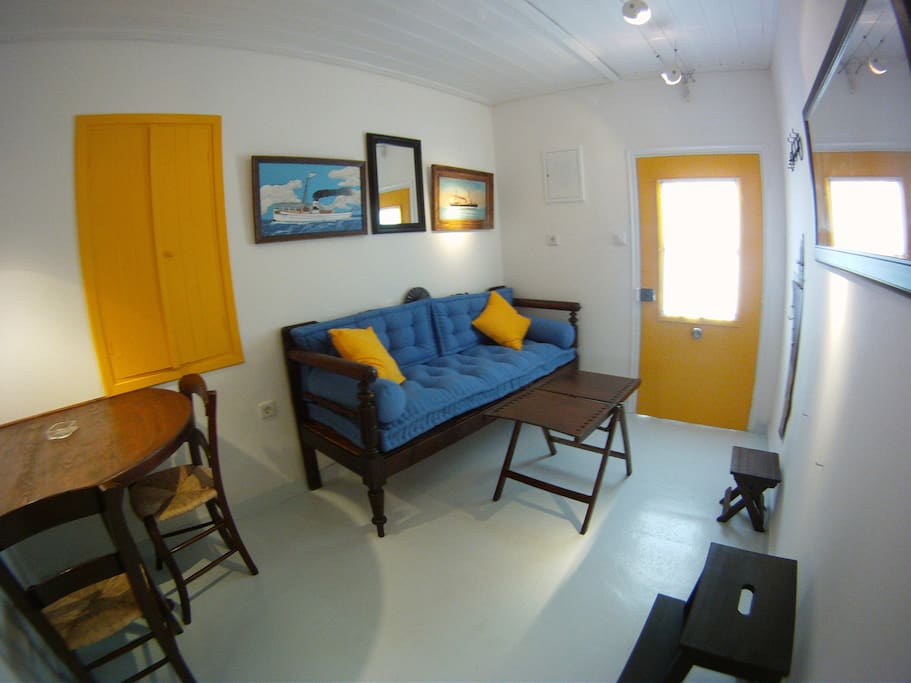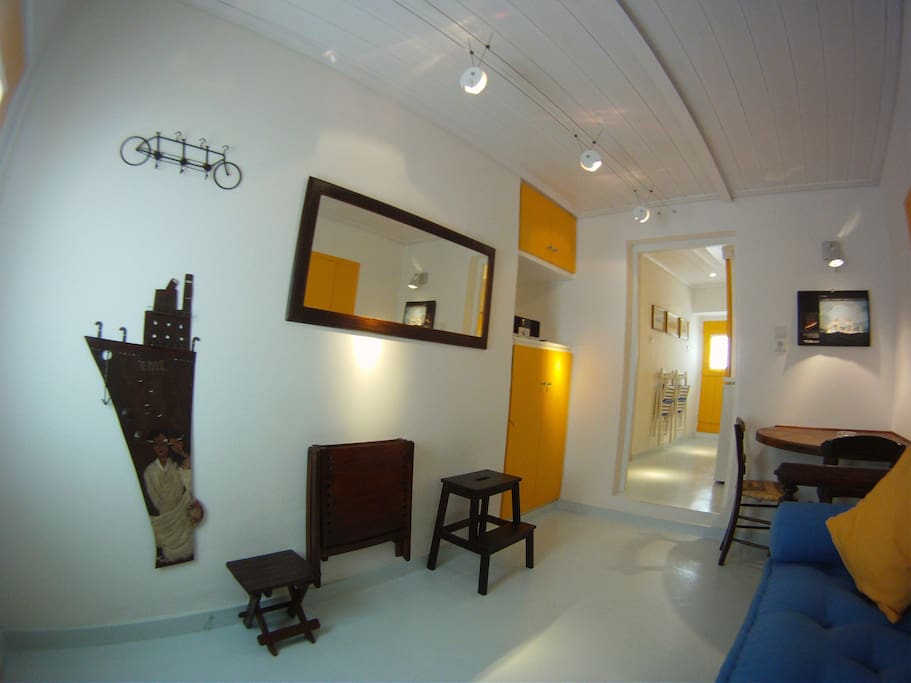 The space
Traditional house in the village of Kimolos, in the southwestern Cyclades in the Aegean Sea. The village, built in the foothills of Xavlopouniou, with its whitewashed houses, its flowery courtyards and narrow streets with its whitewashed "joints", is a Cycladic painting with a special, local note. The oldest settlement nucleus is the Castle, around From which the settlement was extended from the end of the 17th century, but mainly after the Greek Revolution. So the closer to the Castle is a house, the older it is, as a rule. In the Village of Kimolos you will not find a big central square, but some small ones like Theoskepasti, Kambos (with playground) or School (with nice view). In Chorio you will find several shops, a pharmacy, a pharmacy, a post office, a police station, an ATM. In Kimolos there is a clear, glittering sea, in all the amazing shades of blue and a beach for everyone: crowded or quiet, with sand, pebbles or rocks for dives, large or small, with shallow or deep waters. Most of the beaches are easily accessible, but there are also some dreams in the north of the island and in Polyaigo, which require floating means.
Παραδοσιακό σπίτι στο χωριό της Κιμώλου,στις νοτιοδυτικές κυκλάδες στο Αιγαίο πέλαγος.
Το χωριό,χτισμένο στους πρόποδες του Ξαπλοβουνιού, με τα κάτασπρα σπίτια, τις λουλουδιασμένες αυλές και τα στενά φιδογυριστά δρομάκια του με τους ασβεστωμένους "αρμούς", είναι μια κυκλαδίτικη ζωγραφιά με μια ιδιαίτερη, τοπική νότα.Ο παλαιότερος οικιστικός πυρήνας είναι το Κάστρο, γύρω από το οποίο επεκτάθηκε ο οικισμός ήδη από το τέλος του 17ου αιώνα, αλλά κυρίως μετά την Ελληνική Επανάσταση. Έτσι όσο πιο κοντά στο Κάστρο βρίσκεται ένα σπίτι, τόσο παλιότερο είναι, κατά κανόνα.
Στο Χωριό της Κιμώλου, δε θα βρείτε μια μεγάλη κεντρική πλατεία, αλλά μερικές μικρές όπως της Θεοσκέπαστης, του Κάμπου (με την παιδική χαρά) ή του Σχολείου (με ωραία θέα).
Στο Χωριό θα βρείτε αρκετά καταστήματα, αγροτικό ιατρείο, φαρμακείο, ΕΛΤΑ, Αστυνομικό Τμήμα, ΑΤΜ.
Στην Κίμωλο υπάρχει μια διάφανη, αστραφτερή θάλασσα, σε όλες τις απίθανες αποχρώσεις του μπλε και μια παραλία για τον καθένα: Πολυσύχναστες ή ήσυχες, με άμμο, με βότσαλο ή με βράχια για βουτιές, μεγάλες ή μικρές, με ρηχά ή βαθειά νερά.
Οι περισσότερες παραλίες είναι εύκολα προσβάσιμες αλλά υπάρχουν και μερικές ονειρικές στα βόρεια του νησιού και στην Πολύαιγο, για τις οποίες χρειάζεται πλωτό μέσον.

---
---
Check in is anytime after 12PM (noon)
---
Loved our stay at this cosy house. The house itself, a local told me, is traditional Greek and has been renovated really well. Orfeas was in Athens during our stay so Mrs Irini his neighbour let us in the house. She and everyone else on the island were really kind and welcoming. A couple of pointers about this property: Do stay here for - an authentic, cosy, local experience. Don't stay here if you want a spacious, luxurious Airbnb it's more charming than fancy. We ha a bit of an issue quester pressure but this was all over the island and not bad enough to spoil our stay. Highly recommend staying here and taking in Orfeas recommendations he led us to great experiences and food!
---
Really nice place, in the very center of Chorio. The flat is ideal for a couple, very practical, and well designed and equiped. Orfeas and Dinos are both super great hosts, easy to communicate with and they made our accommodation easy and smooth. We would highly recommend this place if you want to spend some days in the very center of Kimolos.
---
We stood there 2 fantastic weeks, and could not complain about anything. The keys were given by Orfeas father who was also very friendly, and the place was exactly what it looks like. we took our breakfast on the rear entrance every da, an it seems that we were the only ones awaken. You liv in the center of the village and around you are only inhabitants. We enjoyed our stay and would recommend it everyone who wants to do a couple holiday.
---
If you want to experience the original cycladic vernacular architecture this is your place. A minimal design touch takes your experience a step further and the location right in the heart of the village makes you feel part of the local community. The neighbours are really open and friendly and having small talks with them you get to know the life on the island even better. The apartment is very compact and practical and has everything you might need for short or longer stay! Communication has been really incomplicated and Orfeas replies immediately even though he might not be there. I totally recommend this place for your stay in Kimolos! Enjoy!
---
Response rate:
100%
Response time:
within a day
Explore other options in and around Kimolos
More places to stay in Kimolos: