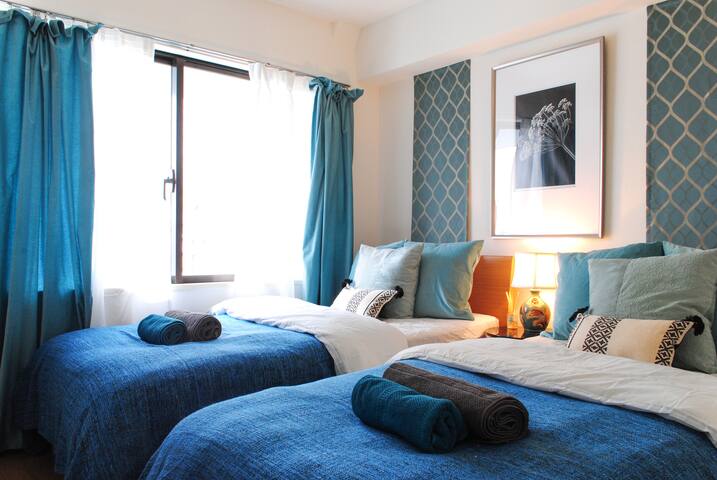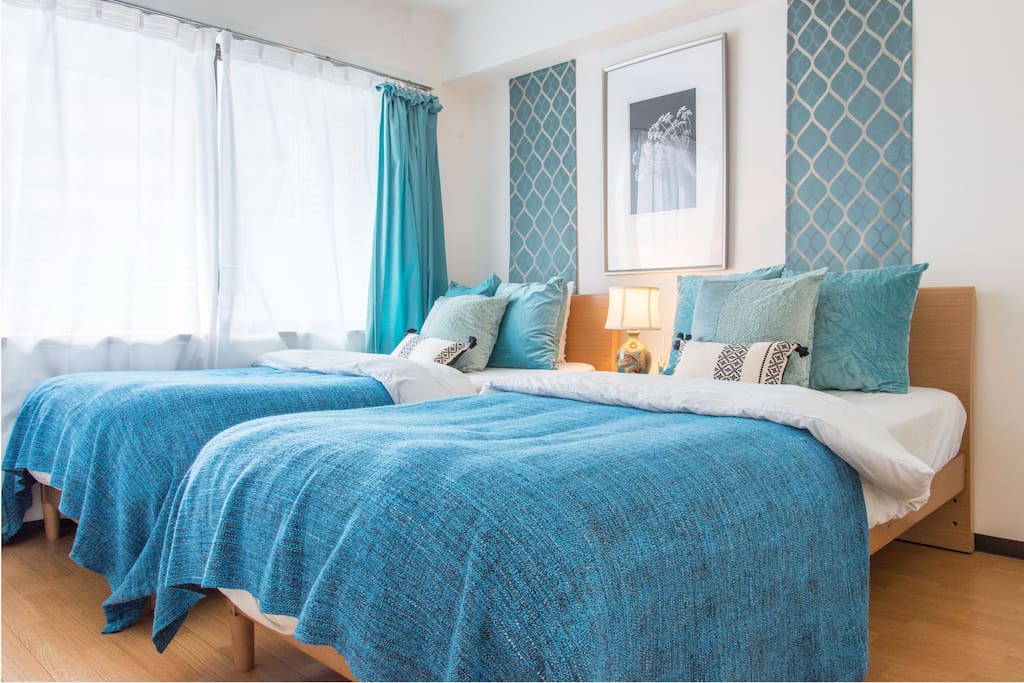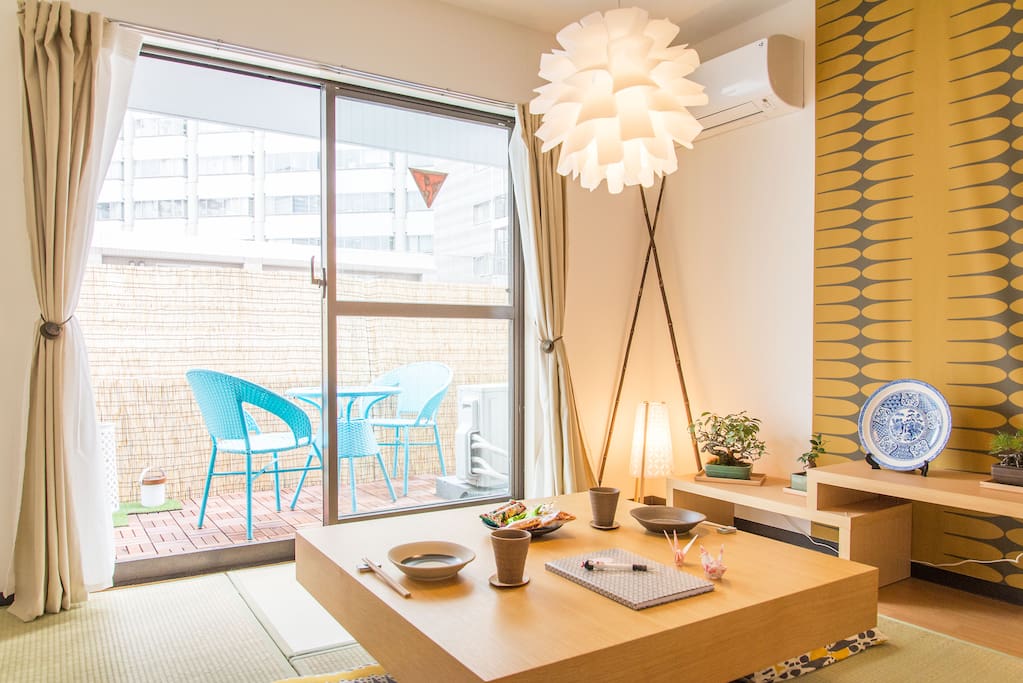 Japanese-Modern & Roomy★Prime Location★Metro 2 min
★Closest Station "Tameike Sanno" 2 Minutes & 10 min walk to Roppongi
★Lively upper-class neighborhood
★ Lots of restaurants, Supermarket across the street, Convenience Store 1 minute walk
★Enjoy your coffee in the sun! Marvel at the night sky and the surrounding Sky Scraper lights
★Supreme transportation (3 stations + 5 metro lines!)
★Stay connected 24/7 with our light and handy MOBILE WIFI
★Shopping in Ginza, Omotesando & Tsukiji 13 min | Harajuku & Akihabara 17 min | Shinjuku & Shibuya 20 min
The space
Open the door and step into four walls of cosy Japanese elegance paired with a modern breeze of fresh blue - welcome to your Tokyo home
★THE BONSAI HOUSE★
We are very big fans of old traditional Japanese houses and Ryokans.
We equally like modern design and vivid colors. This led to the idea of combining both and creating a Wa-Modern atmosphere.
It took a lot of energy and creativity to work with and around the original 60´s charme of our apartment, but we love the result and we hope, you will, too :)
Relax on tatami, surrounded by Japanese Art and real Bonsai trees in the living room, along with a cup of green tea, while flicking through the pictures of your eventful day.
In the separate bedroom you can fall into a soft bed and stretch out after long hours of walking and discovering the many beauties of Tokyo.
The mattresses and blankets are super comfy and the pillows are memory foam.
★OVERVIEW OF THE HOUSE★
Our Bonsai House is comfortably spacious, unlike most tiny Japanese apartments, and thus a rare find!
The Apartment is built more like a western studio type apartment (35 square meters) and each section of the house has its own room. We have a separate Bedroom, Livingroom, Shower/Bathroom, separate Toilet, separate space where the wash stand and Washing machine are located, a kitchen and a doorway.
The Bonsai House lies in the heart of Akasaka, the central for Banks and Politics in Tokyo, not far from the Japanese Parliament. It is located on the 8th floor of a relatively modern building, of course with an elevator!
It has large windows and a large balcony. You get lots of natural light and sunshine, and an excellent night view!
★AMENITIES★
★BED ROOM★
1 bedroom with 2 super comfortable single beds / Air Conditioner (cooling & heating) / iron / ironing board /hangers
★LIVING ROOM★
Tatami Floor Living Room / Air Conditioner (cooling & heating) / Table/ Floor Cushions (Zabuton)
*when travelling in a bigger group, the table in the living room can be moved to make space for 2 comfy Japanese Style Futon Beds
★KITCHEN★
2 Induction Cookers / microwave / fridge and freezer / Hand-Made Japanese ceramics / dishes and cutlery, different sized pots, frying pan, cooking equipment / Coconut Oil, Soy Sauce, Sukiyaki Sauce, Salt, Pepper, Sugar / dish washing detergent, sponges, drying cloth, tissues
★BATHROOM★
shower, (Japanese Brand) Tsubaki shampoo, conditioner & Dove body soap / deep Japanese bathtub , aroma bathbombs / washstand, hair dryer, cotton buds, tooth floss pick, face cleansing, cotton, Tsubaki hair mist, travel toothbrush, toothpaste / washing machine, laundry detergent, washing net, hangers / separate toilet, toilet paper
★BALCONY★
a spacious balcony with a great (night and day) view, table and 2 chairs
★WIFI★
stable and speedy mobile "Pocket Wifi", 10 GB for 3 days (!!) (automatically resets on the 3rd day), max speed is 200 byte per second.
★TOWELS★
we provide enough towels for all guests (amount of towels varies on night of stay)
★24/7 CONVENIENCE STORES/ SUPERMARKETS★
All points of interest are easy to find on the map we will be sending you after your booking process
-There is a highly convenient 24/7 open supermarket "Hanamasa", just across the street
-The closest convenience store "Lawson" is 1 minute away, in the street behind our house
-The closest "7/11" convenience store is 3 mins walk (Accepts International Creditcards)
★RESTAURANT / BAR / IZAKAYA / CAFE★
Since Akasaka is a lively business district, it has plenty of Shops and Restaurants, Izakayas, Cafes and Bars.
There are literally a hundred places all only 3-5 minutes from our doorstep!
★Sushi/ Ramen/ Japanese BBQ/ Korean BBQ/ Izakaya / Coffeeshops★
only 3-5 mins walking distance
2x Starbucks within 5 minute walking distance
Bakery (downstairs at the Exit 11 of the Metro) + Convenience Store Lawson 2 min
We have prepared a digital map for you with all our recommended food spots around the house. It will come with the PDF Housebook :-)

★MONEY WITHDRAWAL★
There are multiple ATM's in Akasaka which accept international cards.
The above mentioned 7/11 convenience store (which is 3 mins walk away) is guaranteed to Accepts International Creditcards!

★AREA★
Step out of the house, turn to the right and not even 3 minutes walk will take you to one of the most vibrant neighborhoods in Tokyo, which is famous for its variety in food, delicacies (basically a food Mecca!) and bars. Here your tastebuds are guaranteed to find satisfaction.
The lively Akasaka district offers all colors of Restaurants, ranging from upper class fine-dining Kobe beef Restaurants and fresh Sushi to typically Japanese food such as Ramen, Okonomiyaki, Yakisoba or Beef Bowl (Gyû Don) Fast Food restaurant for the smaller budget . The sheer variety might leave you in two minds what to eat first!
Right behind the Bonsai House, only a 4 minute stroll away is one of the most beautiful shrines in Tokyo, the "Hie Shrine", regally sitting on the top of a lush green hill, to which you can either decide to humbly walk up the many stairs (and burn a few calories) or conveniently use the escalator to elevate you to the gates of the Japanese gods (A shrine with an escalator!!)

★ACCESS★
The Bonsai House is located only a short
2 minute walk from TAMEIKE SANNO STATION -
one of the most convenient stations in Tokyo.
The 4 metro lines (Ginza Line, Nanboku Line, Marunouchi and Chiyoda Line) will take you directly to all sights throughout the city:
OMOTESANDO - 14 mins
high-end fashion, shopping, lots of lovely eateries
UENO - 18 mins
Ueno Park! Cherry Blossoms! Panda Zoo and the Ame Yôko Shopping Street
SHIBUYA - 19 mins
straight to Shibuya Scramble Crossing + Crazy Fashion + Shopping + Izakaya + Clubbing!
HARAJUKU (youth culture and fashion) - 15 mins
The cradle of "Kawaii" and Kawaii/Lolita Fashion
IMPERIAL PALACE - 20 mins
TOKYO TOWER - 21 mins
SHINJUKU (business and entertainment hub) - 19 mins
Shinjuku Gyoen is arguably the most famous Park for Cherry Blossoms and Autumn Foliage in Tokyo
ASAKUSA Sensôji Shrine - 29 mins
TOKYO SKYTREE - 32 mins
Second tallest structure, tallest tower in the world
ROPPONGI - 12 mins / 19 mins walk
Party and Clubbing! Also Mori Tower´s Sky Deck has fabulous night views of Tokyo! Mori Art exhibitions

Also it´s only 15 mins to Shinjuku, which is THE traffic hub in Tokyo from where you can take trains and busses to both Tokyo Airports, to Osaka, Kyoto, Kobe and closer destinations such as Kamakura, Nikko and Hakone

★AIRPORT LIMOUSINE BUS★
There is a Airport Limousine Bus between both Narita and Haneda Airport and the nearby ANA Intercontinental Akasaka Hotel:
Adult 3100 Yen, Child 1550 Yen
Travel Time Duration about 80~ 95 mins
Service Hours 6 am ~ 6 pm
★TOKYO MUST GO EVENTS★
-Katsushika Shobu Matsuri (Iris Festival) Mizumoto Park, Tokyo Early June to Late June
-Bunkyo Ajisai Matsuri (Hydrangea Festival) Hakusan Jinja Shrine, Tokyo Early June to Mid June
-Mount Fuji Climbing Season Mount Fuji July 10 to Septemb(PHONE NUMBER HIDDEN)
-Mitama Matsuri (Obon festival) Yasukuni Shrine, Tokyo July 13-16, 2017
-Sumida River Fireworks Sumida River, Tokyo July 29, 2017
-Shinjuku Eisa Festival Shinjuku, Tokyo July 30, 2017
-Fukagawa Hachiman Festival Tomioka Hachimangu Shrine, Tokyo Mid August
-Asakusa Samba Carnival Asakusa, Tokyo August 27, 2017
-Tokyo Koenji Awa Odori Koenji, Tokyo Late August
If travelling further south:
-Gion Matsuri Yasaka Shrine, Kyoto July 17 and July 24, 2017
-Tenjin Matsuri Tenmangu Shrine, Osaka July 24-25, 2017
-Miyajima Fireworks Itsukushima Shrine, Miyajima Island Mid August
------------------
If you like, also have a look at my other smaller house in Shinjuku, which is perfect for couples and friends :)
https://www.airbnb.de/rooms/11680119?s=xsaI7sDj
Guest access
This is your apartment for the time of your stay.
★NOT SHARED★
Make yourself at home!
There are only a few designated parts for our cleaning utensils, which we would like you to refrain from opening. Thank you :)
Interaction with guests
We love to hang out or have a meal with our guests when we have the time!
I am only one email or phone call away from you, if you need me.
Since I am working full time, in some cases I might not be able to meet you in person for a check in / check out
In these cases we would like to ask you to do a "self check in /check out" from a key box.
We will let you know the details before your arrival! ;)
Other things to note
Earthquakes
As you already know, Japan is an earthquake prone country.
We have made the Bonsai House as earthquake safe as possible.
We will provide a manual of what to do in case of a stronger earthquake during your stay.
Rainy Season (Tsuyu)
In most of Japan, the rainy season lasts from the beginning of June to mid July, we provide free umbrellas, but recommend you to bring yourself some waterproof (foot) wear
---
This listing has essential business travel amenities.
---
---
Common spaces
2 floor mattresses
---
Check in is anytime after 4PM
Self check-in with lockbox
CLEANLINESS
------------------
Based on terrible experience we had to make, we ask you to treat our house like your own house (we hope you treat your house nicely ;) ).
Handle our house with care and leave it in an agreeable clean state, because it is our home and not a random hotel room.
If the house is left in a bad state (big amounts of trash, chaos in the rooms, unwashed dishes) and takes a lot more time than an average cleaning would, a penalty fee of 5,000 yen for our extra effort and time will be taken down from your deposit. Please be aware of our rules and only proceed with your booking if you can agree with our conditions. Thank you!
DAMAGE /LOSS
----------------------
We appreciate our guest's honesty and we are forgiving people. We expect our guests to take responsibility of caused damage.
If you break or lose something at our house, we would appreciate a quick notice so we can help solve the situation as soon as possible!
After reviewing the caused damage we will take down the necessary amount out of your deposit.
A lost WIFI will be charged with 20,000 Yen
A lost Key will be charged with 10,000 Yen
Broken interior will be decided case-by-case, depending on the importance of the item and the difficulty of replacement.
Thank you for respecting our time and efforts!
NEIGHBORS
-----------------
Please be kind to the neighbors. If you should run into anyone, a smile will do the trick :)
!! IMPORTANT !!
--------------------
Also, if you get asked about staying in an "AIRBNB" in any kind of question by anyone in the building, we ask you to simply answer:
"we are friends of Gizem / Daisuke!". Smile and walk away. There is no need for further interaction.
Please don´t misunderstand us, we don´t want you to lie for us, in fact, we'd be happy if you´d actually like to be our friends! ;)
We are NOT hosting illegally. We have the OK of the House owner and are properly paying taxes, which makes us different from almost 80% of all Airbnb hosts in Tokyo.
Why is this important?
This is important because recently the Japanese media has been overflowing with reports about illegal hosting and hosts mis-using state-funded housing for earning money through Airbnb or similar sites.
Additionally there have been reported cases of trouble with neighbors due to noise or the wrong separation of trash.
These are all points we would like you to have an eye on, because this will be part of your Airbnb experience :)
Thank you!
NOISE
---------
The Bonsai House luckily has thicker walls than most regular Japanese apartments. Unfortunately this doesn´t mean, that excited conversations and loud laughter will not travel to your neighbors´bedrooms (or ears).
Thus we ask you to be considerate and modest with making noise (especially in the early morning hours and in the evening after 9 pm).
Especially, since the building manager lives right above our apartment, we ask our guests to tone down a notch when on the balcony or outside in the hallways.
SAFETY
----------
A word about safety. The apartment is located in a very safe upper-class/ business area (there are almost no unsafe areas in Japan in general ;) )
There is a security guard in a small office box on the ground floor and a camera safety system installed in the whole building for additional security
Nevertheless, we recommend - using common sense - to never leave the doors and windows open when you are not at home :)
When the Doorbell Rings
Please do not answer the door, even if the door bell rings, other than if we have a scheduled meeting :)
Smoking
No smoking allowed neither in the apartment, nor on the balcony. We do not mind however, if you wish to smoke in front of the building :)
In Japan smoking is only permitted in designated spots, mostly to be found infront of konbinis (convenience stores) or tobacco shops.
There is a Seven Eleven convenience store only 2 minutes walk from our house where you can have a smoke and buy tobacco :)
Trash
Tokyo is very strict about separating trash.
We would be grateful if you can separate the trash into the designated trash boxes in our kitchen and at the garbage dump downstairs. Wrong separation can be fined and is likely to get us in trouble with the house owner

Check - In / Check - Out
Check In time for our guests is from 4 pm (16:00)
Check Out is at 10 am (10:00)
We kindly ask our guests to check out at 10 am, so the cleaning personnel can enter the room to prepare it for the next guests.
You must also acknowledge
Potential for noise - currently (2017/7/26) there is a construction site on the other side of the road and there might be a faint sounds between 9am-6pm
No parking on property - but paid parking nearby!
---
Lovely apartment which is exactly as described - bright, clean, well-equipped and in a superb location with three metro stations nearby, and many restaurants in the neighbourhood. Gizem herself was a great host, quick to respond and even though she was away, regularly checked in to make sure we were comfortable and had everything we needed. Wonderful stay - highly recommended!!
---
This is a lovely apartment in a great neighbourhood and as all the previous respondents have said, Guizem could not be more helpful. She really tries very hard to make guests feel welcome with lots of little touches including snacks on arrival plus tons of recommendations. And the apartment also has a portable Wifi which is a lifesaver when travelling in from overseas and wanting to look up directions, shops or sites while out and about. Could not recommend this place more.
---
The house was really pretty and very spacious for 4 of us, with a large and clean bedroom and even a balcony. The hosts were really nice, providing with toiletries, towels, and even hand written notes guidance on how to use the flat. Good coffee and tea was also available in the flat was greatly appreciated. The location of the flat was in a great location, fairly close to Shibya and Shinzuku area, which are the most popular areas to visit in Tokyo.
---
The apartment is spotlessly clean and very cosy. Located 2 minutes from a metro station it's perfect for seeing most of Tokyos' sights without having to change trains. The area is quiet but also has a lot of bars, restaurants and the lively ginza district is within walking distance. Gizem the host gave perfect instructions and made our stay as smooth as possible. She was in contact to check in on us over our stay which was very nice and made us feel at home. I would not hesitate to recommend Gizem's apartment as a perfect place to stay in the amazing city of Tokyo.
---
Gizem is a wonderful host. She is helpful beyond just providing a nice rental but also the personal touches: little welcome note and caring for me when I got sick just before my arrival date. She checked on me to make sure I was OK (and I was). She has offered in several occasions to help me find help just in case I might need (I got better and did not require clinic). A truly loving experience. The apartment itself is well positioned in a high class residential. It is very convenient and close by nice restaurant and lifestyle places. The neighborhood is your dream home away from home - because unlike hotel rooms and tiny rental this place is large (by Japanese flat size). Thanks for letting us stay.
---
Konnichiwaaaaaa - Cool that you're here! I´m Gizem, German with Turkish roots, married to a Japanese and have been living in Tokyo for almost 3 years now. Admittedly a wild mix, which makes things really interesting ;) Me and hubs met at "Gala Yuzawa" ski resort and these are…
Languages:
Deutsch, English, Türkçe, 日本語
Response rate:
100%
Response time:
within an hour
Explore other options in and around Minato-ku
More places to stay in Minato-ku: