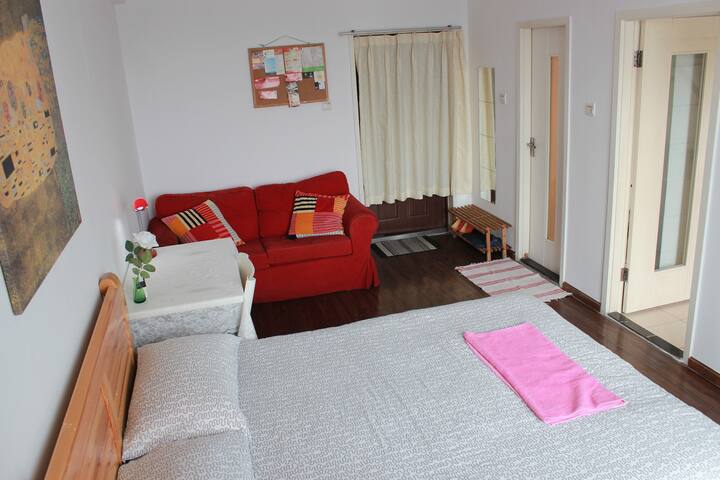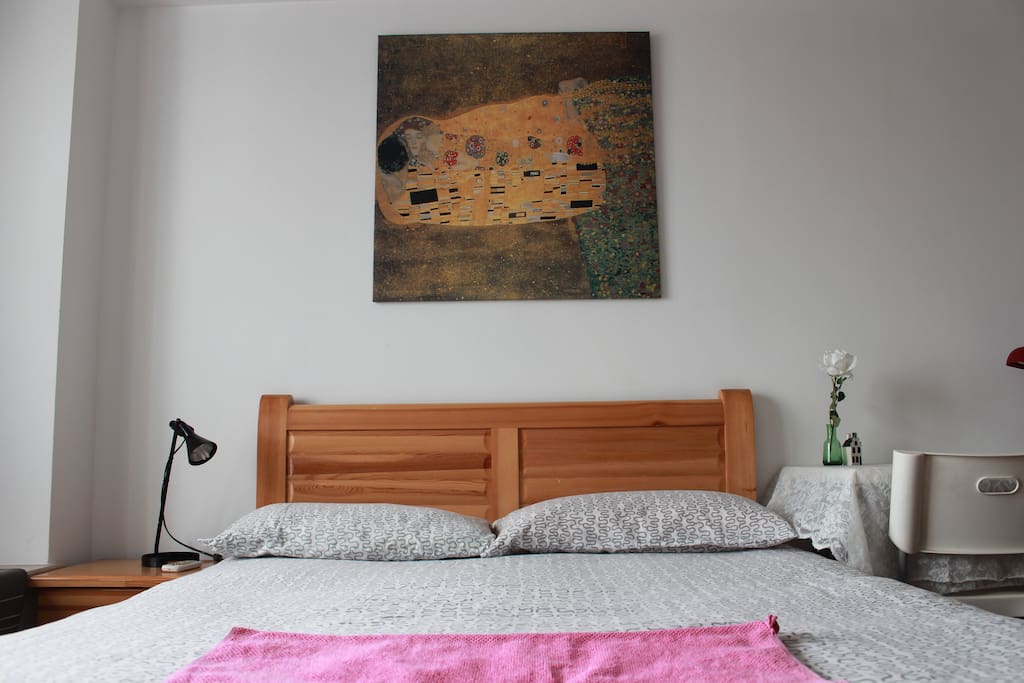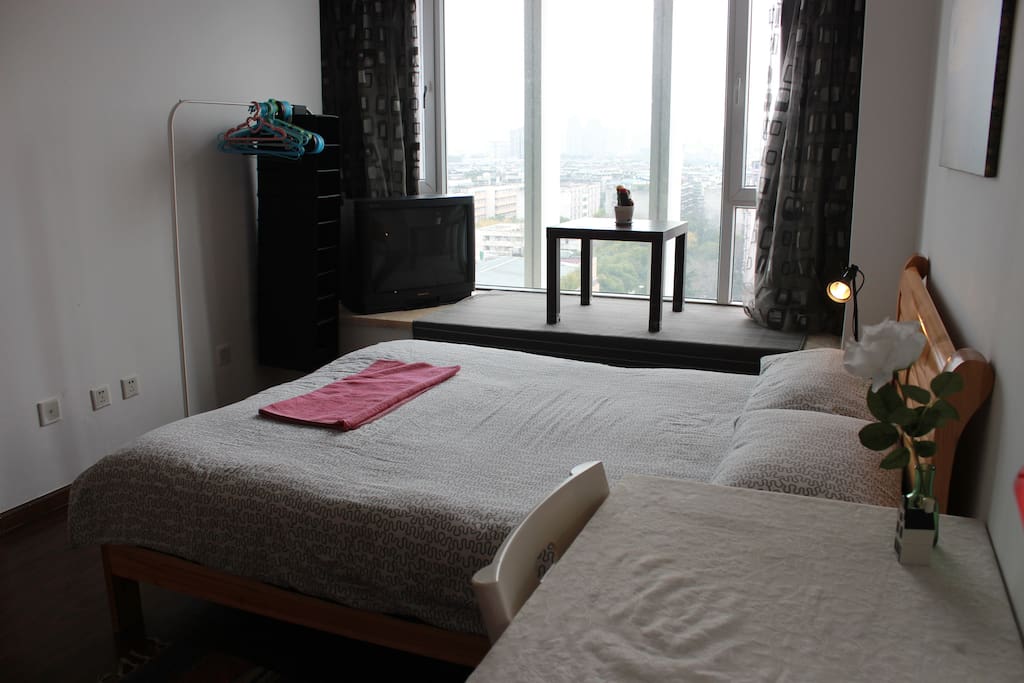 This studio apartment includes a kitchenette and western bathroom and can sleep up to 2 guests. It's a perfect central location inside the 2nd ring road. Countless shops, bars, eats, banks, malls, nightlife and more are within short walking distance!
The space
This HakkaHomes studio apartment is in an ideal location on Chengdu's south side within walking distance of the American consulate, Sichuan University, Computer City as well as countless restaurants, bars, banks, shops, and convenience stores. Chengdu's north/south line 1 subway is about 12-15 minutes walk from the apartment and many bus routes pass by the building as well.
The address is 科华北路60号,特别方便的位置!It's a really convenient and accessible location!
The studio is fully furnished with a double bed that can sleep 2 plus a big closet, small table, and a comfy bay window, or at least a Chinese style bay window :). There is also a kitchenette with sufficient cooking utensils if you want to do some cooking!
Interaction with guests
Besides getting the keys for move-in and check-out I suppose interaction would be "only as needed"... unless you come hangout with me and my friends in my bar (Hakka Bar)... or on the weekends at my club! (.TAG)
Always communicate through Airbnb
To protect your payment, never transfer money or communicate outside of the Airbnb website or app.
1. The Wifi password is "hakka123"
无限网络的密码是"hakka123"
2. Please do not move the furniture, bed, etc around. If you really need to move something, please ask us first!
入住后请不要随意移动调换我们的家具家电等,如果您真的有需要请先联系我们进行协商。
3. Please do not post, glue, tack, or stick pictures, flyers, newspapers, or posters of any kind on the walls.
并且请不要在我们的墙面张贴海报、贴纸、不干胶等难以清洁的物品,如有发现会扣除一定的清洁费。
4. One free cleaning service is provided for guests staying 1 week or longer. Cleaning service is available upon request, please allow 1-2 days advance notice for cleaning.
入住一周以上可获得一次免费的打扫。长期客人需要清洁前请提前1-2天通知我们。
5. Fresh bedding is available upon request
入住一周以上的长期客人如需干净的床上用品可提供更换。
6. We provide 1 roll of toilet paper for all new guests, but cannot provide more after that. It can be bought very conveniently in multiple locations downstairs.
7. Before you go out, please be mindful of the environment and be sure to turn off the lights and air conditioning!
8. Sorry, but pets are not allowed.
Hi! I'm Ellen, or Zhang Xuan (张绚) in Chinese, welcome to Chengdu! I am born and bred in Chengdu, the capital of Sichuan and home to China's tastiest and of course spiciest cuisine! I'm also a member of the Hakka people, who, strangely are not recognized by the Chinese government as one of the official 56 ethnic minorities of China. Actually, the Hakka people have their own language and cuisine and lengthy history of more than 1000 years covering multiple migrations to both south China and later Sichuan.

I started housing guests in Chengdu in 2009 when a few friends and I, all living in the same building near a few popular Chengdu nightclubs, began housing DJs in our various bedrooms when they came from out of town to play Chengdu's nightclubs including Xiongmao, Jellyfish, Paname and many more. We would just rent out our bedrooms or apartments and crash with each other. Before we knew it a little business was borne of it. I never really saw it coming. Anyways, more than 7 years later, HakkaHomes manages a bunch of apartments all in one great and uber convenient location in Chengdu.

Nowadays I am really busy managing my rooftop bar, Hakka Bar, and an electronic music club called .TAG which is on the 21st floor of Poly Center building A, just a short walk down the street from the SOHO building. By the way, my bar is in the same building as all of our apartments, and the club is just around the corner too. So when you stay at HakkaHomes, good vibes, fun parties, and lots of new friends are very close by! Wait 'til you see the city views from the bar, and especially the club... Also, if you want tickets to see some of the premiere international DJs who come through Chengdu at .TAG, just talk to my assistant Carrie who helps me take care of my Airbnb properties too.

We have had all kinds of guests stay in HakkaHomes apartments. From DJs and artists to entrepreneurs and engineers to students and interns. Considering how long I've been in this town, I've come to know a few people to say the least. Therefore guests should always let me know what kind of connections you are looking to make, because I may often know good people to introduce you to.

Anyways, Chengdu rocks, we're always having fun in the neighborhood, and there is a reason they call Chengdu, "The city you can never leave"!

您好!我是张绚,大家都叫我Ellen,地地道道的成都人,欢迎您的到来!同时我也是客家人,所以我的短租公寓就叫HakkaHomes-客家公寓,也同时希望客人能在这找到回家的感觉。Amber是我的助理,目前主要是她在接待大家。
2009年,我和朋友一起开始短期出租我们的卧室或整个公寓给外来的电子音乐人。我们的一些朋友当时管理了成都最火的酒吧、俱乐部,包括:熊猫Club、巴黎咖啡Bar及水母Bar等。那个时候我们仅仅是比较随意的把房间租给他们合住几夜,并没想到这样的事情会变成一个长期有趣的事业。6年过去了,现在我在成都最理想的位置正管理着多套公寓!

目前,我还同时忙着管理和公寓同一栋楼的顶楼酒吧(院吧 Hakka Bar) 、提供地道中国特色美食的花园餐吧(HakkaKitchen)以及公寓附近保利中心a座楼顶的TAG电音俱乐部。因为酒吧、餐厅及公寓都在同样的大楼,所以,你得知道,你住在客家公寓时候,很特殊的欧洲美食,安逸的小酒吧以及很多新的朋友就在隔壁! 步行5分钟就可感受到国内为数不多的专业地下电子音乐部的氛围。

客家公寓接待过各行各业的客人:旅行者和访友者, 企业家和工程师,DJs & 艺术家,学生及实习生。考虑到我在成都发展了这么久,我认识的人也有点多 :)。不管你到成都干什么,我很有可能可以给你介绍更多的资源。

我相信成都是一个很棒、很特殊的地方,有无数好玩的活动和尝不完的美食,毕竟成都是一个来了就不想走的地方!:)
Languages:
English, 中文
Response rate:
100%
Response time:
within an hour
Explore other options in and around Chengdu
More places to stay in Chengdu: