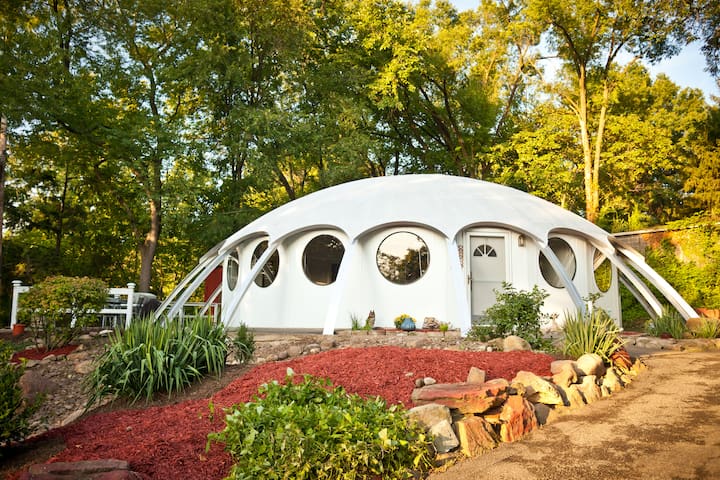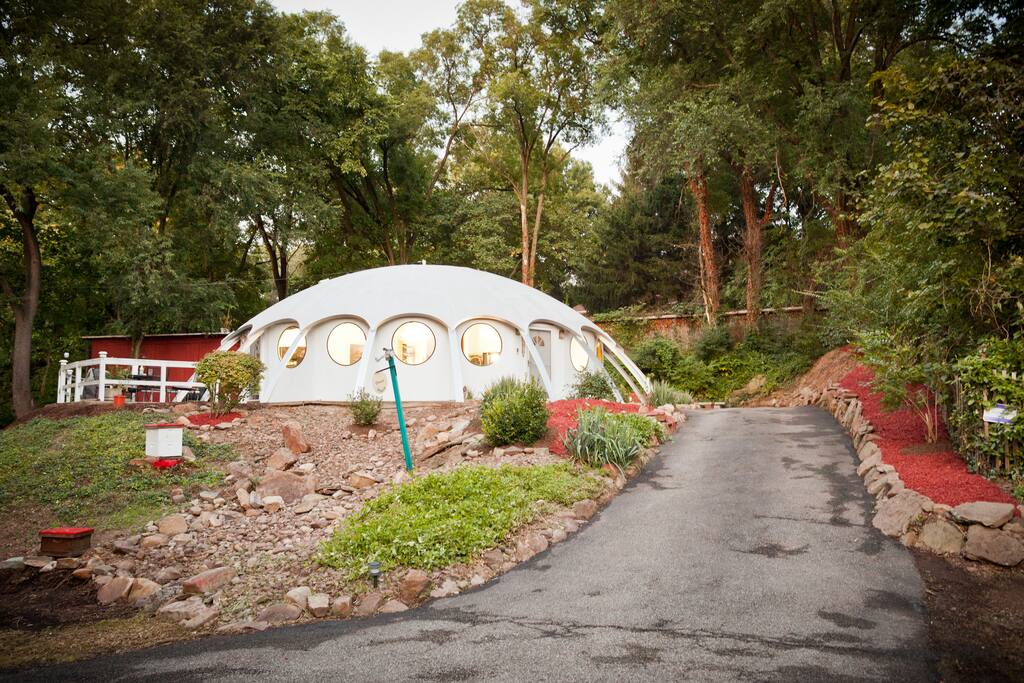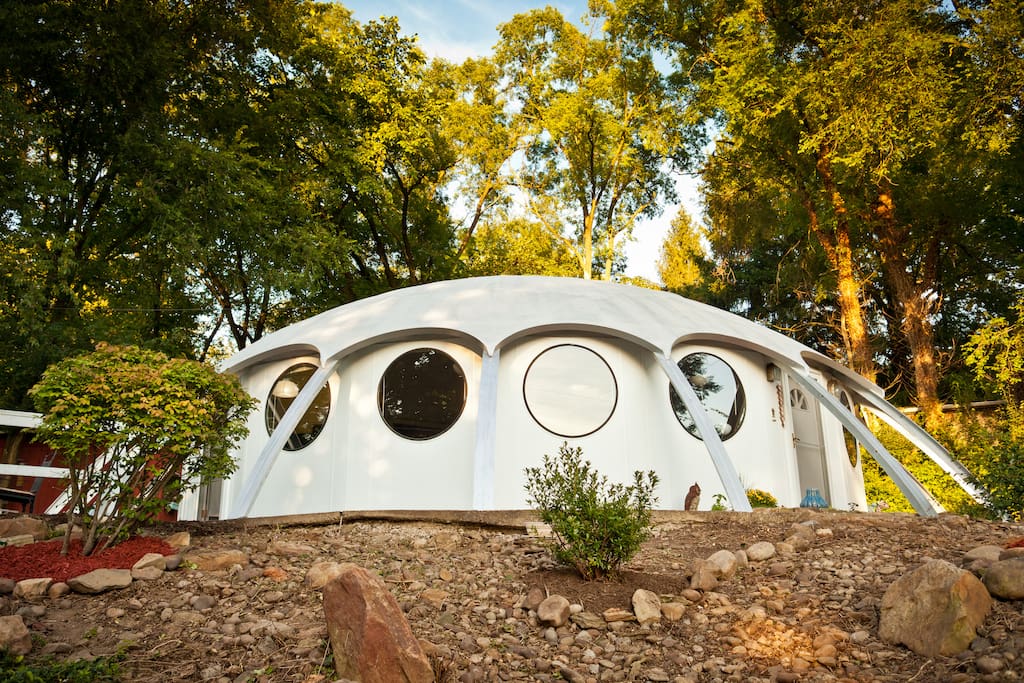 About this listing
Featured in the Oct. 2014 issue of Pittsburgh Magazine (the article "Dome away from Home" can also be viewed online). This listing is for exclusive use of 1 the dome's 3 bedrooms, NOT for private use of the entire house; common areas will be shared.
Featured in the Oct. 2014 issue of Pittsburgh Magazine (the article "Dome away from Home" can also be viewed online).
The space
• PLEASE READ THE ENTIRE LISTING BEFORE SUBMITTING AN INQUIRY OR A BOOKING REQUEST. Answers to many questions you may have can be found here.
• You'll be staying in one of Pittsburgh's most unique homes. Only 26 Yaca-Domes were ever built; ours was the first one built, and it's also the only Yaca-Dome in this part of the county.
• Our dome was built in 1969 by Pittsburgh native Joseph Yacoboni, who received a US Patent in 1975 for the construction method.
• Yaca-Domes were mentioned in the January 1975 issue of Popular Science.
• The house was designed to withstand earthquakes and 250 mph hurricanes...not something we normally have to worry about in this part of the country!
• By reading all of the information we've made available here and by asking in advance any additional questions you may have, you can arrive with realistic and reasonable expectations regarding:
- our House Rules and policies
- the dome itself and the available amenities
- transportation options (we very strongly recommend that guests have a car, as our dome is not in a walkable neighborhood; Uber and Lyft are also viable options).
- proximity to attractions, shopping, dining, and other neighborhoods; the listing's map includes the street name and a shaded circle that indicates the general area in which the home is located.
• Please don't book without reading the listing and then leave a negative review based on unrealistic expectations that resulted from your failure to read the listing.
• If you and/or others in your traveling party are expecting luxury or a place where everything is shiny, new, and perfect, and/or our dome isn't in an area you and/or others in your traveling party want to stay in, then please do all parties involved a favor and don't book with us.
• But if you're looking to stay in a unique and sometimes quirky home that is within the city limits but feels more secluded, our dome may be perfect for you!
• Our dome is NOT located in a posh neighborhood or a sterile/sanitized/homogeneous cookie-cutter development. As our dome is a very unique vintage property that contains mostly vintage furnishings, the dome and furnishings do display some age-related wear. We've made various updates and improvements over the time we've had the dome, and plan to continue doing so as time and finances permit.
• This listing's Airbnb Verified photos reflect the furnishings and decor at the time of the Airbnb photo shoot (August 2013). Please note that furnishings and decor are subject to change at our discretion. The desk (shown in some photos) is no longer in the home, the bed linens have been updated, and various other minor changes have been made.
Guest access
In late 2016 we installed new Nest Bedding mattresses and pillows in our dome's bedrooms. Nest Bedding's motto is "Love Where You Sleep" and we do believe that our guests will love these super comfy mattresses and pillows! Nest Bedding's high quality mattresses and pillows are eco-friendly and are made to order by hand right here in the USA.
Love the bed? In this bedroom we have a Nest Bedding Promo Code posted for $$$ off when you order Nest Bedding's Alexander Hybrid mattress for delivery to your own home! We also can provide a Nest Bedding Discount Code for $$$ off on Nest Bedding's Alexander Signature Series mattress.
The room offered in this listing is the middle-sized of the home's 3 bedrooms, and it is furnished with:
• Queen size bed
• 2 nightstands with lamps
• dresser
• wooden chair
• closet
• ceiling fan/light
• PLEASE NOTE: There's no TV in the bedroom, but there is a large smart TV (with Comcast cable) in the living room. You must use your own account if you want to log into Netflix, Amazon video, or similar services... the cable includes HBO but is otherwise a VERY basic package.
The common areas of the dome will be shared with us &/or any other guests who are at the property during your stay. The shared common areas include:
• Living room- vintage MCM sofa and matching chair with open wood frames, coffee table and end tables, vintage console that holds a TV (it is a "smart TV" however you must use your own account if you want to log into Netflix, Amazon video, or similar services... it is also connected to HBO and Comcast's Digital Economy cable channels, which is a VERY basic package)
• Kitchen- gas range w/ convection oven, side by side fridge, microwave, drip coffee maker, French press, tea kettle, toaster, waffle iron, cookware, dinnerware, cutlery, coffee and tea supplies, salt and pepper, paper towels, dish soap
• Bathroom- Vanity sink, tub/shower, Kohler Rialto toilet, hand towel, bath mat, hand soap, toilet paper, shampoo, body wash, and a blow dryer. Bath towels and washcloths can be found in your bedroom.
• Patio- outdoor dining set (please note that we recently began stripping and repainting the patio railing... due to weather conditions and other obligations, we've been delayed in completing this project and the work remains in progress)
Please note that there are NO laundry facilities at the dome.
Interaction with guests
• Usually the Igloo is available only as a whole house rental, but during periods between entire house bookings we occasionally offer 1 or more of the bedrooms individually as private room rentals.
• If you rent using this listing, please note that you are renting the bedroom for your exclusive use and will have access to the common areas, but you will not have exclusive use of the home and will not have access to the other bedrooms. One or both of us may be present at the home, we may have our own visitors on the property during your stay, and 1 or more Airbnb guests may be staying in the other bedroom(s).
• Even when we're staying at the dome, we're frequently away from the property at various times. For this reason, your arrival time must be coordinated with us in advance in order to ensure someone will be at the dome to greet you and provide access.
• Lisa is who usually responds to messages here, and she's who you'll most frequently be communicating with prior to and during your stay.
• Check in after our posted check in window is permitted only with prior approval.
• Your Airbnb itinerary will include our contact number to use for emergencies; otherwise, we prefer that communications be conducted via the Airbnb messaging system.
• Upon arrival, be prepared to upon request present your unexpired US driver's license (or state-issued ID card, if you don't have a driver's license) or a valid passport, and the name on the ID must match the name on your account; if the booking was made for occupancy by multiple guests, your traveling companion must also be prepared to provide the same.
• Prior to or immediately upon booking, you must send a message to provide us with the full legal name of everyone who is part of your booking.
• For the safety and security of our home and everyone in it, YOU MAY NOT FOR ANY AMOUNT OF TIME BRING ANYONE INTO OUR HOME OTHER THAN THE GUESTS WHO ARE ACCOUNTED FOR IN YOUR RESERVATION AND WHOSE FULL LEGAL NAMES HAVE BEEN PROVIDED IN ADVANCE.
Other things to note
We do not have this room listed as being Family/Kid Friendly. While we will consider allowing a child to accompany a parent, this must be discussed and approved BEFORE a booking is made. Otherwise, no guests under 18 years of age are permitted. If we have the Instant Book feature activated, DO NOT under any circumstances make an Instant Booking if you plan to have anyone under 18 years old with you.
---
Bathrooms: 1 (Shared bathroom)
---
---
Always communicate through Airbnb
To protect your payment, never transfer money or communicate outside of the Airbnb website or app.
Learn more
---
Not safe or suitable for children (0-12 years)
Check in time is 4PM - 9PM
• We schedule check in times between 4 PM and 9 PM. In order to coordinate a mutually agreeable check in time, we require that you inform us of your expected arrival time at least 7 days prior to arrival date (or immediately upon booking, if reservation starts in 7 days or less); this is to be done via the Airbnb messaging system.
• Unless we agree IN ADVANCE to a later arrival time, GUESTS MUST ARRIVE FOR CHECK IN BY 9 PM on the scheduled arrival date.
• If you cancel your booking, eligibility for any refund will be strictly as specified by the listed cancellation policy.
• The Guest who made the reservation must be part of the traveling party, must be present at check in, and must remain in residence throughout the reserved period.
• Reservations cannot be made on behalf of another person, and we will not give the keys to someone other than the Guest who booked the reservation.
• ABSOLUTELY NO SMOKING IN THE HOUSE OR ANYWHERE ON THE PROPERTY, and no lighting of candles, incense, or other similar items is permitted. We also do not permit the use of e-cigarettes, vaping, or smokeless tobacco in the house or on the property. Violation of this rule will result in immediate termination of your stay with no refund for unused nights, possible charges against your security deposit, and we will notify Airbnb of the violation.
• For the safety and security of our home, ourselves, and any other guests in our home, YOU ARE NOT PERMITTED TO BRING ANYONE TO OUR HOME OR ONTO THE PROPERTY WHO IS NOT ALREADY ACCOUNTED FOR AND PAID FOR IN YOUR RESERVATION. Any visiting (regardless of whether it is with family, friends, business associates, or someone you met online or while out) must be done elsewhere. Violation of this rule will result in immediate termination of your stay with no refund for unused nights, possible charges against your security deposit, and we will notify Airbnb of the violation.
• ABSOLUTELY NO PETS ARE PERMITTED IN THE HOUSE OR ANYWHERE ON THE PROPERTY. Violation of this rule will result in immediate termination of your stay with no refund for unused nights, possible charges against your security deposit, and we will notify Airbnb of the violation.
• Guests are not permitted to enter any of the other bedrooms, the interior storage room, the outdoor storage shed, the furnace room, or anything that is locked, and are not permitted to access anything that has a "NOT FOR GUEST USE" label on it or on the place it is stored in. Guests are also not permitted to have any mail delivered to this address or to access our mailbox. Any such unauthorized access of these rooms or things will at our discretion result in our asking the guest(s) to vacate our home immediately. IF WE FEEL THAT THE SITUATION IS SEVERE ENOUGH TO WARRANT OUR NEEDING TO REQUIRE YOU/YOUR TRAVELING COMPANION TO LEAVE OUR HOME, violation of this rule will result in immediate termination of your stay with no refund for unused nights, possible charges against your security deposit, and we will notify Airbnb of the violation.
• Be courteous to other occupants.
• Quiet hours are 11 PM to 7 AM, and excessive noise is not permitted at any time.
• As a courtesy to us and any other guests in the home during your stay, clean up any messes you make in the bathroom and other common areas, and keep those areas uncluttered. Store your toiletries, shoes, clothing, and other personal items in your room when not using them, and put your food away in the cabinets or refrigerator.
• Do not remove the first aid kit from the home, and return it to the medicine cabinet in the bathroom when finished using it.
• Do not place used towels or other damp/wet items on the floor or on the furniture. Hooks and towel bars are provided for towels you plan to reuse, and any towels you are finished using are to be placed in the hamper in the hall closet.
• Coasters are available and are to be used under any drinks placed on wooden furniture.
• Wash, dry, and put away any kitchen items you use as soon as you've finished using them, and promptly clean up any spills, crumbs, and cooking splatters.
• To prevent household pests, no food or beverages other than water are to be taken into the bedroom.
• Recycling is mandatory in City of Pittsburgh. The "House Manual" section of your Airbnb itinerary will include the URL for you to use to view the City of Pittsburgh's recycling instruction sheet.
• Do not mix garbage and recyclables.
• Recyclables (including any from the living room, bedrooms, and bathroom) must be put in blue bags in the blue recycling container near the kitchen trash can. Please note that while corrugated cardboard is a recyclable item, it cannot be placed in the blue bag; it must instead be flattened (and placed between the recycling can and trash can) so it can be bundled together before we take it out.
• For trash, use the small bedroom and bathroom wastebaskets (absolutely no food waste or dirty food wrappers/containers are to be placed in these wastebaskets) or the kitchen trash can (for food waste, plastic grocery bags, Styrofoam, non-recyclable food containers, and any other non-recyclable trash).
• Appropriate recycling bags, wastebasket liners, and trash can liners must be used... don't put items into an unlined receptacle. Extra liner bags are stored in a drawer in the kitchen and/or in the hall closet.
• Turn off lights/fans/TV/coffeemaker when not using them.
• Do not turn the heat higher than 72 degrees Fahrenheit.
• Do not turn the air conditioning below 76 degrees Fahrenheit... also, do not turn the air conditioning to a setting that is more than 20 degrees lower than the outdoor temperature, as doing so may cause improper functioning and/or damage to the system.
• By using our home's internet connection or allowing your traveling companion to do so, you agree to accept full legal responsibility for any internet activity that you or your traveling companion engage in while using the internet connection at the house.
• No torrenting, P2P (Peer-to-Peer) file sharing, or similar bandwidth extensive online activities are permitted.
• Harassing or illegal internet activities are strictly forbidden.
• We provide WiFi access only; you or your traveling companion are not permitted to attach any devices to the modem/router, nor is anyone permitted to attempt to change any modem/router settings.
• You are responsible for reimbursing the full replacement cost of any furnishings or other household items damaged as the result of any action by you or your traveling companion, regardless of whether such action was intentional or not.
• If any action of you or your traveling companion results in damage to the home or its mechanical systems, you are responsible for the full costs of the repairs, regardless of whether such action was intentional or not.
• You are fully responsible for your own behavior and actions. You are also fully responsible for the behaviors and actions of your traveling companion while they are on the property, and are responsible for ensuring that they are informed of and abide by the House Rules and any other terms and conditions included elsewhere in the listing.
• CHECK OUT TIME IS BY NO LATER THAN 11 AM. Sorry, no exceptions. Check out is not considered to have officially occurred until the time you have done either of the following:
1) left the keys in the designated area, vacated the home, and notified us via text or the Airbnb messaging system to confirm that you have departed; or
2) given the keys to Lee or Lisa personally if we are at the home when you depart.
• If you have not officially checked out (as outlined above) by 11:15 AM, you will be considered to have overstayed without permission, and will be subject to Airbnb's polices regarding such.
• If you fail to ensure that all keys that were given to you upon check in are upon check out returned directly to us or left in the designated location (on the bedside table), you will be liable for the cost of replacing all affected locks.
• In order to comply with the terms of the AirBNB Host Guarantee and other Airbnb terms, we are hereby informing the "Responsible Guest" (guest who booked the accommodation) that he/she has an express obligation to pay the host for damages or losses for any Covered Property that directly or indirectly occurred as the result of any action or omission by such Responsible Guest or Invitee. This obligation applies regardless of whether the cause of the damages or losses was intentional or accidental.
• None of the above statements in any way limit or restrict our rights to pursue legal action against any party whose intentional or unintentional actions we believe may have been the direct or indirect cause of any losses or damages to the home or our household property.
• By completing a booking, you are agreeing to all the terms contained in these "House Rules" and in the rest of the listing and in Airbnb's policies and terms of service. If any of the above "House Rules" or any terms in the listing are found to be legally invalid, or to be contrary to the policies of Airbnb, this shall not in any way affect the validity of the remainder of the "House Rules" and listing terms.
• DO NOT UNDER ANY CIRCUMSTANCES CONTINUE PAST OUR HOME TOWARDS THE LAST HOME ON THE LANE (the home at the dead end is a private residence, and we expect you to respect the owner's privacy). Also do not in any way otherwise disturb or intrude upon the residents/premises of that property or any other homes on the lane. By making a booking, you are agreeing that you and your traveling companion will not trespass onto our neighbors' properties.
You must also acknowledge
Potential for noise - As it's a shared living environment, expect normal household noises during day/evening hours. From 11PM-7AM, quiet time is to be observed.
Some spaces are shared - Common areas (kitchen/living room/bathroom/patio) are shared, and the home's only TV is in the living room.
Amenity limitations - On-site parking for 1 car or standard-sized truck/van/SUV (ask before booking if bringing more or any oversized vehicle)
---
Strict
Cancel up to 7 days before your trip and get a 50% refund. Cancel within 7 days of your trip and the reservation is non-refundable.
---
---
I enjoyed my stay at the Yaca Dome. The hosts were very accommodating and Lisa even met me past the usual check-in time (as I was delayed driving in). The house is in good condition and my bed was comfortable. I would recommend this listing to anyone looking for a good place to rest in their travels.
---
We had a lovely stay at the Dome. Lisa and Lee were very easy going and helpful hosts. Lisa gave us great brunch recommendations and made sure we were all set up with the wifi and everything else that we needed for the stay. The house itself was very clean and comfortable, in a quiet neighborhood that is a little bit of a drive from downtown but not too far. I would 100% recommend this guest room to people and feel very grateful for the hospitality of Lisa and Lee!
---
Hi we're Azhar (but everyone calls me Lee) and Lisa. Lisa usually handles the bookings and other communications on our listings. Our listings include an entire dome home, 1 & 2 BR apartments, and Private Rooms (please note that if you're viewing one of our "Private Room" listings, most of those are for rooms in the home we live in, which is NOT the dome house... we only very rarely offer "Private Room" rentals in the dome home, as it is usually offered only as a whole house rental).

One of our listings, our Yaca-Dome, has been featured in Pittsburgh Magazine, and it may be the most unique Pittsburgh property that is offered on Airbnb. We call it "The Igloo" (take a look at the listing photos and you'll see why), and it's usually available only as a whole house rental. With 3 bedrooms, the home can accommodate up to 6 guests. The Igloo offers a relaxing, private setting while still being within the city limits and close to all the great amenities and attractions Pittsburgh has to offer.

The private apartments we offer are located on bus lines that provide easy access to Oakland and Downtown. There is also free on-street parking available.

While we occasionally offer private room rentals in the Yaca-Dome or in the 2 bedroom apartment, most of the private rooms we offer are at the home we live in. In our home, you can rent individual or multiple rooms (including one room with its own private en suite bathroom), depending on availability. Our home is conveniently located near all the amenities Pittsburgh's East End has to offer, and is less than a 10 minute walk to Bakery Square/G**gle. We are also located near a CMU and Chatham shuttle stops. And if you bring a car, plenty of free street parking and off-street parking is available.

Lee has already added numerous green features to our properties, such as an in-floor radiant heating system (in the 1st floor and basement of our home), changed all the lighting to LED & CFL bulbs, installed many low flow water fixtures, etc. We plan to use part of our Airbnb earnings to add more green features. Ultimately, a Net-Zero house is Lee's goal.

Thank you very much for considering us for your Pittsburgh stay,
Lee & Lisa
Languages:
Bengali, English
Response rate:
100%
Response time:
within an hour
Exact location information is provided after a booking is confirmed.
Explore other options in and around Pittsburgh
More places to stay in Pittsburgh: