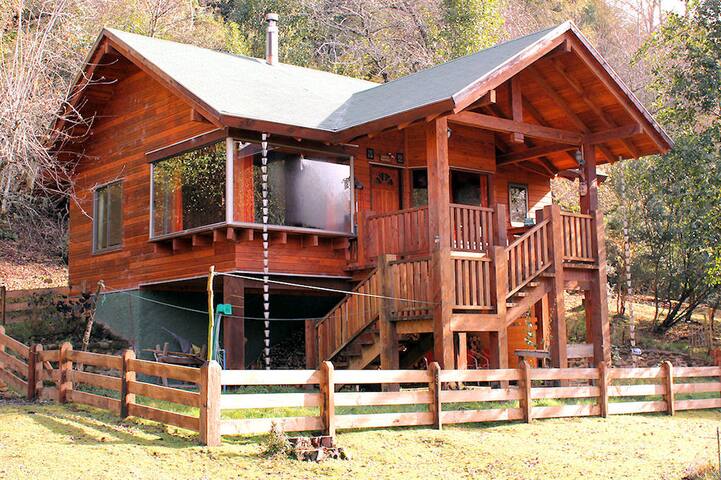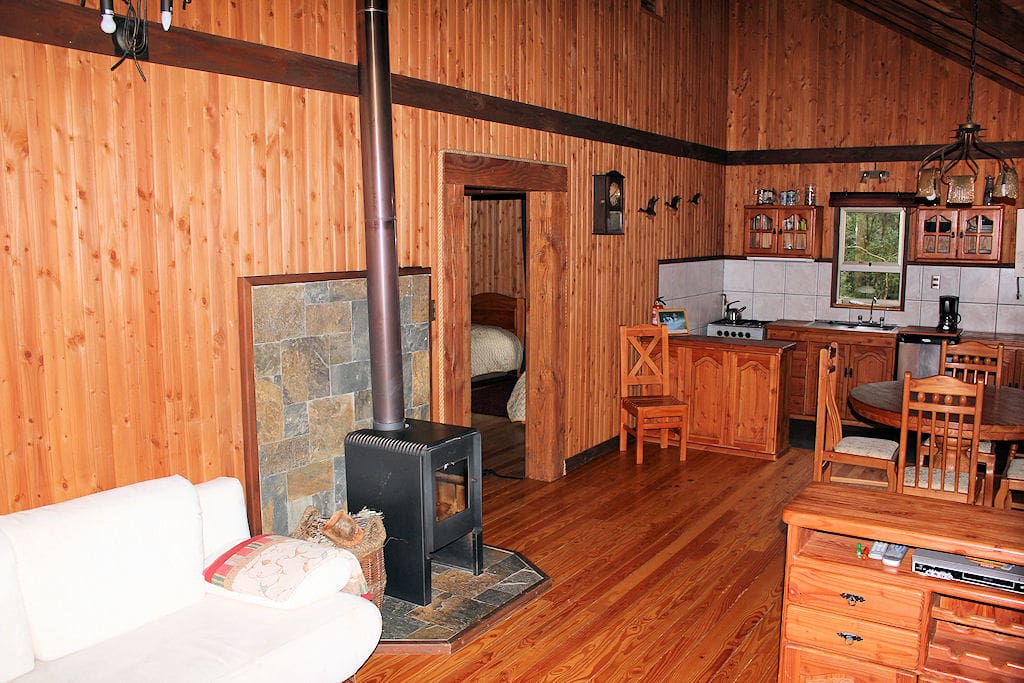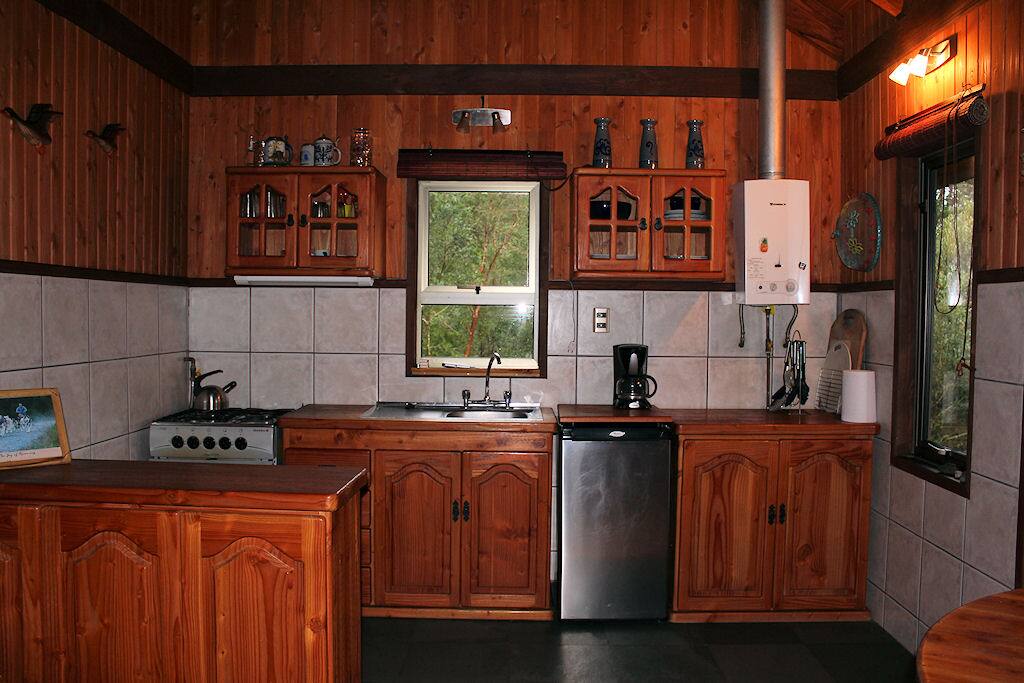 The space
Holiday Home for the whole Family on the Husky Farm Villarrica
Our Holiday House "Martin Pescador" stands under old apple trees and is located in an Eco- Park, 19km outside of Villarrica. The Martin Pescador is a bird that lives on trees near rivers or lakes. And if you are lucky you might watch him fishing. From your porch or out of the huge picture window of the living room, you can enjoy the fantastic view over the northern Patagonian rainforest and the snowcovered Villarrica Volcano. In the evening make yourself comfortable next to the wood fireplace.
During the day you can explore the breathtaking Araukarian Region, a unique composition of lakes, forests and Vulcanos. The lakes Villarrica and Calafquen with their black sand beaches are only a couple of miles away and are well suited for swimming and watersport activities. Near by attracts the Villarrica Vulcano, surrounded by the Villarrica National Park with its countless Hot Springs. This part of Patagonia with all the lakes and volcanos has much to offer: Trekking, hiking, climbing, swimming, rafting, kayaking, fishing, horseback riding, biking, the Mapuche culture and much more.
If you feel like spending a relaxing time in peaceful nature, our place is the right choice for you. As a guest of our Husky Farm you are always welcome to meet our sled dogs or take place in one of our several activities.
The cabin has
1 Bedroom, full-size bed (2 persons)
1 Bedroom, single beds (3 persons)
Kitchen (fully equiped)
Dining Area
Living Room (Sofa Sleeper for 2 persons)
Full Bathroom
Wood Burning Stove
Refrigerator
Gas oven
DVD Player
Veranda
Barbeque Grill
The water is drinkable from the tab. Firewood, gas and electricity is included, sheets and towels provided.
We speak Spanish, English and German, and would be pleased to answer all your questions and welcome you at the Husky Farm Villarrica.
---
---
Check in time is 3PM - 8PM
Pets by request only!
Check-in/ Check- out fexible by request.
No smoking inside the cabin!
---
This place was such a paradise for us, from playing with the animals to relaxing near the fire it was such a memorable time. We had a vehicle so it was easy for us to trek in and out of Villarrica and Pucon for our daily adventures and groceries. It was so nice to come 'home' to the kitties waiting for us and very entertaining trying to get the car through the gates without the sheep escaping. If you're looking for a secluded and entertaining getaway this will fit you perfectly. But be prepared, the internet is pretty much not functional and the cellular network also is spotty.
---
The cabin is located far away from the city to be peaceful and quiet, but close enough to be convenient, you don't need a 4x4 car to get here, because the road is super easy. The cabin is fully equipped for at least 6 people, with a double bed and two bunk beds on the second floor. The first floor has a fully furnished kitchen, dinning room and living room, plus a big bathroom. It's a great place to stay, charming and magical, right in the middle of the woods, next to a small creek and surrounded by nature. They have over 40 super friendly huskies, two alpacas, two sheep, ducks and chickens, and three adorable cats. They even have an "adventure trail" that you can walk and have a great view of the volcano. We had an amazing time in the husky farm and highly recommend to stay here if you want to be relaxed and comfortable!
---
Inga and Konrad were fabulous hosts and the home was a wonderful place to stay while visiting the Villarrica area. Even though Inga and Konrad were busy with other guests when we arrived, they took the time to make us feel welcome. The house was roomy, very clean and comfortable. The kitchen was well stocked and we had plenty of supplies to cook our meals for 2 nights. It was fun to be surrounded by their animals. Sheep, chickens, ducks and llamas roam in the pastures outside the house. Although we did not participate in any activities with the huskies, we visited with them and Inga and Konrad provided a lot of interesting information about the trips they make with the dog and their care. Inga and Konrad were very kind and helpful with tips on hiking and the surrounding areas. We would definitely recommend and stay again if visiting Chile.
---
The Husky Farm is an absolutely extraordinary place to be. The cabin is beautiful and has everything you need for a comfortable stay. It is a wonderful and unique experience to get to see not only the beautiful huskies, but also be greeted all day by 3 cats, 4 sheep, 3 ducks, 2 alpacas, and 2 happy chickens. The property is stunningly gorgeous and Inga and Konrad are the most generous hosts. They answered every single question we had and went out of their way to provide everything we asked for. We highly encourage you to read all the other reviews because the wonderful descriptions are absolutely accurate. We do want to mention that personally we found the 4 km gravel road to their place to be a bit rougher than we had expected. No one else in the other reviews seemed to have an issue with it, but I would say to ask Inga and Konrad to tell you about it themselves. Other than that, I really only have wonderful things to say about the house, the property, and the hosts. We thank Inga and Konrad for their generous spirit and wonderful care in creating this little magical place in Chile.
---
Our trip to the south of Chile was made all the more memorable with our stay at Inga and Konrads Husky Farm. A truly amazing location. We stayed for one week in the Martin Pescador with 6 of our family comfortably. The house was extremely well equipped with everything you need and was immaculate. If you are lucky enough to have the opportunity to stay here you will be welcomed by all types of wildlife including 4 sheep, 4 ducks, 3 cats and the ever so happy Kara who roam the amazing location. The highlight was getting the opportunity to go for a ride with the Huskies. A must do. Inga and Konrad were always welcoming and extremely friendly making sure that our stay was comfortable. The location is perfect for people that would like to get away for a bit but you are still very close to the main attractions such as Lican Ray, Villarrica and Pucon. However there is so much to do in the farm as well with the camp fire, exploring the river and taking the Adventure trail which leads to amazing look outs of the Volcano. We cannot wait to return back to discover more of this amazing part of Chile.
---
We came from Germany to follow the call of the wild.... - and are now running a Husky Farm in the south of Chile.
Languages:
Deutsch, English, Español
Response rate:
100%
Response time:
within an hour
Explore other options in and around Villarrica
More places to stay in Villarrica: