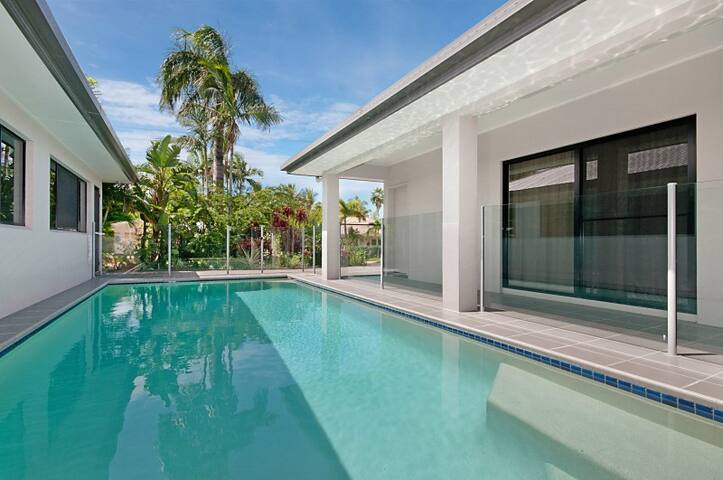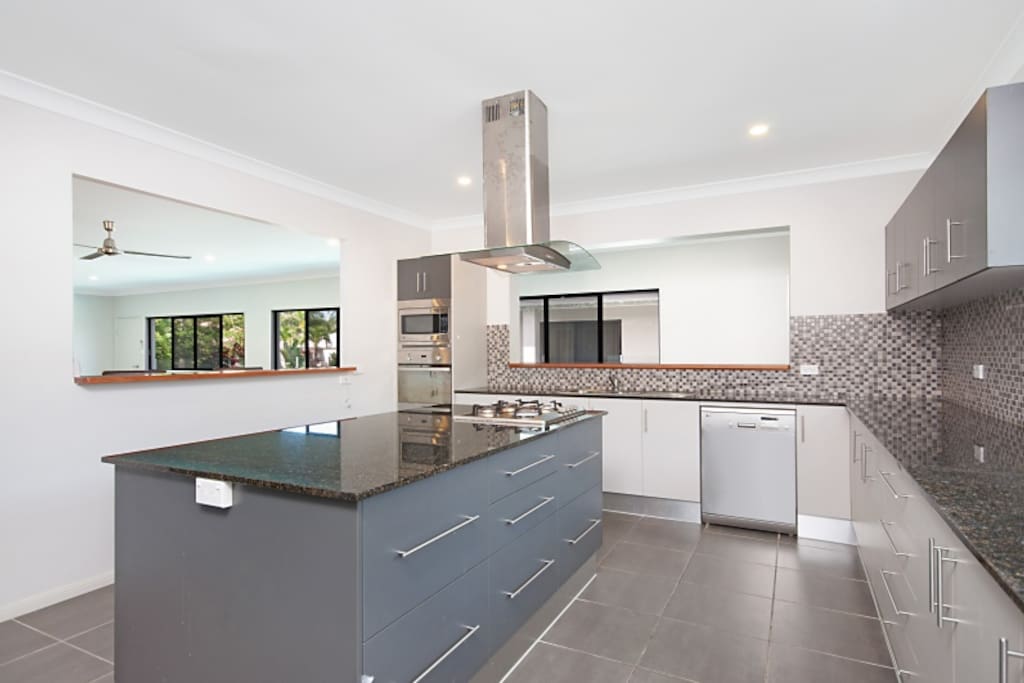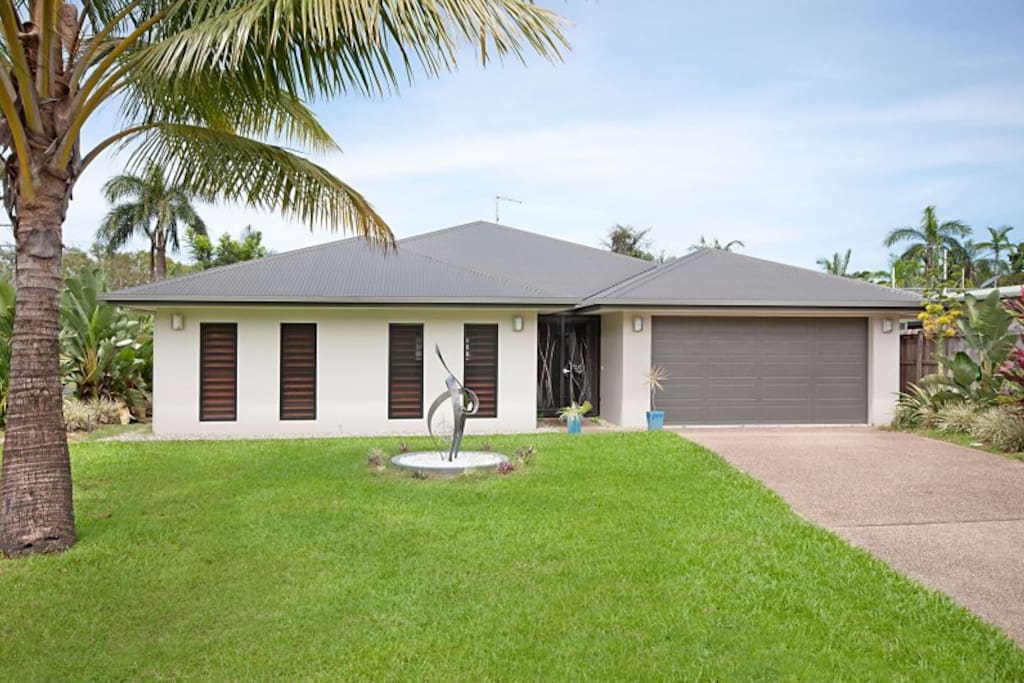 POSITION POSITION so close to the beachfront his new house is located in a prime location in the heart of Palm Cove Golden Triangle Beachside. It is just around the corner from glorious Palm Cove Beachfront and approximately a 5 minute walk to all of
The space
POSITION POSITION so close to the beachfront his new house is located in a prime location in the heart of Palm Cove Golden Triangle Beachside. It is just around the corner from glorious Palm Cove Beachfront and approximately a 5 minute walk to all of the International Restaurants, Resorts, Shops, Bars and Day Spas.

The property is fitted with a large modern kitchen complete with an island bench with marble bench tops and stainless steel appliances. This comfortable, affordable, fully air-conditioned holiday home has 5 bedrooms and 4 bathrooms. There is a double garage and driveway for off street parking. The entrance takes you through into the open plan living, dining and kitchen area. The lounge features a large 42 inch TV and DVD, providing the perfect entertainment den.
Villa Primavera features a perfect retreat located separately from the main house, perfect for parents!
The undercover rear patio overlooks the sparkling in-ground pool, complete with poolside bathroom.
This holiday home is perfect for the family holiday, or a quiet getaway with friends situated in the golden triagle beachside. This spacious home fits the bill for a great holiday; location, position, quality, privacy and above all, great value for money. Don't miss out!!!!!!!!!
Palm Cove is an intimate coastal village where real estate is tightly held and residents enjoy easy access to the economic hub of Cairns City and the laid back lifestyle of the beachside and easy access to the Great Barrier Reef. Palm Cove is spectacular, no matter what direction you look, nestled between two World Heritage sites - The Great Barrier Reef and The Daintree Rainforest
.
VILLA PRIMAVERA@ PALM COVE
Sleeps 12 - 4 Night Minimum
High Season$440.00 per night - June to mid Oct Inclusive
Low Season$290.00 per night - Oct to May Inclusive (Except Easter and Christmas Holidays)
Christmas period there is a 7 night minimum stay during this period.
Rates and selected dates are approximate and subject to change
PLEASE NOTE: This property is not serviced nor are any items supplied for your stay.

Bedding Configuration
Bedroom 1 - 1 Queen Bed
Bedroom 2 - 1 Double Bed + Ensuite
Bedroom 3 - 1 Double Bed + Ensuite
Bedroom 4 - 2 Single Beds + Ensuite
Bedroom 5 - 1 Queen Bed + Ensuite separate studio at rear of pool very private with own entrance
Lounge Room Small Double Sofa Bed suitable for 2 children
Features:
Flat screen TV 42"
Fully Air Conditioned
Fully Screened
Washing Machine
BBQ
In-ground pool
Outdoor setting
High Chair
Port-a-cot (no linen supplied) - please clean after each use.

Free undercover BBQ on beachfront for larger parties and less than a 5 minute walk to the Heart of Palm Cove and glorious PALM COVE beach front
The Christmas period is charged at high season rates and is from December until January and there is a 7 night minimum stay.
There is also a two week high season rate during the Easter Holidays.
Interaction with guests
Holiday Letting
HOUSE RULES
Please take special note
PLEASE KEEP NOISE TO A MINIMUM AS YOU ARE IN A RESIDENTIAL AREA
1.This property is let to you for holiday use only, for the period stated on your receipt.
2.The premises are to be vacated by 10am on the day of departure (unless prior arrangements are made with Northern Exposure Realty/Cairns Holiday Rentals. Please return your keys to our office by this time.
3.Please do not park vehicles or trailers on lawns.
4.The number of people occupying the premises is not to exceed the number of beds unless prior arrangements have been made with Northern Exposure Realty/Cairns Holiday Rentals.
5.If guests require an additional change of sheets and towels during the week, an extra fee will be charged.
6.Breakages and losses to the property are to be reported to Northern Exposure Realty/Cairns Holiday Rentals and paid for immediately. We reserve the right to charge for damaged or missing items where applicable.
7.Pets are not permitted on or about the premises unless prior written approval has been received from Northern Exposure Realty/Cairns Holiday Rentals.
8.Always lock the premises when leaving. Northern Exposure Realty/ Cairns Holiday Rentals take no responsibility for occupants personal property left on the premises.
9.Please do not re-tune the television. Please contact the office if you believe there is a tuning issue.
10.The telephone if the property has one has been coded and restricted to local and emergency telephone calls only.
11.The use of tents, caravans or other similar vehicles as additional accommodation is forbidden on the property. It is forbidden to connect electrical leads and water hoses from the building to any vehicle parked on or adjacent to the property.
12.If your premises have a swimming pool, please ensure no glass of any kind is used in the vicinity of the pool.
13.No person on the premises shall be guilty of conduct that is a nuisance to adjoining or neighbouring occupiers. Council, strata title by-laws and regulations must be observed for the quiet enjoyment of all. In residential area's no excessive noise will be tolerated & police may be contacted by the neighbours. No functions are permitted. Northern Exposure Realty/Cairns Holiday Rentals reserves the right to request immediate departure & vacate should any council, strata-by-laws or regulations be excessively breached.
14.Please avoid sitting on furniture in wet bathers or sandy clothing.
15.Please do not take lounge furniture outside. Outdoor furniture is provided for this purpose.
16.In the event of the property being offered for sale, the occupier agrees to allow the owner or his agent to inspect the property with prospective purchasers during reasonable hours and by prior appointment.
17.Northern Exposure Realty/Cairns Holiday Rentals reserve the right to request immediate departure and vacation of the premises should Council or Strata Title By-laws is excessively breeched.
18.With telephone, email or postal bookings, the description of the premises by the agent is made in good faith and no responsibility can be accepted by Northern Exposure Realty/Cairns Holiday Rentals.
19.Please do not alter TV's or fridge settings. (A call out fee of $55 plus any other charges incurred will be charged if we are called out due to settings being altered.)
20.Light bulb spares are in the bottom drawer in the kitchen/pantry or contact our office.
21.On departure, please ensure the property is left tidy, dishes washer and rubbish placed in the bins. (Excess cleaning will incur a fee.)
22.Please freeze prawn scraps, raw meat and fish scraps, wrap and discard in the bin on your last day. GARBAGE SERVICE IS MONDAY NIGHT.
23.Please lock all windows, doors, turn off all air conditioners and return keys to our real estate office. If the office is closed please drop keys in the key box outside.

Thank you for your co-operation and for booking your holiday through Northern Exposure Realty / Cairns Holiday Rentals.
Northern Exposure Realty
(PHONE NUMBER HIDDEN)
Other things to note
Terms and Conditions
The Terms and Conditions of the holiday letting as agreed to by both parties are as follows:

ONCE YOU TICK THAT YOU HAVE AGREEED TO THESE TERMS AND CONDITIONS ON THE SECURE BOOKIT WEBSITE. THE FOLLOWING AGREEMENT BECOMES EFFECTIVE & LEGALLY BINDING IMMEDIATLEY.

** A credit card must be provided as security on all holiday bookings. These details will be held on file**

1) All Quotations - are subject to availability and are not guaranteed until receipt of the deposit, confirmed in writing. All care is taken when quoting however if there is a mis-quote or an incorrect price advertised the owner reserves the right to refuse the booking or terminate the agreement. This also applies to rate periods throughout the year.
2) Booking Requests - are subject to availability and confirmation in writing.
3) Usage /NO functions - the premises are let to you for holiday purposes ONLY and only for the period stated on the receipt. NO weddings, parties, or large gatherings are allowed. Nor are professional photo shoots and commercial activities without prior arrangement and written consent by the Agent. The number of people occupying the premises must not exceed the number of people that were initially booked and/or had beds provided for. The use of and parking of Caravans, tents, boats, camper trailers or similar vehicles is not permitted on or near the holiday property including on nearby vacant lots, footpaths or reserves. Eviction of all guests without refund can apply for non compliance.
4) Check In/Check Out - premises are strictly available from 2pm on the day of arrival and are to be vacated by 10am on the day of departure. The only way to absolutely ensure an early check-in or a late check-out id to book an extra day.
5) Dissatisfaction - Should you have any maintenance issues please contact the office immediately so that it can be rectified in a timely matter. If the issues cannot be rectified we will offer alternative accommodation subject to availability Please choose your holiday accommodation carefully as no refund or change of property will be possible once your booking is confirmed. Northern Exposure Realty does not accept liability for changes made due to renovation, alteration and refurbishing of individual properties. Please be mindful of any maintenance reported to us, as any issues which are user error will be charged to your credit card. We endeavour to keep our website updated at all times.
6) Key Return - the property is to be locked and the keys returned to our office. If the office is closed please place keys in the Key Deposit Box at our Bokissa Road Palm Cove office.
7) Payment - A holding deposit of 25% of the total rent is required to reserve a property. The balance (residual amount) is to be paid in full 60 days prior to arrival. All payments made via credit card will incur a non refundable 1.65% processing fee.
8) Currency - All prices quoted are in Australian dollars.
9) Non Payment of Residual Amount - If after a number of approaches this amount is not paid within 60 days of arrival the booking may be cancelled and the holding deposit will not be refunded.
10) Cancellations by the guest
All cancellations attract an administration fee of $150 per cancelled booking.
Once your booking has been confirmed and receipted your deposit is non-refundable. If the booking is cancelled in writing more than 90 days from the date of commencement of your arrival, you will be released from the liability for the full balance of hire. (Credit card merchant fees are non refundable.)
The Booking Agent recommends that the Guest takes out comprehensive holiday cancellation and protection insurance with a reputable insurance company to cater for any unforeseen circumstances which may arise including accident, ill health or any other matters beyond the Guest's reasonable control, as once the booking is confirmed and receipted, the Guest will be responsible for payment of the full rental.
11) Refund of balances paid - If the residual amount is not paid by the due date OR In the event of a cancelled booking by the Client, (for the whole time or any part thereof) the deposit and any subsequent amount is not refundable.

12) Confirmed bookings made less than 30 days prior to the arrival date must be paid in full at the time of booking.
13) Breakdowns - Northern Exposure Realty accepts no responsibility for any inconvenience due to machinery or appliance breakdown. Northern Exposure Realty's best endeavours to repair, replace or hire an alternative will be undertaken.
14) Descriptions - Northern Exposure Realty Pty Ltd has taken due care and responsibility to verify and check all information on our web sites, brochures or any written or verbal material supplied, as at the time of compilation, however, as this information is subject to change, it accepts no responsibility for any inaccuracy in pricing or mis-description contained in the publications.
15) Unavailability - If a property becomes unavailable for any reason Northern Exposure Realty reserve the right to move the Client to alternative accommodation at Northern Exposure Realty's discretion. The booking is made in good faith by the agent but may be subject to change in relation to;
a) Increasing the nightly or weekly rate without notice by the owner
b) The property being sold or permanently let prior to the commencement of the booking, in which case Northern Exposure will endeavour to alternative accommodation should the property sell or inadvertently becomes unavailable due to instructions by the owner.
16) Non-Transferable - bookings will not be moved to alternate properties – especially due to a 'change of mind'. Any movement of bookings is at the discretion of Northern Exposure Realty.
17) Breakages - and losses to the property are to be reported to the agent and paid for immediately.
18) Additional cleaning – should the property not be left in a reasonably clean and tidy state, at the discretion of the agent, any cleaning costs above and beyond normal will be charged to the credit card on record provided by the guest. Guests will be advised via email the details of the additional charges.
19) Loss of keys or remotes - will be charged to the Client at the discretion of Northern Exposure Realty. There will be a minimum cost $50.00.
20) Pets - are not allowed on or about the premises without prior written approval. A $500 Pet Bond is payable via credit card pre-authorisation at time of check in.
21) Disclaimer - Northern Exposure Realty do not accept liability in contract or in tort (actionable wrong) for any injury, damage, loss, delay, additional expenses or inconvenience caused directly or indirectly by force of nature or other events which are beyond our control, or which are not preventable by reasonable diligence on our part including, but not limited to war, civil disturbance, fire, floods, unusually severe weather, acts of God, acts of Government or of any other authorities, accidents, theft to or failure of machinery or equipment or industrial action.
22) Upon leaving the property the guests must ensure that all air conditioners are switched off and that all doors and windows are closed and locked.

23) Works
In the event of any renovation/building work being carried out in or near the premises, such work is beyond our control and we cannot accept responsibility for any disturbance, noise or inconvenience you may suffer as a result. No discount will be negotiated for any of the above.
24) Security - Loss of, theft or damage to your personal belongings are not covered by the agent or the owner under their insurance policies. The agent and the owner take no responsibility for any loss, theft or damage to any occupant's personal property on the premises. Travel insurance is highly recommended.
25) Security - Please ensure the premises are securely locked at all times when leaving the property.
26) Linen - All bed linen, bath towels, beach towels and tea towels are provided except for cots & Porta cots. If the guests require a linen change or periodic cleaning during their stay an extra charge is applicable.
27) Conduct – No person on the premises shall be guilty of conduct that is a nuisance to any adjoining or neighbouring occupants. Such as excessive noise, violence of any kind & bad language or the agent has the right to terminate the agreement immediately without any refund. In addition to these terms and conditions and the 'House Rules' provided all body corporate regulations must also be adhered to.
28) Alternate Accommodation
The agent will not responsible for alternative accommodation or any other cost when guests arrive after hours.
29) Internet
Please note that not all properties have internet available. Please confirm via the property description.
30) The observance and compliance of these Terms & Conditions is compulsory. Failure to observe these Terms & Conditions by guests/occupiers of the subject holiday property will grant to the agent the immediate right to terminate without any refund, the booking or occupancy of the subject holiday property.

If you have any enquiries what so ever please do not hesitate to contact us, we will do everything we can to ensure your holiday runs smoothly.
Regards,
The Holiday Team at Northern Exposure Realty
Ph(PHONE NUMBER HIDDEN)
Fax(PHONE NUMBER HIDDEN)
(EMAIL HIDDEN)
Address28 Bokissa Road, Palm Cove QLD 4879
PostalPO BOX 146, Palm Cove QLD 4879
---
---
Always communicate through Airbnb
To protect your payment, never transfer money or communicate outside of the Airbnb website or app.
Learn more
---
Common spaces
1 double bed
---
---
Response rate:
100%
Response time:
within an hour
Explore other options in and around Palm Cove
More places to stay in Palm Cove: