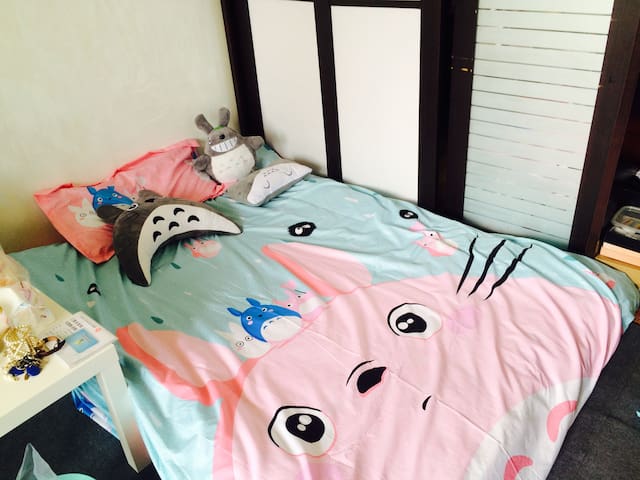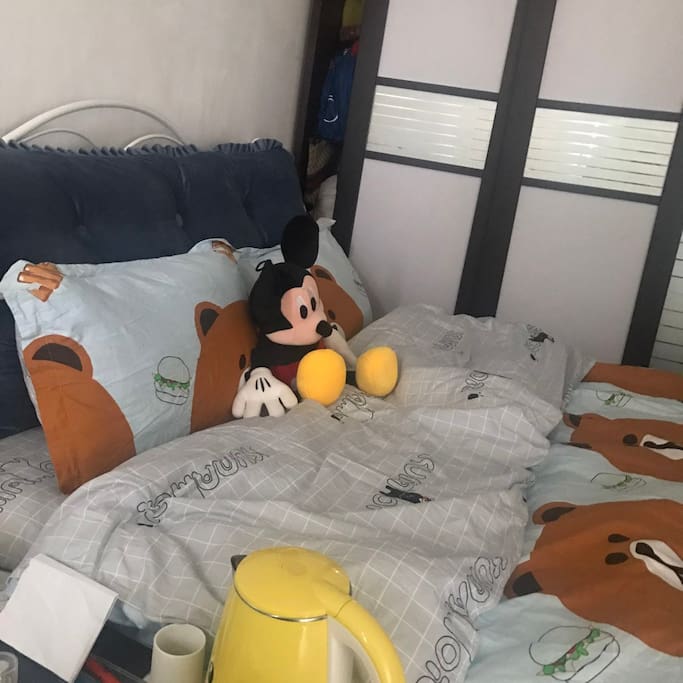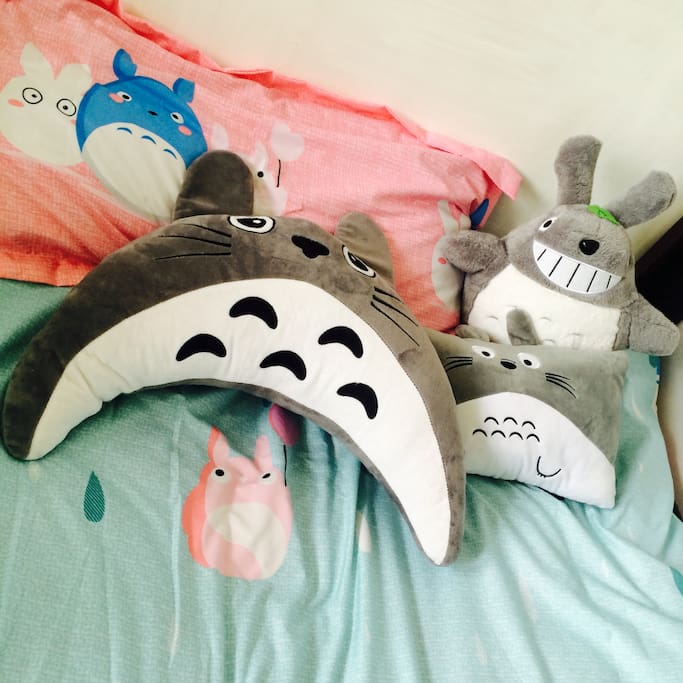 Note: only rent girls! Only rent girls! Only rent girls! Ps: the house is a living room, probably 45 level, you want to be with me in a space Oh ~ Your bed is very cute very clean Oh! See a friend said that because of me, so you do not feel so lonely in Shanghai, in fact, very grateful, because you, I was not alone ~ From the Everbright Convention and Exhibition Center, the nearest district, from Xujiahui, Qibao, Shanghai South Station are very close to the surrounding eating and drinking is very rich. From Xujiahui 2 station subway, taxi starting price around it You can search: Tian Lin twelve village view can be. The room is very comfortable, in accordance with the way you like to live. Note: 1, in the 5th floor, no elevator, luggage super more careful booking Kazakhstan. 2, the kitchen is basically not used. The and so. Want to cook is not very suitable ~ 3, very old Shanghai district (safety and health demonstration area), the toilet with the Shikumen toilet is almost large, very small toilets, but the bed is very large. - 4, especially the care of the shallow sleep Kazakhstan. Sleep well cooked warm welcome! Only for girl !! one girl is the best! It's near Xujiahui, Qibao and so on.Quite shanghai apartment. Comfortable, and just live here as you like
注意:只租女生!只租女生!只租女生!
ps:房子是一居室,大概是45平,您要与我在一个空间里喔~
你的床铺都是很可爱很干净的哦!
看到有朋友说因为有我,所以你们在上海觉得没那么孤单,其实非常感谢,因为有你们,我才不孤单~
距离光大会展中心最近的小区,离徐家汇、七宝、上海南站都非常的近,周边吃喝非常丰富。离徐家汇2站地铁,打车起步价左右吧。具体可以搜索:田林十二村查看即可。
房间内非常舒适,按照您喜欢的方式来生活即可。
备注:1,在5楼,无电梯,行李超多的谨慎预定哈.
2,厨房基本上不用。。所以。想做饭的也不是很适合~
3,非常古老的上海市小区(安全卫生示范小区),洗手间跟石库门的洗手间差不多大,挺小的的洗手间,但是床很大-。-
4,特别浅眠的谨慎预定哈。睡的熟的热烈欢迎!
only for girl!! one girl is the best!
It's near Xujiahui,Qibao and so on.Quite shanghai apartment.
Comfortable,and just live here as you like.
Interaction with guests
Because we are in a space, so there will be interaction Oh. A bit like college dorms ~ i will provide you with all kinds of questions and help ~ believe me, i'm really like a good bang aries.
因为我们在一个空间里,所以会有互动哦。
有点像大学宿舍~我会提供您的各种问题与帮助~相信我,我真的很像棒棒的白羊座。
---
It's a cozy place. Not big, a little old and messy. But it will make you feel more casual. Nice choice for a single person.
---
距离地铁1,12线很近。房主很随和可爱。住得很舒心!the transportation is convenient since the home is closed to the metro line 1&12, it takes about 10 minutes' walking to get metro. The host is so cute and kind. Enjoy the time with you and strongly recommend her home to other travelers.
---
It is a lovely and clean place with convenient transportation. I loved staying here, also loved staying with Siling. She is beautiful, humorous and kind-hearted. She provided everything I need, also she gave me lots of personal space. I lived here for 13 days, it was just wonderful!! Siling家真的是超级温馨
---
文化传媒工作者,喜欢旅游、电影。乐观,喜欢大笑~ 中、英、法三国语言均可沟通,各种问题都可以和我沟通喔! I can speak Chinese、English、French~
Response rate:
100%
Response time:
within an hour
Explore other options in and around Shanghai
More places to stay in Shanghai: