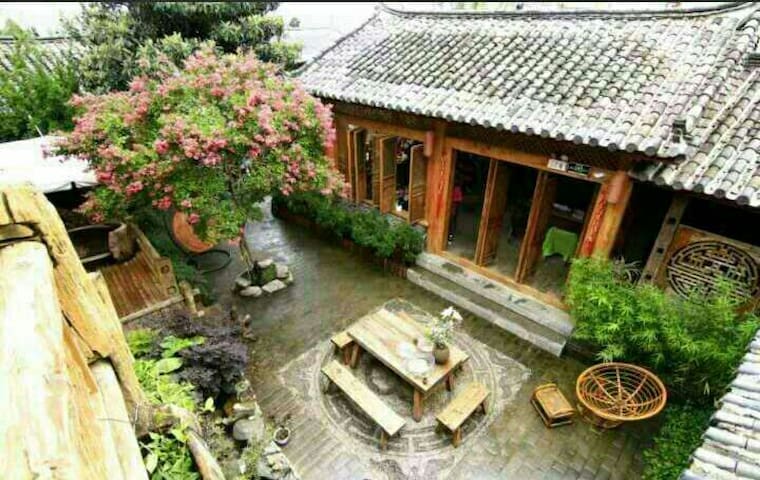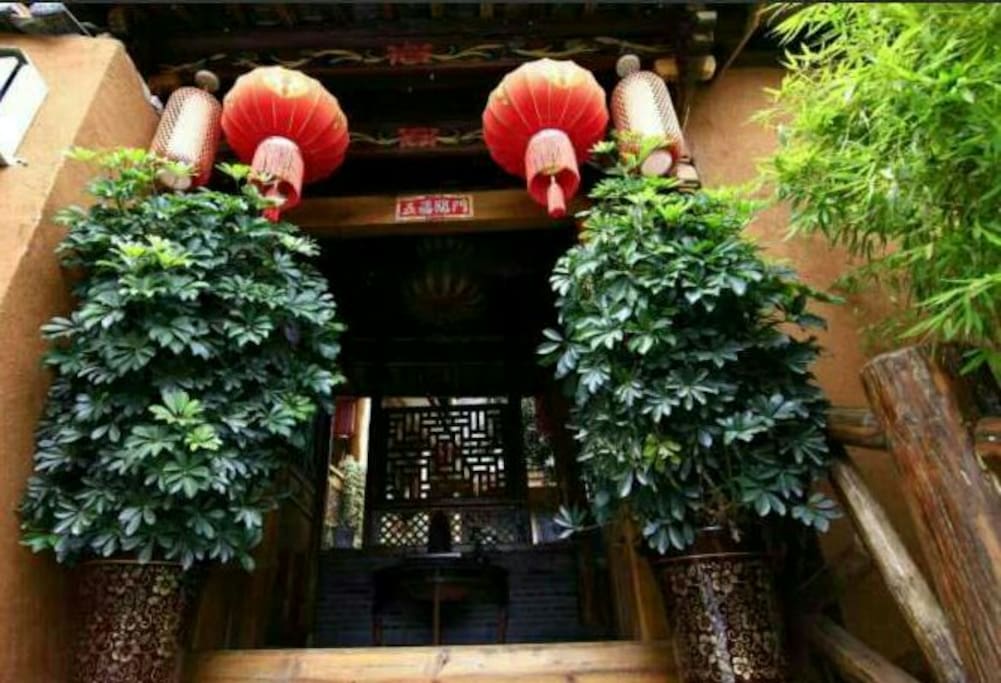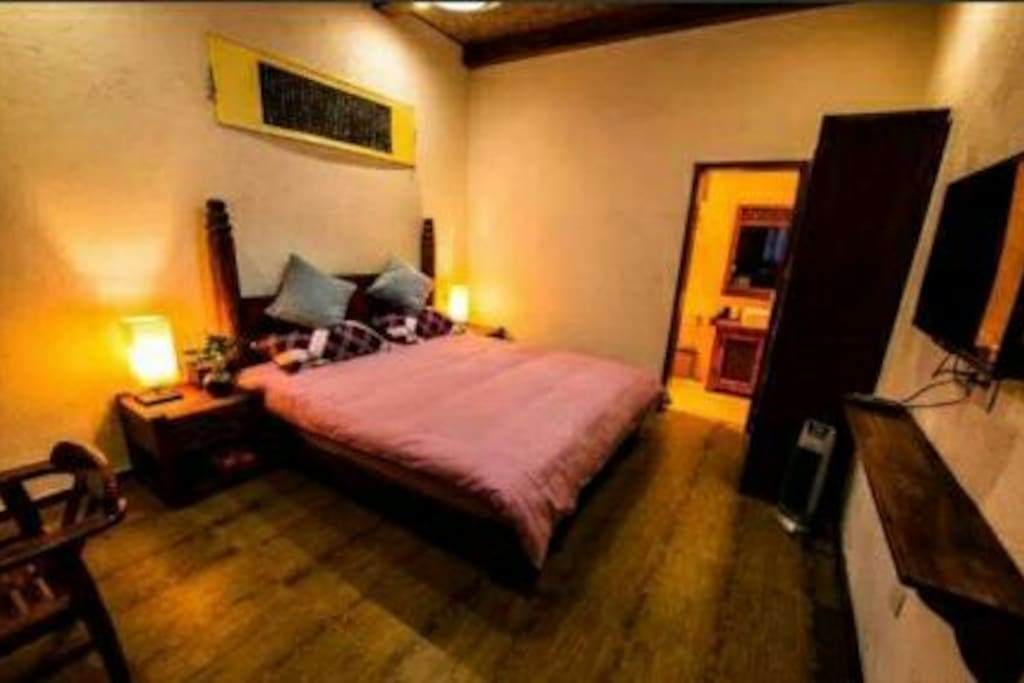 这里是中国·丽江·起点的大床房。本房型供两人使用,8个房间。
这里有云朵,阳光,纳西小院,鲜花,浮雕,大床,美梦,家。房间是典型纳西风格,以实木雕刻为主体,所有客房用品均为标准酒店用品,设施齐全,细致服务。Room is a typical naxi style, with real wood carving as the main body, all guest room supplies for the standard hotel supplies, facilities.
The space
远离钢筋水泥的围城,躲开活色生香的诱惑,暂且停下匆忙的脚步,轻轻放下你高傲的头颅,浸泡在小院里和煦温柔的阳光里。沏一杯清茶,翻两页闲书,眯起眼睛做个可以笑弯了眉毛的小梦。晚上在纳西人的大木床上,用还稀微存着太阳味道的棉被包裹着我们的身体,和天上的星子道声晚安,畅然入眠!这里是起点栈~让你在下一个起点来临之前,饲养好心灵和身体,扬帆起航!
Far away from the concrete siege, avoid the temptation to live flesh, stopped for a moment hurried footsteps, gently put down your proud head, soak in a small yard warm gentle sunshine. Making a cup of green tea, turn over the page or two light reading, narrowed his eyes can be a smile curved eyebrows little dream. On a naxi big wooden bed in the evening, with also dilute micro flavor with the sun the quilt wrapped in our bodies, and the sky of planetesimals say good night, chang ran to sleep! Here is the starting point for the stack to make you the next starting point ahead of breeding good mind and body, set sail!
鉄筋コンクリートの縁を远く离れて、逃げるように色の生香気の誘惑にしばらく足を止めると、足音の、軽くなおそうあなた高慢の頭に浸かって小さな庭のあたたかいのやさしい日光の里だった。一杯のお茶を入れ、2ページめくり闲书に目を細め拝観笑うまがって眉の小さな夢を見た。夜にはナシ族の大ベッドの上では稀マイクロプロセサを贮蓄して太阳の味が布団に包ん私たちの身体と、天上の星子道の音がして、おやすみ畅然][!ここでは、出発点栈~あなたに次の起点を控えて、飼育好心や体、1就航!
Guest access
客栈内有完备的基础设施,客房内部备有:台灯,电视, 机顶盒,遥控器,烧水壶,茶杯两只,吹风机,电热毯,双人份一次性洗漱用品,口杯两只,防滑拖鞋,中高端品牌的沐浴洗涤用品,双人份消毒毛巾浴巾,厕纸,电插座若干。客栈还精心为每位入住客人提供急救包,常见疾病紧急处理药品,针线包等生活用品。客栈厨房,冰箱,洗衣机,电脑等可供住店客人使用,免费使用无线网络。Inn has complete infrastructure, rooms with: inside the lamp, TV, set-top boxes, remote controls, kettle, two cups, hair dryer, electric blanket, double a one-time toiletries, koubei two, prevent slippery slipper, high-end brands in the bath of washing supplies, double disinfection towel bath towel, toilet paper, electric socket number. Inn also carefully for each for guests to provide first aid kit, emergency treatment chemicals, common diseases, such as sewing kit supplies. Hotel kitchen, refrigerator, washing machine, computer, etc available for hotel guests to use, free to use the wireless network.
Interaction with guests
我会在每个阳光灿烂的日子里静静地等你,与你分享每段快乐时光!即使我溜出去看世界,你也可以随时拨打(PHONE NUMBER HIDDEN)与我联系
I'll wait for you quietly in every sunny day, happy to share with you every time! Even if I sneak out to see the world, you can also dial (PHONE NUMBER HIDDEN) contact me at any time.
Other things to note
温馨提示自驾游客,任何车辆不得进入古城,车辆须停留在古城外收费停车场,且车位较少。请尽量错开旅游高峰期。Warm prompt drive tourists, any vehicles shall not enter the city, the vehicle must stay outside the ancient charging parking lot, and reduce the parking Spaces. Please try to stagger the peak.
---
---
Always communicate through Airbnb
To protect your payment, never transfer money or communicate outside of the Airbnb website or app.
Learn more
---
本店可以携带您的宝贝萌宠一同入住,我们有专门的笼舍供它们住宿。您也可以在保证铺设地毯房间清洁的情况下,带进房间,但宠物不能上床。吸烟客人不能在卧室床上吸烟,在公共场所吸烟时请注意不要妨碍其他客人正常起居生活。请入住客人遵守国家法律法规,爱护店内设施,健康出行,文明住宿。
You can carry your baby grows a pet stay together, we have a special cages available for their accommodation. You can also in guarantee under the condition of laying carpet clean room, brought into the room, but pets were not allowed to go to bed. Smoking guests not to smoke on the bed in the bedroom, smoking in public places, please pay attention to the normal daily life don't disturb the other guests. For guests, please comply with national laws and regulations, take good care of the store facilities, health, civilization.
You must also acknowledge
Some pet(s) live in the house
---
---
The host is warm-hearted and kind, they treat us as if a family member. We share the first dinner together with the host (dinner cooked by them), and it taste superb and yummy. We are greeted by the host in airport and free airport transfer for us since we are staying for 3 nights. The strategic location of the hotel make traveling to the old town easier. The host will answer and guide us while we are in doubt about traveling around the old town. Strongly recommend to everyone who wanna to travel to Lijiang old town!
---
糖歌~一个可以把自己对生命的热忱完全投入在生活细节中的人,丰富的生活经历和多变的生活环境完全没有影响到他与生俱来的细腻心思和感性的生存方式。起点,就是他的标签,点点滴滴,随性随心,正所谓:随流识得性,无喜亦无忧!有时世俗的嘴脸会在细微的情节里时隐时现,有时她纯良的无助感又会弥漫了小院的一花一叶。就好像是大硏这座古城,带了面纱,婀娜端庄,撕开了伪装,遍体鳞伤...
T'ang~A person with story!
A your enthusiasm for life at all in the details of life, rich life experiences and changeful environment did not affect his innate delicate mind and perceptual existence.
Seems to be DaYan took the veil, graceful and dignified, tore open the camouflage, was black and blue all over.
糖歌~喜欢:丽江,美酒,音乐,品茶,美食,摄影,分享旅途故事,她的狗糖糖
T'ang's hobby:
Lijiang, sunshine, wine, music, tea, food, share journey story, his dog

Response rate:
100%
Response time:
within an hour
Explore other options in and around Lijiang
More places to stay in Lijiang: