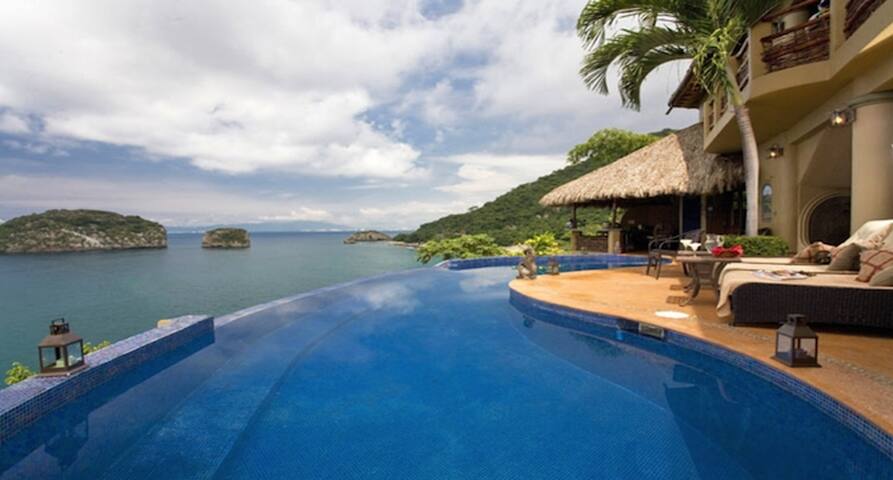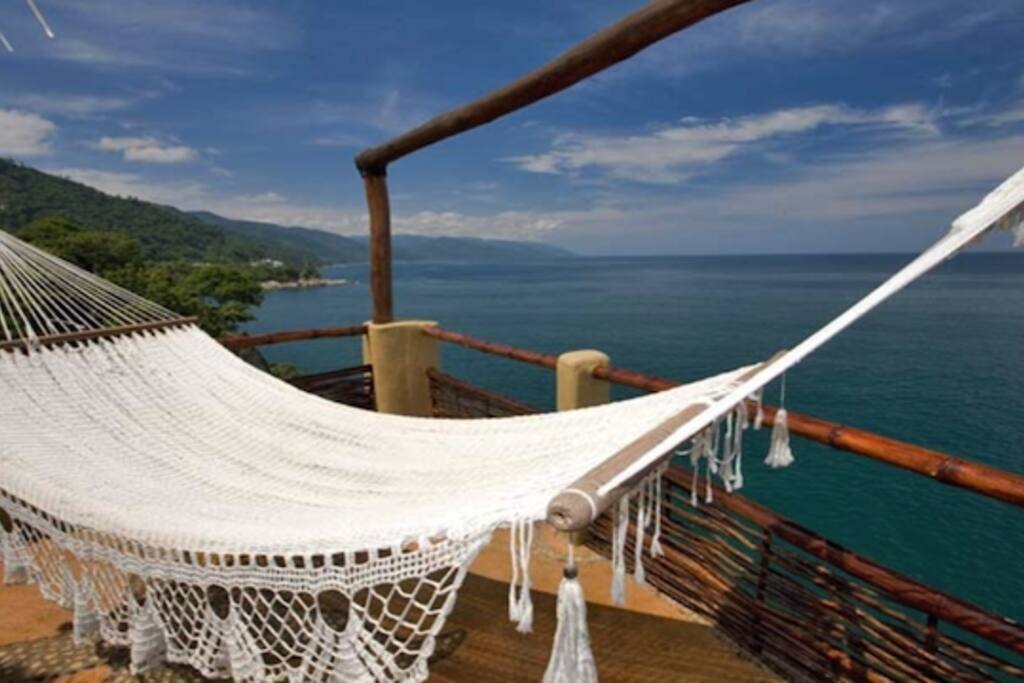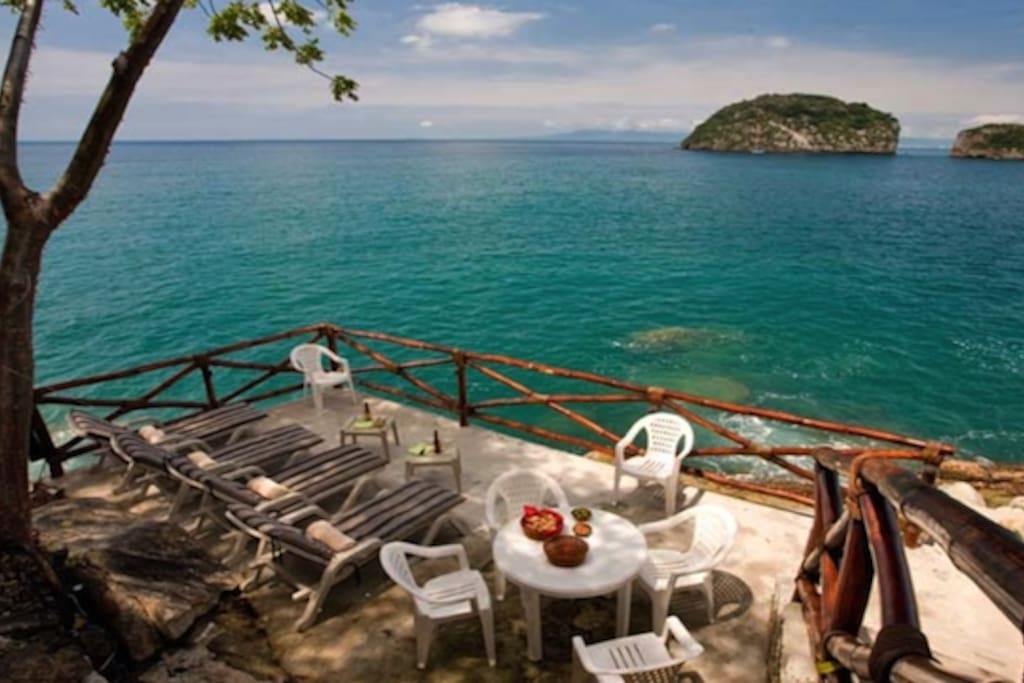 Los Arcos is a beautiful Italian villa overlooking the arched rocks in Banderas Bay. Located just north of Mismaloya Bay on the water overlooking the infamous Los Arcos Amphitheater, the villa is conveniently just 15 minutes south of exciting old town Puerto Vallarta. Incorporating modern architecture with authentic Italian decor, this villa offers a view that will keep you spellbound.
The space
Villa Los Arcos is located just north of Mismaloya Bay on the water overlooking the infamous los arcos nature preserve, approximately 15 minutes south of exciting old ('viejo') town Puerto Vallarta.
This is truly a villa wherein the "ocean is inside the villa." Also, two of the bedroom suites are actually built into the granite cliff which many nature experts say provides an awesome energizing experience.
Incorporating modern architecture with authentic Italian décor, this villa offers a view that will keep you spellbound! From the moment you walk through the front door and hear the rhythm of the sea and see the palapas swaying to the rhythm over the gentle ocean, you will feel the calming and soothing sea breeze and your heart and mind will truly be on vacation! Look again and you may see whales, dolphins, large sea turtles, manta rays or other sea life swimming just below the villa. Then, look again at sunset. Breathtaking.
Villa Los Arcos has been designed with the health conscious in mind. The villa is owned and operated by the renowned integrative medical doctor, Leigh Erin Connealy M.D., the Director of the Center for New Medicine and her esteemed husband Patrick A. McCall, Esq., CEO. They have integrated a 'spa' and 'wellness' atmosphere into Villa Los Arcos. Many of the healthy amenities include one of the best "four-step" water purification systems in the world, an infrared sauna that provides healing waves, natural salt purification system for the infinity pool (no chlorine!) and a breathtaking air-conditioned exercise room with elliptical cardiac machines (exercise to views of the ocean and the Los Arcos nature preserve).
If you desire, organic foods are offered as well. No other villa in Puerto Vallarta offers all of the amenities that are offered at Villa Los Arcos. In fact, once you have "tasted" the many different types of succulent fruits and vegetables offered and selected by the Villa Los Arcos' staff you will immediately find them simply irresistible.
Villa Los Arcos has five complete distinct master bedroom suites, each with its own full bathroom. Every suite has an uncompromising view of the Los Arcos nature preserve and the ocean. Also, all of the suites are duly appointed with luxury furniture. No detail has been ignored. In addition, all of the beds have tempur-pedic mattresses so as to insure the ultimate in comfort and a very good night sleep. Each suite is an absolute joy to stay in.
On the main level of Villa Los Arcos is the ocean-front terrace which offers a 'healthy' sparkling infinity pool, with complete privacy. Slip into the pool day or night and watch the ocean surrounding you. Now this is really relaxing! Have one of Villa Los Arcos' staff serve you your favorite drink on the terrace or anywhere inside Villa Los Arcos [try the Mango Margarita!]... the spectacular view is always there.
Then, you must enjoy our private "sun" deck which is located just below the Villa. The deck is within feet above the ocean waves. To access the deck you will travel down 102 steps through a romantic garden setting. You will see that the sun deck is large enough for several people to sunbath or socialize, or have an intimate dinner while watching the awesome sunsets, or even large enough to hold a romantic wedding. For wedding planning purposes, the sun deck is large enough for at least 40 people (see, pictures below). The stairs and deck are also "romantically" lighted so that it can be accessed after night fall. The sun deck also offers 110 volts for your needs.
Entertainment. Please inquire of us as to your entertainment needs. Catering, music or musical bands can be arranged. Spa treatments. We are also excited to offer at a very reasonable cost some of the best "private" spa treatments including all types of massages, facials and manicures. Our professionals will come to the Villa at a time set by you. They are highly recommended.
INTERNET The house has wireless internet and a printer so bring your laptop. To access the internet put in the code as set forth on a small sign above the outdoor office computer which is by the pool area.
POOL: If you want the pool temperature higher or lower, the houseman will make the necessary adjustments. Please use the beach towels rather than room towels.
SECURITY: The street entrance door should be kept closed & locked.
WATER: Although Puerto Vallarta's water is supposed to be potable, the Villa has its own state of the art treatment plant and all the water is safe to drink as well as the ice.
IPOD Systems There are IPOD player systems in each grand suite and in the pool area.
TV The flat screen television and Dish satellite tuner are located in the den off of the pool area next to the outdoor office. Alfosno will be able to show you how to work the systems. They are easy to work
AIR CONDITIONING: All of the bedroom suites have ac.
Guest access
What's Included in Our Rates?
Complimentary Concierge Services.
- Let our villa houseman, Alfonso aka "Poncho", make any arrangements you need, including golf tee times, zip lining, boating, water sports, hiking, fishing, kayaking, snorkeling, running, jogging, exercising, paddling, going to the zoo close by, transportation - anything and everything. Whatever you want, just let him know and he will make it happen! He is a local and knows all the best activities and vendors to go with. He speaks fantastic English.
No Profit Mark-Up on Food & Beverages.
- Don't worry about stopping at the grocery store right after you arrive. You tell us what food, snacks, and liquor you want initially stocked at the villa for your arrival, and it'll be there when you arrive. Our staff will purchase all food & beverage items that you will need for your group based upon your exact requests and simply present to you the receipts at no mark-up.
There is absolutely no profit mark-up on food & beverage purchases the staff will make on your behalf. So, enjoying food & drinks at our Puerto Vallarta Villa is very economical, typically averaging just about $18.00 per person per day for food and liquor. If you want an alcoholic beverage, we'll buy you a bottle and make the drinks. The staff will simply collect the receipts and present them to you at the end of your stay.
Need something from town?
Just let our houseman Alfonso know and we will pick it up!
Our Chef.
- Our chef Chuey can prepare anything you'd like. We have a menu from which you can choose your meals, or we can cater to specific requests. We can also do vegetarian, vegan, gluten-free, etc. Chuey will prepare meals of your choosing everyday except for Sunday. (Staff is off on Sundays, but if necessary you can request their services for a small fee.)
Make sure you include in your breakfast options Chuey's world famous banana pancakes and the 'Patrick' egg special. Dinner? Chile rellenos to fresh off the bbq grilled carne asada and vegetables. Everything to die for!!
Complimentary Housekeeping.
- Your private villa room will be cleaned each and every day by our maid Berta, or more frequently if necessary. Berta is incredibly meticulous and thoughtful.
Complimentary Laundry Services.
- Don't worry about washing your clothes. Our staff does your laundry each and every day. They'll neatly press and fold your clothes. This comes in really handy when it's time to pack.
Each suite contains an absolutely beautiful full service bathroom. Everything you need we have. We supply fantastic towels, robes, hair products, including shampoo and conditioner, lotion, razors and a hairdryer. Anything else?
Pool Service. Simply the best. Cocktails, towels, heated salt pool, lounge chairs. What else do you need? Our MANGO MARGARITAS are the best. Ask Alfonso to make you one, two, three......
Other things to note
Tips?
– Tipping is entirely up to you. However, experience shows us that guests are so impressed with the food, service, and friendliness of our wonderful villa staff, they are eager to show their appreciation. A lot of guests ask for tipping suggestions. We recommend $10 per person per day.
---
---
Always communicate through Airbnb
To protect your payment, never transfer money or communicate outside of the Airbnb website or app.
Learn more
---
Bedroom 6
1 queen bed, 1 crib
---
Check in is anytime after 2PM
**Vacation Service Policy
Deposit and Final Payment
Rates are subject to change and therw will be no compensation for posted discounts online nor
Initial Deposit: The initial deposit is due within 5 business days from the date of the booking
50% deposit is due at time of booking if your reservation arrival date is more than 30 days from the booking date.
100% payment is due at time of booking if your reservation arrival date is within 30 days from the booking date.
Final Payment
Final payment is due 30 days before the arrival if your reservation arrival date is between January 4th. and November
19th.
Final payment is due 60 days before the arrival if your reservation arrival date is between November 20th. and
January 3rd.
Reservations will be automatically cancelled if funds are not received within the first 5 days of the date
on which the reservation was made. We reserve the right to treat any reservation as cancelable if
payment policies are not met in the terms and time stated. In case of special circumstances, a request
can be sent.
Payment methods: wire transfer, (SENSITIVE CONTENTS HIDDEN), credit or debit card, cash
Some properties have their own reservation and/or cancellation policies and this information is
included in the "Property Policy" section of the reservation document. Whenever this is the case the
policies stated in the "Property Policy" will take precedent over the above policy.
All disputes and challenges must be made in writting 30 days prior to confirmed arrival date. There
will be no exceptions to this policy.
*Cancellation Policy
Reservations cancelled more than 60 days before the arrival date will receive an 80% refund
will you be charged for any increased posted rates after your reservation has been given. 
accordingly to the following conditions. 
of the initial deposit. All cancellations less than 60 days before the arrival date will not receive
a refund. In addition, there will be no refunds due to weather, construction, loud neighbors or
natural disasters.
*Property Policy
Each property owner and/or representative may have different policies and internal obligated
rules established for their properties which guests are to be aware of and must abide by.
Palmera Vacations under no circumstance be held responsible for any guest who does not
respect said policies, failure to abide will result in the cancellation of the reservation and/or
eviction from the vacation property without any right of refund.
*Hold Harmless
Palmera Vacations and the property owners will be held harmless for any problems, injuries,
loss or damage to the property or to any persons occupying the rental property. Problems
relating to construction and construction noises are not controllable by Vistalegre Rentals or
the property owners and we will in no way be held responsible
*Number of Guests
The number of guests shown on your booking confirmation is the maximum allowed to occupy
the rental property. If you exceed the max capacity of the unit you will be charged an
additional $50 USD per night per additional person and will be allowed to occupy the property
only if the property owner and/or representative approves and if the property can properly
accommodate you. If guest fails to notify Vistalegre Rentals or anyone and brings more people
into the property, the guest will have to leave the property immediately without any refund
including the security deposit if applicable.
*Responsability
Guests shall not remoe any items from the property, such as kitchen appliances, glassware,
furniture, or any other item, or the replacement cost will be charged. 
The use and ejoyment of the property or its installation in order to exercise illegal activities
including the use of drugs or kidnapping is prohibited. outrageous noise which may affect the
neighbors will be strictly sanctioned. In case of failure to obey the rules and policies here
established, the guests will be obligated to vacate the property without the right of any
refund. No smoking allowed in any property or condominium complex.
Changes in inventory, items and décor may occur from time to time and such changes will not
void or alter the terms of the reservations.
*Inspections
The owner's representative has the right to enter the property at any given time in a
reasonable schedule, with previous notice, in order to inspect the premises.
*Late check in
A fee of $25 USD will be charged for any check in after 8pm, this amount has to be paid in
cash upon arrival.
*Children Policy
Absolutely NO children allowed on any property unless agreed upon in writing by the owner,
the property representative or otherwise noted on the property details page.
*Pet Policy
Absolutely NO pets allowed on any property unless agreed upon in writing by the owner, the
property representative or otherwise noted on the property details page.
---
---
---
Hola, mi nombre es Ivan y trabajo en My PV Rentals.

En My PV Rentals estamos enfocados rentas vacacionales. Sí usted se encuentra buscando alojamiento en Puerto Vallarta o Bahía de Banderas, nosotros podemos ayudarle, ya que contamos con un extenso inventario de propiedades para todo tipo de presupuestos.

¡Nos encanta ver sonrisas de felicidad en nuestros huéspedes!

-

Hello, my name is Ivan and I work for My PV Rentals.

In My PV Rentals we are focus on vacation rentals. If you are looking a accommodation in Puerto Vallarta or Banderas Bay, we can help you, because we have a large inventory of properties for all kind of budgets.

We love seeing happy smiles on our guests!

-

Bonjour, mon nom est Ivan et je travaille pour mes PV Location.

Dans Mes PV vacances nous sommes l'accent sur les locations de vacances. Si vous cherchez un hébergement à Puerto Vallarta ou la baie de Banderas, nous pouvons vous aider, parce que nous avons un grand inventaire de propriétés pour tous les types de budgets

Nous aimons voir des sourires heureux sur nos invités!

-

Olá, meu nome é Ivan e eu trabalho em meus PV Rentals.

Em meus PV Férias estamos focados férias. Sim, você está à procura de alojamento em Puerto Vallarta ou Banderas Bay, podemos ajudá-lo, porque temos um extenso inventário de propriedades para todos os orçamentos.

Nós adoramos ver sorrisos felizes em nossos convidados!
Languages:
English, Español, Français, Português
Response rate:
90%
Response time:
within a few hours
Explore other options in and around Aguacate
More places to stay in Aguacate: