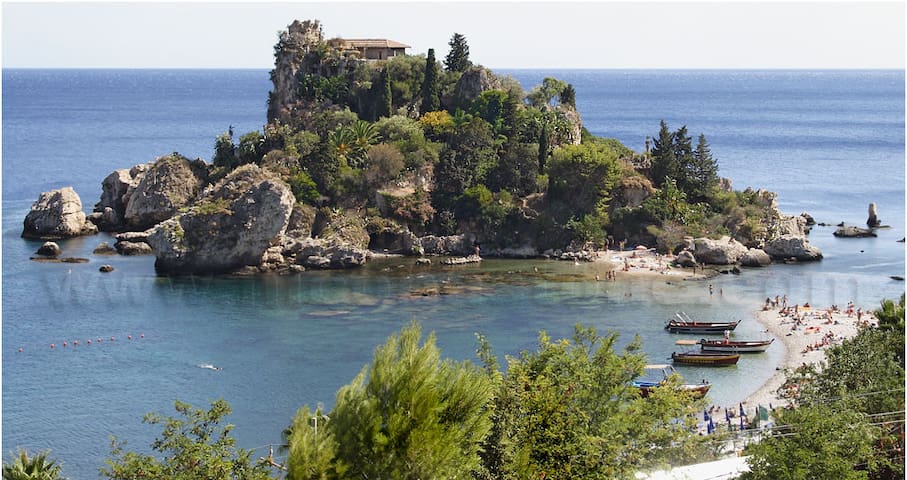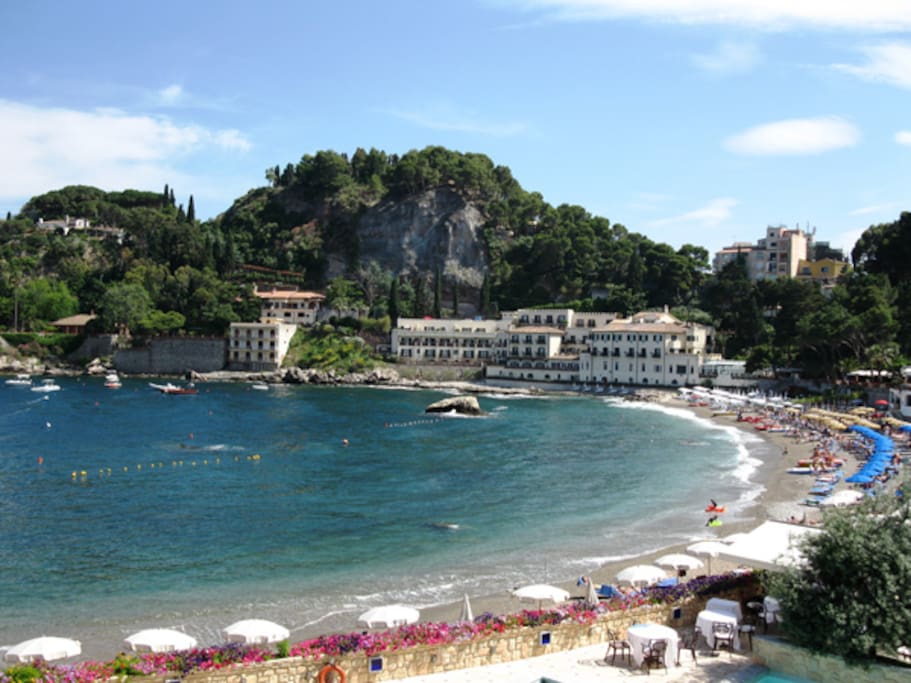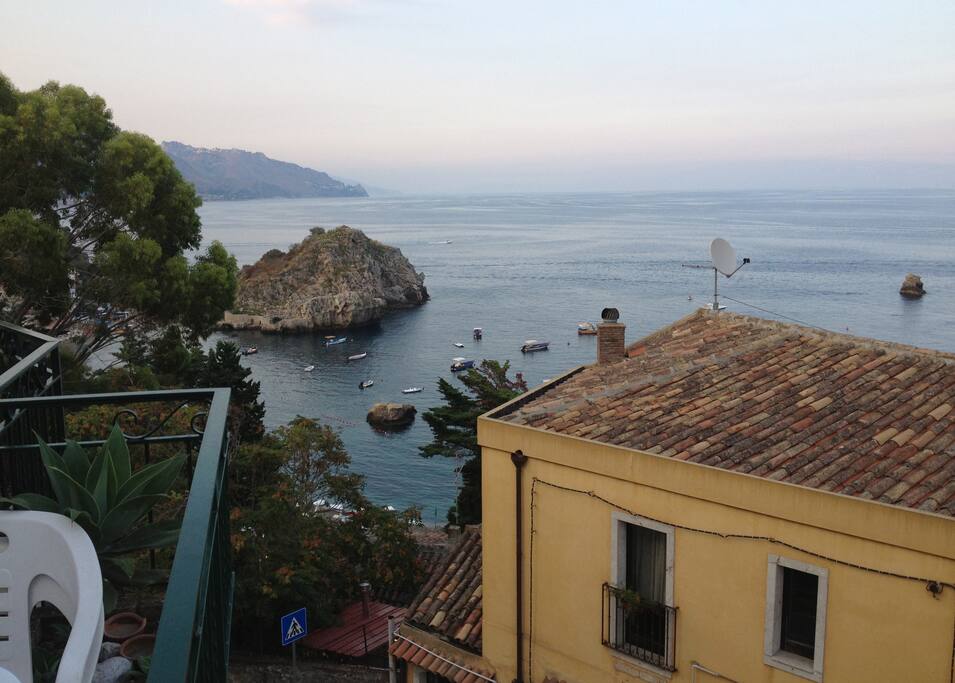 TAORMINA ISOLA BELLA NATURE RESERVE
The space
Wonderful 50 sq. meters upper level apartment opposite Isola Bella's nature reserve.
The island of Isola Bella with its wonderful gulf it's one of the most beautiful places in the whole Sicily, recently declared nature reserve protected by the WWF.
Apartment is composed by 1 bedrooms (master room with walk-in closet), living room with large sofa bed, 1 bathroom with shower, fully equipped kitchen, terrace with spectacular gulf view.
Garage with private security-monitored parking lot is also available for guests at only 100m from the apartment. Parking fees are shown at the entrance at the cashier's desk.
Looking out onto the right you'll find Isola Bella nature reserve and its beautiful beach, on the left side Mazzarò exclusive beach surrounded by subtropical gardens of villa Sant' Andrea 5 stars Luxury hotel.
Both these panoramas of extraordinary beauty are just in front of you, just choice where to go first.
About 100 metres away there's the cable-car station which in just a few minutes takes you uphill to the centre of Taormina, so you can avoid the problem of parking your car in the centre, which is usually difficult.
The apartment has just been totally renovated in order to offer maximum comfort to the guests for an enjoyable stay. Can easily host up to 4 people.
The rooms are equipped to perfectly match the needs leisure clientele with air conditioning, flat Tv screen, fully equipped kitchen, microwave oven, coffee machine, washing machine, hairdryer, house linens (sheets & towels), ironing set.
---
---
Check in time is 12PM (noon) - 2PM
---
The location was excellent, across the road from the two main beaches and 100 meters from the cable car to Taormina. Views from the balcony were spectacular. The area is quite steep with lots of stairs (leading to the apartment) and parking can be challenging, but it's all part of the Sicialian experience! The views and location make up for it all...we'd definitely stay here again.
---
We got quite scared reviewing Brad's Review prior our departure , especially because we have our son of 2 years old coming with us. Finally we have decided to go and we have spent almost 3 weeks in the apartment . I feel I have the duty to dismantle Brad's review : There are not bed bugs in the apartment, at all !!!!. Wondering where they got them and where they have been prior landing at Filippo's apartment. 1) We found the apartment clean, the bedroom and mattress in good shape . The walls need just to be re-painted again to get perfect! for the rest, the apartment is as you see in the pictures. no surprises. 2) communication with Filippo and Assistant was excellent. If English language was a problem, then welcome to Italy. Issues are in that sense everywhere. 3) Parking: I could park the car on the street as they are few spots where you can leave the car for free. You can just talk with some shop and they give you some tips(only issue could be august as it is pick season). 4) location is just perfect! we could go back home from the beach at lunch time to feed our son. We had time to time our breakfast or apero at the bar just below the apartment (very good!) . Easy food shopping, all is just at the corner of the building .Just be aware that in the area you have stairs everywhere ( to reach isola Bella, to reach the apartment, to reach the other beach of mazzaro, so if you decide to come to mazzaro this has to be taken into account). The apartment is very close to the cable car which cost 3 eur per way per person. 5) Amazing view from the terrace and nice evening having dinner outside with the great view of isola bella. maybe a bit noisy from 5 to 7 pm as the terrace is on the central road. Around 8 pm get better and later very calm. The bedroom is in the opposite side so very quite. Thanks Filippo for the stay and hospitality. We will come again! Miriam, Olivier and Marco.
---
Probable bedbugs, noise and host communication not made up for by good location and view. Bedbugs: D- (See below!) Noise: C Location: A Host: F It's hard to reconcile the host from his other reviews with our strange experience. It began with poor communication. He took >24 hours to respond to the first few inquiries, and kept making errors on the dates. Once we booked it got better, he sent a nice guide to getting there, describing in detail where the parking would be -- we selected this unit for its view, location and "free parking on premises." Problem was that when we arrived, his property manager -- who spoke very close to zero English -- was very confused when we asked through our phone translator about parking. Turns out that the parking space had been canceled months ago, and the host appeared not to know. After a lot of wasted time and a stressful attempt to unload several bags street side, he had the property manager give us money to compensate for the need for paid parking (which is about a 5 floor climb below unit.) with no in and out. That was the best solution in the situation, however, and the main problem was the time it took. Host is an absentee host, lives on the mainland. The unit itself was good, with great view from terrace, and close proximity to cable car and entrances for both beaches. The cable car is convenient but do note that they run it slowly when traffic is low, and the cost for 2 people return (12 Euros) will buy you 10 hours parking up top if you have a car. The next problem was something on the roof which in mild wind kept clanging loudly in the unit. Never found out what it was and fortunately it did not clang at night. Host had trouble believing it. But the worst problem came as we drove away -- the appearance of 90 red welts on my companion's arms and legs. Not like mosquito bites, but darker red, and in particular, often found in groups of 3 in a line. This is the textbook pattern of the bedbug. Only about half of people react to bedbugs -- I did not get these reactions. It should be noted that you can only conclusively say there are bedbugs if you catch an actual bug, and the bites may appear anywhere from hours to several days later, so it's possible the bites came at another location prior to our 3 day stay in Taormina. But the most probable cause, by far, in my view, is a bedbug infestation at this unit. You can't be sure, but if you rent this unit and it has not been cleared, be on the lookout, and follow instructions online to be sure none have hitchhiked in your luggage after you leave. The one-star review however, comes from what happens after I report the bedbug infestation. He is in complete denial,...
---
The apartment is in a great location for the beaches and to get the cable car up to Taormina. Great view from balcony. Filippo sent great information on how to get to the car parking, the apartment and also nice places to eat and drink in Taormina. Very helpful host and quick to come for the confirmation and to answer any questions. It was still very hot for mid-September so the air conditioning was great to have.
---
Filippo's apartment is in än amazing location with great views över Isola Bella and the med and only a few minutes walk from the cable car which takes you up to Taormina town. The apartment is well maintained with all the necessary equipment one might need and has a great balcony. Filippo himself is a great host and went to great lengths to ensure we had a lovely stay, mailing us tips for restaurants, train time tables etc etc. Although we didn't have the pleasure of meeting Filippo this time around the lady who greeted us at the cable car was equally accommodating. We have no problems in recommending Filippo as a host.
---
Languages:
English, Italiano
Response rate:
100%
Response time:
within a day
Explore other options in and around Mazzarò
More places to stay in Mazzarò: