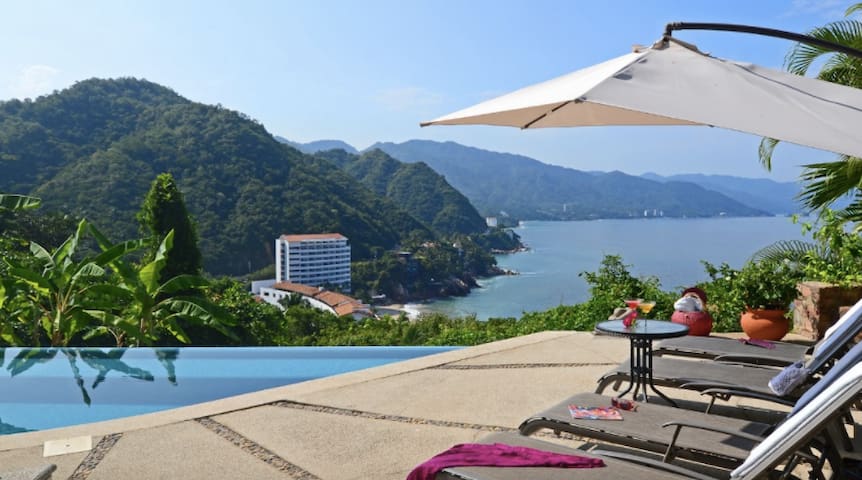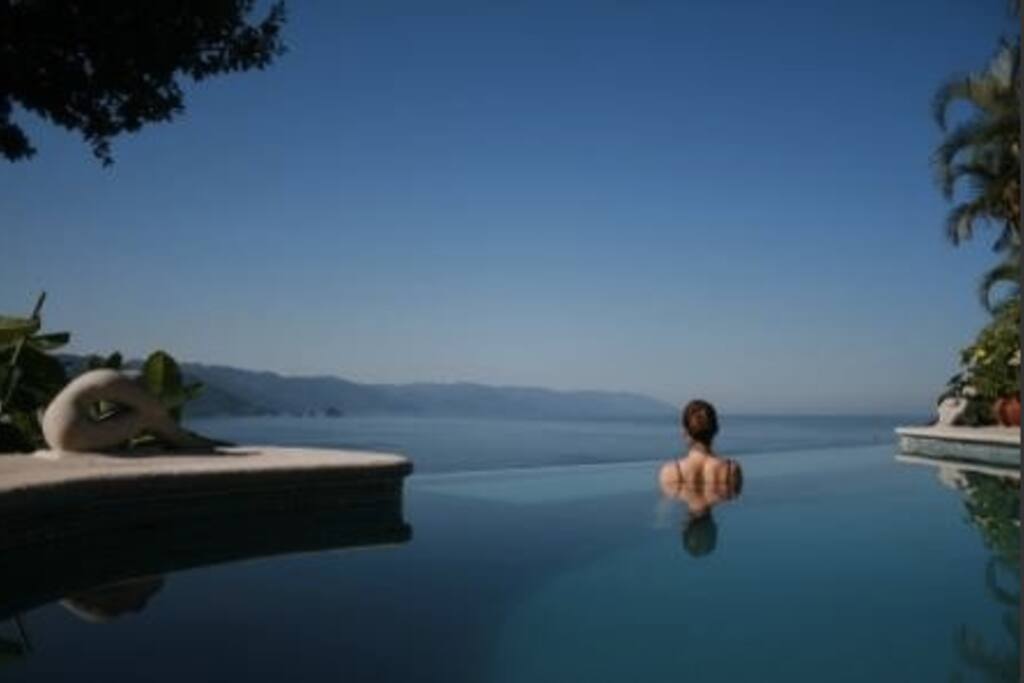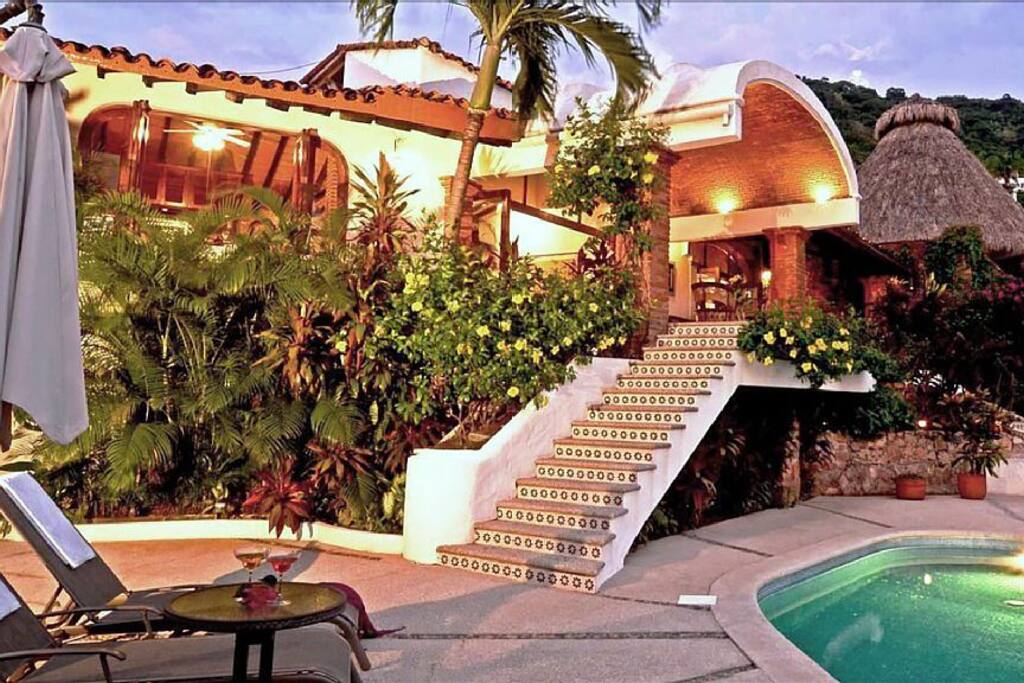 About this listing
This is a one-of-a kind villa in a one-of-a kind location. It is located on a quiet cul-de-sac in the exclusive Conchas Chinas ,the views are breathtaking. With private pool,The beach is a 5 minute walk, town a 5 minute drive. WITH STAFF, treat your self with this amizing property!
Conchas Chinas just minutes from the center of Puerto Vallarta.
2 bedrooms, 2 baths, sleeps 4.
View of bay, mountains and Puerto Vallarta town
Communication includes telephone
Staff includes a villa cook and maid
---
Room type: Entire home/flat
---
---
---
This is a one-of-a kind villa in a one-of-a kind location. It is located on a quiet cul-de-sac in the exclusive Conchas Chinas ,the views are breathtaking. With private pool,The beach is a 5 minute walk, town a 5 minute drive. WITH STAFF, treat your self with this amizing property!
Conchas Chinas just minutes from the center of Puerto Vallarta.
2 bedrooms, 2 baths, sleeps 4.
View of bay, mountains and Puerto Vallarta town
Communication includes telephone
Staff includes a villa cook and maid
---
VACATION RENTAL TERMS & CONDITIONS This Rental Agreement (the "Agreement") contains all of the Conditions, Terms and General Information (the "Conditions"), which shall regulate during the stay of the Guest and his Invitees at ̈the Property"RENTAL & USE OF PROPERTY – Owner hereby rents to the Guest and his/her invitees (collectively the "Guest"), a vacation property, located in Puerto Vallarta, Jalisco, Mexico including all fixtures to be used solely for the purpose of a personal short-term residence, upon the conditions contained herein. TERM - Guest shall have the use of the Property for the following term: AS PER THE AIRBNB RESERVATION CONFIRMATION Check-in time is 3 pm the day of arrival and checkout time is 12pm (noon) the day of departure. Please let us know if other arrangements need to be made. RENT – Guest shall pay to OWNER or AGENT at or before the date designated, the following amounts: AS PER AIRBNB PAYMENT POLICIES Cancellation and refunds: – NO REFUND FOR CHRISTMAS AND NEW YEAR RENTALS. There is no refund if rental is canceled within 60 days of arrival. Cancellations made prior to 60 days of arrival are subject to a 20% cancellation fee. If it is necessary for you to cancel after that time we will attempt to re-rent the villa for the entire period of the original booking. If the property is fully re-rented a refund will be made less 20% of the original reservation. If full payment is not received the reservation is considered canceled. Guest will not be allowed to enter property unless full payment is received prior to arrival. GUESTS - Guests agree to the following: a) That the number of guests shall not exceed at any time a maximum agreed as per the rental confirmation through AIRBNB (including adults and children) unless given written permission from the Agent or Owner. In the event that there are more then the maximum amount of guests acharge of $150.00 USD per extra guest per day will be required upon arrival or the acces could be denied. b) SECURITY DEPOSIT – A security deposit is requested as per AIRBNB confirmation of reservation, and may be used to cover costs of damages, replacement of missing items, cleaning services beyond normal expectations or any other expenses incurred by the guest. There will be no exceptions to this policy. Guests occupying the vacation property will be
responsible for any damages caused by them or their guests to the property or its assets during their stay in that property. Cost for damage will be limited to repairs or replacement value of the items damaged. Guests shall not remove any items from the property, such as kitchen appliances, glassware, furniture, or any other item, or the replacement cost will becharged deducted from their security deposit. Security deposit will be returned at the departure day. c)Events /Parties – written permission from the Agent or Owner is required to host any events. Extra fees may apply depending on the property, or the event could be denied. d)No pets are allowed on the property unless prior written permission by owner or Agent. e) No subletting of property. ACCOMODATIONS – In the event any property becomes unavailable due to circumstances beyond the control of the owners after a deposit is received, the Owner Agent will have the option of moving the reservation to a like property or will refund the deposit in full. OWNER / AGENT RESPONSIBILITY - The owner is responsible for the following. a) That the property is well maintained and that any repairs needed be done in a timely fashion. b) Neither the Agent nor the Property Owner, their agents or employees shall be held responsible for any injury, loss or damage to any person or property of persons occupying said property. c)Neither Agent nor property owners or their representatives shall under any circumstance be held responsible for any disturbance or inconvenience the guests may suffer while occupying the vacation property caused by the actions of its neighbors or unforeseen circumstances in the surrounding area, specially construction due to Puerto Vallarta's constant investment, growth, upgrades and renovations including but not limiting the interruptionof public services. d)All information provided by the Agent, while deemed true and reliable, is not guaranteed. Changes in inventory, items and décor may occur from time to time and such changes will not void the terms of the rental agreement. RIGHT TO ENTER - Agent shall have the right to enter the Premises at any reasonable time during the term of this Agreement to inspect the Premises and to undertake and perform such duties and responsibilities that they shall have as lesser of the Premises under this Agreement. ENFORECEMENT - The laws of the State of Jalisco, Mexico shall govern
the validity, performance and enforcement of this Agreement. In the even Guest seeks a recourse against Villas or any other individual or entity for any injury to a person or property of a person occurred within the Premises, the only applicable venue to solve any such issue or action shall be the courts of Puerto Vallarta, Jalisco, Mexico. BY BOOKING THROUGH AIRBNB THE GUEST ACCEPTS ALL TERMS AND CONDITIONS OF THIS RENTAL AGREEMENT
VACATION RENTAL TERMS & CONDITIONS This Rental Agreement (the "Agreement") contains all of the Conditions, Terms and General Information (the "Conditions"), which shall regulate during the stay of the Guest and his Invitees at ̈the Property"RENTAL & USE OF PROPERTY – Owner hereby rents to the Guest and his/her invitees (collectively the "Guest"), a vacation property, located in Puerto Vallarta, Jalisco, Mexico including all fixtures to be used solely for the purpose of a personal short-term residence, upon the conditions contained herein. TERM - Guest shall have the use of the Property for the following term: AS PER THE AIRBNB RESERVATION CONFIRMATION Check-in time is 3 pm the day of arrival and checkout time is 12pm (noon) the day of departure. Please let us know if other arrangements need to be made. RENT – Guest shall pay to OWNER or AGENT at or before the date designated, the following amounts: AS PER AIRBNB PAYMENT POLICIES Cancellation and refunds: – NO REFUND FOR CHRISTMAS AND NEW YEAR RENTALS. There is no refund if rental is canceled within 60 days of arrival. Cancellations made prior to 60 days of arrival are subject to a 20% cancellation fee. If it is necessary for you to cancel after that time we will attempt to re-rent the villa for the entire period of the original booking. If the property is fully re-rented a refund will be made less 20% of the original reservation. If full payment is not received the reservation is considered canceled. Guest will not be allowed to enter property unless full payment is received prior to arrival. GUESTS - Guests agree to the following: a) That the number of guests shall not exceed at any time a maximum agreed as per the rental confirmation through AIRBNB (including adults and children) unless given written permission from the Agent or Owner. In the event that there are more then the maximum amount of guests acharge of $150.00 USD per extra guest per day will be required upon arrival or the acces could be denied. b) SECURITY DEPOSIT – A security deposit is requested as per AIRBNB confirmation of reservation, and may be used to cover costs of damages, replacement of missing items, cleaning services beyond normal expectations or any other expenses incurred by the guest. There will be no exceptions to this policy. Guests occupying the vacation property will be
responsible for any damages caused by them or their guests to the property or its assets during their stay in that property. Cost for damage will be limited to repairs or replacement value of the items damaged. Guests shall not remove any items from the property, such as kitchen appliances, glassware, furniture, or any other item, or the replacement cost will becharged deducted from their security deposit. Security deposit will be returned at the departure day. c)Events /Parties – written permission from the Agent or Owner is required to host any events. Extra fees may apply depending on the property, or the event could be denied. d)No pets are allowed on the property unless prior written permission by owner or Agent. e) No subletting of property. ACCOMODATIONS – In the event any property becomes unavailable due to circumstances beyond the control of the owners after a deposit is received, the Owner Agent will have the option of moving the reservation to a like property or will refund the deposit in full. OWNER / AGENT RESPONSIBILITY - The owner is responsible for the following. a) That the property is well maintained and that any repairs needed be done in a timely fashion. b) Neither the Agent nor the Property Owner, their agents or employees shall be held responsible for any injury, loss or damage to any person or property of persons occupying said property. c)Neither Agent nor property owners or their representatives shall under any circumstance be held responsible for any disturbance or inconvenience the guests may suffer while occupying the vacation property caused by the actions of its neighbors or unforeseen circumstances in the surrounding area, specially construction due to Puerto Vallarta's constant investment, growth, upgrades and renovations including but not limiting the interruptionof public services. d)All information provided by the Agent, while deemed true and reliable, is not guaranteed. Changes in inventory, items and décor may occur from time to time and such changes will not void the terms of the rental agreement. RIGHT TO ENTER - Agent shall have the right to enter the Premises at any reasonable time during the term of this Agreement to inspect the Premises and to undertake and perform such duties and responsibilities that they shall have as lesser of the Premises under this Agreement. ENFORECEMENT - The laws of the State of Jalisco, Mexico shall govern
the validity, performance and enforcement of this Agreement. In the even Guest seeks a recourse against Villas or any other individual or entity for any injury to a person or property of a person occurred within the Premises, the only applicable venue to solve any such issue or action shall be the courts of Puerto Vallarta, Jalisco, Mexico. BY BOOKING THROUGH AIRBNB THE GUEST ACCEPTS ALL TERMS AND CONDITIONS OF THIS RENTAL AGREEMENT
---
Super Strict 60
Cancel up to 60 days before your trip and get a 50% refund plus service fees back.
---
Puerto Vallarta, Mexico

·

Joined in January 2012
Luxury Villas Mexico is a Vacation Rental Company specialized on selected Luxury Villas and Condos with over 15 years of experience combined, our destinations include Puerto Vallarta, Riviera Nayarit, Mazatlan, Playa del Carmen, Cancun, Cabos, Merida Yucatan, Acapulco and Ixtapa Zihuatanejo. Most of our properties come with full staff and have been personally inspected to offer you nothing but the higher standards.
Response rate:
95%
Response time:
within a few hours
Exact location information is provided after a booking is confirmed.
Explore other options in and around Puerto Vallarta
More places to stay in Puerto Vallarta: