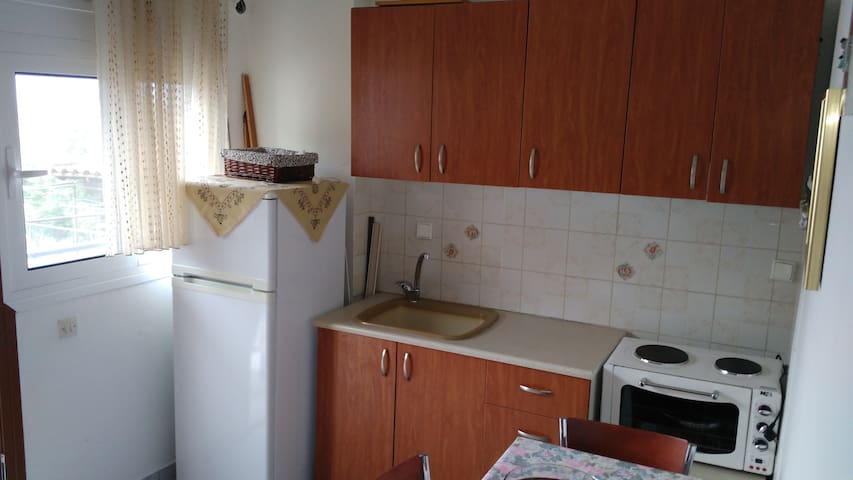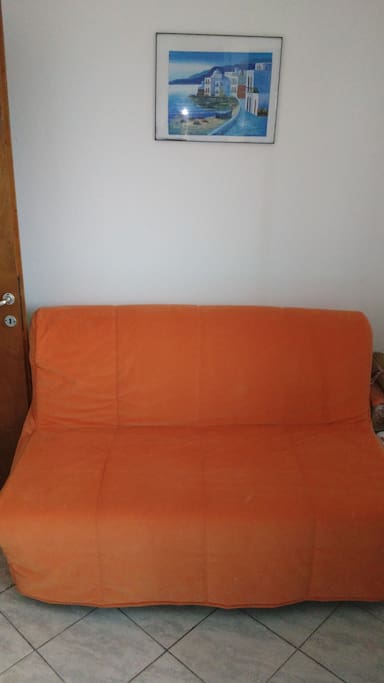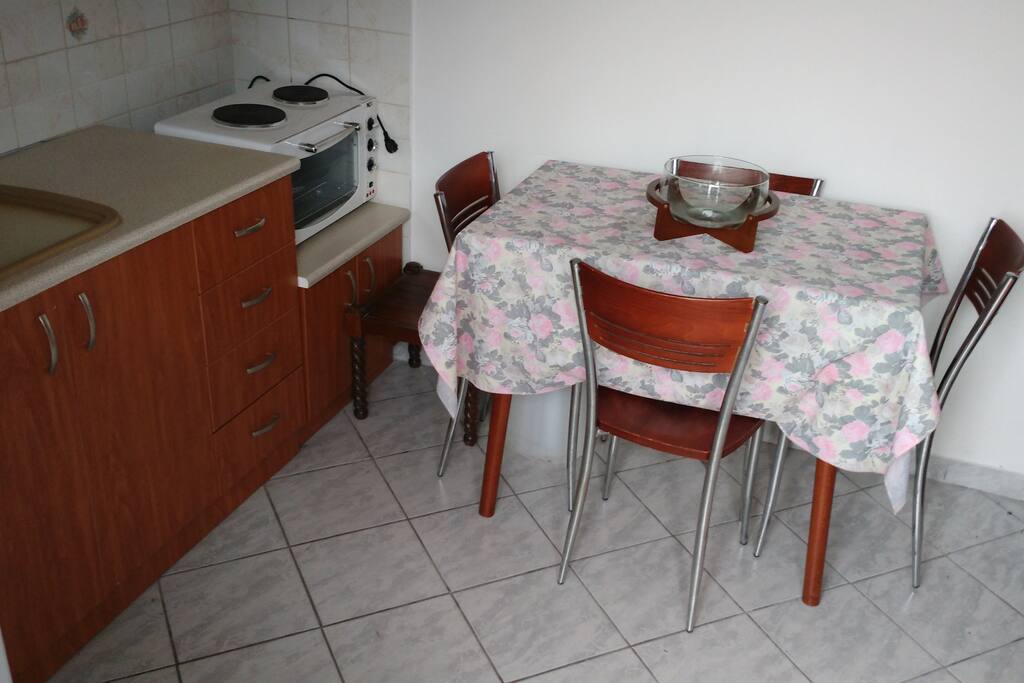 Kriopigi quiet apartment 1st floor
Kriopigi is a seaside village which is built on a hill full of pine trees over Toroneos Gulf. It's located 80 km away from Thessaloniki airport, lies on the east side of the peninsula of Kassandra.
In order to get to the beach of Kriopigi you go down to the main street to the beach. It is a quiet clean beach with crystal clear water, shaded by pine trees.
Kriopigi is suitable for family holidays and in the center of the village there are fish taverns, restaurants, bars and cafes.
---
---
Extra people £5 / night after 3 guests
Always communicate through Airbnb
To protect your payment, never transfer money or communicate outside of the Airbnb website or app.
Learn more
---
Strict silent 15.00-17.00 every day and after 23.00.
---
---
---
Georgios was a great host, he gave us useful tips on places to visit, eat and shop. We appreciated the gift he gave us on our farewell. The apartment was very nice and clean. It has everything one can need for a summer stay at the sea side. Kriopigi is typical Greek village, the beaches nearby are sandy and the see is crystal clean. We enjoyed our stay!
---
Georgios is very kind and responsive host. He sent us all the necessary information to make our holiday more enjoyable. He has a very kind and welcoming family. His sister transfers us to Thessaloniki by car and saved us money, time and energy. The apartment is perfect for holiday. We are very thankful about everything.
---
Georgios was a good, kind host. The day before arrivals he had written a message with information to reach the apartment. Cheek inn was perfect , the apartment is perfect for holiday , basic but with everything. During holiday we are very happy to read by mail some georgios 's tips ( best beaches , restaurant and somethings about nightlife). I would recommend staying to georgios 's apartment , was very quiet and near the best beaches and best nightlife club.
---
Georgios were a fantastic host! The apartment is same as the pictures, the place is clean and comfortable, also he allowed us to use air conditioner without paying more money. Georgios were asking us every time do we need something, is it everything good and he shared all the necessary information about the place and area. Once he transfer us to Kalithea, beacuse we do not have any transport. We are were thankful about everything and we recommend you Georgios's place and Georgios like host without doubt.
---
Our stay at Giorgios's place was super fine! Giorgios is sympathic and very reliable! If you need any help or informations, he will be there! :-) The apartment is right next to a beautiful little church in the center of the town, great location! The people of Kriopigi are friendly and made our stay even more beautiful!! Again...Thank you for everything! See you
---
Αρνητικά:Καθαριότητα ανεπαρκής ,οταν μείναμε υπήρχαν χρησιμοποιημένα ατομικα είδη υγεινης απο προηγούμενους( ξυραφακια και οδοντόβουρτσα και παλια φθαρμενα χρησιμοποιημένα παπούτσια στο ντουλάπι) οσμές απο τα σιφωνια.μειωμενη ροη νερου που δυσκόλευε στο ντους Θετικά: στο κεντρο του χωριού και κοντά στις γυρω περιοχές
Καταρχήν σας ευχαριστώ για το σχόλιο. Σχετικά με το μπάνιο,αν και μέσα Αυγούστου που συνήθως στην Χαλκιδική οι υδραυλικοί είναι είδος υπό εξαφάνιση,κατάφερα σε μία ώρα να φέρω κάποιον.Όμως το πρόβλημα ήταν σοβαρό και χρειάζονταν 1-2 μέρες για να γίνει και σε επικοινωνία μαζί σας μου είπατε να γίνει όταν φύγετε(όπως και έγινε).Και πάλι ρίξαμε κάποιο υγρό που πρότεινε ο υδραυλικός(με την άδειά σας φυσικά) για να βελτιώσει την εικόνα για όσο μένατε. Σχετικά με κάποια προσωπικά είδη που υπήρχαν,κι επειδή εσείς μου είπατε πριν κλείσετε το διαμέρισμα ότι χρησιμοποιείτε το airbnb για πρώτη φορά.Πρέπει να κατανοήσετε(κι άλλοι δεν το έχουν καταλάβει) ότι η φιλοσοφία του συγκεκρίμενου site είναι διαφορετική.Δεν έχουμε ενοικιαζόμενα.Νοικιάζουμε το δικό μας σπίτι όταν δεν είμαστε εκει.Είναι λογικό να υπάρχουν και προσωπικά είδη. Τέλος σχετικά με τη μειωμένη ροη του νερού,ήρθατε στην πιο high session περίοδο στο πρώτο πόδι της Χαλκιδικής.Σε κάποια άλλα χωριά κόβουν εντελώς το νερό για κάποιες ώρες.Δεν είναι πρόβλημα του σπιτιού,είναι πρόβλημα με τις υποδομές της Χαλκιδικής.
---
Languages:
English
Response rate:
100%
Response time:
within an hour
Explore other options in and around Kriopigi
More places to stay in Kriopigi: