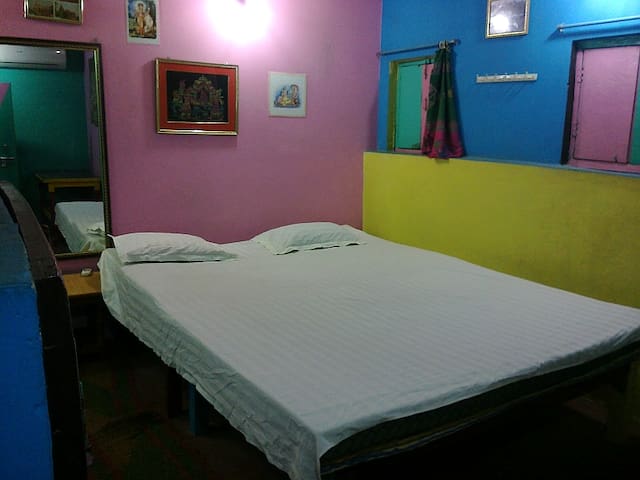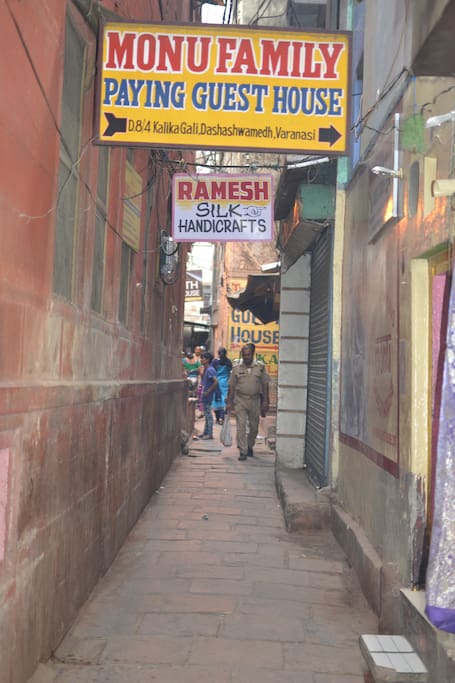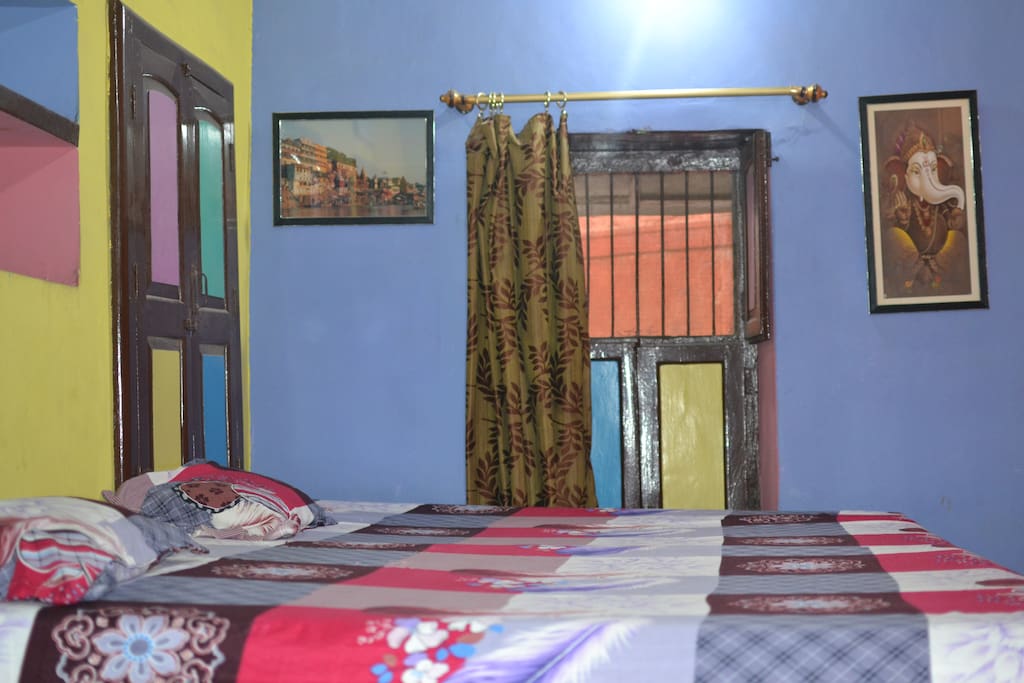 Monu Family Paying Guest House
Our guest house is located right in the epicenter of the old part of Varanasi , 5 minutes walk from the main ghat,river Ganges , Dashashwamedh Ghat , 2 minutes walk from the famous Kashi Vishwanath Temple . Yes we are very close by river.
The space
We offer cooking classes in house, music lesson, yoga lesson, hindi classes in house.
Guest access
We have free wifi in rooms, breakfast, lunch and dinner is available on demand.
Interaction with guests
We have an area to socialize in. We always try to sit with guests when possible.
---
---
Check in is anytime after 1PM
The guest house closes at 11 pm.
Check in time is 1 pm .
Check out time is 11 am.
---
Pros: - Clean accommodation - nice host - good location (5 minutes walk from the main ghat) Recommended! Cons: - not easy to find the first time - aged/worn out It is hard to find because of type of streets there, but I believe it applies to other guesthouses in the area, too: very narrow lanes packed with signs everywhere. Asking locals may not help, 6-7 of them pointed us to wrong directions (or nowhere), (SENSITIVE CONTENTS HIDDEN) maps actually shows it pretty accurately, but remember, the streets you see there are mostly 1.5-2 meters wide pedestrian lanes. You will not get any GPS signals because of the buildings. Adventure starts here :)
---
The location of Monu's guest house is great - close to the riverside and to restaurants, shops and the major sights, in the midst of the old city. The family was helpful and a light breakfast was included. So it was good value overall! We found the room a bit dark for our liking (probably unavoidable in such an old city) but it was huge. Pick-up and drop-off were arranged for us, but we felt they may have been over priced.
---
Monu was very helpful to us even before we had arrived, arranging a taxi to pick us up from the airport and sending his friend to meet us at the drop off point to carry our heavy bags for us (on his head!). He did the same for our departure as well. Monu is very professional and on his game, helping us in any way he could. As for the guesthouse itself, the location is very good, just a minute walk from good restaurants and a few minutes walk to an ATM and nearby ghats. The rooms are very modest, containing just a bed, ample shelf space, a ceiling fan, ceiling lights, a single window, and a conjoined bathroom with a shower. Wi-Fi worked most of the time we were there. No AC, which can be rough in July (or earlier months) when we were there. My girlfriend and I didn't care much for the noise and crowds of Varanasi, truthfully, but Monu's place provided a conveniently accessible safe haven for us, helping to buffer some of the overstimulation of our surroundings. I would recommend Monu's place, particularly for the location and assistance of Monu himself.
---
The receptivity of Monu to receive us in Varanasi was almost perfect. Almost. He sent a tuk-tuk (autorickshaw) to pick us up at the train station. Then put us in the best room of the Guest House, with air-conditioning, spacious bathroom and close the Internet router. However, on the next day, he charged us the water botle that was "given" to us on the day of arrival, and we found that we pay more for transportation from the station to the Guest House. I think that some care should be careful, for example, he would advise us that we should walk about 15-20 minutes stop tuk-tuk to his house. However, aside from that, the room is OK.
---
To begin... The not so good: Guest house is hard to find as it is located several back alleys off of any main road or ghat. Monu kindly provides porters to lead you to the guesthouse from your transportation (you can't get anywhere near the place with a car or a rickshaw), but take care to remember the way/map it out yourself if you are not familiar with the city already and you plan on doing any walking/exploring without a guide. I have not found any remotely adequate/accurate maps of the alleys. The wireless internet cut out several times while we were there - which shouldn't be a deal breaker, but could be a problem if you need to work remotely on deadlines while staying there. There is a small common room for everyone staying in the house to share - which can be great for meeting new people, but if you are a non-smoker (like me and my wife) there is no effective way to escape from the smoke if another guest wants to light up (we closed our door, opened our windows and turned on our fan - which helped). The good: Good value for the price you pay. Our room was comfortable and had its own private (and clean) bathroom. The house is painted in bright, eclectic colors. Monu also gives you a basic map of the city streets in the area, including locations for the major attractions and banking facilities. He got us a fair price on a sunrise boatride and arranged for the boatman to meet us at the guesthouse to take us to his boat (I recommend highly that you do this!). the GREAT: Monu himself (and his family). We decided to take him up on his offer of tabla lessons and it was one of my favorite experiences in Varanasi (if you're interested in music at all, ask him about lessons on traditional Indian instruments! I am a music teacher and learned a lot from him). He is kind, honest, and incredibly engaging to talk to if you catch him during a free moment. Overall I think it's most important to know that this is not a homestay in the truest sense - but it's not a hotel either. Monu and his family do live in the house, but the guest rooms are set up more like a small hotel/hostel (you're given a padlock that locks your room from the outside) and located on a floor separated from the family living space. Monu presides over everything as a pseudo manager/head of the household, so you kind of need to look at him as a mix of both, meaning you may not be able to get a hold of him at all hours (like at a hotel), but he's generally available, totally willing to help, and can set you up with most things you would need. It's a unique experience - and for us it was a positive one.
---
Welcome to your home Monu Family Paying Guest House. Our little house is located right in the epicenter of old part of varanasi where cows moos and dogs bark . We are very close to the famous main Ghat river Ganges called DASHASHWAMEDH GHAT and KASHI VISHWANATH TEMPLE. We have…
Explore other options in and around Varanasi
More places to stay in Varanasi: