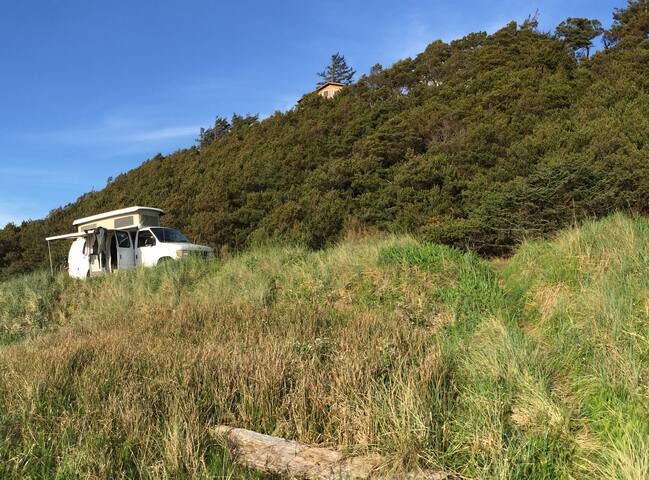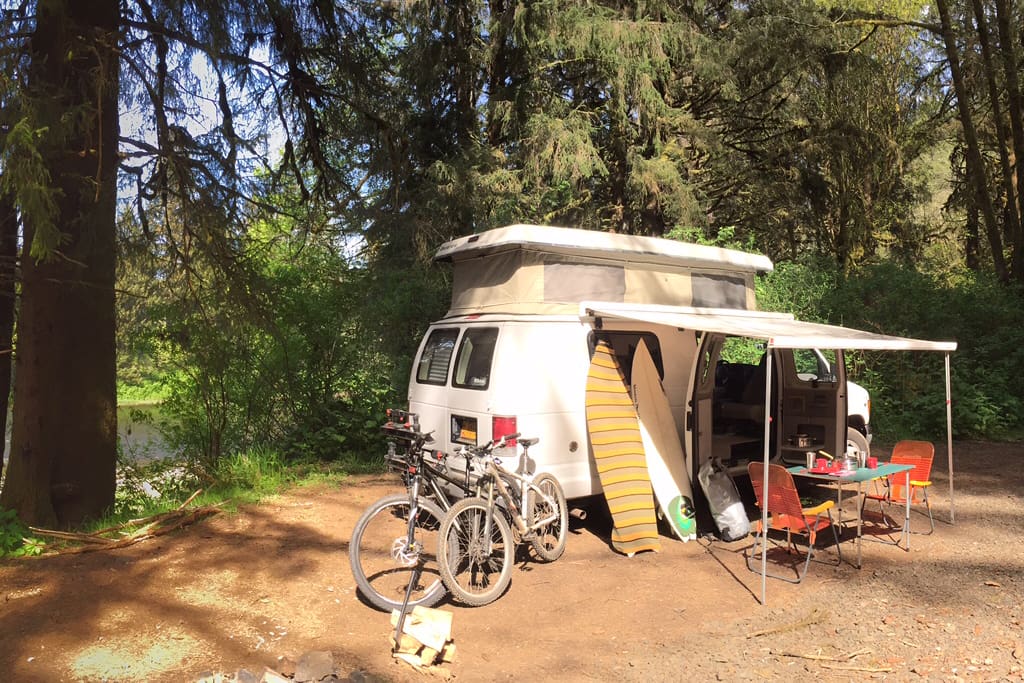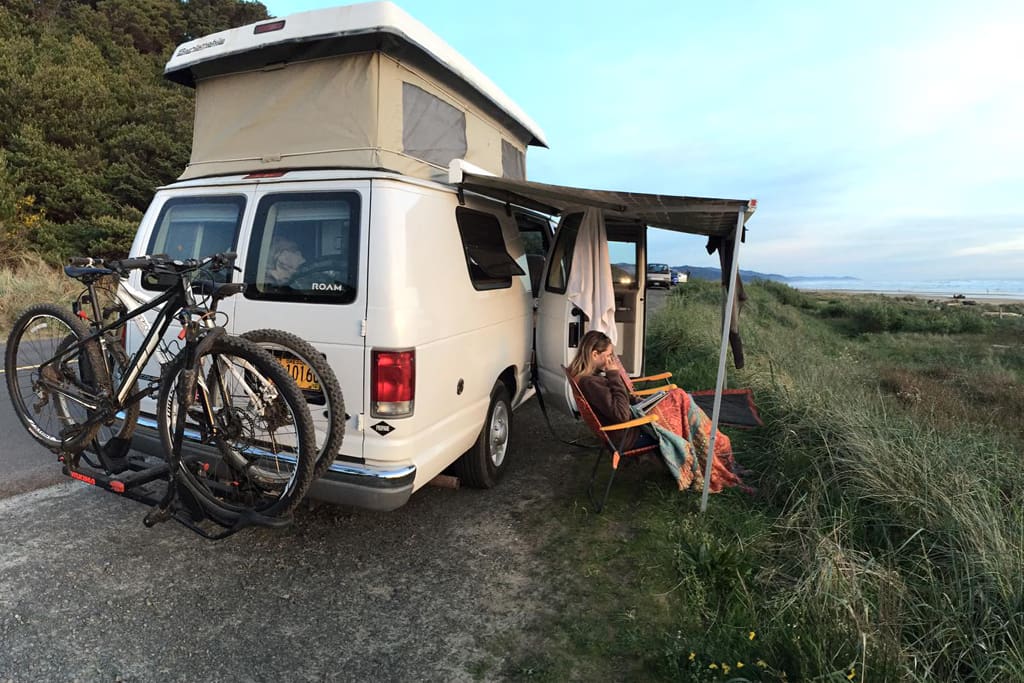 Custom Sportsmobile Campervan
We are conveniently in SW Portland. Just an easy drive to the coast or the gorge. You'll love staying in this custom van because you get to choose your own views! This Sportsmobile sleeps 4 adults and seats 5 with seatbelts. The pop-top gives 7' of headroom. Passenger seat swivels 180 degrees. 2 Burner stove with sink and oversized fridge. Huge Fiamma Awning on the outside. Lots of cabinet space and a fully stocked kitchen. Sleep like a baby with high end linens and Rumpl blankets.
Interaction with guests
We are available to offer advice on where to camp/stay. We can also provides maps if needed.
---
---
INSURANCE
Insurance for US RESIDENTS: If you are a US resident and have full coverage auto insurance coverage that covers rental vehicles, you will not need to purchase additional insurance. However, you must call your insurance provider and ask if RV rental is covered under your policy. Each driver must provide full coverage insurance or purchase additional insurance during the time of rental. Personal insurance must include: statutory liability, uninsured motorists, medical payments, comprehensive and collision. Please note that you will need to provide us your insurance information prior to the rental so that we can verify the coverage. If you do not have adequate coverage, you will be covered under our secondary insurance at State minimum levels.
Insurance for INTERNATIONAL travelers:
You are covered under our secondary insurance at State minimum levels. If you'd like additional coverage, you may purchase this through a third party insurance carrier as stated above.
DRIVERS
All drivers must possess a drivers license valid for the entire rental period, as well as a major credit card. An international drivers license is required for all foreign tourists. The minimum age to rent the vehicles is 25. All drivers and their licenses must be present at the time of vehicle pickup (other arrangements can be made), and drivers other than the individuals listed on the rental agreement are not authorized to drive the vehicle. All drivers must be fully insured as stated above.
ANIMALS
As much as we love animals, no animals are allowed in the vehicle or roof top tents. Damage from pets will be charged accordingly.
SMOKING
Smoking is prohibited inside the vehicles and roof top tents. Any evidence of smoking will be charged accordingly.
FUEL
The fuel tank will be full on pick up and must be returned full. Drop-off refueling will be charged against your security deposit at a rate of $5/gallon.
TRAFFIC AND CAMPSITE INFRINGEMENTS
We reserve the right to charge the renter for any fines or infractions such as speeding fines, traffic infringements, parking fees, road toll fines or any unpaid camping fees or fines. An additional $50 fee will be charged per fine to cover the cost of processing.
CLEANING
Rental vehicles will be clean upon pickup, and must be returned in the same condition. It is required that the vehicle be returned in the manner that it was rented, including being reasonably clean and free of stains. It is not necessary to wash the exterior of the vehicles. Failure to clean the interior of the van and equipment (stove, tents, counters, cushions, dishes, floors) will result in additional cleaning fees taken out of your security deposit depending on the condition of the van (minimum of $75).
ROAD RESTRICTIONS
Driving in 'off-road' areas is prohibited. Please note this does not include state maintained gravel or dirt roads. Renter is responsible for all damages to vehicle, tires, towing charges and other expenses as a result of a breakdown associated with operating in off road areas. The entire security deposit will be forfeited by lessee if there is evidence of travel to restricted areas.
WINDSHIELD AND TIRE DAMAGE
Windshield and tire damage or replacement is the responsibility of the renter. All prior damage must be noted at the time of pick-up. Damage will be taken out of the security deposit.
BREAKDOWNS AND ACCIDENTS
We require that you contact us immediately and let us know if you experience a mechanical breakdown or are involved in an accident. We will do our best to assist you with getting the vehicle repaired in a timely manner. Failure to contact us and to continue on your journey will result in a forfeit of your security deposit.
VEHICLE PICKUP AND RETURN
Rentals are based on a 24 hr rental period. Vehicles are available for pick up from 9 AM to 5 PM any day except major holidays by appointment. Vehicles may be picked up only by the Lessee. After hours or weekend pick up and drop off must be arranged in advance. We ask that you give us a specific pick up and drop off time several days prior and to call if you are going to be late. We charge $25 per hr after your scheduled drop off time.
MILEAGE ALLOWANCE
The rental rate includes 100 miles of travel per day. Travel above 100 per day is subject to a charge of $.30 cents per mile. Extra mileage is calculated and paid for after the van is returned.
---
Gretchen and Taylor made us feel welcome and the van was perfect for our family of four. The whole experience was turnkey -- we showed up, Gretchen gave us a thorough tour of the van and away we went. It made our trip to the Crater Lake area easy and fun, camping one minute, exploring the next. Highly recommended!
---
Owners, Taylor and Gretchen are avid travelers and always looking for an adventure. They spend a bit of time in Portland, Hood River and Baja. They open their home in Portland and Hood River to short term rentals (2-5 months) when they are traveling or working on the road.
Explore other options in and around Portland
More places to stay in Portland: