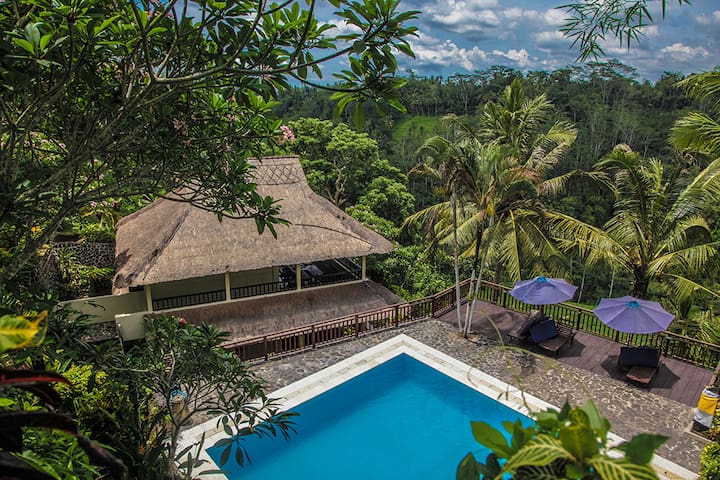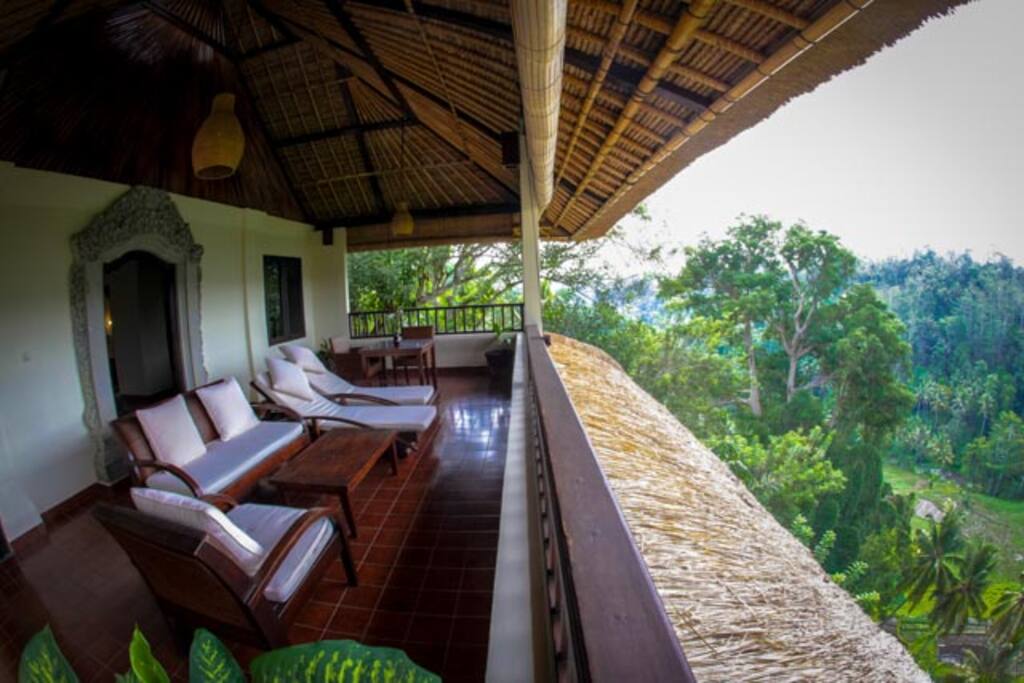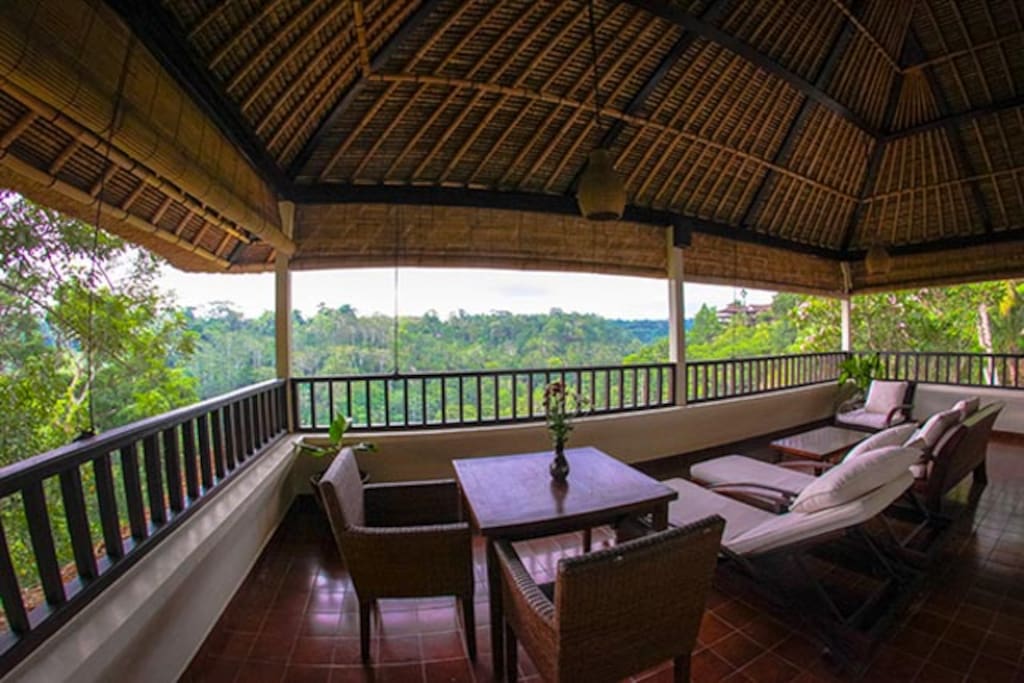 Villa Indah Ubud - Villa Sungai
Nestled high on the valley rim is the Villa Indah Ubud, overlooking one of the most spectacular views in Bali. We have a range of villas to suit singles, couples & families looking for a peaceful getaway or longer-term retreat. (URL HIDDEN)
The space
Villa Indah Ubud is fifty minutes and a world away from the busy beach resorts of Bali. Nestled in the seemingly unremarkable village of Kedewatan – as you enter you'll step down a humble driveway, past a traditional gate entrance & then prepare to have your breath taken away by the vast beauty of the mighty Ayung Valley.
Villa Indah is old style Bali charm at its best – the perfect place to spend a quiet day, or use as your Bali-base to get out and explore the island. Villa Indah has welcomed guests from across the world – many who come back yearly for a few weeks in paradise at a place that feels like home.
Villa Indah has a range of villas to suit singles, couples and families looking for a peaceful getaway or longer-term retreat. Our villas have different views, facilities and rates – please browse our villas & find the one that is right for you.
Interaction with guests
Food & Drinks
Villa Indah boasts a delicious menu of Indonesian favourites from Nasi Goreng, Gado-Gado & satays through to Pepes Ikan or Pepes Ayam – steamed fish or chicken with aromatic Balinese spices, wrapped in banana leaf served with Balinese steamed rice.
We also offer a range of traditional health drinks – Indonesia's favourite health drink Jamu (turmeric), green & mixed juices.
We have tasty snacks (perfect for poolside lounging) & some of Indonesia's best coffee – sourced from across the Indonesian archipelago.
A full menu is available in your Guest Book in your room. All food can be served in your room or out on the pool deck.
Massages 
Our staff can organise a traditional Balinese massage or treatment in your room or pool-side – wherever you feel most comfortable.
Yoga
We can organise a yoga teacher to come to Villa Indah daily during your stay & can provide yoga mats & props ready for your class. There is possibly no better place to practise yoga than looking out over the Ayung River in the early morning.
Adventures 
Bali has so many wonderful places to explore & Villa Indah is ideally placed to get to all of them. Whether you're up for some action or want to get out & stroll through the rice fields, or simply view some of Bali's breathtaking scenery – please speak to our lovely staff who will put a program together for you.
Cultural Experiences
Bali is a rich tapestry of religion & custom – simply by stepping outside your door you will notice Balinese culture which is woven into every detail of everyday life.
If you wish to learn more about Balinese culture again our very knowledgeable staff will be able to book you tickets to see traditional Balinese dance, or learn it for yourself! You can also learn to make Balinese offerings or cook Balinese Food.
---
As a solo single female traveller, I wanted somewhere private, close to nature and peaceful. This place was all of that and more. It's about 4km from the centre of Ubud, but easy to get into town. If the weather isn't too humid, it's a nice walk in, with the chance to take in local culture and architecture and plenty of cafes to stop in along the way. This is probably the nicest place I've stayed in from Airbnb so far and I will definitely return in the future. Fantastic staff, well run, clean, good value for money and breathtaking views of the valley and surrounding jungle. A welcome retreat.
---
We had a fab stay at Villa Indah! The setting is so beautiful and having breakfast sitting out on your balcony overlooking the valleys is just the Ubud dream! The staff were so lovely and looked after us during our whole stay - even going out in the rain to fetch us dinner after we'd got stuck in the rain! The villa itself is lovely, spacious and beautifully designed. There's a large ceiling fan (we didn't have air con) and a big mosquito net over the bed which also adds to the pretty feel of the room. The terrace was also huge with a table where breakfast is served to you (I'd recommend the banana pancakes!) a sofa and a sun lounger; with a lovely view out over the trees. The location is outside of central ubud which means you will need either a scooter and rely on taxis to get around as it really is too far to walk (and the paths in the town are either dark, hole-y or non-existent!!). However, the staff helped us organise a scooter and we loved scooting around to the different restaurants and yoga studios around the outskirts of Ubud which we much preffered to the centre of town which can be quite touristy.
---
the villa indah is the perfect place if you want to relax and enjoy the beautiful landscape of bali. the view from the big bangalow balcony is stunning & enjoying your breakfast there is just beautiful! it is still close to ubud where there r many shops & good restaurants all over the place, but you'll need a motorbike or a driver (10- 15 minutes ride) the staff is super friendly and helpful. l can recommend this place very much & it's really worth the money! :) hope you'll enjoy!
---
We've spend here our honeymoon. It's reslly amazing place! Secluded and cozy! Very helpfull staff, try to solve your problem in a short time and complying with any request. Especially thanks to our driver Sang. He met us at the airport and we liked him so much that spend with him whole 2 weeks that we been there.He helped us to discover not only Ubud, we've been in all points of island :) It takes about 5-10 min to reach center of Ubud by car and about 30 min walking. Several restaurants in center have live-music,but except 2places all closes at 9p.m-10p.m. I advise this place to those who want spend secluded holiday.
---
Response rate:
100%
Response time:
within an hour
Explore other options in and around Ubud
More places to stay in Ubud: