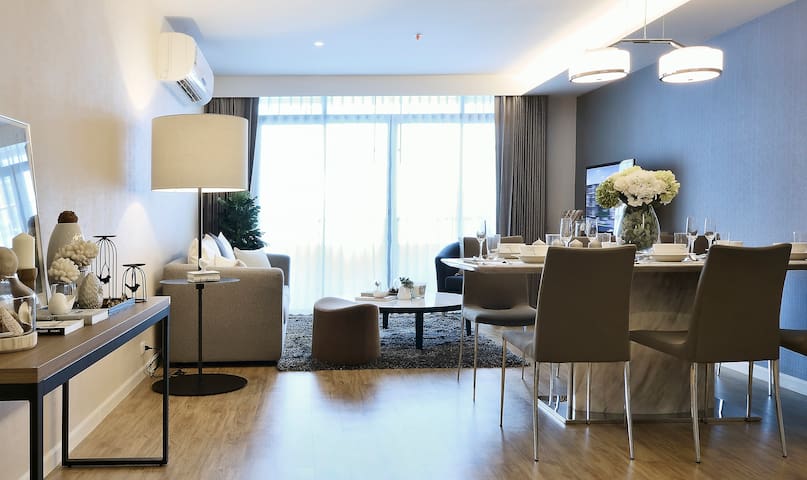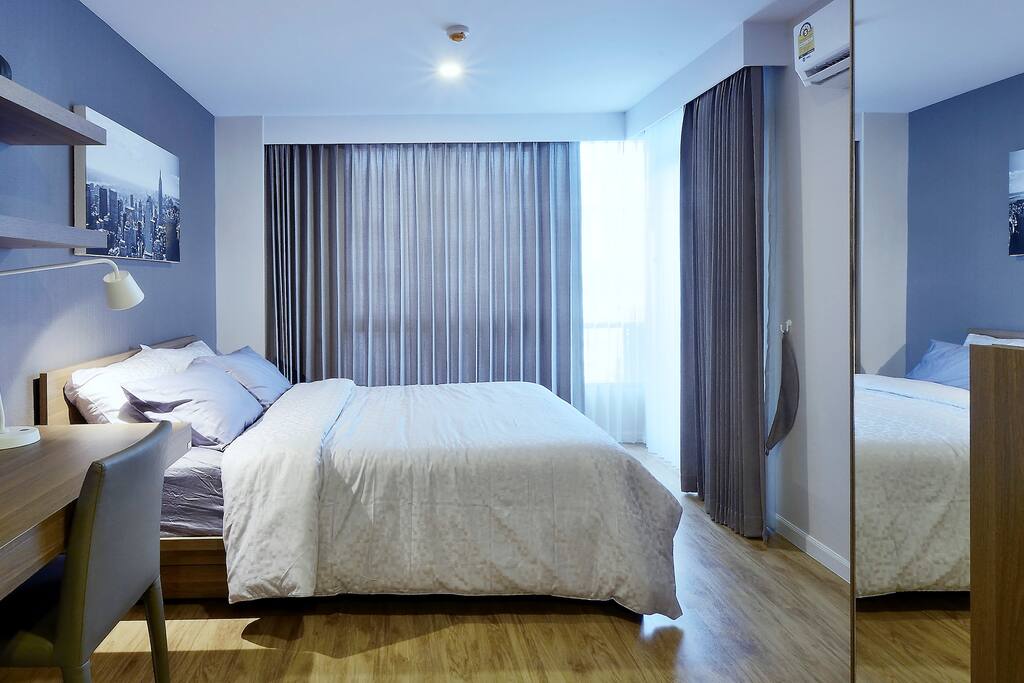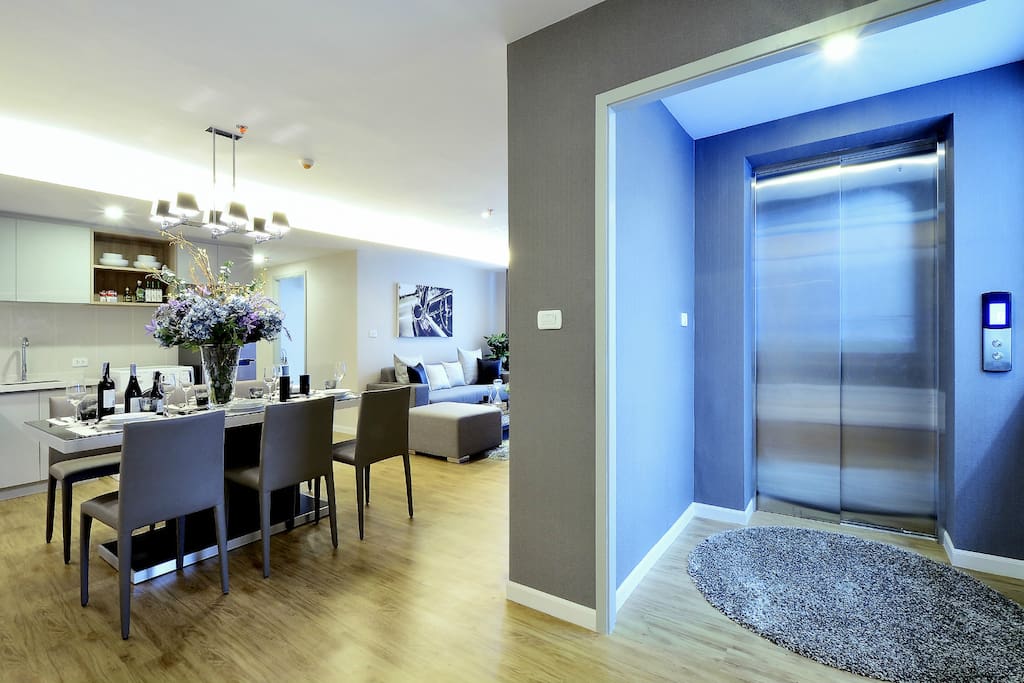 About this listing
公寓位于Rama ,Soi 73,No.298,Siamese Nang Linchee住宅公寓,阁下将身处曼谷的中心区,环境安静舒适,交通出行便利,可方便到达曼谷廊曼机场、素万那普机场;15-20分钟到达曼谷各大著名景点、娱乐休闲区、购物区;公寓设有旅行一房一厅套房/两房一厅套房,每间房配有主题场景,并标准配备私人阳台、厨房、冰箱、洗衣机、沙发、空调、LED电视、小米智能机顶盒、微波炉等设施设备;公寓提供免费停车、24小时热水、无线WIFI、中文电视频道、私人电梯、免费电话等服务;提供24小时开放室外游泳池、健身房等休闲娱乐设施,提供多种语言服务,可日租一天、可短租一周、可长租一年,是商务人士和观光游客前往曼谷的理想下榻之处!
欢迎光临Roomme Hospitality Nang Linchee Branch(寓米酒店公寓南林锦分店),我们将竭诚为阁下提供最贴心、最优质的服务,真诚的希望阁下能在曼谷度过最完美的时光!
---
Room type: Entire home/flat
---
---
Always communicate through Airbnb
To protect your payment, never transfer money or communicate outside of the Airbnb website or app.
Learn more
---
The space
The residence offers two house types: one bedroom residence and two-bedroom residence. Each room has a private balcony and kitchen and is equipped with refrigerator, washing machine, sofa, air-conditioner, LED TV, XIAO MI Smart TV Box, micro-oven etc. The residence provides such service as parking, 24-hour hot water, WIFI, Chinese TV channels,private elevator and telephone all for free. You can rent for one day, a week, or a year. The residence is good choice for those business person and tourists who head for Bangkok.
公寓设有一房一厅套房、两房一厅套房,每间房均有私人阳台,并标准配备厨房、冰箱、洗衣机、沙发、空调、LED电视、小米智能机顶盒、微波炉等设施设备;公寓提供免费停车、24小时热水、无线WIFI、中文电视频道、私人电梯、免费电话等服务;可日租一天、可短租一周、可长租一年,是商务人士和观光游客前往曼谷的理想下榻之处!
Guest access
The outdoors pool and gym in the apartment are open for 24-hour, which make you enjoy a healthy journey.
公寓提供24小时开放室外游泳池、健身房等休闲娱乐设施,随时享受健康达人生活!
Interaction with guests
Happy journey--- considerate service
旅途愉快——贴心服务
1.Multilingual service, including English, Chinese, Thai, Cantonese service etc.
提供多种语言,包括英文、中文、泰文、粤语等服务;
2.Provide discounts and good service for those customers who want to choose daily rent, short term rent and month rent, which save money in travel.
提供日租、短租、月租等折扣价格,品质服务,出行更划算;
3.We can pick you up at airport, which solve many problems and save your time.
提供接机服务,一站到达,全程更省心,更省时;
4.We provide 24-hour taxi booking service with low charge, which make you travel anytime.
提供24小时叫车服务,价格保障,随时出行;
5.We offer private guide who can guide your travel so you can have fun with less problems.
提供私人导游服务,指引出行,玩得更省事、更舒心;
6.We provide carpooling service so that you can know many friends from all over the world and enjoy the real travel.
提供旅行拼车服务,认识世界各国的朋友,享受旅行的意义;
7.All rooms are equipped with the MI's intelligent network TV-set boxes, by means of which we can watch more than 400 Chinese channels and TV shows of Hongkong or Taiwan at any time, as well as play the motion sensing games, search programs by voice input, interact the multi-screen and experience more and more smart items just by the simple touch!
所有的房间配有小米智能网络电视机顶盒,400多个中文频道、港台电视节目随时观看,体感游戏、语音搜片、多屏互动,更多智能内容一触体验!
8.We provide luggage room and access control elevator. We arrange security on 24-hour duty to protect you.
提供行李储存室和门禁电梯,24小时保安值班,保障入住安全;
9.We provide simple Thai training class, which is helpful in your journey. You can know much about Thailand culture.
提供简单泰语学习服务,实用方便,感受语言文化;
10.We provide exclusive memory recording service. We invite you to use polaroid to take a photo sincerely when check-in so that you can record your happiest times in journey, share this memory with others, and meet a unknown you. Happiness is never too late.
提供独家记忆储存服务,我们真诚的邀请每一位客人,在入住过程中,使用我们的拍立得留影纪念,储存阁下最开心的旅行记忆,分享最美好的独家记忆,遇见未知的自己,幸福永远不会迟到!
Getting around
The residence is located in Rama ,Soi 73,No.298,Siamese Nang Linchee, which is the center of Bangkok. The environment here is quiet and comfortable. There are many means of transportation here to Rama 3 Mall and Lumpini Park. The residence is next to the Malaysia Embassy and Germany Embassy. It only takes 30 minutes to on Mueang International Airport and Suvarnabhumi Airport! It only takes 15-20 minutes to such major scenic spots as Grand Palace, Wat Pho, Wat Phra Kaeo, erawan shrine, Chao Phraya River, Madame Tussauds Wax Museum etc. It only 15 minutes to the major recreation areas in NANA, Silom Road, Khao San Road etc. In addition, the residence is near to such shopping district as Siam Square, Central World Plaza, Chatuchak Market, floating market.
The nearest BTS station: Chong Nonsi
MRT station: Queen Sirikit National Convention Centre
位于Rama ,Soi 73,No.298,Siamese Nang Linchee住宅公寓,阁下将身处曼谷的中心区,环境安静舒适,交通出行便利,可方便到达中央集团拉玛三世商场和鲁比尼公园;该公寓紧邻马来西亚大使馆及德国大使馆,距离曼谷廊曼机场、素万那普机场仅30分钟车程!15-20分钟到达曼谷著名景点:大皇宫、卧佛寺、玉佛寺、四面佛、湄南河、杜莎夫人蜡像馆等,前往NANA、是隆路、考山路、辉煌等娱乐休闲区仅需15分钟;同时,暹罗广场、Central World Plaza、周末市场、水上市场等购物区也近在咫尺!
距离公寓最近的BTS站:Chong NonsMRT站:Queen Sirikit National Convention CentrBRT站:Narama
---
Check in time is flexible
Warm Tips温馨提示ข้อควรระวัง
In order to provide a quiet and comfortable sleeping environment for you, you are encouraged to join our Civilization Convention. Please read the following precautions:
为了给阁下提供一个安静舒适的睡眠环境,我们倡导阁下加入我们的文明公约,请阁下阅读以下注意事项:
ระเบียบในการเข้าพักอาศัยภายในคอนโด เพื่อความเรียบร้อยและความสงบในการเข้าพักอาศัย โปรดอ่านและปฏิบัติตาม
1.Check-out time is 12PM.
เช็คเอ้าท์ห้องพักก่อน 12.00 น.
退房时间为中午12PM.
2.Safe deposit boxes are available at reception desk. If you would like to place your valuable thing here it free of charge we take responsibility for any lost of the belonging.
接待处附近设有免费保险箱,请将贵重物品存放在保险箱内,酒店对个人物品遗失概不负责任.
กรุณาเก็บทรัพย์สินส่วนตัวที่มีค่าในตู้เซฟฟรีที่ตั้งอยู่แถวเคาน์เตอร์แต่ถ้ามีความสูญเสียหาย ทางเราจะไม่รับผิดชอบ
3.The fitness room and swimming pool daily opens: 6AM—10PM.
健身房、游泳池的每日开放时间为:6AM—10PM.
ห้องออกกำลังกายและสระว่ายน้ำ เปิดทุกวัน เวลา 6.00น.-22.00น.
4.To keep the swimming pool clear and clean, please do not have your meals beside the swimming pool.
为了保持游泳池清洁干净,请阁下勿在游泳池旁边用餐;
โปรดรักษาความสะอาด และห้ามนำอาหารมารับประทานภายในบริเวณสระว่ายน้ำ
5.The fitness room is a public area. Please enter into it, wearing sports equipments. Men are not allowed to be topless. Close the door at any time.
健身房为公共区域,请阁下穿着运动装备进入,请男士勿直接裸露上身,出入随手关门.
เนื่องจากฟิตเนตเป็นพื้นที่สาธารณะส่วนกลาง โปรดแต่งกายให้สุภาพและเหมาะสม.
6.For the sake of your safety, the room is equipped with smoke detection system. Please do not smoke in the room. If you have the smoking habit, please come to the balcony and close the door. Once the detector alarms, we and you will be warned by the apartment property management and fined 2000THB.
为了阁下入住安全着想,房间设有烟感探测系统,请勿在房间吸烟,如有吸烟习惯,请移步到阳台,关上玻璃门,一旦烟感探测器报警,阁下与分店将会被公寓物业管理警告,并各处以2000THB的罚款.
ขอความกรุณาผู้เข้าพักอาศัยห้ามสูบบุหรี่ ภายในห้องชุด ถ้าหากท่านประสงค์จะสูบบุหรี่ ภายในบริเวณคอนโดมิเนียมมีบริเวณเพื่อให้ท่านได้สูบบุหรี่ และพื้นที่บริเวณระเบียงในห้อง กรุณาปิดประตูระเบียงให้เรียบร้อยก่อน สูบบุหรี่ ภายในห้องชุดได้มีการติดตั้งเครื่องจับควัน หากเครื่องดักจับควันได้ส่งสัญญาณเตือน ทางผู้ให้เช่า และผู้เข้าพักอาศัย มีความจำเป็นต้องเสียค่าปรับให้กับ ผู้บริหารอาคาร จำนวน 2,000 บาท.
7.For the sake of you and other people, please do not shout loudly in the roomor public areas during your stay in case of disturbing others. Thanks!
为阁下与他人着想,请阁下在入住期间,勿在房间或公共区域大声喧哗,以免打扰到他人休息,谢谢!
เพื่อประโยชน์ของตัวท่านและบุคคลที่พักอาศัยโปรดอย่าส่งสียงดังรบกวนผู้อื่นเนื่องจากที่เช่านี้เป็นที่เช่าส่วนบุคคลขอบคุณค่ะ/ครับ
We sincerely invite you to join our Civilization Convention. Thanks for your support and understanding. At the same time, all staffs in the chain store wish you have a beautiful and pleasant stay to spread more happiness!
我们真诚的邀请阁下加入我们的文明公约,感谢阁下对分店的支持与理解,同时,分店全体员工希望阁下能在分店度过一个美好愉快的时光,传递更多的快乐!
พนักงานทุกคนขอบพระคุณผู้เข้าพักอาศัยเป็นอย่างสูง ที่ให้ความร่วมมือ และปฎิบัติตาม ขอให้ท่านมีความสุขกับวันพักผ่อนนะค่ะ/ครับ
---
Flexible
Cancel up to 24 hours before your trip and get a full refund, including service fees.
---
---
Response rate:
100%
Response time:
within an hour
Exact location information is provided after a booking is confirmed.
Explore other options in and around Bangkok
More places to stay in Bangkok: