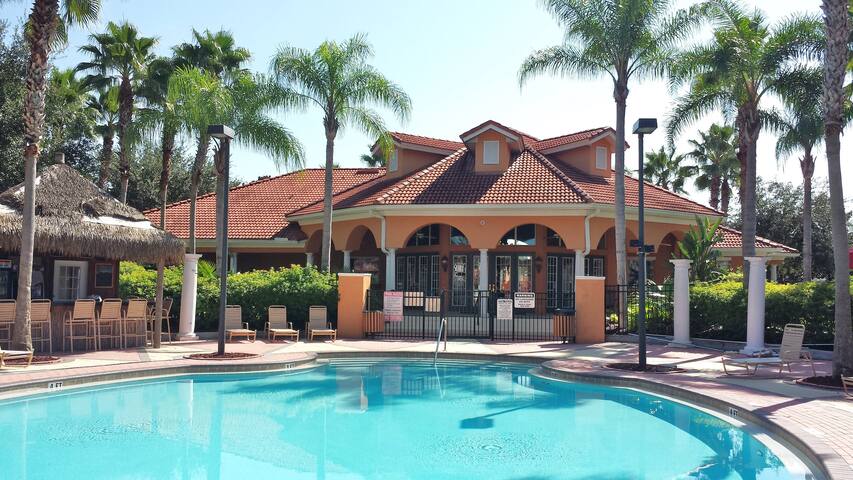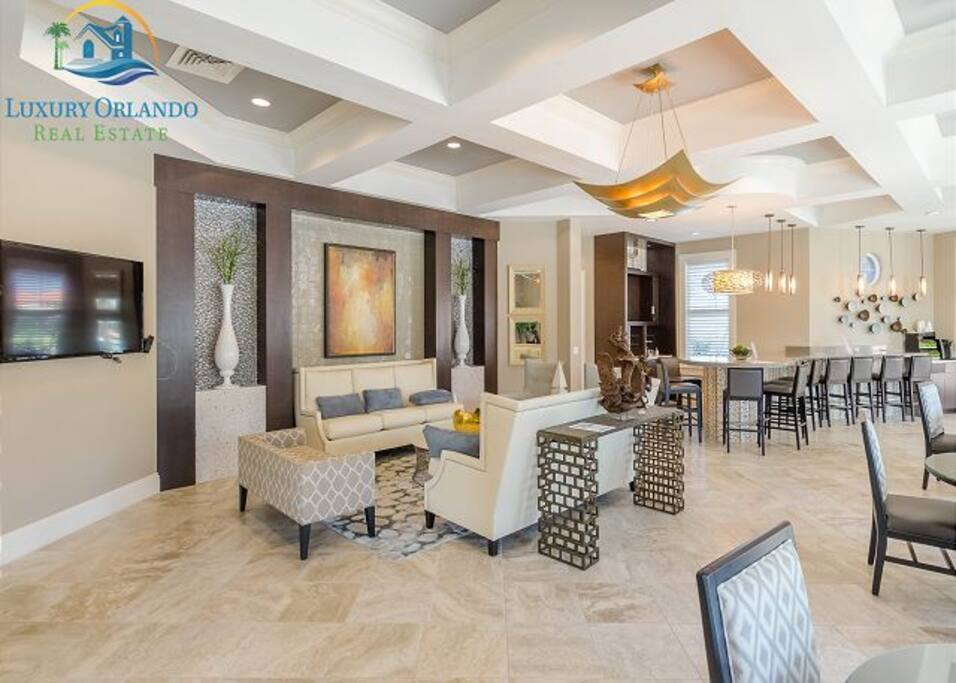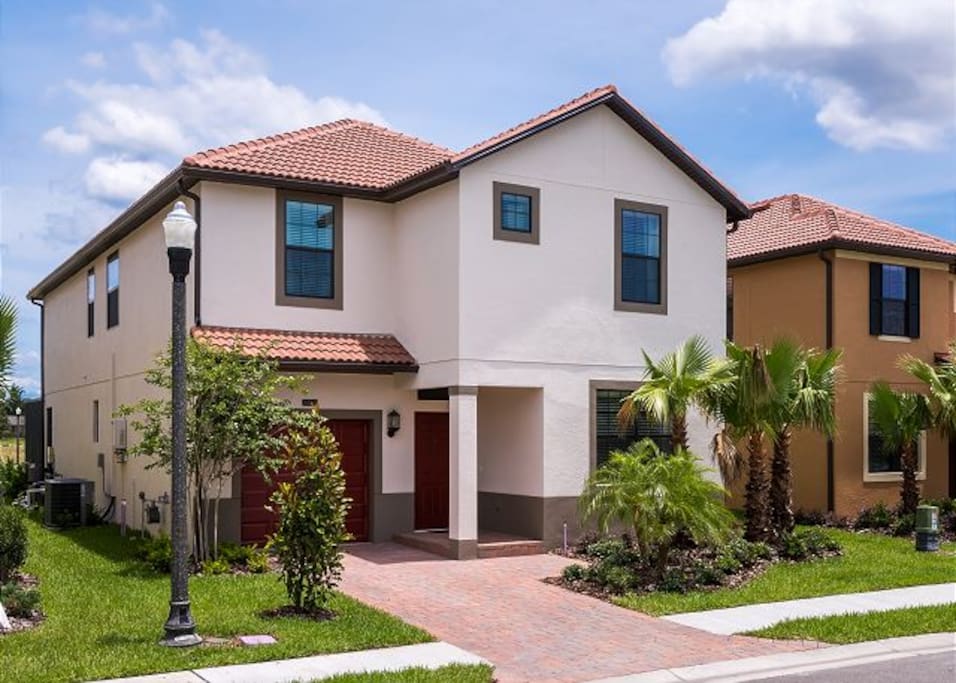 Luxury 6BD/5BA Disney Orlando Resort Villa
Welcome to Disney Sunshine, your home away from home! Brand new gated luxury resort villa located minutes away from all Disney World parks and Hollywood Studios. 20 min from Sea World, Legoland & Universal Studio. Close to shopping, restaurants, golf, more.
Professionally furnished 3275 sq ft spacious living space, 6 bedrooms & 5 bathrooms, over-sized ceramic tiles, marble floor, stainless appliances, theater room with 100' screen & stereo sound plus a flat screen TV in every bedroom.
The space
Professionally furnished 3275 sq ft spacious living space, 6 bedrooms & 5 bathrooms, oversized ceramic tiles, marble floor, stainless appliances, theater room with 100' screen & stereo sound plus a flat screen TV in every bedroom.
Sleeping accommodation includes two king beds, two queen beds, & 5 twin beds. One of the king bedroom suites is located on the first floor with en-suite bathroom for easy access. This villa is also equipped with cable TV and high speed internet access, in-house laundry room w/ iron, iron board & towels, game room & BBQ grill in covered patio.
Your very own in-home theater, private pool & spa with outdoor pool furniture. In addition, this villa is within Solterra Luxury Resort which has a lazy river, massive tropical themed swimming pool with water slides, Jacuzzi spas, fitness center, playgrounds, lighted tennis courts, free WiFi throughout the resort & beautiful club house.
Guest access
The entire house, club house and all the amenities within the resort are accessible using a guest access code.
Other things to note
Solterra is a new resort. A lazy river and Tiki bar are open and fully enjoyable for guests.
---
This listing has essential business travel amenities.
---
---
Not safe or suitable for infants (Under 2 years)
Check in is anytime after 4PM
Self check-in with smart lock
By making a reservation you are entering into a rental contract with Luxury Reunion Rentals (on behalf of the property owner), and therefore agree to and are bound by the Terms and Conditions contained below. Proceeding with this reservation and booking a home with Luxury Reunion Rentals shall be deemed acceptance of the following terms and conditions.
Guests MUST inspect home upon arrival and notify Luxury Reunion Rentals within 1 hour of arrival if there is already any damage or notable faults at the home. Notification MUST be made in writing and by email to (EMAIL HIDDEN) Failure to notify Luxury Reunion Rentals or owner of a problem constitutes acceptance of the property in the condition it is found.
Guests agree that they are responsible for the cost of any damages sustained to the property, or its contents during the stay; this includes, for breakages, marks or scuffs on walls or for any excessive cleaning charges incurred during your stay. Guest also agrees that smoking is NOT permitted at the property, and any failure to adhere to this will result in a $250.00 penalty. Guests should note the aim of this policy is to maintain and preserve our vacation homes to the highest standards and prevent mistreatment and damage by previous guests – the benefits of this policy are enjoyed by you the guest during your stay. Luxury Reunion Rentals promises to treat all guests fairly and asks all guests to look after our homes as if they were your own.
Accidental Damage Waiver
A none-refundable damage waiver fee for each reservation covers man accidental damages typically caused in vacation homes - these damages must be reported immediately in writing within 24 hours to Luxury Reunion Rentals to be eligible for being waived. The value of the damage waived is (up to) $10-$50 depending on the property booked. Intentional damage, theft or negligence is not covered and will result in additional costs to the guest. Luxury Reunion Rentals reserves the right to determine what action or damage constitutes accidental damage and what action or damage constitutes deliberate or negligent actions. For example, blocking of toilets by flushing diapers, paper towels and other items would not be covered under accidental damage and the guest would be liable for all plumbing call out charges, however accidentally knocking a lamp over or spilling a drink on carpets to cause a single stain would be covered. Causing marks on the walls by dragging luggage against it would likely be deemed negligent, dropping and smashing a plate or dinnerware item would likely be deemed accidental. If you have more questions in this regard, please call our office for clarification.
Reservation General Liability Notes
- All properties are non-smoking. Absolutely no pets are allowed and only dogs for the visually impaired will be allowed. This rule can be waived for some properties which are pet friendly but you must have the express written permission of Luxury Reunion Rentals for your pet to enter the property. Pet fees and additional cleaning charges will apply. Pet fees are not designed to cover damage or cleaning costs – this is an occupancy fee. Pets present in a home without permission will result in the eviction of the Guest from the Property, without refund and the loss of all funds paid and further charge to the credit card on file to cover the additional cleaning costs.
- The Guest making the reservation must be 25 years of age or older and must occupy the rental property the entire term of the reservation.
- By law, occupancy may not exceed what is posted for each rental property. Only persons listed above in this Rental Agreement are permitted to stay in the rental property. Maximum occupancy is typically determined by how many people can sleep in the beds at the home as they are designed.
- The reservation is accepted & confirmed only for the number of guests declared on the original guest inquiry. Luxury Reunion Rentals reserve the right to cancel the reservation if additional guests are added without prior consent at the loss of deposit or funds paid to guest.
- Pools are used at guests' own risk. Under 18's must be accompanied at the pools. The safety fence (if installed) must be used at all times.
- If the owner has provided a complementary grill free of charge, or a grill has been hired via any party, guest accepts you are using it at your own risk. Guests will be held responsible for any damage caused by use or misuse of the grill. Only use the grill in open, outdoor areas. The grill must not to be used in any enclosed areas. Luxury Reunion Rentals and/or the Owner do not accept liability for equipment failure although in the event of failure we will endeavor to supply a replacement unit. It is the guest's responsibility to clean and maintain the grill and replenish Propane as required. There will be a minimum cleaning charge of $35 if the grill needs professional cleaning to enable use by the next guest.
- The air conditioning in any of our homes should not be set below 72 degrees Fahrenheit by the guests. Setting the thermostat to a lower temperature will not cool the property any quicker. Due to the high temperatures in Florida, it can be difficult for the system to cool the internal temperature below this point. Setting the temperature below 72 degrees may result in the system freezing up. If this occurs the air conditioning will have to be turned off to allow the unit to defrost. You will have no air conditioning during this time and will be responsible for the call out charges incurred to fix the system.
-Allergies - Luxury Reunion Rentals is unable to guarantee a peanut-free or allergen-free property. In addition, Luxury Reunion Rentals cannot guarantee that a property will be free of other allergens such as perfumes, lotions, cleaning solutions.
- Luxury Reunion Rentals or its representatives may enter the Property at any time, without notice, for the purpose of protection of the property. This is extremely rare and we will endeavor to seek your permission to enter the home in the majority of instances.
- Guests are not allowed to use the property for any immoral or unlawful purpose. Any guest who violates any law or ordnance will immediately terminate occupancy without a refund.
- No parties, weddings, social or commercial events shall be held at the home without the express written permission of Luxury Reunion Rentals.
- This Rental Agreement may not be assigned or the property sublet without express written permission of Luxury Reunion Rentals. No locks must be broken changed or added.
- We cannot accept any responsibility for your personal safety during your vacation. You are reminded to exercise care as to your personal safety and the safety of your companions. Use of the pool and any community pool and recreation area is entirely at your own risk. It is important that children are supervised at all times in and around swimming pools. For the safety of children, doors that have direct access to the pool may be alarmed. Tampering or disconnection of these devices is an offense. Alternatively the property may have a removable pool safety fence located around the pool area. If this pool safety fence is removed during your stay at the home, you will assume full responsibility for any and all use of the pool and spa.
-- All trash must be put out for collection by the sidewalk early on the Monday & Thursday at Solterra Resort. Excess trash/garbage left on your departure is not acceptable, trash that is left inside of garbage cans that is not contained within trash bags will incur a fee of $50 per trash can in order we may remove trash and bag it properly for disposal.
- All descriptions given on the websites are made in good faith and the owners accept no liability whatsoever for errors or omissions.
- The Guest agrees to abide by all home owners association rules.
- Failure to comply with any of the terms herein will, at the sole discretion of Luxury Reunion Rentals, result in the eviction of the Guest from the Property, without recompense or refund.
- Should you experience any problems with the rental property during your stay, contact Luxury Reunion Rentals who will make efforts to rectify the matter. Do not attempt to contact the owners or the staff of Solterra Resort. Should a problem remain unresolved, you are required to notify us in writing within 48 hours of vacating the rental property. No action can be taken or liability accepted for any complaints received after this period.
Check-in/Check-out Procedures
- Check-in time is after 4:00 pm and check-out is before 10:00 am.
-Early check-ins or late check-outs can be requested for an additional charge. All early check-ins or late check-outs are subject to no other reservations in the property at the time of your arrival/departure. In the event a Guest fails to depart from the property by 10:00 am with no late check-out arranged and results in Luxury Reunion Rentals being unable to clean and prepare the property for the next arriving Guest that day, the departing Guest agrees to pay damages and costs incurred by Luxury Reunion Rentals; including but not limited to moving the incoming Guest to another rental property. Minimum late check out penalty is $100 per hour.
Check-in Instructions
- The property has an Electronic Lock. The code will be sent upon receipt of final payment. For your convenience you do not have to find our office – you can go straight to the property any time after 4pm, enter the code and be granted access.
SELF-CATERING ACCOMODATION
- Each rental property comes complete with equipped kitchen including a refrigerator, freezer, oven, range, microwave, dishwasher, toaster, coffee maker, cookware, dishes and glasses. Each Property also includes a full size washer and dryer. In addition to this, properties come with linens and towels. Kitchen items are cleaned thoroughly with household detergents.
- While we try to provide each Guest with everything they will need, there are some items that are not provided in the rental properties. Vacation homes are self-catering accommodations. Luxury Reunion Rentals provides complimentary starter soap, toilet paper, and trash bags. Once these items are used, it is the Guest's responsibility to replenish them.
- Luxury Reunion Rentals is an independent property management company that manages privately owned individual rental properties located within resort communities. Luxury Reunion Rentals cannot and therefore does not guarantee access to any resort amenities such as, but not limited to, swimming pools, golf courses, fitness rooms, tennis courts & restaurants. The guest acknowledges that Luxury Reunion Rentals is not liable if access to any such resort amenities is restricted due to maintenance, resort policies or any other reason. If you are unsure about what amenities are included at your homes location please ask and we will confirm – Please note Solterra Club house facilities are included with no or few restrictions.
Limitation of Liability
- Luxury Reunion Rentals and/or the Owner do not accept liability for equipment failure and/or services in the Property. In the event of failure of equipment, the Guest must notify us within one working day, so as Luxury Reunion Rentals may elect to rectify the failure.
-Failure of pool pump, pool heaters and other pool equipment. Failure of pool heat will result in a refund of pool heat charges paid/made by the guest for the period which the outage occurred. If pool heat was included free of charge with your stay then we will refund you 3% of the nightly rental rate in lieu. Pool Heat is offered at an additional $30-35 per day and refund/compensation is limited to this amount as paid by the guest. Every action and care is taken to ensure 100% reliability however from time to time equipment will need repair.
Pool Temperature – Pool heat is by additional order only and is not included in your stay unless ordered separately at the time of booking. Advertising or property descriptions using the terms 'heated pool' are to indicate that pool heating is an option at this home for an additional charge. In some winter or cooler months pool heaters may struggle to keep water temperature above 80 degrees. This does not constitute equipment failure and no refund shall be given. Water cools off significantly over night and while it is rare that overnight temperatures fall below 40 degrees it is possible. In some rare instances the pool heater may struggle to keep the water above 80 degrees.
-Internet and WI-FI. Internet providers do experience occasional outages throughout the year. In the event of outage Luxury Reunion Rentals (upon request) will attempt (subject to availability) to provide immediate assistance to those guests who rely on internet for work needs by providing a cellular hotspot device. Guest agrees to a fair-usage policy of data usage and not to download or stream videos which result in high data charges. All efforts will be immediately made to restore regular service however please note most cable company internet providers do not dispatch service technicians at weekends. Luxury Reunion Rentals accepts no liability what so ever for internet outages and no refunds of any sort will be due for internet outages.
-Cable TV – Cable TV is a free benefit provided in some but not all vacation homes. In the event of an outage Luxury Reunion Rentals will make every attempt to restore service as quickly as possible, however please note most cable company internet providers do not dispatch service technicians at weekends and during week days it can often take a number of days to schedule new services. Luxury Reunion Rentals accepts no liability what so ever for TV outages and no refunds of any sort will be due.
-TV's and Movie Theatres – Some of our homes are equipped with Home movie theatres. Please check this system is working upon check-in and notify us within 1 hour if the system is not functional. Guests are responsible for leaving this equipment in the manner it was found. If you chose to remove any cable and plug it into your own device you must replace it upon departure and ensure system is in working order. Any system found tampered with and none-functional at the fault of the guest upon check-out will incur a $35 call out charge.
- Power and Utilities. Luxury Reunion Rentals does not accept liability for any failure of supplies such as gas, water, electricity. Luxury Reunion Rentals does not accept responsibility for failures caused at the fault of the utility provider or persons who control or supply main services. In the highly unlikely event of a major service outage Luxury Reunion Rentals will attempt to relocate the guest to a property with full services. In the even more unlikely event this is not possible no liability is accepted by Luxury Reunion Rentals.
-Air Conditioning Failure – We regularly inspect and maintain air-conditioning units but occasionally repairs can be required and outages can occur. In the event of such an occurrence Luxury Reunion Rentals will take immediate steps to have the unit serviced and repaired. No guarantee is made about the reliability of air-conditioning units, however with typical failures we have experienced in the past they are most commonly fixed the same day. Our suppliers and vendors typically carry stocks of common replacement parts with them when being called to a repair. Please however note Luxury Reunion Rentals does not accept any liability of outages what so ever.
Luxury Reunion Rentals and/or the Owner do not accept liability for lost or stolen personal property of the Guest from the Property during the rental period. Luxury Reunion Rentals and/or the Owner accept no liability for personal loss or injury to the Guest during the rental period.
Luxury Reunion Rentals and/or the Owner accept no liability for restricted access or no access to any resort amenities during the rental period.
- The Guests understand that there is no lifeguard on duty and it is a condition of this reservation that the use of the rental property and pool is entirely at the guest's risk. Diving, horseplay or running around the pool area is prohibited; no child in the party or adult non-swimmer will use the pool without adequate adult supervision by a strong swimmer. The guest must immediately report any problems with the pool alarms or pool safety fencing. All guests understand and agree that neither the property owner nor property manager can accept responsibility whatsoever in case of accident or illness whilst on the property. Any disputes under this Agreement shall be resolved exclusively via binding arbitration according to the rules of the American Arbitration Association for commercial disputes in Osceola County, Florida, applying Florida law. Each party shall pay their own attorney Fees/costs and, the State of Florida shall have exclusive personal and in rem jurisdiction over any dispute.
- Luxury Reunion Rentals do not accept liability for acts of violence, nature, fire, flood, war, civil disobedience, riot, or other force majeure that may have a deleterious effect on the Guest.
-- We accept no responsibility of liability for any loss or damage or alteration in the terms of your reservation caused by events beyond our control, including, but not restricted to war, terrorist activity, civil commotion, flight delays or cancellations airport closure, adverse weather conditions, fire, flood or industrial dispute. There will be no credit given for shortened stays due to late arrival or early departure for any reason and no credit given for cancellation due to weather conditions.
Force Majeure
- There may be circumstances beyond our control, in which the property might not be available for your reservation. Examples of these, but are not limited to, destruction of property, sale of property, water, gas or sewer leaks, fire or any other damage to the property making it inhabitable or potentially inhabitable. In the event of Force Majeure, Luxury Reunion Rentals will do their best to make alternative arrangements for the guest whenever possible. Luxury Reunion Rentals reserves the right in exceptional circumstances to cancel a reservation for any reason it deems necessary. Luxury Reunion Rentals reserves the right to alter the booked property to another of comparable nature for any reason. Comparable nature shall be deemed as at least equivalent number of bedrooms within a 12 mile radius of original home. Guests should rest assured such action would only be taken in highly unusual circumstances, such as property floods, utility outages of other reasons of unavailability at short-notice. Luxury Reunion Rentals is not responsible for any other costs connected with any such cancellation, howsoever arising.
Personal Items Left Behind at the Home
In the event a guest may have left a personal item behind in the rental property, we will do our best to locate it, however, the owner and the management company are not responsible for any losses. Due to the sheer volume of people leaving items in the home and having to return each one a call out fee of $35 to guest will apply plus shipping. Please remember to take all of your items with you!
Cancellation Policy
All bookings and the original dates that are booked are final. In rare instances we may be able to alter dates to suit, however no guarantee of this can be made. Deposits are non refundable at any time. Once final payment is made all reservations are final. Please purchase travel insurance if you wish to be protected against unforeseen circumstances.
---
Languages:
English
Response rate:
100%
Response time:
within an hour
Explore other options in and around Davenport
More places to stay in Davenport: