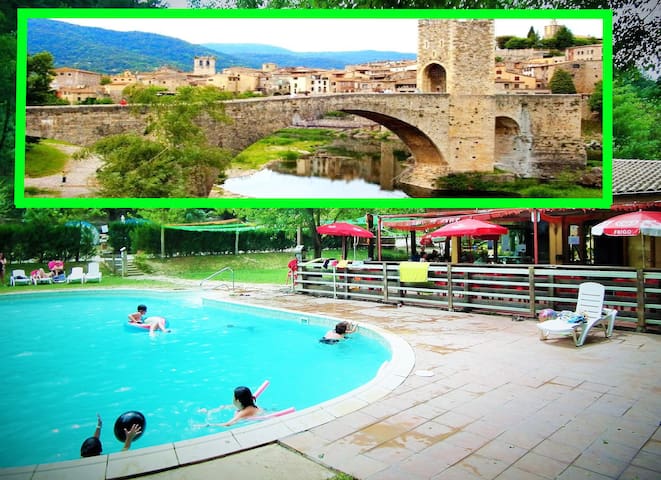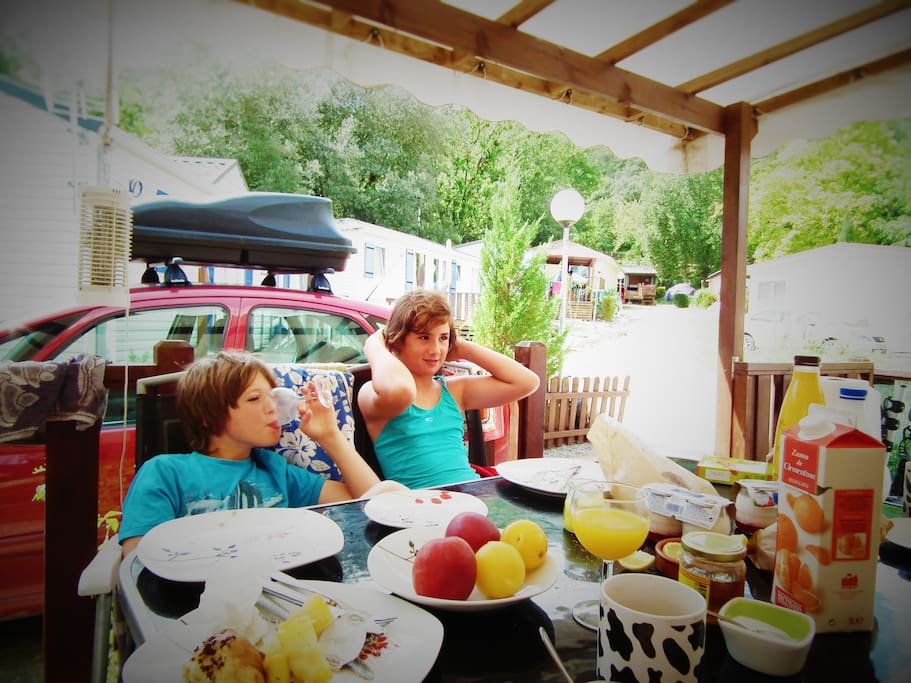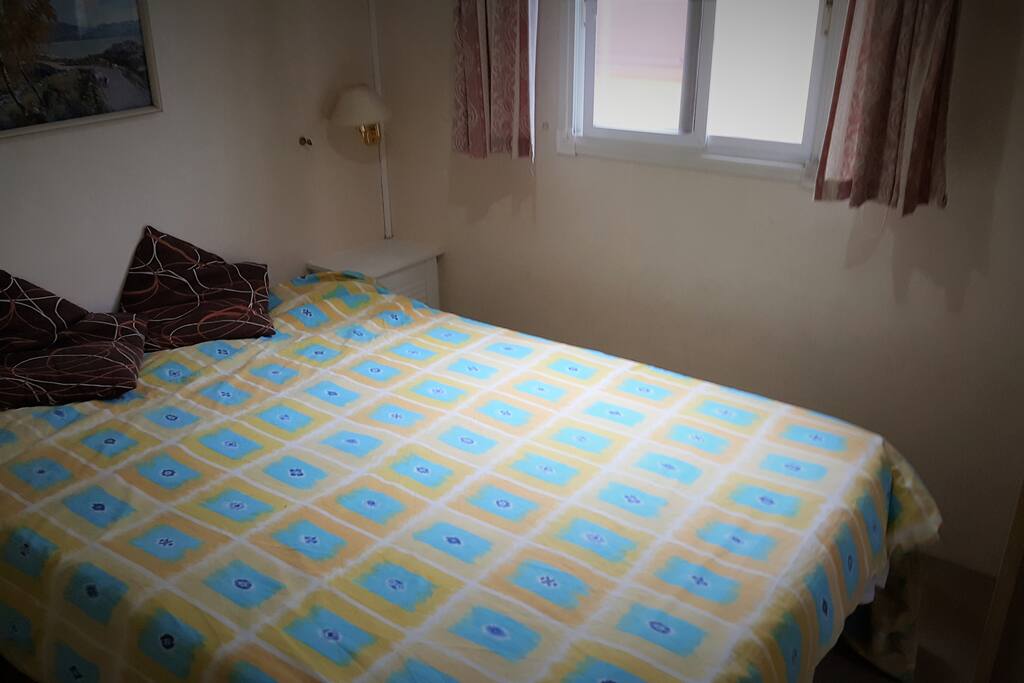 Stunning Catalunya Holiday Home / Mobile Home!
Our mobile home is set in an area of outstanding beauty, with mountains, extinct volcanoes, rivers, swimming lakes and restaurants galore and you are but easy drive from any number of stunning coastal beaches. Away from the tourist hotels, heavy traffic and inflated prices of the coast, you can visit endless beaches by day, and return home to quiet roads, beautiful unspoilt scenery, and genuine Catalan culture and food, in the evening.
---
---
Weekend Price £91 / night
Always communicate through Airbnb
To protect your payment, never transfer money or communicate outside of the Airbnb website or app.
Learn more
---
RENTAL AGREEMENT / TERMS & CONDITIONS / AIRBNB
[Términos y condiciones en español sigue la versión en inglés]
By renting our mobile home, you are agreeing to our terms & conditions which follow below:
By renting our mobile home, you are agreeing to our terms & conditions which follow below:
1. You confirm you have provided accurate booking information, including the correct number in your party, and have answered all enquiries truthfully.
2. You shall provide proof of ID, your full name and address, and personal email and mobile phone numbers, when required.
3. You shall not permit any persons, beyond the number agreed, to stay in our mobile home. The maximum number of guests which can be agreed is 4, plus a baby in your own travel cot.
4. Our mobile home is equipped and furnished and is let with all the items referred to in an inventory, which will be supplied before arrival. You will notify us upon arrival if any items listed in the inventory are missing or damaged, or of any other fault found.
5. Beds are provided with mattresses, pillows, duvet and blankets, plus one set of clean bed linen. If you require more, you must bring your own. You must bring your own towels and tea-towels.
6. You will receive ONE key for the mobile home and shall pay a key-loss fee of €50 for any lost key, deductible from the security deposit. The key must be collected from the campsite reception upon arrival and returned there prior to departure.
7. Check-in is from 3.00 PM until 21.00 PM; and check-out is by 12.00 (midday); except by prior agreement.
8. The 'total rental price' in the accompanying email includes all taxes and other charges which may apply, but excludes the cost of your metered use of electricity (see below) and any tourist tax payable directly to the campsite. This will only be a small amount and you can obtain details from Camping Besalu. You are also required to pay the campsite cleaner's charge of €25.
9. At the end of the rental period you shall vacate the mobile home and leave it in the same condition in which you found it, which includes putting all furniture and other items where you first found them. You shall also wash-up, dry and put away their dirty dishes, cutlery and pans, wipe all surfaces, sweep the floor and take their rubbish to the main campsite rubbish bins.
10. You shall notify the campsite staff that you are leaving, in sufficient time for an inspection of the mobile home to be carried out, and, if the campsite personnel deem that the mobile home has not been left in a satisfactory condition, you will pay a cleaning surcharge of €50. In extreme cases, where the Mobile home has been left in a particularly poor state, the cleaning fee will be doubled. If items are missing or damaged, this will be reported to us and an appropriate deduction will be made from your deposit. If the deposit authorized through Airbnb is insufficient to cover our losses, you shall make good the difference within 7 days, failing which we can recover our losses by all lawful means.
11. If you (or any member of your party) stay without permission beyond the agreed departure time, you are liable to pay €150 immediately and thereafter to continue to pay for your continuing unauthorized occupation, at the rate of €150 per day AND ALSO to reimburse us for any compensation paid to third-parties (whether voluntarily or by court order) with whom we had a booking which has become frustrated by your unauthorized continued presence.
12. For the period of your rental, you are responsible for any damage to the mobile home, the fixtures, fitting and the contents of the mobile home, and to anything located on the plot of the mobile home, including the outdoor furniture, fences, decks, sheds and washing machine, and also for damage to any shared campsite facilities, whether caused by you, a member of your party or by your guest.
13. Animals are not allowed.
14. The Mobile home is strictly a NO-SMOKING Mobile home.
15. You (and your party) will be quiet in the late evenings and in the early hours and will not make, or permit, noise after 10pm or before 8am so that it is audible outside the Mobile home. You will not do anything which might cause a nuisance to your neighbours or to campsite personnel.
16. If you (or your party) wash clothes, or other items, during your stay, you shall not leave clothes to dry inside the mobile home, but hang them on the washing lines on the decking terrace.
17. You shall allow anyone acting with our authority reasonable access to the mobile home during daylight hours for all lawful purposes including inspecting and carrying out repairs, except in case of emergency (e.g. fire or flood) when immediate access is required.
18. The cooker in the mobile home is in full working order. However, as is typical in Spain, the cooker runs on bottled butane, which produces harmful gases which can build up in double-glazed accommodation. For this reason, you agree always to have windows open (especially in the kitchen area) while cooking. You shall ensure that all the knobs on the cooker are in the 'off' position when you finish cooking and before going to bed. We always leave a large full bottle plus one spare bottle when we visit so it is highly unlikely that the gas will run out. But, in the unlikely event that this occurs, the campsite owner will assist you. You shall not use the wood-burner as it has not yet been tested, and we cannot vouch for its safety (carbon monoxide risk).
19. You shall pay the campsite for the metered supply of electricity to the campsite on departure. The campsite will tell you the amount. It will only be a small sum.
20. If this contract is frustrated by events outside our control including, but not limited to, fire, flood, serious damage or an unauthorized occupant, our liability shall be limited to providing a full refund of all sums you have paid, and you are recommended to take out holiday insurance against such risks.
21. The campsite offers free "Wi-Fi", which you are welcome to use. However we cannot offer any refund or discount for interruptions in the service, poor signal, etc.
22. You (and your party) also agree to be bound by the normal rules of the campsite.
23. Although we try to keep our mobile home attractive and comfortable for our guests, and have bought new furniture and beds/mattresses, the mobile home is quite old and no longer perfect. The campsite is in the hills above Besalu, a few kilometres along a dirt-track. It is on a small rustic family campsite with a modest pool/restaurant, which is not open all year round. We believe these things are reflected in the price. No refund or discount will be offered for these matters. If you are looking for a luxury mobile home on a luxury campsite where everything is perfect, then we may not be right for you. But if you want a comfortable mobile home in an amazing rural location, at a very reasonable price, then (like us) you may love the place. But if you have any questions about the facilities or the condition of particular equipment please ask before booking and we will give you an honest answer.
24. If any of the legal requirements set out in this contract are inoperative or impractical, or become so after completion of the contract, the effectiveness of the remainder of the contract will not be affected.
25. This agreement shall be governed by the contract laws of England and Wales and, in case of dispute, communications shall be in English, unless we otherwise expressly agree.
26. If you fail to make the required payments on the dates they are due and/or if you fail to adhere to these terms and conditions, we are entitled to cancel this agreement and to let the property to someone else, and you shall be responsible for such cancellation charges as would apply if you had cancelled the booking yourself. This is in addition to any other remedies to which we may be entitled under these terms and conditions or according to general law.
27. Although a Spanish-language translation of these terms & conditions appears below, in case of dispute, these terms and conditions shall be interpreted with reference to the English-language version.
28. This agreement will only be legally binding when: (a) you have told us that you agree to these terms and conditions and (b) you have paid 50% of the total rental price.
Terms & Conditions: Updated Monday, Monday, 10 July 20171.
1. Usted confirma que ha proporcionado la información exacta de la reserva, incluyendo el número correcto en su partido, y ha contestado a todas las preguntas verdad.
2. Usted deberá proporcionar prueba de identificación, su nombre completo y dirección, y correo electrónico personal y números de teléfono móvil, cuando sea necesario.
3. Usted no permitirá que ninguna persona, más allá del número acordado, permanezca en nuestra casa móvil. El número máximo de huéspedes que se puede acordar es de 4, además de un bebé en su propia cuna de viaje.
4. Nuestra casa móvil está equipada y amueblada y se deja con todos los elementos mencionados en un inventario, que se suministrará antes de la llegada. Usted nos notificará a su llegada si los artículos enumerados en el inventario están faltantes o dañados, o de cualquier otro fallo encontrado.
5. Las camas están equipadas con colchones, almohadas, edredones y mantas, además de un juego de ropa de cama limpia. Si necesita más, debe traer el suyo propio. Usted debe traer sus propias toallas y toallas de té.
6. Usted recibirá una llave para la casa móvil y pagará un honorario de la pérdida-llave de € 50 para cualquier llave perdida, deducible del depósito de seguridad. La clave se debe recoger de la recepción del camping a la llegada y regresar allí antes de la salida.
7. El registro es de 3:00 PM a 21:00 PM; Y el check-out es a las 12.00 (mediodía); Salvo acuerdo previo.
8. El 'precio total del alquiler' en el correo electrónico que lo acompaña incluye todos los impuestos y otros cargos que pueden aplicarse, pero excluye el costo de su uso medido de electricidad (ver abajo) y cualquier impuesto turístico pagadero directamente al camping. Esto sólo será una pequeña cantidad y usted puede obtener detalles de Camping Besalu. Usted también está obligado a pagar la carga del limpiador del camping de 25 €.
9. Al final del período de alquiler, deberá desalojar la casa móvil y dejarla en la misma condición en que la encontró, lo que incluye poner todos los muebles y otros artículos donde los encontró por primera vez. También lavar, secar y guardar sus platos sucios, cubiertos y sartenes, limpiar todas las superficies, barrer el piso y llevar su basura a los contenedores de basura del campamento principal.
10. Deberá notificar al personal del camping que se va, con tiempo suficiente para que se lleve a cabo una inspección de la casa móvil y, si el personal del camping considera que la casa móvil no ha quedado en condiciones satisfactorias, Pagar un recargo de limpieza de 50 €. En casos extremos, donde la casa móvil se ha dejado en un estado particularmente malo, el honorario de la limpieza se doblará. Si faltan elementos o están dañados, esto se nos reportará y se hará una deducción apropiada de su depósito. Si el depósito autorizado a través de Airbnb es insuficiente para cubrir nuestras pérdidas, deberá compensar la diferencia en un plazo de 7 días, en caso de que no podamos recuperar nuestras pérdidas por todos los medios legales.
11. Si usted (o cualquier miembro de su grupo) permanece sin permiso más allá de la hora de salida acordada, tendrá que pagar 150 € inmediatamente y después seguir pagando por su ocupación no autorizada continua, a razón de 150 € por día Y TAMBIÉN para reembolsarnos por cualquier compensación pagada a terceros (ya sea voluntariamente o por orden judicial) con los que teníamos una reserva que se ha frustrado por su presencia no autorizada continua.
12. Durante el período de su alquiler, usted es responsable de cualquier daño a la casa móvil, los accesorios, la instalación y el contenido de la casa móvil, ya cualquier cosa que se encuentre en la parcela de la casa móvil, incluyendo los muebles de exterior, vallas , Cubiertas, cobertizos y lavadora, y también por daños a cualquier instalaciones de camping compartido, ya sea causado por usted, un miembro de su partido o por su invitado.
13. No se permiten animales.
14. La casa móvil es estrictamente una casa móvil NO-FUMADORES.
15. Usted (y su grupo) estará tranquilo en las tardes y en las primeras horas y no hará, ni permitirá, el ruido después de las 10 pm o antes de las 8 am para que sea audible fuera de la casa móvil. Usted no hará nada que pueda causar molestias a sus vecinos o al personal del camping.
16. Si usted (o su grupo) lava la ropa u otros artículos, durante su estancia, no deje ropa para secar dentro de la casa móvil, sino colgarlos en las líneas de lavado en la terraza de cubierta.
17. Deberá permitir a cualquier persona que actúe con nuestra autoridad un acceso razonable a la casa móvil durante el día para todos los fines legales, incluyendo la inspección y realización de reparaciones, excepto en caso de emergencia (por ejemplo, incendio o inundación) cuando se requiera acceso inmediato.
18. La cocina en la casa móvil está en perfecto estado de funcionamiento. Sin embargo, como es típico en España, la cocina funciona con butano embotellado, que produce gases nocivos que pueden acumularse en alojamientos de doble acristalamiento. Por esta razón, usted siempre está de acuerdo en tener ventanas abiertas (especialmente en el área de la cocina) mientras cocina. Asegúrese de que todas las perillas de la cocina estén en la posición "apagado" cuando termine de cocinar y antes de acostarse. Siempre dejamos una botella llena grande más una botella de repuesto cuando visitamos así que es altamente improbable que el gas se acabe. Pero, en el caso poco probable de que esto ocurra, el propietario del camping le ayudará. No utilice el quemador de madera ya que aún no ha sido probado, y no podemos garantizar su seguridad (riesgo de monóxido de carbono).
19. Usted deberá pagar el camping por el suministro medido de electricidad al camping a la salida. El camping le dirá la cantidad. Sólo será una pequeña suma.
20. Si este contrato se ve frustrado por eventos fuera de nuestro control incluyendo, pero no limitado a, fuego, inundación, daño grave o un ocupante no autorizado, nuestra responsabilidad se limitará a proporcionar un reembolso completo de todas las sumas que usted ha pagado y usted está Se recomienda tomar un seguro de vacaciones contra tales riesgos.
21. El camping ofrece "Wi-Fi" gratuito, que puede usar sin embargo no podemos ofrecer ningún reembolso o descuento por interrupciones en el servicio, mala señal, etc.
22. Usted (y su partido) también aceptan estar sujetos a las reglas normales del camping.
23. Aunque tratamos de mantener nuestra casa móvil atractiva y cómoda para nuestros huéspedes, y han comprado nuevos muebles y camas / colchones, la casa móvil es bastante viejo y ya no perfecto. El camping está en las colinas por encima de Besalú, a pocos kilómetros a lo largo de una pista de tierra. Está en un pequeño campamento familiar rústico con una piscina modesta, que no está abierto todo el año. Creemos que estas cosas se reflejan en el precio. No se ofrecerá ningún reembolso o descuento por estos asuntos. Si usted está buscando una casa móvil de lujo en un camping de lujo donde todo es perfecto, entonces no puede ser adecuado para usted. Pero si quieres una cómoda casa móvil en una increíble ubicación rural, a un precio muy razonable, entonces (como nosotros) te puede encantar el lugar. Pero si usted tiene alguna pregunta sobre las instalaciones o la condición de equipo en particular por favor pregunte antes de reservar y le daremos una respuesta honesta.
24. Si alguno de los requisitos legales establecidos en este contrato es inoperante o impracticable, o si lo es después de la finalización del contrato, la efectividad del resto del contrato no se verá afectada.
25. Este acuerdo se regirá por las leyes contractuales de Inglaterra y Gales y, en caso de controversia, las comunicaciones serán en inglés, a menos que de otra manera acordamos expresamente.
26. Si usted no efectúa los pagos requeridos en las fechas de vencimiento y / o si no cumple con estos términos y condiciones, tenemos derecho a cancelar este acuerdo y dejar que la propiedad a otra persona, y usted será Responsable de los cargos de cancelación como se aplicaría si usted había cancelado la reserva usted mismo. Esto es adicional a cualquier otro recurso al que podamos tener derecho bajo estos términos y condiciones o de acuerdo con la ley general.
27. Aunque una traducción en español de estos términos y condiciones aparece a continuación, en caso de disputa, estos términos y condiciones se interpretarán con referencia a la versión en inglés.
28. Este acuerdo sólo será legalmente vinculante cuando: (a) usted nos haya dicho que está de acuerdo con estos términos y condiciones y (b) ha pagado el 50% del precio total del alquiler.
FIN
---
---
---
Professional person, with wife and kids.
Languages:
Deutsch, English
Response rate:
100%
Response time:
within a few hours
Explore other options in and around Besalú
More places to stay in Besalú: