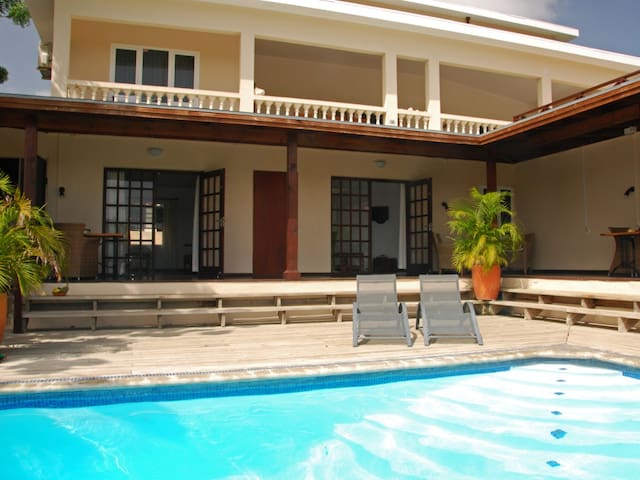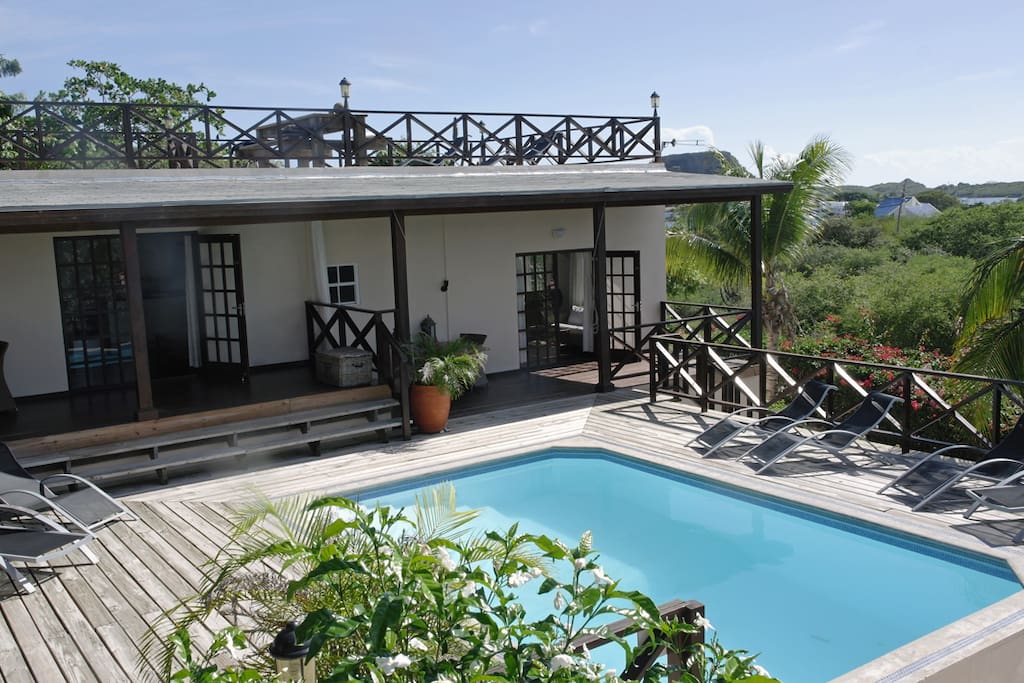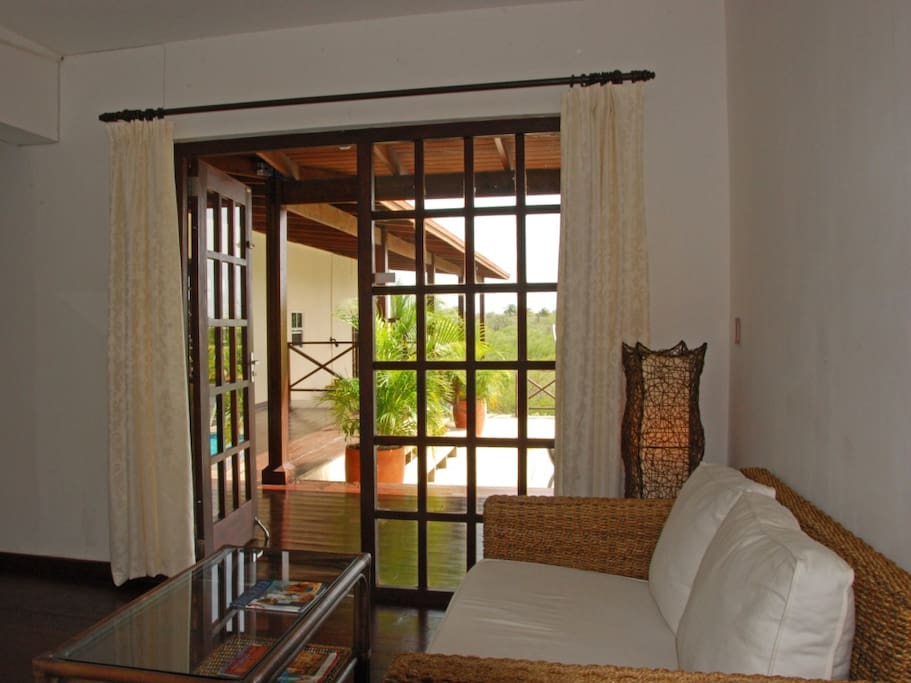 About this listing
CuraVilla is a lovely, quiet, small-scale holiday complex which consists of four fully furnished double apartments in a luxurious and safe residential area.
---
---
---
The space
Each apartment is air conditioned, well equipped and furnished in modern style and about 30 m² large. Your apartment offers a living / dining room with open kitchen, a spacious bedroom and bathroom and a private veranda with a table and two chairs. The modern kitchen has all the amenities you need: stove, oven, toaster, modern refrigerator and coffeemaker. Bed linen, towels and tea towels are included.
From your veranda, situated near the pool, you will have a wonderful view of the tropical garden and the green countryside.
The use of gas and water is included. Electricity is exclusive, and must be paid upon departure. (€ 0.40 per kWh). Also a cleaning fee upon departure of € 60 and 7% tourist tax are not included.
Guest access
Your spacious private veranda is part of the pool deck with plenty of lounge chairs. There is a barbecue for common use with a nice sitting area. There is also a washing machine and dryer for shared use. Free Wi-Fi is available on the entire property. Your apartment has access to a gated parking lot.
Interaction with guests
The hospitable Dutch owners are happy to answer all your questions about the island.

The neighbourhood
The Spanish water is just 100 meters away. This beautiful natural lagoon is very popular for sailing and windsurfing. The Jan Thiel Beach with its cozy shops, restaurants and supermarket is only a few minutes' drive away.
Getting around
We strongly recommend rent a car to make the most out of your holiday at "Dushi Korsou".

Other things to note
Curavilla is by Zoover Highly Recommended, as well as in 2013 as in 2014.
Included:
Use of WIFI, gas and water
Not included, payable upon departure:
Use of electricity (€ 0,40/$ 0,57 per kWh) and tourist tax (12% of room rental)
---
Check in is anytime after 4PM
House rules Curavilla
To make sure that you will have a pleasant stay and to prevent any misunderstanding, please read the house rules of our accommodation. When you confirm a reservation it is implied that you are familiar and agree with them, and that you will fully adhere to them. Violation of house rules can result in the cancellation of the reservation, and charging the full amount of the price of the accommodation regardless of the shorter stay.
1. Arrival and departure
Check in is possible after 4 p.m. We kindly ask you to contact us to discuss the time of departure the day prior to departure.
2. Cleaning
Depending on the day of your arrival the apartment will be cleaned on Tuesdays or Fridays between 09.00 and 16.00. Our housekeeper is not responsible for washing your dishes and taking out your garbage.
3. Bedding
Our housekeeper will change the bed linen every 7 days, during the cleaning of your apartment.
4. Towels
Twice a week you will receive clean towels . We kindly ask you to put your dirty towels in the laundry basket in your bath room.

5 . Electricity
At the end of your stay the used electricity will be charged at you for € 0.40/NAF 0,94/$ 0,53 per KwH. We politely ask you to consider the environment and we recommend economically use of electricity .
6. Water
Only the water in the kitchen is drinking water. The water in the bathroom is from a spring. Our drinking water is distilled from seawater. Fresh drinking water is scarce and, like electricity, a precious commodity . We therefore ask you to use water sparingly. Our showers offer hot water.
7. Visit
The entrance of Jan Sofat is guarded 24 hours a day. If you expect any visit, please inform the guard at the gate. Without any notice, the visit may be denied to access to Jan Sofat.
8. Safe
In your apartment you will find a safe in the closet of your bedroom. The corresponding key will be given to you. We strongly advise you to keep passports, tickets and all other valuables in the safe.
9. Parking
Each apartment has a private, gated parking. On your keychain you will find the key to open and close your gate. Visitors of Curavilla can park in front of Curavilla.
10. Swimming pool
Curavilla offers a shared pool. Please pay attention for the rules:
• The use of the pool after sunset is permitted provided that other guests are not inconvenienced.
• It is not allowed to use glassware with you or in the pool.
• The use of the swimming pool is at your own risk.
• The pool should be used wearing swimwear.
• Children may use the pool only under the supervision of their parents / guardians.
• DIVING IN THE POOL IS STRICTLY FORBIDDEN!!
11. Pets
Pets are not allowed in Curavilla.
12. Porch
Please do not hang towels or any other laundry on the porch. The washing line behind the apartments is at your disposal.
13. BBQ
It is not allowed to barbecue on the porch or pool deck. Behind the pool deck is a barbeque area.
14. Waste
Garbage can be thrown away in the green containers in front of the villa. Apartments 1 and 2 can walk along the villa, apartments 3 and 4 each have their own path to deposit the garbage. Please do not throw away food unpacked in order to avoid vermin in the containers.
15. Smoking
Smoking is not allowed in your apartment. Smoking is permitted on the porch and in the barbecue area.
16. Use of drugs
Public drunkenness is not tolerated. It is also forbidden to possess, use or trade any drugs at Curavilla.
17. Windows and doors
Please close your windows and doors if you leave or during the night. It is also mandatory to enable the alarm if you leave your apartment.
18. Jan Sofat
The speed limit at Jan Sofat is 30 miles per hour. Please pay attention to playing children. The residential area is guarded 24 hours a day and there is day and night supervision.
19. After 21:00
Please do not disturb the peace of other guests after 9 p.m.
---
Strict
Cancel up to 7 days before your trip and get a 50% refund plus service fees back.
---
---
Exact location information is provided after a booking is confirmed.
We arrived at Curavilla and were greeted by Rob! Immediately fell in love with how quiet and serene everything was. We spent most of our days relaxing by the pool and just hanging out, going off the property but once. Everything in the house manual was detailed and informative, making everything we do around the house almost second nature. The only very small thing we did not get to experience was the physical meeting of Maria and her entire kindness. She was so helpful from the very moment we took interest in booking until the last minute when we checked out. We will definitely be back and refer Curavilla to our friends. Thank you Maria and Rob!
---
We spent a week of our vacation in Curacao in the Curavilla. The apartment and the facility was very nice. It has a beautiful view and the pool was very good. Mary and Rob were great hosts. They were always very friendly and helpful. Even a small talk with the two was always possible and also very pleasant. We would not hesitate to book the apartment again if we fly a second time to Curacao. I can only recommend to book apartments with Mary and Rob.
---
We stayed at Curavilla for one week (50 per cent of our total vacation) in July. We also had another apartment at Curaçao, that's why we think that our feedback here is very objective. We cannot agree on the previous feedback's due to some points. Let's start with the pro's: Maria is always very helpful and if you have questions she is very happy to help you. We also liked that we had our own parking lot where the car was very safe. Also the alarm system for the apartment and the Internet was very good as well. Now we want to point out the con's: the architecture of the apartment is very disadvantageous in respect of the air humidity in the whole apartment especially in the kitchen area and the living area. Due to the fact that the bathroom has no window all the humidity goes into the two areas which are mentioned above. Because we are used to it from our home country we opened up always the windows to ventilate the rooms so it was okay for us. But the smell, when you enter the apartment already shows that not all guests did the same. Also disadvantageous is then that the guests have to pay extra for power. Then everyone will use the air-con as less as possible although the air-con could work against the air humidity in the apartment. The first 2 days of our stay the cleaning system and the lighting system of the pool was turned on - the rest of our stay it was mostly turned off.. Why?!.. The water quality in the pool was due to this obviously not the best. Lastly we were disappointed when we left the apartment. As already mentioned we had to pay extra for the electricity. Because one of us had a cold we just slept with the fan and we therefore didn't use that much electricity. We had a photo of the electricity-meter beforehand. At the end Rob charged us for 10 kWh but recently we checked the meter again which was in the laundry room and we saw that we only used 4 kWh! We were really sad that we made such a experience, of getting ripped off, in Curaçao - with hosts with a European background. We would expect something like this in Asia maybe. And we don't care about the 6 guilders but that is something what you as a host should definitely not do if you are thinking in the long-term because that's destroying the trust and we can expect more faithful behavior in hotels or other apartments. That is our feedback. Maybe you'll see some of these points as small stuff but for us these points made our stay not as good as in the other apartment. Our stay was not very bad but all in all it was just okay. And if you consider the price we would definitely go to either the last apartment which was cheaper and better...
Dear Jule, (or should I say Patrick?), Thank you very much for taking the time to share your experiences and feelings regarding your stay with us. Thank you for sharing your positive experiences, and I regret you were not completely satisfied about your stay and please accept our apologies for that. We have not been aware of your thoughts about our property during your stay. I also regret that – in spite of various moments of contact (of which you say and I quote "Maria is always very helpful and if you have questions she is very happy to help you", possibility of if we were not on the premises, and the fact we speak German and English – you still did not feel comfortable enough to share your thoughts DURING your stay. Because if you had shared your thoughts DURING your stay, I would have been more than happy to explain to you that a pool filter system runs 7 hours per day (which is common), and which are enough hours to filter the entire pool twice per day. We run the filter system every day, during the day – the moment when most of our guests are away – in order to avoid any nuisance. I would also have explained to you we test the pool water at least 4 times per week, so I am afraid I do not recognize the feedback "The water quality in the pool was due to this obviously not the best" as our testing strips show differently. Regarding the lamp I would have explained to you we recently re-coated the entire pool, and during this maintenance something went wrong with the pool lamp. We ordered a new one, but in the Caribbean – as you might have noticed during your holiday – things are organized in a different way and pace compared to Western European countries. I am very sorry to hear that (in advance communicated) additional costs of electricity have created a disappointment. We are always very open about the costs of electricity; that is why and I quote you again "We had a photo of the electricity-meter beforehand" and we always invite guests to have a look on their own meter, especially to avoid the feeling of "being ripped off". I do not know what went wrong, sometimes people make mistakes, and we would certainly have welcomed your feedback on that matter during your stay. Nevertheless, I arranged a refund of the paid electricity costs through Airbnb. I wish you all the best, kind regards, Maria Kouijzer
---
We had a great time at Curavilla! Maria was very welcoming and helpful with any questions that we had during our stay on the island. The appartment was exactly as we expected and the pool was perfect for cooling down throughout the day. The location was also superb, not too far from Willemstad, and not too close either. The fact that the villa is in a gated community also gave us a comforting feeling at night. If you're looking for a lot of privacy, this may not be perfect for you due to the shared porch, but this didn't disturb our overall great stay in Curavilla. Tip: If you're planning to eat out on the island. we highly recommend Pop's place for good local food for a good price.
---
We had a terrific experience! Maria was extremely warm and welcoming! She told us about all the sights worth visiting and how to get there. Jan Sofat is a beautiful gated area in an extremely family friendly neighborhood. The apartment was fully equipped with everything we needed for the week. Thank you Maria and Rob! It was an absolute pleasure to have met you and we'll be sure to reach out if we come to Curacao again.
---
We stayed 7 days in Appartment Number 2 and it was a real nice Appartment. Maria and her husband were always helpful if something was needed. The Appartment has everthing what you need. The area was safe and quiet. It was a relaxing time laying nearby the pool and in the evening or morning using the nice terrace for breakfast and dinner. We would definitely recommend Marias appartments and hopefully we will come back one day. Thanks for the nice time we had in Jan Sofat:-))
---
Besides the languages Dutch and English, je comprends et parle un peu français; verstehe ich auch Deutsch und un tikkie Papiamentu.
Response rate:
100%
Response time:
within an hour
Explore other options in and around Willemstad
More places to stay in Willemstad: