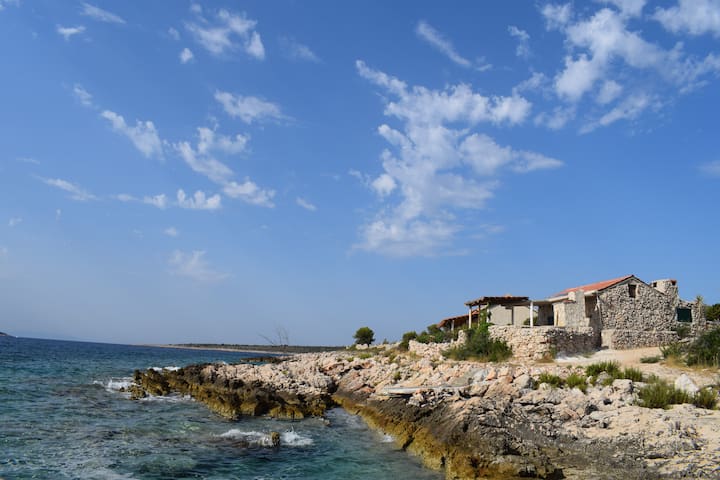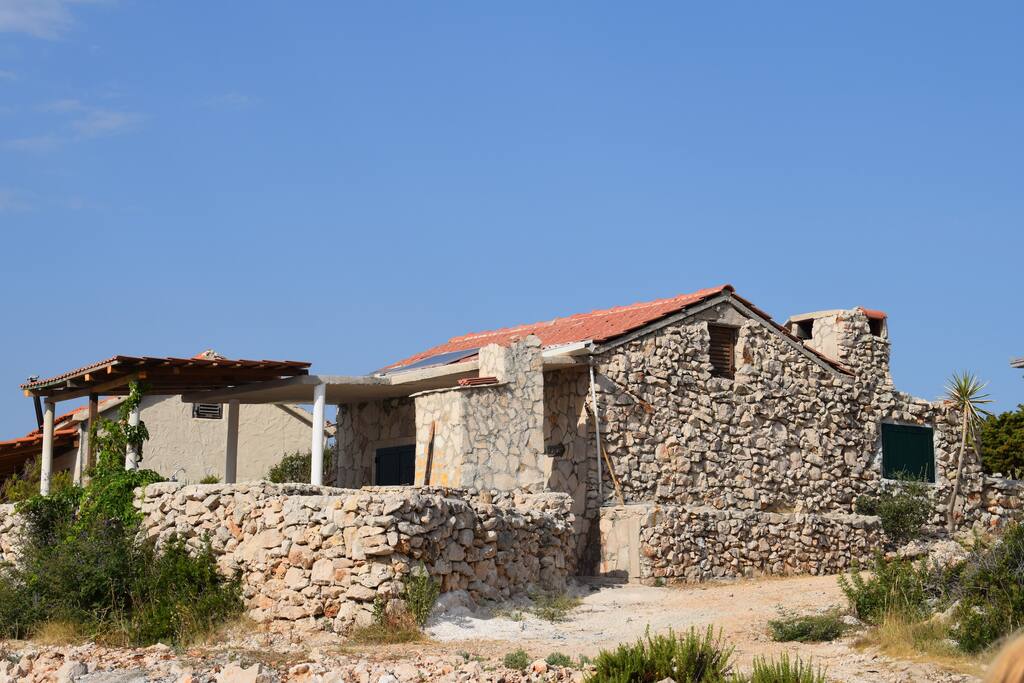 Tired of all this modern technology, busy way of today's life, desperately need a break? We have just the thing for you!
Tired of all this modern technology, busy way of today's life, desperately need a break? We have just the thing for you!
The space
If you are ready to leave your computer, TV or work and enjoy the simple things like beautiful nature, untouched and uncrowded beaches this is a house for you.
Location
Drvenik Veli is a small and low populated island with all the peace and quiet you need to have really relaxing vacation, but still big enough to have all essentials you may need like shops, restaurant, post office,…
It is a small island in Croatia, situated 1.8 kilometres (1.1 miles) from the mainland. Its area is 12.07 square kilometres (4.66 sq mi). The only settlement on the island is the village of Drvenik Veliki with a population of 150. The coast of the island consists of many sand beaches. The island is very well connected with Trogir and Seget Donji with farry 3 times per day (round 45 min ride).
Our house is situated on South side of island, in small cove named Pernatica, about 4-5 km from port and village of Drvenik veliki. With car it takes you cca. 10 min., and by foot half an hour. House is about 5 meters from sea without anything in front blocking the beautiful view of our adriatic sea and other islands. About 100 meters from house there is known and one of the most beautiful beaches on island, but also if you prefer wild beaches there are planty of them beneath house.
About house
House is made of stone, what comes perfect in hot summer days because it provide perfect cool temperature. House runs on solar power, because this part of island is not populated so electricity still have not been installed. This mean that electricity in house need to be rationally used. Two big and one small solar panel installed on roof provide enough electricity for refrigerator, lights, charging mobile, internet modem, laptop,... But things like hair dryer, iron, vacuum cleaners, washing machine, dishwasher electricity can't handle. Cleaned and very high quality rainwater is used for drinking, showering,... Here also on your mind should be rational use of water. There is unlimited internet but after1 giga download speed drops for that day, and after 24 hours the speed comes back for next 1 giga, and so on.
It's a small house,but still big enough to comfortably host 5 guests with everything you'll need for your pleasant staying inside house and with great surrounding like beautiful stone made yard around house, big stone table and seats in front the house, fireplace,...
If reading all this made you think this is my ideal vacation we are more then happy to host you and your family and provide you totally different type of enjoyment that will bring completely new dimension to your vacation.
---
---
Check in is anytime after 3PM
Please use rational energy and water
---
This accommodation does just what description tells you. It makes you forget about phones and TV and you start enjoying simple things around you. Before we came here I would not have guessed that I can stare at sea and waves covered with moonlight for 3 hours on every day of our stay. Jelena is very kind, she called after a big storm to make sure we are allright, she even provided us with a goodie pack at the start. I definitely recommend this accommodation to everyone who seeks a different approach to summer holiday trips and I will for sure consider another stay at this place :)
---
Super nice host, the House is simple and quiet as described, for people who want to chill and need nothing more but peace, the sea and a beautiful sunrise. Very little visitors to the beach, one can also sunbathe privately on the terasse. Car needed for getting groceries from the town across the hill! Post office, grocery shop and restsurant work special hours, inform yourself upon arrival. Jelena was available for questions and service ( detailed Description of Route to the House) before arrival and through stay. Suitable for small family, we will return!!
---
Response rate:
100%
Response time:
within an hour
Explore other options in and around Drvenik Veli
More places to stay in Drvenik Veli: