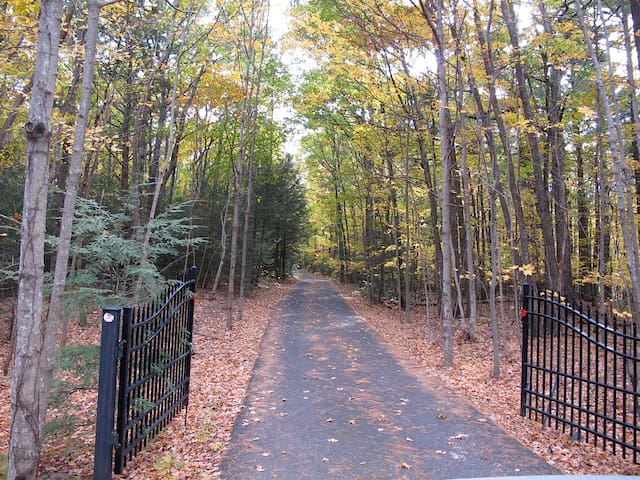 Waterfall House is like having your own private park! Set on 36 acres, this Modernist-design house offers true peace & quiet w. all modern amenities. 3 BR, 2 full baths, steam shower, WiFi, Satellite TV, cook's kitchen. Very "kid friendly" indoor playroom area as well as a child-size dining table & chairs.
Watch the leaves change through the huge windows, walk in the woods along the streat, and enjoy the wildlife. Only 12 min. to the center of Saugerties & 20 min. to Woodstock.
The space
At Waterfall House you can really get away from it all. Complete privacy awaits down the gated, .15-mile driveway that leads to this Modernist house in the woods. 3 bedrooms, 2 full baths, large modern kitchen, gas fireplace, steam shower, and a rushing stream that you can hear through most any open window. (Take a walk along the marked pathway through the woods, and you'll find your own private waterfall.
Yet, for all of the privacy, you are not isolated. You are only about 12 minutes away from the local grocery store and the center of friendly Saugerties, with all of its marvelous restaurants, antique stores, and HITS. In just 18 minutes, you can be in the center of Woodstock for a different kind of experience.
(40' solar heated swimming pool open from Memorial Day through Labor Day).
This property is very special. Newly renovated according to the design of a leading Hudson Valley architect, this one-story house takes the utmost advantage of the landscape. Mountains on one side, stream on another, magnificent woods all around—and you can see it no matter where you are in the house. Bridges lead across the stream, there is a seating area over the water, and you'll find an old-fashioned swing hanging from a tree limb.
The house has all the modern amenities. In the kitchen, there is a gas stove, farm sink, dishwasher, lots of beautiful cherry butcher block counter space, electric coffee maker, and quality stainless steel cookware. And, of course, we have the essentials: Central air, satellite TV, WiFi, and cell phone service.
The bedrooms are comfortable and are well separated from one another for privacy inside the house. The master bedroom has a queen-size mattress; the the en suite bathroom boasts a separate tub and a steam shower. The second bedroom also has a queen-size bed. The third bedroom has two twin beds. And the second bathroom has a bathtub and wall shower combination.
We supply all bed linens, towels, toilet paper, bath soap, and shampoo. We even have a blow dryer for you.
The solar-heated pool is fenced in for safety. It measures 40 feet long and is about 9 feet deep at the deep end. (We even supply the beach towels!) And it's so private here, there won't be any "Should we, or shouldn't we?" when it comes to skinny dipping—there's no reason why not!
The house is very child friendly. Lots of toys and games available for play, and a HUGE outdoor sandbox for the really little ones. Plenty of play space, too, with an area outside the third bedroom dedicated to children. We also have a Pack 'N Play, a booster seat for the big dining table, and a child-size dining table for 4 right in the dining room.
What else? Well, for the musician in you, if you are so inclined, we have an electric keyboard and a baritone electric guitar with amplifier!
AMENITIES
Kitchen:
Paper towels
Paper napkins
Dish soap
New dishwashing sponge
Dishwasher detergent
Olive oil
Salt & pepper
Some basic spices and herbs
Bath:
Bath soap
Shampoo
Conditioner
Toilet paper
Bath towels
Hair dryer
Bedroom:
All bed linens
Tech:
WiFi
Satellite TV
Cell phone service
Misc.:
Central air conditioning
Gas fireplace
Pool towels
Charcoal grill
Charcoal & matches
Trash pick-up
Property manager available to answer any questions or solve any problems
Guest access
Guests have access to the entire house and grounds.
Interaction with guests
None, unless you want it--you have total privacy. But the property manager is always available to help with any questions or problems.
---
---
Check in is anytime after 4PM
IN CONSIDERATION of the rent received and the mutual promises herein, the owner of the subject property, located in the Town of Saugerties, NY ("Owner"), through Robyn Pollins of Peace of Mind Woodstock, LLC., rents to this interested party that certain property described below and under the following terms and conditions ("Agreement").
1.PROPERTY: The term "Property" will refer to the one-family dwelling, other structures, grounds, land, pool, all interior and exterior furnishing, appliances, equipment, materials and supplies at the premises.
2.TERM OF RENTAL: This short-term rental begins at 4:00 pm on the date of arrival and ends at 11:00 am on the date of departure, as expressed by the rental site through which you are booking. It may be possible for us to arrange for and early check-in or late check-out. Please discuss this with the Property Manager and she will confirm any such changes via email.
3.PAYMENT: The total cost of your visit includes a cleaning fee and a security deposit. The Property Manager will check the premises within 48 hours of your departure and will return your security deposit in full or in part according to Property Manager's determination of whether the condition of the Property is the same as prior to your stay.
4.CANCELLATION POLICY: Should Tenant cancel the booking within 30 days or more of the check-in date, all funds paid plus full security deposit will be refunded, less a $100 booking fee. For cancellations less than 30 days in advance, cleaning fee and security deposit will be refunded. If you believe cancellation may be a possibility for you, please purchase trip insurance.
5.MAXIMUM OCCUPANCY: The maximum number of overnight guests for this property is limited to six persons unless arrangements are made and agreed to by Property Manager in writing prior to check-in date.
6.GUEST(S): Guests are defined as those overnight occupants listed on Exhibit A herein, or a visitor of the Tenant, or any other invitee. A visitor is an occupant in or on the Property that is not staying overnight.
7.TENANT RESPONSIBILITIES: It is fully understood that the Property should be left in reasonably clean, sanitary, condition; Tenant agrees to be responsible for any repairs necessary due to their negligence (or their Guest's).
8.RENTAL RULES: Tenant agrees to abide by the Rental Rules attached as Exhibit B at all times while at the Property and shall cause all Guests on the Property to abide by such rules at all times while at the Property.
9.ACCESS: Owner and Property Manager reserve the right to enter and inspect premises with a reasonable notice to Tenant.
10.OBLIGATIONS OF THE PARTIES: It is understood that Tenant is responsible for all damages. The Owner and Property Manager are not responsible for lost or stolen items. Nor are the Owner and Property Manager responsible for any loss or damage to Guest's property. Any damage incurred to the Property or house furnishings will be the responsibility of the Tenant. Also, let it be understood that Tenant on this Agreement is representing Tenant will be at least 28 years of age. Tenant acknowledges that at commencement of the rental, the Property is in good and substantial repair (unless otherwise indicated by Owner or Property Manager) except for any defect Tenant may report to Property Manager during the first day of the rental. Any damage or breakage must be reported to Property Manager on or before the day of departure. The Owner and Property Manager are not responsible for any inconveniences that may occur for which they have no control. This includes, but is not limited to: power outages, adverse weather conditions, mandatory evacuation, construction, mechanical failure such as pool, television, etc. No refunds will be given for occurrences beyond the owner's control.
11. SPECIAL EVENTS: Tenant may not throw a party or large gathering at the premises without express written permission of the Property Manager.
12. POOL: Owner and Property Manager are released from all liability for any injuries or death resulting from Tenant or Guest's use of the pool. Tenant must sign and return to Property Manager the pool waiver provided herein prior to any use of the pool or related area. Tenant assumes the responsibility for the safety of their Guests, and will cause all Guests to be aware they utilize the pool at their own risk and understand certain risks outlined in the waiver herein.
13. INDEMNITIES: Any unsafe or dangerous condition must be reported to the Property Manager immediately. Tenant acknowledges that the use of the Property is entirely at the Tenant's and Guest's risk. Tenant shall indemnify and hold harmless Owner and Property Manager against and from any and all expenses, costs, damages, suits, actions or liabilities arising from or in connection with any and all loss of or damage to personal property, injury or death resulting from the Tenant and/or Guest's use of the Property. Tenant also agrees to defend owner and his agents from any lawsuit alleging damages and/or personal injury that occurred during the Tenant's rental of the Property. Tenant assumes any and all liability associated with their Guests, and agrees to indemnify and hold harmless Owner and Property Manager for any damages or other liabilities caused by such Guests.
14. ENTIRE AGREEMENT: This Agreement and attached waivers, disclaimers and rules, constitutes the entire agreement of the parties and supersedes all prior or contemporaneous oral or written agreements concerning this subject matter and should be governed by the laws of New York State.
UPON WRITTEN ENDORSEMENT, YOU AGREE YOU HAVE READ AND UNDERSTOOD THIS AGREEMENT AND ACCEPT ALL TERMS, CONDITIONS, AND RESTRICTIONS WITHOUT EXCEPTION:
 
EXHIBIT A: RENTAL RULES
1.OCCUPANCY: Persons other than the Tenant and those Guests in Exhibit A may not stay overnight in the property. Any and all persons in or on the Property are the sole responsibility of Tenant. Guests are not allowed to exceed the occupancy limit agreed to above.
2.Pets: Pets are allowed with the permission of the Property Manager. There will be a one-time $50 pet fee included in the total cost.
3.NOISE: Tenant and their Guests shall respect the neighbors' wish for peace and quiet, and not make excessive noise; otherwise, the neighbors are within their rights to call police. If noise created by Tenant or their Guests is such that police are called to the premises, Tenant will forfeit their security deposit in full.
4.FIREARMS: Firearms or weapons of any kind including paint ball guns, pellet guns, BB guns, pistols or rifles are strictly prohibited.
5.HUNTING: Hunting is not allowed on the Property.
6.GRILLING: Grill must be used in area provided and cleaned after each use. This is mainly to prevent attracting bears.
7.GLASSWARE: May not be use at the pool, please use plastic instead.
8.NO SMOKING: Smoking is strictly prohibited inside the house and that evidence of smoking inside the house will result in the forfeiture of the full security deposit. It is further understood that all evidence of smoking outside the house (including cigarette butts, ash, etc.), will be thoroughly removed and cleaned; any remaining evidence of smoking may result in additional cleaning costs that may be deducted from the security deposit.
9.LOCKED AREAS: Tenant may not be provided a key or access to Owner's personal storage, outdoor shed, or any other locked areas. Any attempt to enter these areas is cause for immediate termination of this Agreement, forfeiture of all monies paid, and Tenant will be liable for any damage and/or missing items.
10.FIRES: Outdoor fires are permitted in the fire-pit only, Tenant and their Guests are responsible to be aware of local ordinances and seasonal fire bans. Children must be supervised at all times near any fire and such fire should not be left unattended.
11.WATER AND SEPTIC: The Property is on well and septic systems. The septic system is very effective; however, it will clog up if improper material is flushed. DO NOT FLUSH anything other than toilet paper. No feminine products should be flushed at anytime. If it is found that feminine products have been flushed and clog the septic system, you could be charged damages.
An additional Welcome Book is provided on the Property, please read and understand the content therein and adhere to any additional rules or guidelines provided.
 

SWIMMING POOL WAIVER AND PROPERTY DISCLAIMER:
Owner and Property Manager are released from all liability for any injuries or death resulting from Tenant or Guest's use of the Property. Pool, all water features, koi pond, waterfalls, streams, marsh area, and bridges, are potentially hazardous, and these areas in particular, and entire property in general, present natural, animal and manmade risks that can vary dramatically with weather, especially to young children, but also to adults and that the renter solely bears these risks and their impacts entirely themselves and absolves the owner and its agent of any potential or actual harm or injury they or their guests sustain during their time on the property.
The undersigned acknowledges and understands no lifeguard is on duty and pool usage is at their own risk. Tenant also assumes all responsibility for ensuring the safety of their Guests and causing them to be aware of the risks described herein.
Proper supervision of children is required at all times while in and around the pool. Children must not be allowed to enter the pool without an adult actively supervising. Please consider whether you can provide the necessary supervision before bringing children to the Property.
Owner provides pool maintenance through a third party that is unaffiliated with Owner and Property Manager. Neither Owner nor Property Manager assumes any responsibility for supervising the existence, frequency, or adequacy of pool maintenance. Inadequately maintained pools can cause viral or bacterial illnesses that could be life threatening under various circumstances. Owner and Property Manager do not inspect or test the pool for the presence of health threatening organisms. When Tenant or Guests use the pool, they assume the risk of illness from an improperly maintained pool or and they release Owner and Property Manager from any liability for injury or damages resulting from the use of an improperly or inadequately maintained pool.
ALL SWIMMING AND USE OF THE POOL AND SURROUNDING AREA IS AT YOUR OWN RISK. YOU ARE RESPONSIBLE FOR THE SAFETY OF YOUR GUESTS.
MAKING THE FIRST PAYMENT SIGNIFIES THAT I ACKNOWLEDGE AND ACCEPT THE RISKS AND TERMS ABOVE.
---
We had a great stay in Woodstock. The house is very well appointed and the property is a lot of fun. We spent our days cooking up a storm in the fantastic kitchen and exploring the picturesque woods with our dogs. And maybe a little too long in the steam shower. The house is in a great location too, very close to Woodstock town. Our host made everything very easy for us. Would recommend to anyone thinking of venturing there.
---
This was a beautiful house with a great kitchen! Definitely family friendly. As it's getting colder I wasn't able to check out the pool but looks like a great place to hang out in the summer. Downsides for me was the minimal WiFi but understand given it's a rural area, also it's a bit noisy in the 2nd bedroom with people chatting in the living room at night. Convenient location to get to Hunter Mountain. Thanks very much for hosting us!
---
This was my first experience on Airbnb and it was an amazing one. Every part of the experience was seamless and the place itself was awesome. While the place would have been great at other points in our lives, it was ideal for a family vacation. We had three children (two 3 year olds and a 1 year old) and two sets of parents and the place was well equipped for all our needs. Added bonus is the pool is better than in the photos as is the sitting area by the waterfall. Terrific overall!
---
This place was amazing, I almost don't want to write how wonderful it was because we want it to be available when we book it again! Robyn was extremely helpful, and organizing it all was very easy. The house was perfect for small children, fully equipped kitchen and lots of toys, and it was the cleanest airbnb we have ever stayed in. The grounds are stunning, with a river running along the bottom of the garden. We spotted a family of otters playing in the river. All in all, a great and relaxing weekend away from New York. Thank you so much :)
---
Woodstock, New York, United States
Joined in July 2012
Peace of Mind Woodstock is based in Woodstock, NY, and serves Woodstock and vicinity. It was founded in 2004 to manage private homes as well as rental properties. Robyn Pollins and Toby Heilbrunn, proprietors. Robyn Pollins holds an MBA in Finance. After working as a financi…
Languages:
English
Response rate:
100%
Response time:
within a few hours
Explore other options in and around Saugerties
More places to stay in Saugerties: