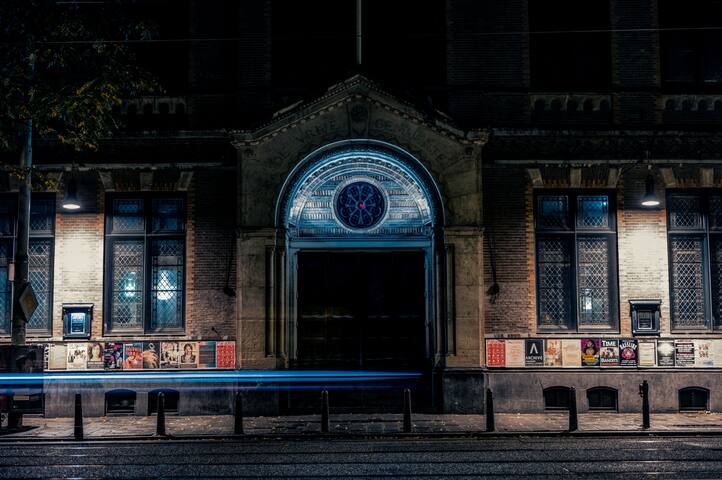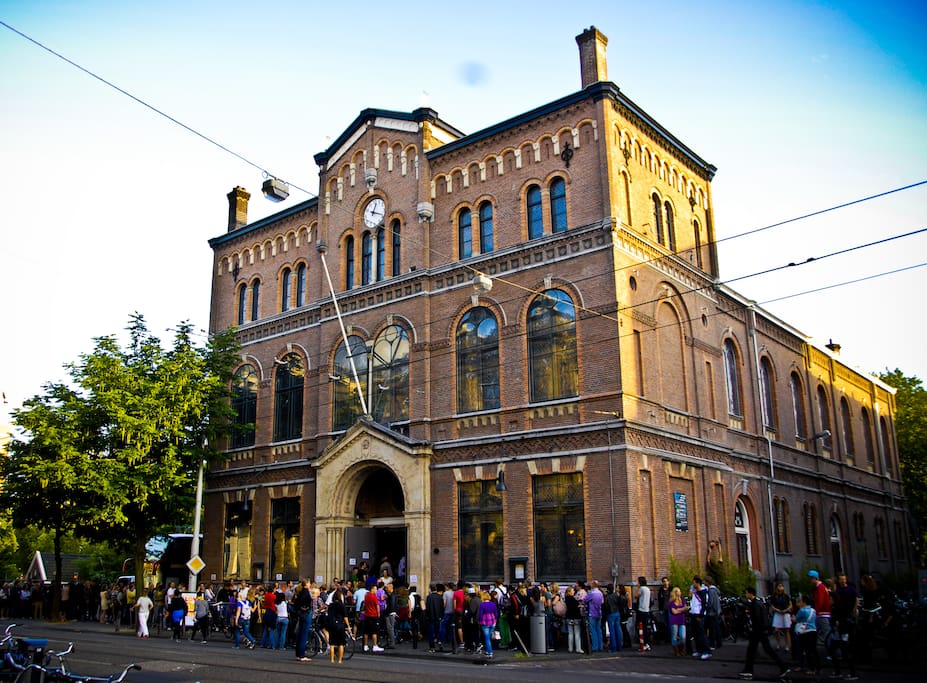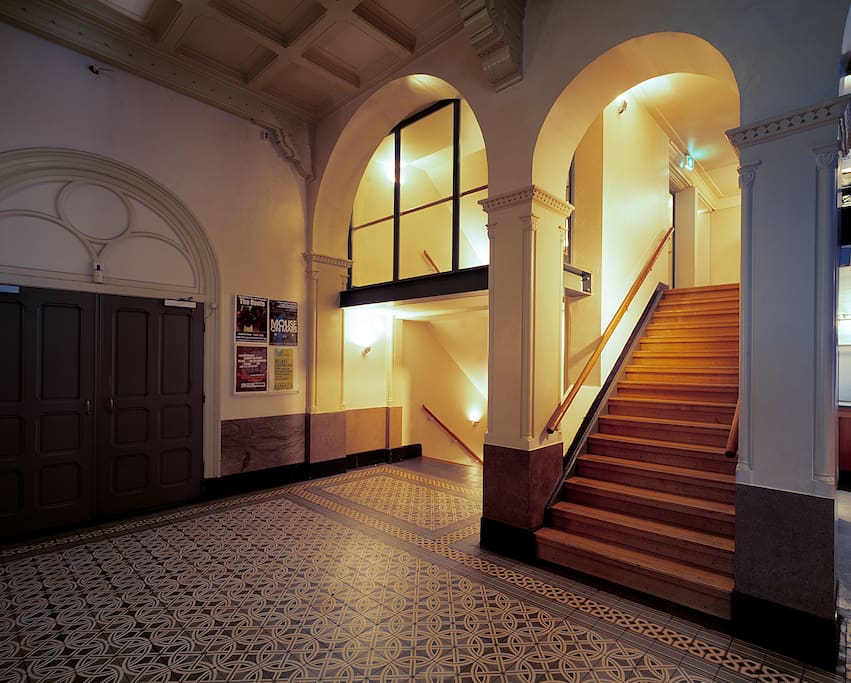 Paradiso - monumental sleepover in rock temple
## THIS CONTEST IS OVER | PARADISO IS NO LONGER AVAILABLE ON AIRBNB ##
Cosmic relax centre Paradiso is situated right at the Leidseplein in Amsterdam. All sorts of cultural activities, restaurants and bars are located within walking distance of the building. Inside you will find an oasis of rest, as Paradiso is fully isolated from noise from the street. The Rolling Stones, David Bowie and Prince were among the visitors before you and they surely enjoyed their stay.
The space
## THIS CONTEST IS OVER | PARADISO IS NO LONGER AVAILABLE ON AIRBNB ##
As you walk through the spacious entrance hall, you will first reach the gigantic master bedroom with a size of 500 square meters. In it there is a kingsize bed with all the equipment you need for a good night's rest.
On the ground floor there is a quite a few toilets available. From practical urinals to comfortable toilets to sit on. There is also a recently renewed lounge area where you can lay your feet to rest and read a good book.
On the first floor you can keep your personal belongings safe in one of the 200 lockers, which you can rent for 2 euros per locker. Next to the lockers you will find the smoking area.
The second floor is equipped with one of the biggest walk-in closets of the world. You need to bring a whole lot of suitcases to fill up 112,5 square feet. Just behind the closet there are doors to the two floor vide, which nicely over sees the master bedroom.
Thanks to the good isolation in the building, you are protected from the noise coming from the Leidseplein. You will enjoy you stay in an oasis of rest as you gently listen to the stories this historical building has to tell you.
Breakfast is included
Do not worry about an empty stomach in the morning, because a nutritious breakfast is served daily at 10 am.
Guest access
The offices and backstage areas are closed between 6pm and 10 am.
Interaction with guests
On working days, between 10 am and 6 pm, several guests will be working in the building. Enjoy the dynamic habitat and do not fear to interact. After 6 pm Paradiso comes to rest and only a security guard will be at the door to guarantee your safety.
Other things to note
Please send us a good motivation why you want to stay at Paradiso. What is your link with our building? We will select the best motivation in due time. Please be patient as we read through your enquiries. We will let you know at least a week in advance.
---
---
Not safe or suitable for children (0-12 years)
Check-in is after 12PM (noon)
---
Geslapen in Paradiso: we kunnen het nog steeds niet helemaal geloven! Ik kan niet genoeg benadrukken hoe verschrikkelijk dankbaar we zijn dat we dit met z'n tweeën hebben mogen meemaken. We voelden ons een nacht lang de ultieme rocksterren: ontvangen worden met een frikandel speciaal, champagne in bed, een rondleiding langs álle hoeken en gaten van Paradiso, bier in de tuin (en dan heel hard tegen alle passerende boten schreeuwen dat je hier slaapt vannacht), je naam op de deur en de fantastische beveiliger Matteo die ons bestelde eten zelfs tot aan het podium bezorgde. We hebben over de grond gerold, een badmintonrally gespeeld, met ukelele en mondharmonica opgetreden, Jon Bon Jovi geplaybackt, drie uur aan filmmateriaal geschoten, in het donker naar de discobal gestaard, gelachen tot we huilden, met de deur open geplast, wel honderd keer gezegd hoe absurd dit was en uiteindelijk zelfs nog even daadwerkelijk de ogen dichtgedaan. Het was onovertroffen en iets dat we nog heel vaak tot in de puntjes zullen nabespreken. Ontzettend, ONTZETTEND (!!!) bedankt voor de fantastische herinneringen die we hier hebben mogen maken. Ik schreef al in het gastenboek: "het is dat we het zo gezellig hebben samen en nog wel het een en het ander op de planning hebben staan maar anders kun je natuurlijk gerust sterven na zo'n nacht'. Nou, en zo is het. Paradiso, DANK JULLIE WEL!!!!
---
WAUW! Wat was dit een ervaring! Een betere airbnb hadden wij ons niet kunnen wensen! Het enthousiasme van het personeel was geweldig! We zijn verwelkomt met een 2 uur durende rondleiding van Noot (die al ruim 35 jaar werkzaam is bij Paradiso), waarbij we echt elk hoekje van Paradiso hebben mogen bekijken, geweldige verhalen hebben kunnen delen en ons echt super VIP's hebben gevoeld. Alles was tot in de puntjes verzorgd: van eigen posters op de zaaldeuren tot een gevulde koelkast in de kleedkamer, een bed midden op het podium, en toegang tot alle vertrekken. We hadden ons geen betere beleving kunnen voorstellen. Dank aan Jurry, Noot, en alle anderen die op deze speciale dag aanwezig waren, jullie hebben ons geweldig ontvangen, we voelden ons echt thuis. Het was dan ook raar om de volgende dag, na een heerlijk uitgebreid ontbijt, weer te vertrekken. Bedankt allemaal, het was onvergetelijk!! Mijn vader heeft op en top genoten en blééf verhalen vertellen over alle acts die hij hier heeft gezien in de afgelopen 45 jaar. En om daar dan samen van te kunnen genieten was helemaal TOP!! Bedankt PARADISO!
---
Paradiso is een woning in Amsterdam met een capaciteit van 1,500. Grote artiesten als The Rolling Stones, Prince en David Bowie bleven al een nachtje logeren in deze voormalige kerk aan het Leidseplein.
Explore other options in and around Amsterdam
More places to stay in Amsterdam: