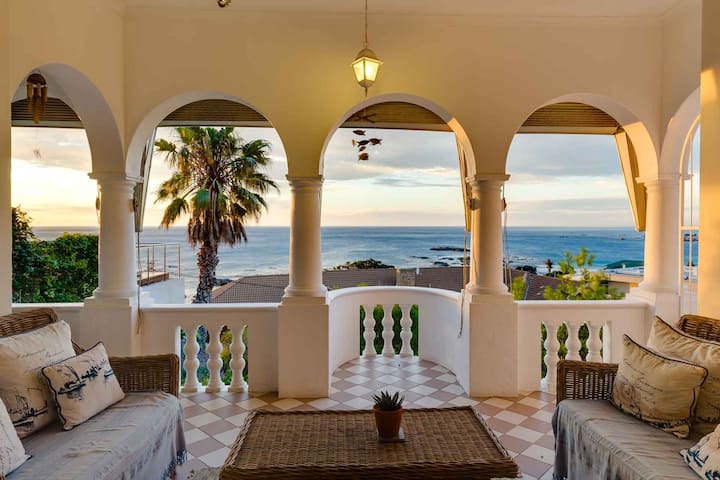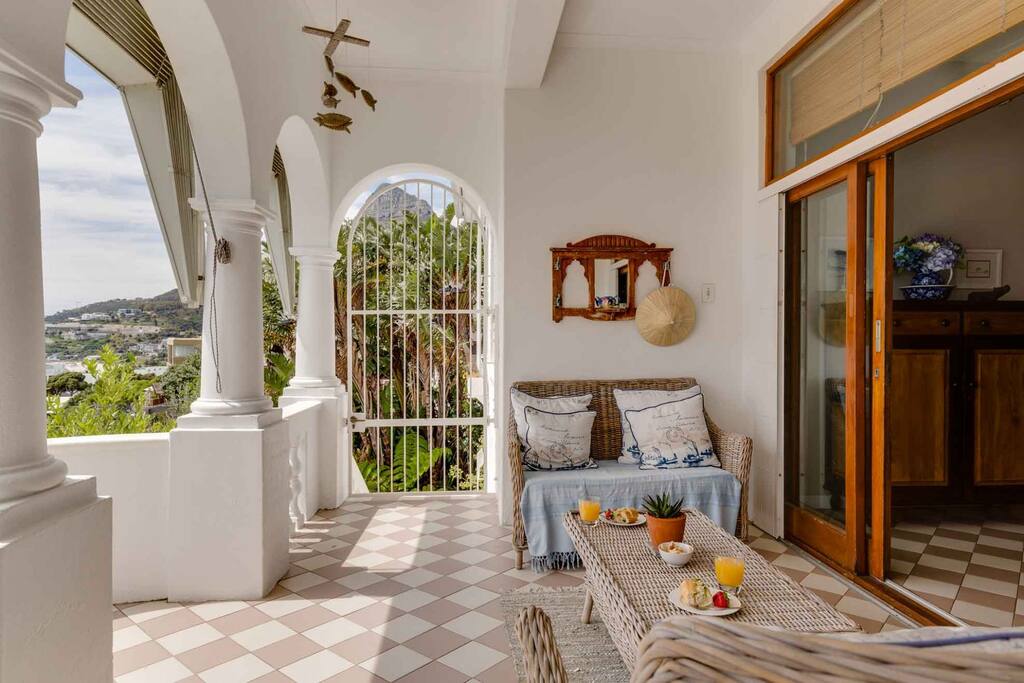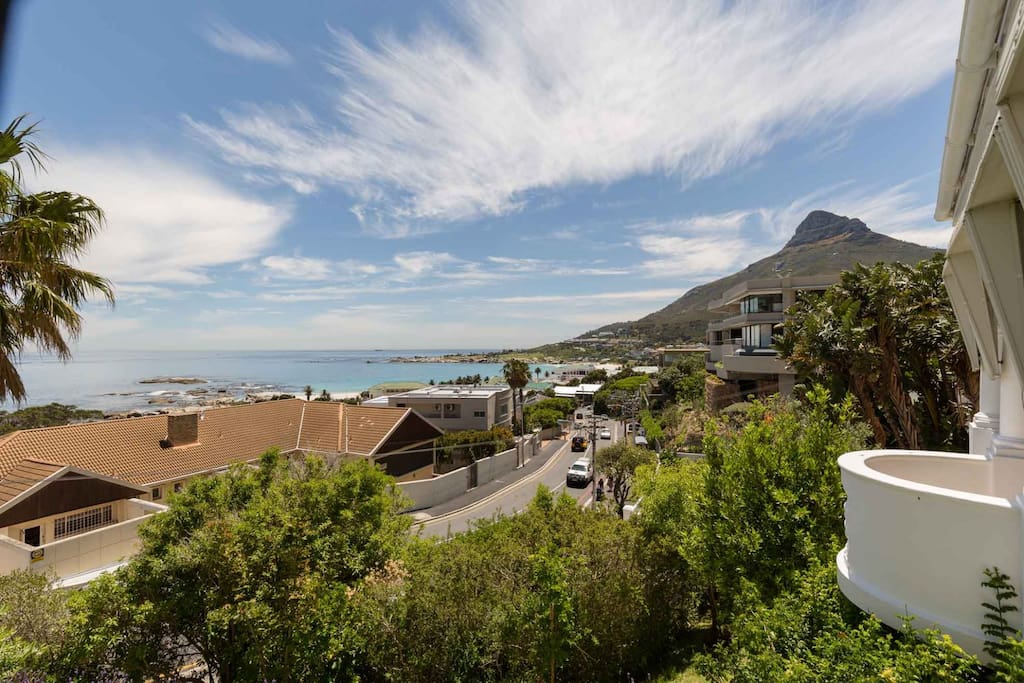 About this listing
Fully serviced with cleaner.
Airy open planned, spacious, safe & beautifully positioned with a commanding view over world famous Camps Bay; our villa nestles on a north-facing ridge at the foot of iconic Table Mountain. Ample parking, adjacent MyCity & red-bus tours bus-stop.
>40 x First class restaurants, superette, Euro Deli, live theatre, nightlife - all an easy amble away.
Our spectacular spot is great for couples, solo adventurers, business travelers, families (with kids), and big groups.
---
---
---
The space
position, Position, POSITION... there is nothing more important - and this property screams it.
> The house has a 5-day per week cleaner to keep your vacation spot crisp and tidy.
A dominating view over the suburb and its famous beach, you're a pleasant stroll from the water and 40+ restaurants. In summer, it's hard to find parking closer to the beach than you'll be living.
Speaking of parking - there's place for 4 cars off-street.
Everything about this home insists "RELAX you're on vacation!". Spacious open plan chef's kitchen yawns onto a comfortably furnished living area with magnificent wood floors and rustic rafters. Ideal for cooking and socializing long into the night.
Air conditioned in every bedroom allows you to escape the great outdoors in the height of summer, or when you need to turn up the heat in the grip of a winter storm.
This is your ideal getaway villa near the beach and the city. It is in perfect proximity to everything you'll want in a vacation... it's located at that critical point between being in the heart of the action and needing a car to drive to it. Your new home allows you to park your car and never use it again, yet not be disturbed by the frenetic energy in summer.
The views are spectacular and the sounds of the ocean will lull you to sleep every night.
Managed with pride by #AirSupportCT
Guest access
Much of South Africa needs high walls and electric fences, but not our suburb.
We are an oasis of calm - a little piece of the French Riviera - but at a fraction of the price - and with much more diverse culture and ocean life.
Yes... before you have to ask... you can take evening strolls down to the beach or up the mountain too.
The only intruder you have will be the sounds of the surge and wash of the ocean at night reminding you that you're on vacation in a very special place.
We keep saying it - you're closer to the beach than most can park.
This is as important in the winter as the summer - there is nothing quite as exhilarating as watching a South-Atlantic storm howling in with gargantuan waves reminding you why this "Cape of Storms" struck terror into the hearts of the most hardened seafarer.
There's of course a deck and pool on the warm north side of the house.
Interaction with guests
We are there to settle you in, to ensure you have everything you need; and are ready at your beck and call to assist you with whatever you need.
Where needed, we'll arrange your airport transits, tours and even eating tours (doing it ourselves if possible)... or... we'll stay right out of your hair.
Hey - it's your vacation, you're the boss.
The neighbourhood
There is a 'smile-factor' in Cape Town and Camps Bay that is rare in this world: Smile at a stranger and they're sure to smile right back.
This might sound like a small thing, but it really matters when you're on vacation.
The reason? It could be that our scenery is spectacular and that the laws and rules are relaxed, our ocean is clean, our transport is first world... what more can be said?
The experience is just what you were hoping for and deserve.
We're the same distance south of the equator as Los Angeles is north of the equator. The result is that our winter is like a European summer.
Winter brings a raft of fantastic new opportunities: It's when the best surfing, fishing, diving, hiking, etc. arrives.
It's the time for languid afternoon picnics with crisp white wines on the lawns of our majestic wine estates and for bundling indoors around a fireplace sampling the reds as night creeps in. It's the time when you can catch local sport at its best, with our diverse and colourful crowds at modern arenas.
And we're not too far from our spectacular West Coast flower bloom and the enigmatically named Namaqualand painted desert.
Getting around
Like any major city, Uber is buzzing here.
The exceptional, brand new and modern MyCity bus rapid transport infrastructure has a bus stop 20m from the front door. We even have a bus card(s) for you so you don't need to trouble yourself with acquiring one.
Want to go on a tour? We can arrange it or use the Red topless tour bus - the stop just across the road.
If you want to try your hand at anything... golf, diving, cycling... paragliding (tandem jumps from the mountain right behind you), abseiling off Table Mountain... lion park visits, wine tours, trip to Robben Island... you name it and we'll either already have it ready to drop off or we'll organize.
Other things to note
We love people.
Please read our reviews - hospitality is what we do - adding value to your your memories.
Camps Bay is among the most expensive chunks of real estate in all of Africa - and for good reason; it is spectacular and unique.
There is nothing quite like it in all the world - a pristine stretch of beach with sand like white sugar on our doorstep and a mountain providing every home with privacy and view. Our ocean is crisp and cleaned by the vastness of the South Atlantic - ours is the first and only human settlement it touches as it circulates from a pollution free zone.
Our fabulous city is just 5 minutes away. The drive takes you along an excellent double carriageway road over a breathtaking mountain pass. Every time you come or go from the suburb, you will be astounded all over again that such beauty can exist on commute.
A supermarket, restaurants, library, theatre.... and every other infrastructure you could wish for will all be within walking distance from your new home.
Camps Bay is as if a piece of unspoiled Southern California was dropped into a paradise; but at a fraction of the cost and crowds.
Prepare to fall in love and never want to leave.
---
Check in is anytime after 2PM
Self check-in with lockbox
We're using the "rules" section to communicate very important info.
Please contact us on mobile
VERY IMPORTANT - ARRIVAL INSTRUCTIONS:
For your maximum enjoyment and peace of mind:
It is necessary her to briefly paint a picture of frustration for you… so that you take the rest of this message very seriously and act on it immediately:
Imagine that you have traveled hours on a plane - all you want is to put those bags down, take a shower and rest or eat.... but you do so without having first communicated with us and/or you follow a map to the one we will send to you.
You wind up on the wrong side of the city, in a less than desirable suburb or arrive at the right address... but we're not there to let you in because we don't know when you're arriving.
I warn you about this because it happens to about 10% of folks who visit: They rely on taxis or GPS to navigate... but this is a big city and often street names apply to several suburbs... so they're at the wrong address.
____
This instruction procedure will ensure that this never happens and both you and we avoid frustration - we avoid sitting for hours and you don't turn up, and you avoid getting lost or standing on the sidewalk getting angry:
We live some distance away from the property you're staying in so that if you only call us to say that you're already standing at the front door; even with best traffic conditions, it will still take us some time to get to you to let you in.
Fortunately - we can overcome this frustration with clear communication.
Please follow this procedure:
1)
If you are not on W_H_A_T_S_A_P_P (shorthand: Whasapp) - please do consider using it... with it we can very easily share interactive maps, home manual, weather links, etc.
For that purpose:

Please capture these above numbers in your mobile phone *now*.
Many travelers seem to use different numbers to the number listed with Airbnb - this effectively means we will try to reach you through the listed number and you'll think we didn't bother because it doesn't reach you.
**Please let us know ASAP what number is best to reach you**
3)
We manage several properties besides this one, so that we sometimes have quite a few checks-ins on a given day.
It's our pleasure to be there to welcome you when you arrive - but it is impossible to guess what time you're going to arrive unless you share that information with us.
The last thing we want is to leave you standing and frustrated outside of a house when you can't reach us last minute.... we ride motorbikes to beat the traffic, and so often have helmets on and could easily miss your frustrated calls...
...let's rather plan your arrival and be in full agreement on when it is we must be there - and have a method to communicate if plans change:
4)
As soon as you have a FLIGHT NUMBER, please share it with us... we can then track your flight and see any delays.
From this we can estimate ETA: You may be half an hour or more collecting luggage, clearing customs and arranging transport.
Depending on traffic, the drive from airport to your destination is 30 to 60 minutes.
5) If you are not coming from the airport/flight - please give us an estimated time of arrival.
6) This Airbnb messaging system is good - but it isn't good enough for last minute refinement of arrival arrangements - hence... or at least messaging (SMS).
7) IMPORTANT: When you *LEAVE* the airport (or estimate you're 30 minutes from arriving)... that is the time to please contact us and tell us that you're now very close to arriving.
Please be sure that we respond to that message so that you know that we are in direct contact.
8) We always send to you (on Whasapp) an interactive Map link.... *please use it*
I cannot tell you how many guests rely on taxis or GPS to find their way and they wind up getting lost or at the right street and number... in the wrong suburb!
The solution is the map we send to you.
___
9) Our checkin time is 2pm - this is not to be difficult, but very often we have a same day checkout (at 10am) and we need to get in and turn the place around completely to make it as close to 5 star as we can…
… We understand - after you've travelled, you want to just put your bags down (maybe shower) and get on with your day. Where we can, we will accommodate you on this - if only to hold your bags.
___
... We really want to give you a fantastic experience - and it starts with your arrival.... and your smooth welcome begins with us communicating.
####
Absolutely No indoor smoking
Not suitable for pets
Absolutely No parties or events
Check-in is after 2PM
We're extremely proud of this spectacular space, it is decorated with all the things we know you'll like - please respect them.
Let's begin our relationship in the spirit of you having a great time while respecting our neighbours: It's a simple message, we're certain you'll treat our home and neighbourhoods as well as you treat your own home; and we thank you for this.
We of course want you to have the time of your life... and all around you are folks who also deserve the time of their lives too. This means consideration shown to you by them, and to them by you. This is not rocket science, it's stock-standard close-proximity living :-)
Although this is a playground for your vacation, there are of course ordinary families on all sides by who need and deserve their rest too. So, the house rules flow from this; be kind, be gentle, be considerate - to all around you. Thanks so much.
We are in the grip of an extremely bad drought - please be sparing with water (and sorry about the garden, but watering is banned).
####
Alarm Code: 2512
The alarm panel is just inside the main door - on the left wall, beyond the door to the bedrooms.

All the best, and see you soon.
---
Moderate
Cancel up to 5 days before your trip and get a full refund, including service fees.
---
---
---
Exact location information is provided after a booking is confirmed.
Michael and Kirstin's place was absolutely amazing. It was spectacular in everyway! The views, the rooms, the kitchen and open air were only a few reason why we loved it. We felt at home and comfortable and it was the perfect place to relax for 6 people. Also, Rene was lovely and helpful. Thanks for the awesome stay!
---
This villa is in a great location, with a parking space and seems to provide everything you require for a relaxed family stay. There were 9 of us staying in this property including two pensioners, three children aged 3,5&8 and this villa was perfect. We hired a car so didn't use public transport, but bus links are just outside the property making it accessible and easy to get around. We found that the basement bedroom was a little difficult to sleep in on particular hot nights due to not having any air-conditioning. The property is very secure and we all felt very safe and confident in the area. Michael was great prior to our stay and helped us plan our visit. Be mindful that the property is located high up (amazing views) so there are a number of steps to access the property. And the tiled steps become very slippy when wet so be careful. Finally, the views... wow!
---
You will not regret staying at this place. If you get a chance to be in Camps Bay for a few days, and want to be a 15 minute Uber ride away from central Cape Town...this is by far your best bet. From booking to checking out, everything here was beyond expectations. Communication and help from the hosts, Kristen & Michael, from the start was great. They were flexible with check-in and the place was in great condition when we arrived. We met Kristen and the housekeeper Renee, both were great. Kristen, explained everything about the property, which I admit there is a lot going on between different keys and procedures, but it is not difficult to figure out. The property has an incredible view of Lions Head and other mountains, along with an indescribable view of Camps Bay beach. I compare it to the multi-million dollar properties that you never get to see in Laguna Beach, CA...only 10 times nicer. Everything about the description is accurate. No need to go into detail here. Never once was there an issue with safety, and its a 5 min walk to the beach. Pool in the back was awesome, and creepy crawly is definitely the best name for an automatic pool cleaner. We had a party of 3 couples and each room has its own pros-cons, so that was never an issue. Bathrooms are great, tons of space, and even an extra room that we used for storage. Washer/dryer for any cleaning needs, along with all the linens/towels you could ever need. Kitchen is full with everything even though we ate out almost every night. Hosts were very responsive if we needed anything. Can't recommend this place any more that I am.
---
Cape Town, South Africa

·

Joined in November 2014
As well traveled entrepreneurs with extensive experience in hospitality, we're extremely excited to share our native Cape Town with you.
We're cheerful, relaxed and committed to making your vacation memorable.

We live by the motto that a stranger is just a friend you haven't met yet.

If you have never tried South African cuisine - prepare to be delighted: Founded as it was on the spice trade, frequented by every sailing nation and with the unique flavours of a new continent; It was the first truly fusion food in the world. We love it - and we want to share it with you if you're game.

We have chosen to live on a narrow Peninsula - a spine of mountain range that divides two great oceans with entirely different characters; and this says much about who we are:
We love change, we embrace new ideas, we're not afraid of a bit of a climb and a shift in climate.
We fit in with any environment and are grateful for every day that dawns over our paradise and our fellow travelers here.

We bring slightly different outlooks an skills:
> Kirstin* has a love of mystery and the spiritual journey
> Michael** is a science junkie with a skeptical squint that wants the hard logic and evidence.

It lends us the unique characteristic of handling every unfolding aspect of hospitality and life with lots of perspective and goal orientated outcome.

*Kirstin says:
"Airbnb feels like a destiny come true. My family were and remain real estate agents and property developers, so that I was pickled in a brine of learning what people really want, and serving it up. My very first job began in a hotel, and then my career path took me all over the world, staying in every kind and level of hotel, motel and guest house or lodge. People are my interest and business. It is my pleasure to make your visit a very special one."

**Michael says:
"I was born to host... My parents were extremely sociable and I cannot tell you the number of times they would strike up a conversation with complete strangers - and if those strangers were from out of town and staying at a hotel, my folks would say (especially if they were foreign)... 'Ridiculous! You can't stay in an impersonal hotel you have to experience South African hospitality'... and home they would be brought.
They were right, we had such a beautiful big home hanging over the ocean that it would be a pity not to share it. The consequence was that we'd always have strangers in the home that very quickly became lifelong friends... as it should be in this human experience."
Response rate:
100%
Response time:
within an hour
Explore other options in and around Cape Town
More places to stay in Cape Town: