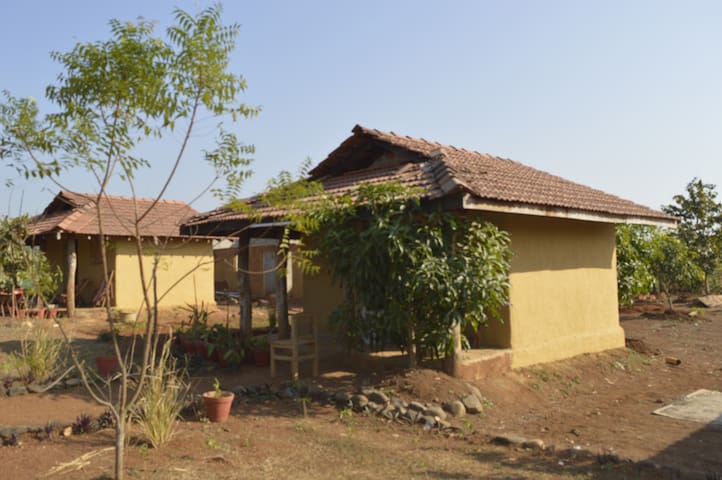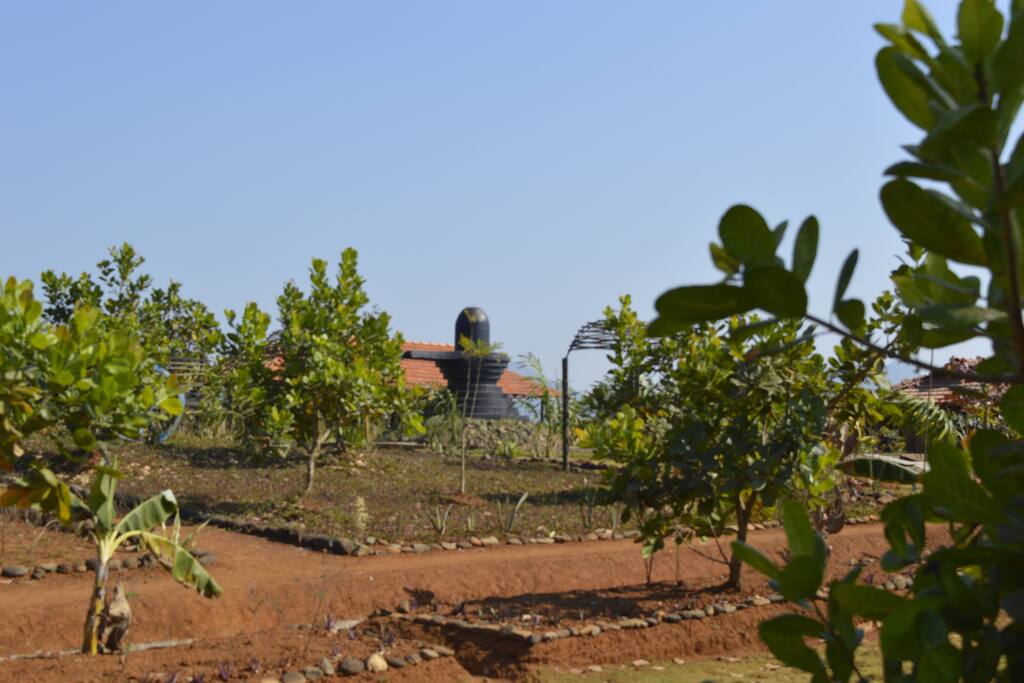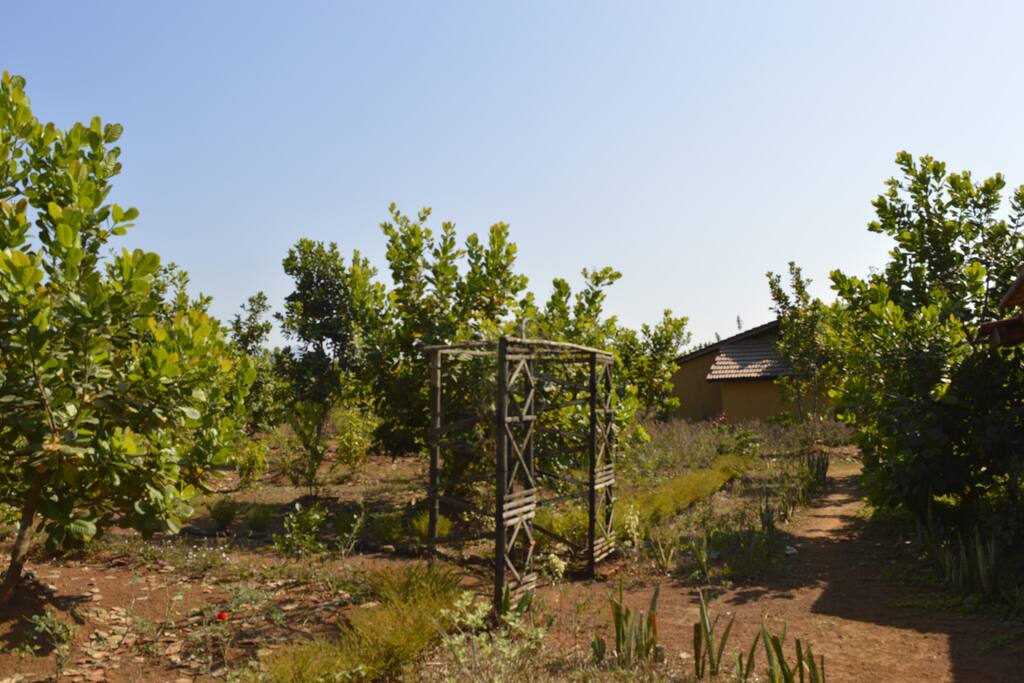 De-Stress Package in Ayurvedic Village @ Dodamarg
De-Stress Package in Ayurvedic Village @ Dodamarg
Established nature cure centre situated in the bed of mother nature our primary aim is to provide treatment to all those who seek it, be they patients suffering from Chronic illnesses or people trying to gain relief from daily life pressure. Also to create awareness regarding the effectiveness and necessity of Ayurveda, Yoga and Naturopathy.
Located over three and half acres of open land surrounded by hills in the Konkan region known for its natural beauty and abundant availability of herbs.
The space
Designed like an old village accommodation is available in old ancient type of Mud Cottage Huts with attached toilet bathroom. Different types of Huts are available for Accommodation. There is also a dormitory for a large group of people, the centre can accommodate up to 32 indoor health seekers. The naturopathic and Ayurvedic treatments are based on an integrated treatment plan involving such as Yoga, Pranayam, Meditation, Panch-karma, Shirodhara, Natural diet, Oil massage, Mud bath, Steam bath, Relaxation techniques, Counseling, Magnet therapy, Acupressure therapy etc.. There are separate treatment rooms for Ladies and Gents. Therapies are provided by trained technicians and supervised by qualified Naturopaths and Doctors. Well trained staff provides friendly service and support in Administration, housekeeping, nursing, treatment rooms, kitchen, maintenance, gardening etc.
There is open prayer and yoga place under a Saptparni tree. The center operate fully functional Vegetarian kitchen who cook traditionally and caters on Banana Leafs as per requirements.
The center also has a Beautiful well maintained Therapy pool full with water containing Ayurvedic medicines and flower petals and hubs for relaxation and There is ample of space for Sun bath and relaxing around the pool. A portion of land utilized for Goshala Cattle Shed. There are more than 5 cows are in our Goshala. We feed cows with Grass and Herbals it gives Ayurvedic properties in Milk and Ghee.
There is also a special cottage hut for Asthmatic Patients neighboring the Goat Shed. Asthmatic Patients are kept near the goat shed and fed with goat milk for treatments.
A portion of land at the campus is utilized for Ayurvedic Medicines garden for growing and producing Ayurvedic medicine and Creating awareness regarding the effectiveness and necessity of Ayurveda in peoples , A portion of land at the campus is utilized for growing Vegetables and fruits using organic farming technique. The center also has a Beautiful well maintained garden. There is ample of space for waking and relaxing.
Guest access
Guests can access :
- Therapy Swimming Pool
- Botanical Garden
- Treatment Centre
Interaction with guests
Me or my staff reside in the property itself and can guide you with all the possible help required.
Other things to note
The price is inclusive of Treatment Package :
DE-STRESS
NATUROPATHIC TREATMENTS
(01 Night stay with Vegetarian Diet)
1. Naturopathic, Ayurvedic, Homeopathic & Diet Consultation.
2. Naturopathic Treatments-
a: Yoga, Meditation & Mudra
b: Sun Bath
c: Water Therapy
- Hip Bath
- Spinal Bath
- Foot Bath
- Steam Bath
d: Mud Pack
e: Acupressure Therapy
f: Magnet Therapy
g: Full Body Massage
h: Sleep Therapy
-----------------------------------------------------------------------------------------------
Panchakarma Treatments (Other Treatments available)
The word Panchkarma comprises of two words Pancha which means "Five" and Karma means "Therapy"
The five methods or procedures are elimination of vitiated dosas from body:
a. Vamana
b. Virechana
c. Basti Karma
d. Ratmokshan
e. Nasyam
Before conducting the Panchkarma Therapy on any patient our Ayurveda Doctors and therapist thoroughly diagnose the patient for his strength, age, sex, disease condition, diet constitution etc…
Benefits of Panchakarma:
- The vitiated doshas will be eliminated from the body through the elementary tract.
- The power of digestion and metabolism is enhanced.
- Diseases are cured and health is restored.
- The sense facilities, mind, intelligence and complexion becomes clear.
- The body gains strength.
- The individual will not be affected by old age and lives long and health(URL HIDDEN)life.
- The body is rejuvenated.
- Prevents diseases in the body, increases the power of immunity.
- Nourishes the body.
- Revitalises the nervous system.
SHIRODHARA
It is a process by which herbal oils, medicated milk, buttermilk etc are allowed to flow on the forehead in a special method for about 45 minutes in a day for 7 to 21 days. This treatment is for insomnia, Vatha predominated diseases, mental disorders, neurasthenia, memory loss and certain skin diseases In Thakra Dhara, after giving head massage medicated Buttermilk is poured in an uninterrupted flow from a hanging vessel to the forehead and scalp. This is very good in treating scalp problems like dandruff, Psoriasis, hypertension, Diabetes, hair loss and other skin complaints. This gives head very cooling action and generates sleep. In Shiro Dhara, after giving a good head massage herbal oil is poured in an uninterrupted flow from a hanging vessel to the forehead and scalp.
Benefits:
- Is very good in relieving stress and strain and generates sleep.
- Maintains hormone balance.
- Strengthens the central nervous system.
ABHYANGAM
A whole body massage with specific herbal oils to nourish and revitalize the body tissues (Dhatus) and to allow the toxins to be removed from the cells. Abhyangam has much deeper and far more reaching effects than an ordinary massage using mineral oils and lotions.
Abhyangam achieves deepest healing effects harmonizing body, mind and spirit. The massage is performed simultaneously by two therapists for one hour and is followed by medicated steam bath.
Benefits:
- Rejuvenates the whole body
- Beautifies the skin
- Reduces Stress and induces Sound Sleep.
KATI VASTI
In this process special prepared warm medicated oil is kept over the lower back with herbal paste boundary. This treatment lasts for 45-60 minutes.
Benefits:
- Relieves Pain
- Indicated in Low Backache, Spinal disorders.
SIROVASTHI
This is done by pouring certain lukewarm herbal oils into a cap put on the head for 15 to 60 minutes per day according to patient conditions for a period of 7 to 14 days. This is highly effective for dryness of nostrils, mouth and throat, facial paralysis, severe headache and other vatha based diseases. A leather sleeve of about six to eight inches in length is placed on the shaven head of the patient and a band (vartti) tied around the forehead to keep it in place. Kneaded dough is used to line the inside of this sleeve and ensure that it does not leak. Oil is then poured into the sleeve and allowed to remain on the head for a while. The length of time the oil should be kept there is determined by the physicians according to the need.
Benefits:
- It is very good in the treatment of cervical problems, sleeplessness, migraine and other problems of head, hair loss and tinnitus.
KIZHI
Leaves & powders of medicinal herbs are fried in medicated oil and applied over the body in rhythmic massage. Popularly known Elakizhi or Pachakizhi this is a variety of fomentation process using herbal leaves, boluses and medicated oils. If applied continuously for a period of 7 days. Arthritic conditions, lumbago, cervical spondylosis, frozen shoulder, sciatica, pain and stiffness of joints, post paralytic spasm, other spastic and inflammatory conditions etc can be cured.Herbal leaves / powders are applied to the whole body in boluses with hot medicated oils for 45 minutes per day for a period of 7 to 14 days.
Benefits :
- Relieves Pain & Indicated in Arthritis, Spondilysis, Low back ache etc..
- Good Results in sports injury.
----------------------------------------------------------------------------------------------(URL HIDDEN) Naturopathy
Herbal Facial - A herbal face pack with specially made herbal powder and fresh cream that helps preventing and avoiding wrinkles and improving the skin tone. Increase fairness using herbal face packs and ayurvedic treatment. Say no to pimples, acne, marks, black circles and darkness.
Magnet Therapy - The branch of medicine which deals with the use of magnets to heal human diseases is termed as Magnet therapy. It is regarded both as a science as well as an art, as it involves knowledge about human organisms, various diseases and their treatment with the appropriate usage of magnets.
Mud Therapy - Mud corresponds to the Earth element of the five elements, which the universe is made up of. It has been in use since ages for curing many diseases. It is discovered that mud refreshes and rejuvenates the entire body, warding off lethargy.
Water Therapy - We are all aware of the fact that, 'water is life' and is one of the essential elements for healthy body. All the important activities of the body are regulated and dependent on water. It carries all the hormones, vitamins, chemicals and oxygen to all the parts of the body. 1) Jalneti 2) Steam Bath 3) Tub Bath 4) Foot Bath 5) Hip Bath 6) Spinal Bath 7) Water Bandage
---
---
---
Always communicate through Airbnb
To protect your payment, never transfer money or communicate outside of the Airbnb website or app.
Learn more
---
Check in time is 2PM - 11PM
---
---
---
---
This home doesn't have any reviews. If you stay here, your review will appear here.
A professional builder but a nature lover who admires simplicity at its best. I lead a very simple life but on the other hand a Goan by birth.
At the age of 35 i got diabetes and as a normal person started visiting doctors and payed various bills and even started consuming Insulin. During that phase i started reading more about Ayurveda and its healing powers. My curiosity grew into a passion about researching more and more about Ayurveda and thus came up with this idea of "Ayurvedic Village" which i personally customised with all the various skill sets and therapies. Through my idea i want to showcase the world the real meaning of Ayurveda and its powers and thus believe in hosting my place on Airbnb to such potential guests from all over the world.

Languages:
English, Hindi
Explore other options in and around Dodamarg
More places to stay in Dodamarg: