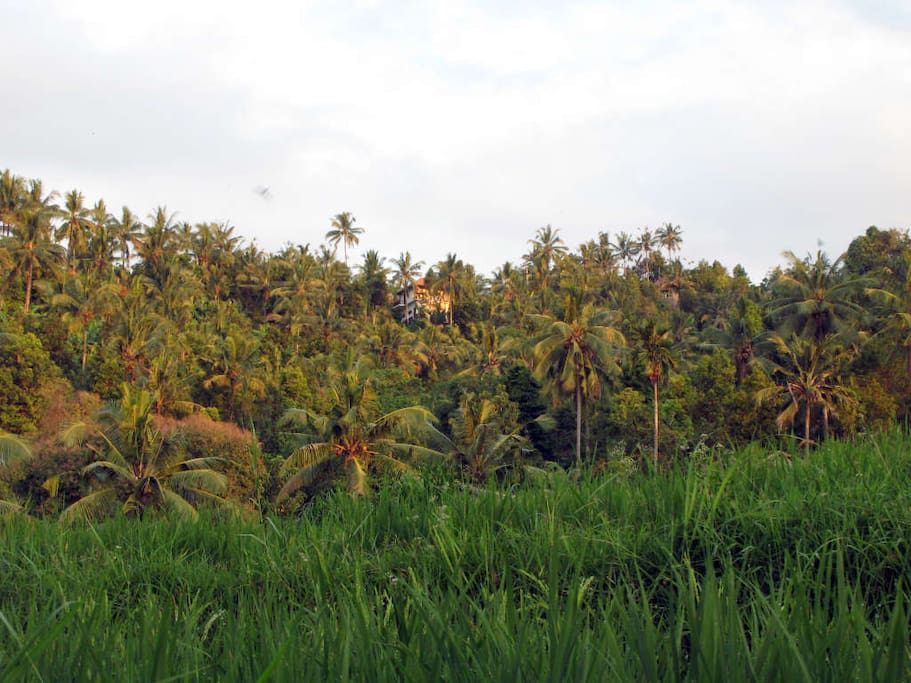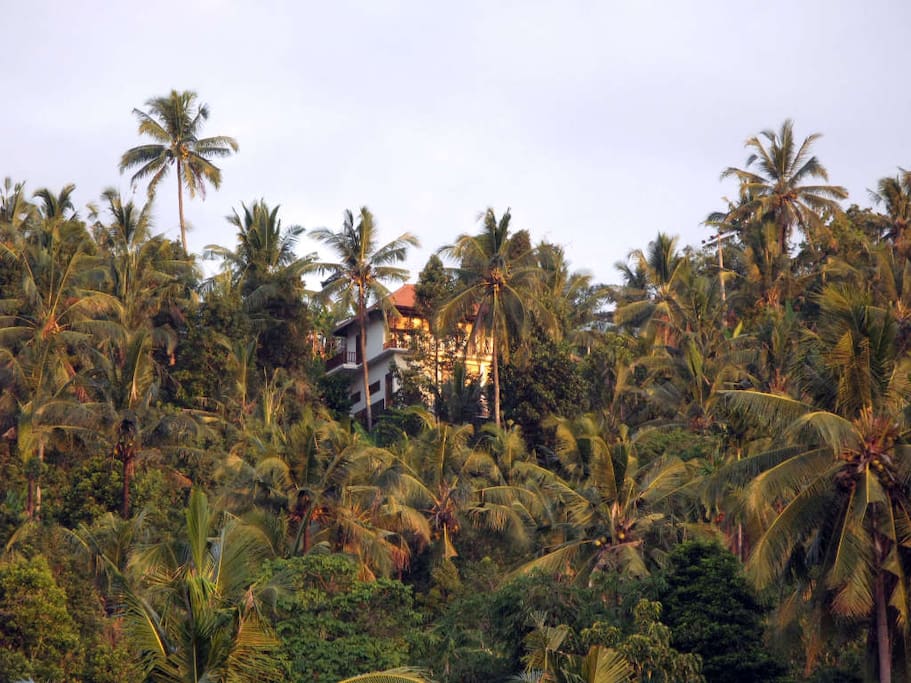 Awesome view from Villa Cempaka
Villa Cempaka is located on a hill about 440 meters above sea level, and the view from it is indeed awesome. A light breeze often accompanies the days and is very pleasant.
The villa is on two floors and is surrounded by many plants and flowers.
Experience true Balinese life while enjoying modern facilities, this will make your staying unforgettable.
The space
Villa Cempaka, which means magnolia, is situated on a hill about 440 meters above sea level. A light breeze often accompanies the days and is very pleasant.
The villa consists of two floors: on the ground floor there is a large living room which offers a very nice view of the surrounding nature. The living room is equipped with a large table for six people and a mattress with pillows as an informal couch. There is also another table with a small stereo system so that guests can listen to their favorite music from their laptops, tablets or smartphones.
The adjoining kitchen is equipped with dishes, glasses, cups, silverware, pots and all the necessary tools, including a kettle, a microwave oven, an electric oven, a rice cooker, a blender, and two teapots. Water is drinkable as the source is nearby, but we offer some mineral water too. On this floor there is also a bathroom with shower and hot water, and a washing machine. Next there is a storage room. From the living room you have access to a balcony with two wicker chairs and small table. From this balcony you can go down to the garden with a staircase. The garden is also accessible from the other side of the house. All floors in the house are in ceramic tiles, except the bedroom. The balconies and the terrace have bamboo curtains.
On the second floor there is a bedroom with wooden floor and a personal bathroom with both shower and bathtub, both with hot water. Clean towels are included. The canopy bed is provided with linens and a mosquito net, even though it is not really necessary because mosquitoes are not that common in this area. The wooden closet has various drawers and shelves for your clothes and things. The bedroom also features a balcony. In addition, on this floor there is large room, with an office desk and swivel chair, which opens onto a wide terrace. This room is equipped with AC, although normally not needed. The terrace features a nice wicker sofa. From the terrace you can enjoy a wonderful view: on the brightest days you can even see Baluran volcano in Java, which is about 90 km away!
The villa is surrounded by a garden with many trees, plants and flowers. Among these there are bougainvilleas, frangipanis, cocoa trees, jackfruit trees, palm trees, many banana trees, clove trees and coconut trees, as well as two magnolia trees just nearby the villa, one with white flowers and one with orange flowers. Their perfume often reaches the terrace and the house. The jackfruit and magnolia trees host nests of different birds that often fly around.
The wall surrounding the house, as well as the walls inside the garden, are all handmade. And so are the tiles that lead to the garden. Located at the top of the garden is also a parking lot for two motorbikes.
The house is built with quality materials in order to offer the most comfortable and satisfying stay. This includes Ariston boilers, Daikin air conditioning, Panasonic switches, Samsung microwave oven, Sharp refrigerator and washing machine, and Toto toilets. The ceiling is open and built according to traditional methods. A safe is also provided.
Guest access
The villa has a private entrance. Guests are free to use the whole villa and all the area around it: the land is about 39 ara.
Interaction with guests
Just call us, we can help you in many ways.
Other things to note
We provide you with two mobile phones free of charge, one for each guest. They can be used to get in touch with us, as well as 4G Wi-Fi hotspots for internet. This is a better solution than a Wi-Fi router because each person can have her/his own connection, while with a router the connection has to be shared. The data limit we give depends on the time of stay: 3-9 days = 6 GB, 10-18 days = 12 GB, 19-27 days = 18 GB, 28-36 days = 24 GB, 37-45 days = 30 GB, 46-54 = 36 GB, 55-60 = 42 GB. That is per mobile phone.
Guests can select how often the house will be cleaned.
---
---
Always communicate through Airbnb
To protect your payment, never transfer money or communicate outside of the Airbnb website or app.
Learn more
---
Check in time is 10AM - 5PM
---
---
---
An amazing stay! This place is really secluded. You have to hire the moped from Sudarmi, which is for a very reasonable price. And the roads are pretty gnarly too. The views are incredible. It is really near to Aling Aling waterfalls and Air Terjun. There is Uma Tua just down the road which is good for lunch and dinner. And some local shops which will fry things for breakfast. But even they aren't really walking distance! I would recommend bringing plenty of snacks for on the balcony. Also - wifi is not really wifi, she uses personal hotspot from a spare phone. Which is ok but not so stable. Signal isn't great either. But then again that is the beauty of this place. Dom
---
The Villa is absolutely beautiful and very relaxing. We stayed 14 days. As described, the villa is located in a very peaceful village up top the mountain only 20-30 mins away from Lovina. It is close to several waterfalls which was a worthwhile trek. We also spent time seeing the dolphins and snorkelling off the shore in Lovina. The host helped us in several ways: - Provided a fair rate for pick up from the airport - Provided delicious welcome coconut water and bananas from the garden - Allowed us to rent a motorbike for a reasonable price which was super convenient for exploring the area and making longer trips to other parts of the island. We had been traveling for 4 months when we chose this location. We were looking for a place to relax and use as a base to explore Bali. We were able to accomplish just that! The Wifi provided was via a 3G sim card provided by the host to be used as a hotspot. For casual app use on the provided phone this was helpful as well as providing us with a direct line to contact the host, however, for internet use it was slow and ran out very early during our stay leaving us without internet access. We purchased a 13G sim card to help us for the rest of our stay for approx 10USD. But due to the remote location its hard to get strong signal.
---
Let's start from our host Amik! She is a great and caring person always ready to pickup the phone and help with any meter. Villa is located on the top of the hill with the stunning view from the top terrace. You are surrounded by all sorts of exotic trees from banana to cacao tree. We where lucky to get fresh coconut straight from Amiks tree as we arrived. The house is very spacious with large kitchen with all necessary equipment to cook any dish from the local products. If you wish to go around, just ask Amik and she will on organise easy to drive scouter. We had one and deeply explored the area. Villa is located just minutes from beautiful waterfalls and local swimming pool with amazing view over the valley with plenty of monkeys:-) This is my third time in Bali and so far the best choice. If you like quiet holiday and don't mind to blend with the locals away from Kuta crowds, this is definitely place for you. Enjoy your Bingtang as the sun goes down every evening as you relax on your balcony. By the way we coming back soon again;-)
---
Very nice villa in general, great view but is also very far away from everything. The streat leading to the house is terrible and personally, i would not dare to drive there around with a scooter. There have also been many ants and spiders, the bathrooms were a little dirty as well. But Sudarmi is still a very nice and sweet person, provided some fruits for us and was always available to communicate
Response from Sudarmi Darul:
Hello Carlotta, I'm very surprised by your feedback. About the road, I told you there were works to improve it and I kept you up to date several times. Your reply was: "thank you so much for telling us all of this, we appreciate that a lot ! We totally understand that and think we can handle it well, in the end, it is not your fault at all and from what you are telling, it does not sound too bad." Nobody complained about the road in the past, you are the first person. I could understand if I had not told you anything the about works, but I was honest and I did. So why are you complaining now? This is not fair at all. About the house being very far away from everything, do you realize that just now? Not only it can be understood from the location on the map, but it is also said in the description: "You will live in a nice rural area surrounded by the local flora, but with all the Western comforts." You then left and went to Ubud, first person ever to do that. I guess you're a better off in a city. About the cleanliness, I'm really sorry to read this, also about this you're the first person to complain. I disagree, I cleaned the house well as always, if seems you like to complain to justify your early departure. You have been very disappointing.
---
The only problem with the view from Sudarmi's place is that, if anything, it is too green. The panorama from Lovina to Singaraja, the volcano of Java in the distance, and jungle, orchards and rice terraces covering the slope to the north coast is only broken by a few tall trees in front of the house. Seriously, though, this house is in a stunning location. The price you pay for that is that it isn't easy to get to. Once you figure it out, the route between here and Singaraja isn't that difficult to find, and the winding roads are pleasant to drive. The last km, however, is a steep and narrow potholed hill, which, especially in bad weather, could be a challenge. Be careful! Not having a vehicle is out of the question, as there are no real services nearby. Even though the road gets worse continuing up hill, there is a village with enough residents to keep traffic fairly steady, which can be heard clearly from the house. This is a lot of house for the price. A large, well appointed kitchen ( with hot running water!) and dining room is on the ground floor, with a nook for lounging, or possibly sleeping another party. There is also a large 3 piece bathroom with a washing machine, a storage room with a safe, and a balcony with wicker furniture. Upstairs is the only real bedroom, with a huge ensuite bathroom with hot shower and bathtub, and a balcony. Another large room with an office desk and swivel chair separate the bedroom from the main balcony. Everything is new and clean, if a little character-free. Sudarmi is a friendly and charming host who speaks English well, and provided us with a flat screen tv to watch DVDs, and a phone with a SIM card for (not great) wifi. Our data didn't work too well either. Kembar waterfall is nearby, fine dining can be had at Shanti retreat, but we usually just went for groceries in Singaraja (about 20 minutes) and cooked at home, dining on the balcony with one of the better views in Bali. A really great place for those who are self-sufficient, and it was a pleasure to get to know Sudarmi and her family, who, although she lives in another village, is always available to help.
---
My stay at amis villa was lovely! I stayed two weeks, for me it was perfect as I wanted to have some time for myself and paint. The area is beautiful and there are a couple of waterfalls you can see or go to lovina (I did some yoga classes there) but other than that it is a rural area with not much to do. I have never ridden a motorbike before but otherwise you can't get around there, and even I managed on those windy roads without an accident (I also went to amed for one night, it's a 2 1/2 h beautiful ride and the small village is really worth it). Ami and her family were super nice, picked me up from ubud and after my stay drove me to canggu (where they even helped patiently to find my next accommodation as I had trouble finding if). All in all I loved my stay there and would really like to come back one day.
---
This place is awesome. Depends wheter you are a bule and want to stay with bule, then its probably not the right thing for you. But if you came to Indonesia to actually be indonesian for a while, there might be no better place. The house is huge, clean and in the middle of the jungle with a unique view. Get coconut, mango, jackfruit just in your garden. It is so relaxing to fall asleep with the wind sound, forget the AC, even if its there, you wont need it. Ami is caring and will supply you with what you need, cleaning service, aloe vera after sunburnt, just a very warm hearted person she is, aswell her husband. So you dont get lonely, there is a tamed cat, that will be happy if you feed her. In the area of Lovina the true spirit of that precious Island of Gods will set you in peace and happiness. There are a dozen of unbelievable tasty places to go for food, such as: Buddah Bakery, Secret garden, the Bamboo Dining, aswell Spa and Resorts are close by, just (SENSITIVE CONTENTS HIDDEN). For kids the unique thrill are the dolphins, that you can see, if lucky, every morning from 06-08, just about 30mins from the shore. The trip should be (PHONE NUMBER HIDDEN) depending on your negotiation skills, or just your will to give something to the locals. I certainly come back, cos fishing is my passion and the fishing in Lovina is THE CRACK. Golden and king Macrel are there to give you a sense of natures power. We wish Ami all the best, may her Villa be fully booked. Its a place of (URL HIDDEN) thing: be ready for a proper hike by car, or even better by motor to get to her house, the road is an adventure by itself. But..no pain no gain, right!?
---
I am married with Sumarjianto and have two kids: Putra and Galang. I like to climb on trees and get cloves.
Languages:
Bahasa Indonesia, English
Response rate:
100%
Response time:
within a few hours
Explore other options in and around Sukasada
More places to stay in Sukasada: