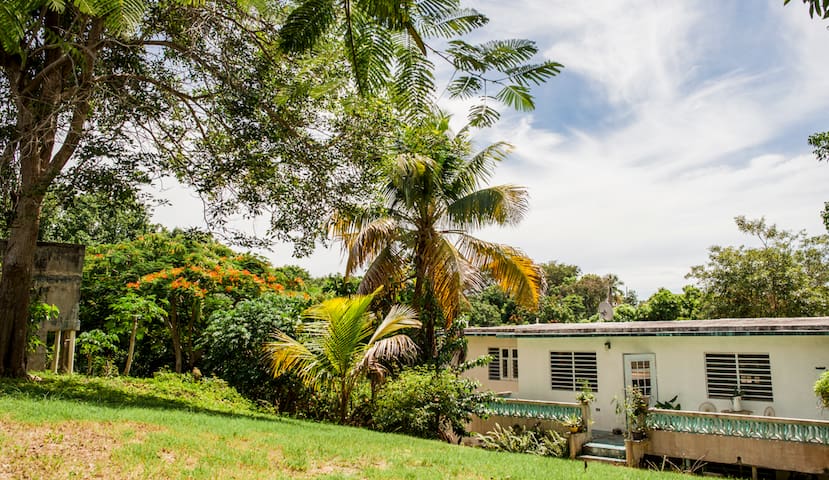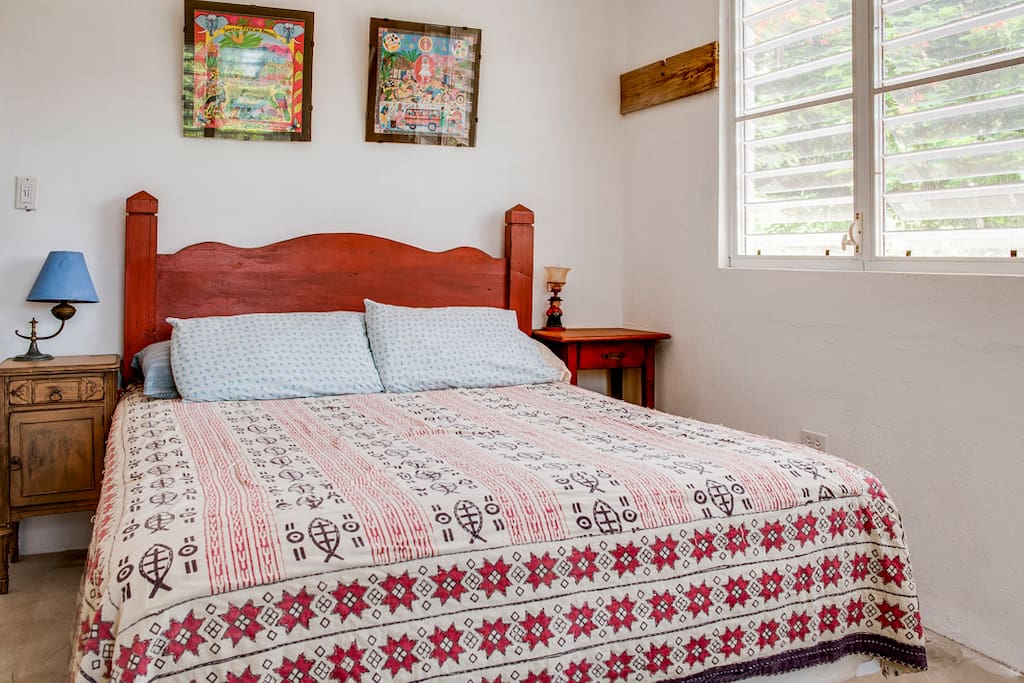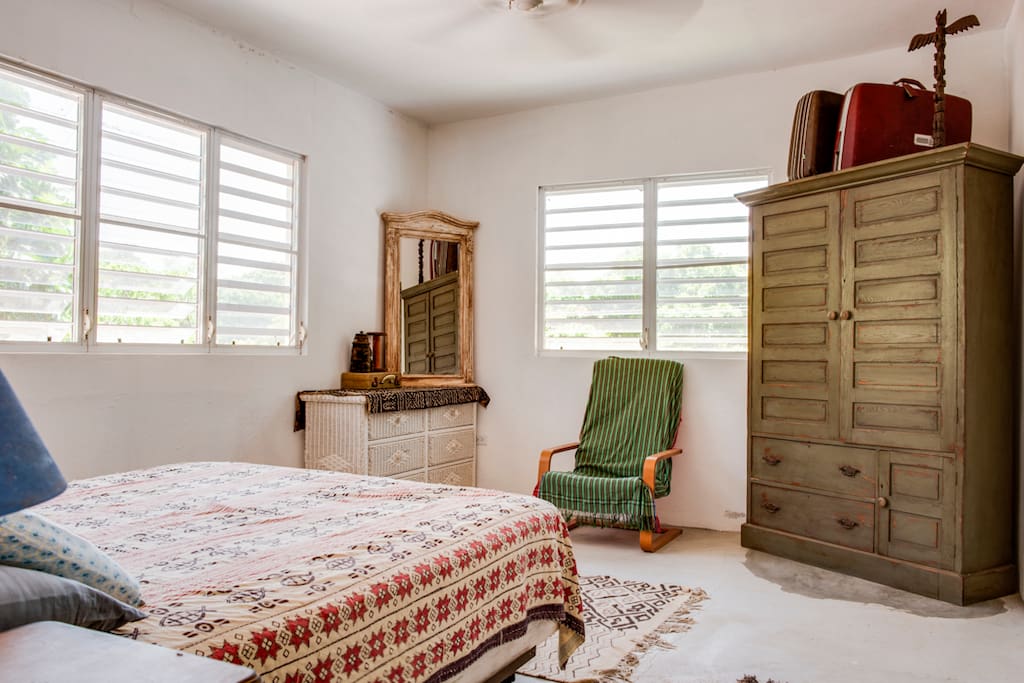 Casa Elefante *SUV Available*
A large, comfortable 1 bedroom apartment in the countryside of Vieques. Very peaceful and quiet.
The space
Please read the entire listing before booking. Please provide the codeword for a more favorable response. Thanks!
We have a large 1 bedroom apartment. With a nice kitchen, living room and two private rooftop patios. The Apartment is exquisitely decorated with an array of items from around the world. There is a Queen size bed in the master bedroom, and a full size bed in the sleeping nook. This apartment will comfortably sleep 4 people.The living space is well over 1500 sq feet.
The Kitchen is fully stocked with everything you will need to cook for yourself. The Fridge tends to want to pop open on its own, so we put a stick through the handles to make sure it stays closed. It works perfectly otherwise.
This is a quiet and serene space that we have built for ourselves and we hope our guests can respect this. Please be courteous of late night noise.
**
We have recently added a flat screen TV with a DVD Player and a Roku Media player that gives guests access to Netflix, Hulu and Amazon. We do provide a excellent internet connection.
A rental car is necessary to reach all the best beaches in Vieques. The majority of the best beaches are in The Vieques National Wildlife refuge, which has terrible roads and requires a Jeep to access. There is no public transportation and Taxi's will not drive to these beached. It is generally accepted that a car is necessary to enjoy everything Vieques has to offer.
We provide a SUV Beach Beater for a additional $65/night for the exclusive use of our Guests.
Check in for house and car is 3PM
Check Out for house and car is 11am.
This is flexible, depending on when the guests before you leave, and the guests after you arrive, and we do our best to accommodate everyone. When planning you trip please dont expect the house to be ready until 3 PM, and expect to return the car and house keys by 11AM

I do want to take this time to warn you about the ferry. It is a absolute mess and incredibly un-reliable. It never runs on time, you have to wait hours for a ticket, and they often cancel ferry runs without any warning. Just yesterday I had a family with 2 small children wait 6 hours of their precious vacation time to get on a ferry. I strongly suggest you look into flying. There are 3 airports, Ceiba is right across the channel on the main island. Flights to Vieques are $35 each way. Isla Grande is the domestic airpot in San Juan and flights are $75 each Way. San Juan International is the big main airport, flight from here run between $90 and $120. since you are likely flying into this airport, flight from here are most convenient. The other 2 airports only make sense if you are visiting other parts of Puerto Rico before coming to Vieques. The 3 airlines that run these routes are Cape Air, Vieques Air Link and Air Flamenco. All of them have online booking.

We can arrange rides from the airport or Ferry to the house for a additional $20. My house keeper will pick you up and deliver you to the property, getting you established in the house and car. If you can find your own way to the property the house keeper will meet you there.
Please provide me with your arrival and departure times a week in advance.
A note on Utilities: Vieques is a remote tropical island. Obviously we have running water, electricity and Internet, but it isnt very reliable. Occasionally we will loose 1, 2 sometimes all 3 at the same time. It never lasts longer than a couple hours, but please be prepared for the possibility that you will loose utilities for short periods of time. Usually right when you get home from the beach and you are covered in sand.

There is no Air Conditioning, but the tradewinds, ceiling and box fans keep the air cool and moving. The Apartment has it's own private gate, parking and entrance. Our property sits on 1 acre of fenced grassland and jungle in the Destino neighborhood. Destino is a 5 minute drive from the main town of Isabel Segundo. It is also 5 minutes to the main entrance of the wildlife refuge, which holds the majority of Vieques pristine beaches.
There are roosters. Every property in Vieques, except maybe the W has roosters. It's a part of island life, they are wild and there isn;t much we can do with them. Bring ear plugs if you are sensitive. The apartment does come fully equipped with a modern slingshot, roosters make excellent target practice at 4am.

A note on Beach Umbrella's : We no longer offer beach umbrellas. Vieques can be windy, and our guests have repeatedly been breaking the beach umbrellas we keep buying for the house. We've gone through at least 15 in the last 6 months. If you need a beach umbrella they are sold at the Black Beards, the grocery store and many other shops for around $30. I also highly recommend Palm Trees for shade :)
A Note on Bugs. Welcome to the tropics! we have bugs here. Big Ones. Every property on this island, even the W will have bugs. I'm sorry if you aren't used to them, but it's part of island living and short of A-bombing the property with toxic pesticides, there is nothing that can be done.

Cancellation policy: We maintain a strict cancellation policy. This once again has to do with our budget pricing, if you cancel at the last minute, then it is un-likely the house will re-book. we as hosts will loose the income, and we wont be able to offer this rate for all of our guests. (Codeword: Sofrito!) I'm terribly sorry, but I absolutely cannot offer any refunds on any last minute cancellations. Please understand this policy when you book. When booking, you agree to this cancellation policy and I cannot make any exceptions.
Problems: If you have any problems with anything, I will do my best to fix it as soon as humanly possible. Vieques runs a little slower than the rest of the world. Nothing is going to happen on a Sunday. If you email me at 11PM saying you're having a problem with the toilet, I wont be able to fix it until the morning. It is very important that you call me as soon as any problem arises.
House Rules:
-Smoking is only permitted on the back patio. The front Patio is right above my bedroom and I'm not a fan of the smell. -Please dont invite anyone not staying at Casa Elefante back to our property. This is a safety concern. Petty theft and robberies have been a problem in Vieques and I do not want to share the interior of our home with any potential criminals. -Since we live and work on the same property please be considerate of late night noise. My husband and I are early to bed, early to rise and we appreciate quiet time after 10PM
-Please keep the gate closed at all times. I do not like wild horses pooping in my yard.
- Make sure you provide us with your arrival and departure plans within a week of your arrival so I can plan your pick-up, check in and check out with my house keepers. If this information is not provided we cannot guarantee a pick up.
Other things to note
When it comes to the official weather report, don't pay any attention to it. We live in the tropics. The weather report always say 80% chance of rain because theres a 80% chance we'll get a passing shower and thunderstorm. It never means its going to rain all day. its the nature of weather reports in the tropics. right now it is sunny, breezy and beautiful.
I have found the most accurate weather reports to be those posted by local sailboat captains. Try to join Vieques weather on (SENSITIVE CONTENTS HIDDEN). Captain Judy is a accomplished sailboat captain and has a great grasp of whats happening with weather on a day to day basis.
---
---
Always communicate through Airbnb
To protect your payment, never transfer money or communicate outside of the Airbnb website or app.
Learn more
---
Check in is anytime after 3PM
-Please provide us with the codeword to confirm you have read the entire listing. By Booking Casa Elefante, you acknowledge that you have read and understand the listing and you have reviewed all the images in our gallery
-Smoking is only permitted on the back patio. The front Patio is right above my bedroom and I'm not a fan of the smell. -Please dont invite anyone not staying at Casa Elefante back to our property. This is a safety concern. Petty theft and robberies have been a problem in Vieques and I do not want to share the interior of our home with any potential criminals. -Since we live and work on the same property please be considerate of late night noise. My husband and I are early to bed, early to rise and we appreciate quiet time after 10PM
-Please keep the gate closed at all times. I do not like wild horses pooping in my yard.
- Make sure you provide us with your arrival and departure plans within a week of your arrival so I can plan your pick-up, check in and check out with my house keepers. If arrival information isn't provided a week ahead of time we cannot guarantee your pickup
You must also acknowledge
Dog(s) and cat(s) live in the house
---
---
---
Christian was super nice, extremely helpful, always responsive! Rent a jeep from him!!! Casa Elefante is funky & simple, good for a couple that wants to spend little $ (the pics on Airbnb are nicer than real life - kinda like when people put pics from 10 years and -20 lbs ago on dating sites). But it has beach towels, beach chairs, and snorkel gear!! Good value!
Hi Matias - The pictures are actually recent. We've added new bedding and a new couch, so that could look different, but if anything its a improvement I apologize if you felt mislead. By writing such a detailed listing and asking for a codeword I try to be really really accurate so that there are no surprises when my guests arrive.
---
The house is ideal for someone on a budget. The house is well equipped for a short term stay. The noise from the roosters was insufferable at times as they start sounding off at 5am. This could make sleeping a bit of a challenge for light to moderate sleepers. The house is well located to grocery stores and beaches. The host did a great job communicating and was very laid back.
Hey Omar - Insufferable is a mighty strong word, so I do feel the need to respond defensively. I do want to point out that the prescence of roosters is mentioned in my listing and I warn my guests to the best of my abilities. Roosters are a part of pastoral island life and every native Viequense lives with them on a daily basis. Casa Elefante is authentic, and Im saddened to hear such harsh criticism for our life style. I assume you saw that I clearly warn about roosters as you did provide the codeword when booking Casa Elefante. I do really appreciate you mentioning it because hopefully future guests will really truly understand that there are roosters and not feel the need to complain in a public review. Thanks!
---
Christian was a very laid back host and easy to get in touch with. We needed a ride to and from the ferry and he was able to arrange those with ease. We loved having the SUV during our stay. Driving around the island allowed to explore about 2 or 3 beaches each day we were there. The place was clean, comfortable, and even more spacious than we thought. It was the perfect size for the 2 of us. The house is in a quiet little neighborhood conveniently located near Isabel and the Wildlife Refuge entrance, which is where our favorite beaches were located. Although there wasn't airconditioning, we did not have a problem with the heat. The fans were sufficient in keeping us cool, plus we enjoyed the sounds of the island - it made our stay more authentic. We definitely recommend this unit and we definitely stay here again the next time we visit Vieques!
---
Some things to note about this property: Box fans are available and kept the place cool and the sounds of nature at bay in the night. Wifi was reliable and they offer a roku to access internet. Good location. Secure and safe. Beds are comfortable. No door on the bathroom. There aren't any window coverings to shield hot sun or privacy in bathroom so expect hot evenings. Minimal lighting and lots of bulbs/fixtures were out of order. They don't provide any washcloths or hand towels. The refrigerator is a disaster leaking water and some kind of coolant - keep all your food contained. Very limited utensils in the kitchen, only a few bowls, sharp knives Only had access to one patio (ad mentions 2) There was mention of keeping the gate closed to keep the yard free of horses (horse poop) - but ironically there was a giant pile right INSIDE the gate that we had to jump over each time we left/arrived at the property. In regards to the rental car provided by the owners - The windshield was filthy making driving into sun or oncoming traffic at night extremely dangerous. It lacked a seatbelt for the driver. And was given to us on empty so the first worry we had was to get gas (if there was any on the island). Coordination to get and return this car was complicated and frustrating. Since the daily rate was the same, we'd strongly suggest to use another source. In general the place looks like the photos but it's clear that the care given to the property at the time of photography no longer exists. Cobwebs in every corner and inoperable lights/fans. It has potential to be really stunning with just a little more TLC. It seems like the extensive airbnb ad was written by a completely different person because upon arrival there was no interest familiarizing us to the property or engaging with us at all. In addition, while we were renting the property the management changed hands again so this added another level of confusion. The new management was accommodating and available to answer questions but definitely has some kinks to work out to improve experience at this rental.
I really don't know where Lia's review is coming from... I will try to respond to each of her complaints. I will note, that had she said anything at all to me while she was here, most of these perceived issues could have been easily resolved! I am always available day or night to help with issues, no matter how small. Communication is key! -Lia wasn't here for the check-in so I'm not sure why she is complaining about not being familiarized or engaged. Her friend checked in for her (early, I might add) and she received a tour of the house as well as recommendations for nearby restaurants and beaches. -The car was waiting at the airport for Lia. I offered to take her friend to pick it up, but she reassured me that she would go later to get it with her family who was also on the island. I also offered to let them use the car 4 hours past the return time. On the morning of check out, I asked them to allow me to drive them to the airport 3.5 hours past the return time rather than leaving the car there themselves, as our next guests were arriving on the ferry, not a plane. -I would have been happy to change light bulbs had they let me know that they were out. They told me about a window that wouldn't shut and I drove across the island to fix that within an hour. -The car was left with 1/4 tank of gas from the previous renters and I felt terrible about it. So much so, I drove back to the house with a gas can and filled it to over 1/2 tank. I'm sorry Lia had to worry about that. -The car had been cleaned and detailed within a week. Lia brought it back with more sand than I have ever seen in a rental car. It has a working seatbelt, it just has to be clicked softly rather than jammed in. I failed to mention this but had she asked me about it, I could have easily resolved the issue with a quick text message. I could go on, but I will just say that I am always happy to help resolve things that may pop up from time to time. Even if it is just a lightbulb. It's a shame this is the first I am hearing from her.
---
Everything was perfect! We had the Subaru Outback and it got us around great. The house was a lot bigger than I thought and had everything we needed. We planned on cooking a lot while we were here and had almost everything we needed. The only thing was the knives were useless because they were so dull. The place is quite and serene in the jungle and right in the middle of the island which made it easy to access everything.
---
Casa Elefante is an airy funky place in the Destino neighborhood, about 15 min. from the airport. Beach chairs and snorkeling equipment available. Guests should expect eclectic furnishings and country living, replete with chickens/roosters, horses, cats, dogs, and bugs. Unless the windows on the outside door are taped shut, a very friendly and large black cat will likely sneak in during the night. Frig leaks water (the seal needs to be replaced) but does work. Having a car is essential. We were there when Jillian was away and the caretaker she had arranged to be in charge also had to leave suddenly due to a family emergency. We therefore were left on our own a little more than expected and, from the other reviews, more than usual. However, Jillian was as helpful as she could be from afar. Definitely recommend.
Hello - I am so glad you enjoyed your stay. The big black cat is a new "guest" and will be shooed away from the property as soon as possible. WE definitely dont allow strays or any animals that dont belong to us in our properties. Guest did have a key to the roof in her possession, but must not have realized it opened the door to the roof patio. Thank you for your patience while my housekeeper dealt with some scary family health problems i do want to point out that i responded o every single question or concern immediately even hough I am on the west coast and would get texts at 5am my time. chickens and bugs are part of Vieques living. they're present at all properties.
---
I'm a family man and adventurer living in paradise :)

Languages:
English, Español
Response rate:
100%
Response time:
within an hour
Explore other options in and around Vieques
More places to stay in Vieques: