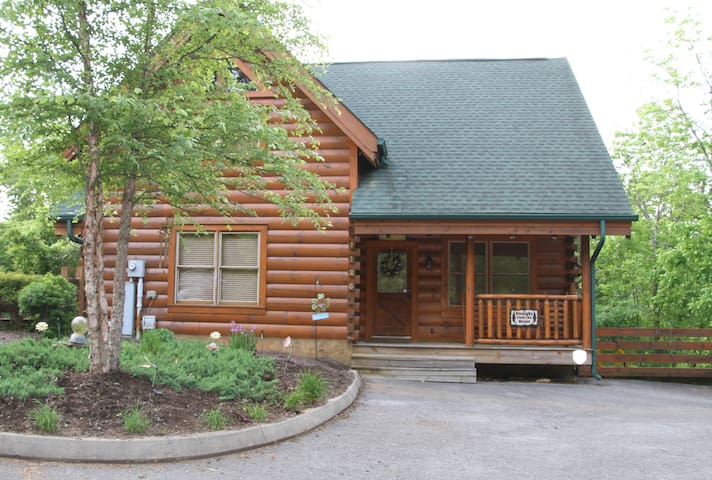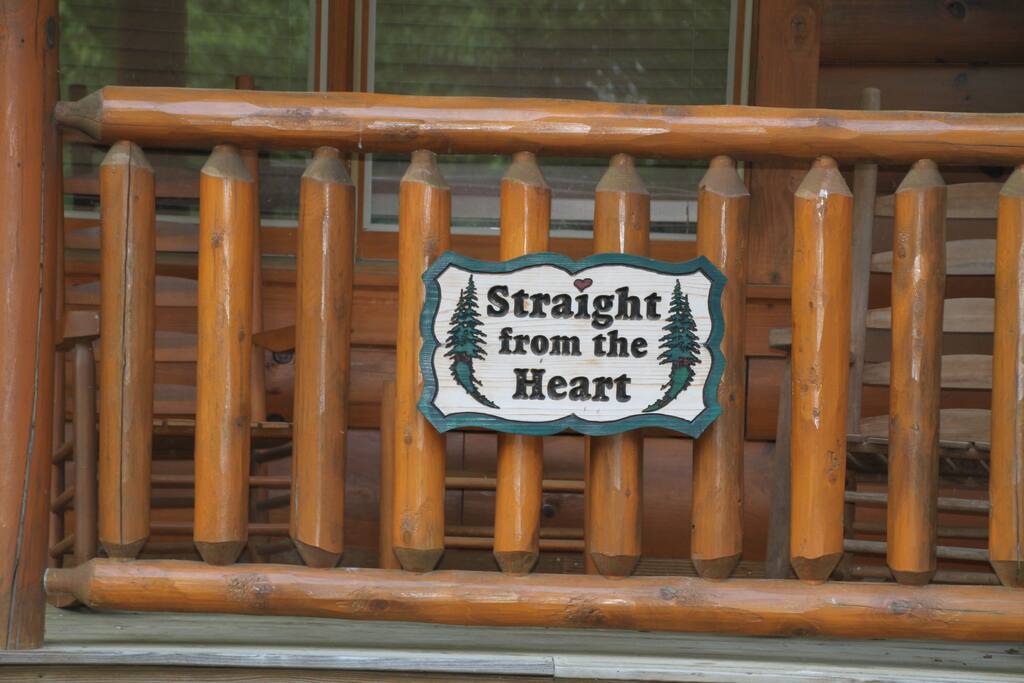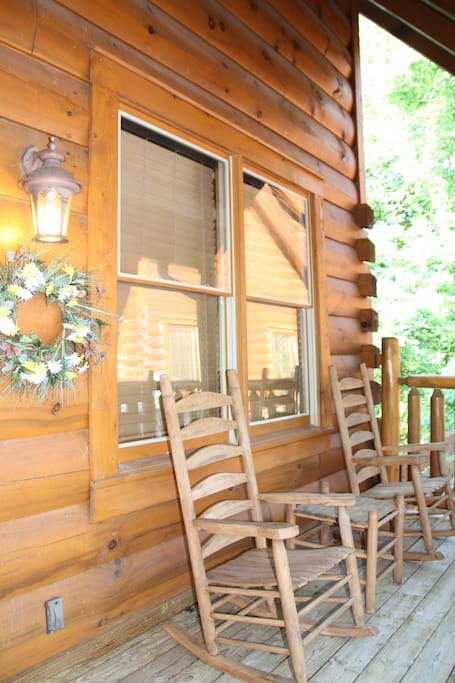 Straight from the Heart offers all of the amenities of home just a few minutes away from Pigeon Forge, Tennessee. Easy drive to cabin - no winding drive up the mountains! This luxury cabin sleeps eight comfortably and will not disappoint!
The space
Features on the main floor include a master bedroom suite with king size bed, whirlpool bath, large shower, fireplace and TV; a comfortable and inviting great room with cathedral ceiling, fireplace, sleeper sofa, TV, and desk; a fully equipped kitchen with stainless appliances, a custom polished concrete countertop and dining room table/chairs; and a half bath. The upstairs is an open loft with a king size bed and sitting area, a gaming area with TV, pool table, board games, cards and puzzles, and another sitting area with a sleeper sofa. The loft is uniquely decorated in a Native American style.
---
---
Bedroom 2
1 king bed, 1 sofa bed
---
Check in is anytime after 4PM
1. Payment: Full payment must be received at booking unless you are mailing a check. In the case of mailing a check, we will hold your reservation 5-7 business days to receive payment. Dates are given on a first come first serve basis unless otherwise noted or agreed upon by owner/guest. There is a $200 fee that will be applied to your account should something be out of place or damaged in the cabin upon inspection after your stay. All individuals staying along with you will do their best to respectfully clean up after themselves during their stay and follow the check-out procedure.
2. Check-in time is 4:00pm/Check-out is 10:00am: For check-in, please do a walk-through of the property to make sure everything looks great. Please don't be worried or concerned upon finding evidence of normal wear and tear. If you notice something that may have been overlooked, or if something broke during your stay, please notify us asap. We understand things happen. Please don't avoid telling us if something happened during your stay. We want to make sure anything broken or missing gets taken care of for you and future guests. If housekeeping has to wait on a guest's late check-out, you will be charged a late check-out fee. Please follow the check-out procedure below.
3. Cancellation/Refund Policy: If there is any chance you may possibly need to cancel, we urge you to purchase travel insurance. If you need to cancel more than one week out, there is a 50% refund except fees. (Please realize the Smoky Mountains area can have treacherous driving conditions. Please anticipate this in your travel plans. No refund will be given for any kind of unpleasant weather conditions. No refund will be given for cable tv or wireless internet service outage. If any maintenance related problems arise such as appliance breakdown, electrical problems, and/or plumbing issues, please notify us immediately (Tina (PHONE NUMBER HIDDEN)) so we may do our best to resolve the issue. The final decision regarding any and all refunds rests entirely with the cabin owner.)
4. IMPORTANT PLUMBING NOTICE: Please help us prevent plumbing emergencies. Do not dispose of anything in the sinks or toilets that can be put in the trash. Do not flush "flushable" sanitary products, plastics, "flushable" wipes or any other "flushable" products, paper towels, etc. down the toilet. We do not want any plumbing backups interrupting your vacation. Toilet paper is the only TRUE flushable item. Long term disposing of the "flushable" products can cause severe damage to plumbing anywhere-at our cabin or in your own home.
5. Access by owners or representative: By agreeing to these rental terms, you are agreeing that the owners or their legally designated representative will have access to the cabin at any reasonable time of day to assist you with a need you may have requested. We will not drop in on you unannounced. We would attempt to contact you prior to the visit.
6. NO Smoking/fireworks/outdoor fire pits!!! Smoking is for outside premises only. Be cautious and dispose of leftovers appropriately. NOT IN A TRASH CAN!!! A serious fire that destroyed 90 cabins in a Pigeon Forge resort in March of 2013 started from the porch of one single cabin. Please respect this No Smoking No firework and/or No firepit request out of the safety concern of your own family and friends and the other cabins in the Grand View Resort.
7. Minimum rental age is 25 years old: no minors are to be left in the cabin unsupervised.
8. Cabin maximum occupancy: Straight From the Heart is a 2 bedroom cabin that sleeps a maximum of 8 people (2 kings, 2 queen sofa sleepers). If it has been determined more than the appropriate number of guests are staying at the cabin, you will be asked to vacate immediately. No refund or damage deposit will be returned. Our caretaker lives in the area and will notify us of any suspicious activity.
9. Hold Harmless Agreement : Anyone renting Straight From the Heart will NOT hold the owners responsible or liable for any accident, injury, illness, or whatsoever that may occur on the rental property during occupancy. This includes, but is not limited to, any Acts of God, wildlife encounters, swimming and/or hot tub accidents, bicycle accidents, slipping and or falling on wet surfaces inside the cabin or ice/rain outside of the cabin.
10. Pool Table : DO NOT sit on, eat and/or set food, drinks or snacks on the pool table. Do Not allow children to hang on the sides of the pool table or to play with toys on it.
11. Cabin reviews : Cabin reviews can help and/or hurt our future cabin rentals. Like stated above, we will go above and beyond to correct and/or fix anything that will hinder the cabins ability to provide you with a comfortable experience. Posting inflammatory reviews on behalf of our cabin because you did not enjoy your vacation in Gatlinburg is not appropriate regarding the purpose of reviews. The vacation by owner rental site and owners keep excellent records about inquiries, bookings and etc. If an untruthful and/or inaccurate inflammatory review is submitted and not taken off after discussion with owners to resolve the issue: we will use the independent booking records to document extent of damages and/or loss of revenue as a result of this grossly inaccurate claim and we will take appropriate legal action. We will also document information regarding these incidents on guest checker. This allows other owners to be aware of threats made through reviews. This is our family vacation home that we take pride in and we would never intentionally cause discomfort on behalf of our guests. We thank you for understanding.
12. Trash : All trash must be placed in the container to the left of the cabin when walking out of the front door. There are two units near one another. Please use the one closest to the cabin and KEEP THE LID LATCHED. Do not leave any trash on the decks. If the trash will not fit in the bear-proof container, it must be left INSIDE the cabin
13. Electric Breaker Boxes: If you lose power to a certain portion of the cabin, the breaker has probably "tripped" (happens in most homes if too much electricity is being used at once). You will need to flip the switch back on. At Straight From the Heart, the breaker box is located on the exterior front of the cabin.
14. Smoke detector chirping: On occasion, a smoke detector may chirp due to a low battery charge or a quick temperature. To get an immediate fix, you will need to push the reset button on any unit in the cabin. You will hear a loud chirp from all the detectors in the entire cabin. This should stop the chirping. Please notify us by text or email about the specific detector that was chirping so we will know to change the batteries.
15. WiFi : At Straight From the Heart, the WiFi unit is on the desk near the front door and the username and password for the wireless connection is on the unit. If you are unable to connect, the system may need to be reset/reboot by turning the power off for a few seconds and switching it back on.
16. Hot Tub - Never use soap, oils, lotions and etc in the hot tub. These products mixed with the hot tub chemicals may cause a dangerous reaction to occur to your skin or cause serious damage to the hot tub. After you have enjoyed a nice long relaxing soak, please remember to always place the cover back on the Hot Tub to retain the temperature and keep debris out. If the jets won't shut off, leave them alone and they'll shut off on their own.
17. Items supplied to you = We provide starter items of the following: dishwasher detergent, dish soap, small hand soap, paper towels, toilet paper, garbage bags, coffee, coffee filters, salt and pepper, sugar, creamer. On occasion, you may find additional items like tea, aluminum foil, laundry detergent, and spices (These items aren't guaranteed). If you purchase additional items and don't want to pack them up, feel free to leave them behind for future guests.
---
My husband, children and I have been vacationing in the Smokys since 2005 and have just fallen in love with the area. We are from near Dayton, Ohio, and the 5 hour drive is not too far away for a long weekend of rest and relaxation. We generally stay in a cabin, away from the hus…
Response rate:
100%
Response time:
within an hour
Explore other options in and around Sevierville
More places to stay in Sevierville: