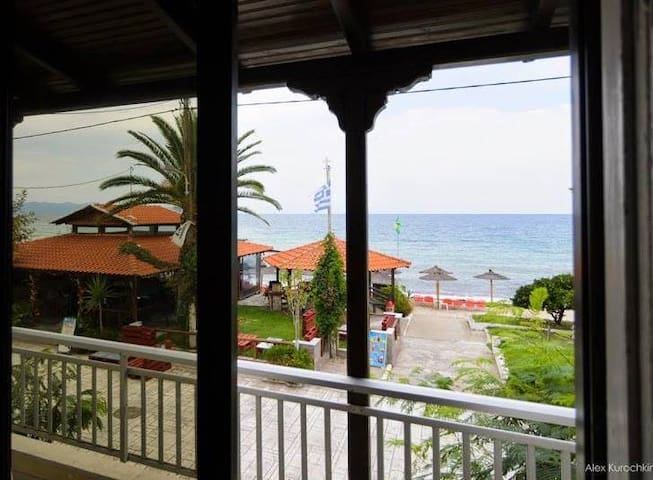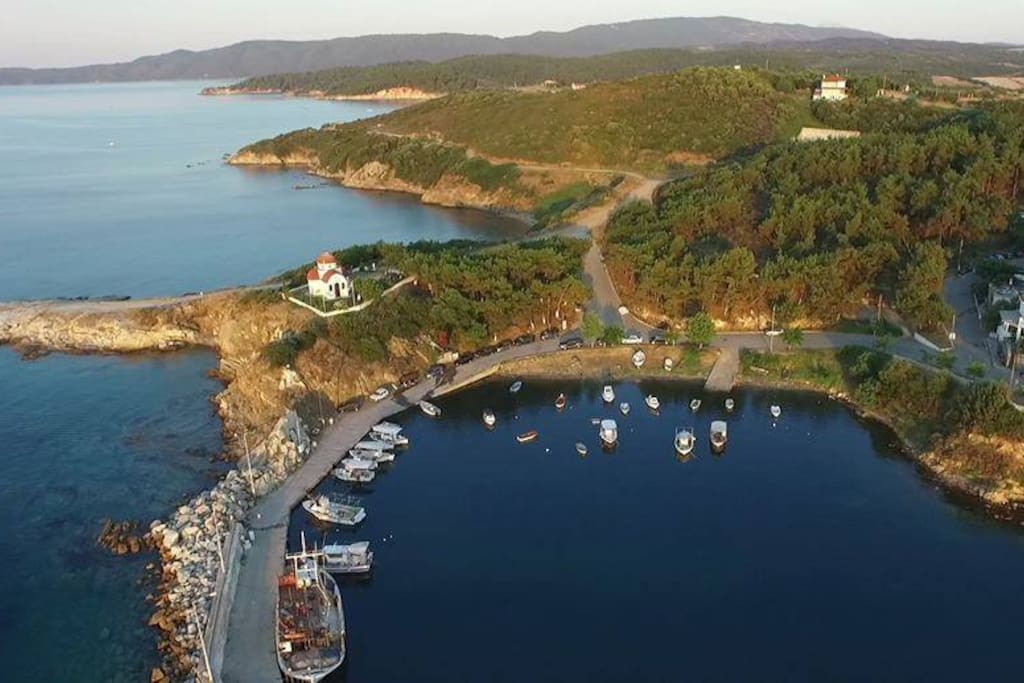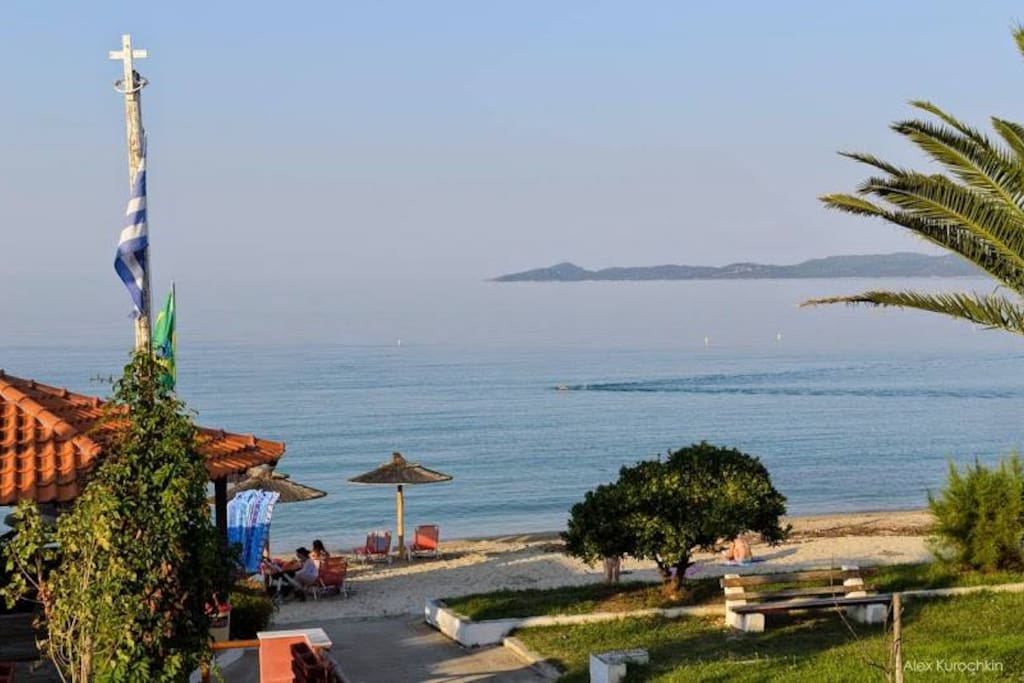 Welcome to our beautiful comfortable traditional home, which locates at the beach of Nea Roda Chalkidiki, and the sea is only at 10 meters! Enjoy the wonderful sunset, the colors of the magic sunrise, with a cup of coffee in our relaxing balcony..!
The space
Traditional comfortable home with a beautiful view and the sea only at 10 meters! There is a big veranda with the view of the Holy Mount Athos and beside the home there is a garden with a barbeque and a salon.
The house can host from 1 to 8 people (8 beds).
The house locates at the beach at Nea Roda. There are all kind of shops in the distance of 10-20 meters from the house. You can find supermarkets, bakeries, cafes, bars, pharmacy, clubs, restaurants across the beautiful beach.
Nea Roda is built at the narrowest point of the Athos peninsula, where in 480 B.C. Xerxes opened a canal for his fleet to pass. You shall be pleasantly surprised while walking in the village because at each corner you will discover archeological findings, houses with beautiful yards decorated with arbours and bougainvilleas, vegetation till the sea and picturesque fishing boats. The golden sand of the sinuous beach will accompany you all day and will welcome you with colors of mystery at each sunrise and sunset.
Those who love sea activities will find a sea sports rental and learning school while there is everyday transportation for those of you who wish to go on a sea tour around the Holy Mountain ( Agion Oros ).
In the traditional tavernas, you will find fresh fish and for your entertainment at night, there are clubs for all preferences.
If you have any questions, do not hesitate to contact me.
Το παραδοσιακό σπίτι βρίσκεται στην παραλία των Νέων Ρόδων, Χαλκιδικής. Σε ακτίνα μόνο 10 μέτρων από το σπίτι απλώνεται η υπέροχη θάλασσα. Υπάρχουν σε απόσταση 10-20 μέτρων πολύ κοντά στο σπίτι, όλα τα είδη μαγαζιών, από μπαρ, καφετέριες,εστιατόρια και ζαχαροπλαστεία, μέχρι φούρνοι,σούπερ-μάρκετ, φαρμακείο, περίπτερα και φυσικά φανταστικές παραλίες. Αξιοθέατα μας αποτελούν ο γύρος του Αγίου Όρους, ο Πύργος της Ουρανούπολης, τα Στάγυρα του Αριστοτέλη και φυσικά η γνωστή διώρυγα του Ξέρξη από την οποία ο βασιλιάς προσπάθησε κάποτε να περάσει τα καράβια του. Για όσους αγαπούν την φύση, υπάρχουν πολλά μονοπάτια για μια καλή πεζοπορία, άφθονη φύση με ρυάκια και πολύ βλάστηση..
Ανά 2 ώρες υπάρχουν δρομολόγια για όλες τις διαδρομές σας, και τα τριγύρω χωριά που θέλετε να επισκεφτείτε (Ουρανούπολη, Αμμουλιανή, Άγιο Όρος, Ιερισσός, Στάγυρα, Ολυμπιάδα κ.α)
Η πολύ καλή φιλοξενία σε συνδυασμό με την ωραία παραλία και την φανταστική θέα μπροστά στο κύμα που παρέχει το σπίτι, θα κάνουν τις διακοπές σας αξέχαστες!
---
---
Always communicate through Airbnb
To protect your payment, never transfer money or communicate outside of the Airbnb website or app.
---
Serafeia's house is just in front of the beach on the main street, surrounded by lots restaurants and shops. Had lots of beds, fully equipped kitchen and BBQ in the garden. We had a lovely time and Serafeia was a great host, helping any time we had questions. We will definitely visit her again.
---
Nea Roda is a very peaceful place, good destination for families with small kids. You can meet many friendly local people such as the host Efi. Being downstairs of the house which you occupy you are actually part of her family and she makes you feel that way. The house is located on the main pedestrian street, close to the only disco bar where the music goes on until 2-3 a.m. I was told by the host that the house is all for us, as well the backyard. I was unpleasant surprised when we had to share the garden area with the new built house in the back yard, as well with the hosts who live downstairs. It wont be an issue if we'd know what to expect. There is urgent need of renovation and cleanliness of the apartment. There is such beauty and authenticity in the old furniture, but when it is so dirty that can not be cleaned, it is probably better to change it. Sewer washing machine drain in the bath and one should better ensure that no bathing combined with laundry :) For a price of 50 euros everything could be swallow, but we had to pay 90 euros per night without charges. The lack of air conditioning was tested. Sleeping became a living hell. I would not recommend an apartment in Greece without air conditioning at any price. The best part was the view and the proximity to the see but for half price it can be found such in the neighborhood too.
Thank you very much for your kind words..... I would also like to make for you some nice comments.. The beauty of our house is based on the old furniture. Thats why we call it Traditional Home! If you wanted something luxurous, there are also modern 5stars hotels in the area.. Thats really ingratitude. I can accept everything except for ingratitude! We made everything to please you! My mother gave you so much food and vegetables from her garden as well fish, we were all day by your side if you needed sth and i wonder..these words of you are really your "thank you".? And as concerned the dirt of the house, i would like to ask you.. How can you talk about dirt when you the same people are so dirty? My mother was cleaning the house one whole day just to put away the dirt you made in the house. There was sand everywhere down, discard in the kitchen and the bathroom, old food in the fridge, ..etc You were the dirtiest people ever stayed in the house. Of course I would not like either to host you in the house again.. It would be at least more honest if you told me all about this before leaving but i asked you and told me everything was so nice!! Thank you again for all we gave you staying these days in our house.. Thank you for your nice words..
---
I felt Serafeia could have been more accommodating as a host but her mother was very sweet and helpful. The apartment itself, while an absolutely fabulous location, certainly needs some updating and the photos on the site do not quite match the decor and light that is actually there. The bedding was very simple and slightly musty and the bathroom small. But all in all everything seemed insignificant when drifting off to the sound of waves from just meters away. Nea Roda is a quaint little town set away from the main tourist areas so you get a good feel for local life.
---
Thanks a lot to Serafia, her family, especially her mother. You are a remarkable, very open and kind people. When I remember you - I smile. I'm very glad that I met you. Nea Roda is a beautiful quiet little town. Khalkidiki, as I think, is one of the most beautiful place in Greece. The house is really situated in 10-15 meters to the beach. The house is very clean and cosy. For me - is very nice, quiet, peaceful vacation. One more time - thanks and I trust that some day I'll come to Nea Roda (especially in Athos). The dreams must be fulfilled! P.S. The oil is very tasty, my mom also say thanks to you.
---
Languages:
Deutsch, English, Italiano, Ελληνικά
Response rate:
100%
Response time:
within a few hours
Explore other options in and around Nea Roda
More places to stay in Nea Roda: