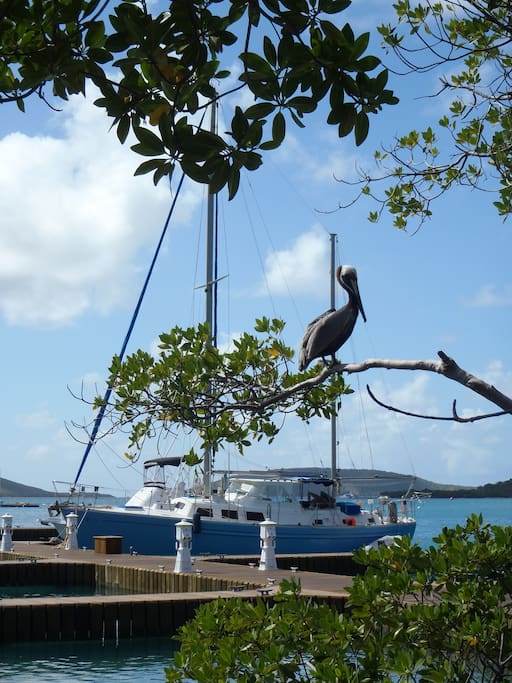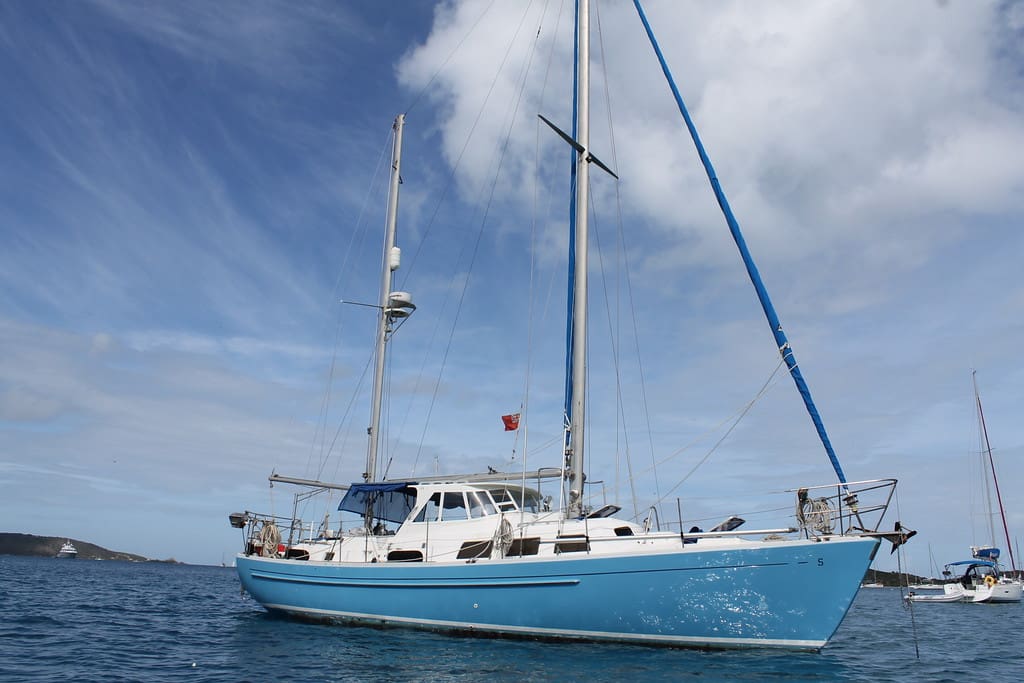 Adventures in Sailing! Spectacular Sea Views!
Hi, Scheel Delight is a comfortable 45' sailing ketch with 2 cabins and 2 bathrooms. A lovely cruise boat to enjoy your holiday of sailing around the BVI in the beautiful Caribbean waters... Come and join us aboard for the holiday adventure you have been dreaming about. You can experience your Sailing Adventure Holiday by booking today!
The space
Languages spoken - Fluent: English, German : Basic Understanding: French and Spanish
Your Captain speaks two languages fluently (English, German ) and has a basic understanding of French. Your first mate speaks fluent English with a basic understanding of Spanish.
Hi, Scheel Delight is a comfortable 45' sailing ketch with 2 cabins and 2 bathrooms. A lovely cruise boat to enjoy your holiday of sailing around the beautiful Caribbean waters... Your captain Kam will sail you around to the destinations of your desire. While the first mate Tannis (if available to join us) will be on board to assist the Captain and cater to your needs. Come and join us aboard for the holiday adventure you have been dreaming about. You can experience your All-Inclusive holiday by booking today.
Upon Your Arrival
Experience living on a comfortable ocean sailing yacht is that designed and equipped for sailing around the world! Cruising on a yacht is so different from staying in a hotel or resort. Every day is a new adventure! You can try your hand at sailing, or just relax with a chilled beverage. Up to you!
The typical vacation will have you picked up from the Beef Island airport, Tortola, or the BVI island of your choice.
At the boat we will transfer your luggage and provisions to your new home, sailing ketch Scheel Delight. After a tour of boat and briefing, if it is not too late in the day, we are off to our first anchorage. On the following day our sailing adventure will take us to many different coves and cays of the BVIs. We will tailor your sailing vacation to your interest and desires. Sail and explore one of many sugar-sand beaches and pristine reefs. You decide!
Amenities: Kitchen "galley"; Private bathroom; Essentials; Air Conditioning; All meals and snacks (depending on package); Shampoo; Soap; Hair Dryer; Laptop Friendly Workspace; Microwave; BBQ; Espresso Maker; Ceiling fans; Snorkeling Gear; and More
There are two cabins available. There is one spacious and private forward V-berth cabin which can accommodate two people sleeping together in a roomy queen size bed. This Space can also be set up as two single beds. There is a private head near the forward cabin for your sole use. Outdoor and indoor showering is available.
The Skipper and First Mate share the master stateroom with a king size bed and a full ensuite head with mini bathtub and shower. Accommodations to use this space may be made available by special request, such as Honeymooners (price surcharge applies). We will then bunk in the forward Vberth cabin.
Guest access
The following can be supplied and included in your vacation with us:
The boat is equipped with snorkel gear for those interested in exploring the stunning coral and fish around the Virgin Islands.
You can try your luck with the fishing line. If you happen to make a good catch we can serve it up for dinner!
The skipper or first mate will accommodate shore access by dinghy. We will be happy to drop you off on shore to explore on your own. Perhaps drop you off on a private beach for a few hours of alone time. Especially good for Honeymooners! We will provide you with a hand held radio to contact us when you are ready to return to the boat and for your peace of mind.
Should you wish to do some scuba diving it is at your own risk and associated costs are not included in your vacation package. The first mate is a certified diver and will be happy to keep you company on your dives.
Interaction with guests
The Captain 'Skipper' and first mate (when available) will be on board to sail the boat around to your desired destinations in the British Virgin Islands (BVIs).
We will be happy to socialize with you and also to provide you with your own space and privacy as needed.
Please read, other things to note and house rules for your GETTING READY GUIDE at bottom of the page for more information about your trip including pricing structure.
Other things to note
GETTING READY GUIDE
The following information has been compiled for our guests from a variety of sources. We hope you find it useful in getting ready for your charter. Just send us an email and we will be happy to answer any additional questions you may have.
This is a truly custom made vacation and is designed around the desires and wishes of you and your party. Your crew will do their best to make sure your charter is a fantastic experience filled with fond memories and one you will want to repeat. The crew will act as your skipper, cook, chief snack preparer and "Sundowner cocktail" maker. You will be cleaning up after yourself and helping doing the dishes after your meals.
For the adventurous you may wish to assist with handling lines, setting sails, or giving the helm a try.
Our captain has over three decades of sailing experience and over 2 decades of boat ownership. Our first mate is under the apprenticeship of the Skipper 'captain' and has been sailing for four years. So all you have to do is relax and enjoy your adventure in sailing! Imagine the perfect sunset ending a picture perfect day.
SV Scheel Delight is an ocean going cruising sailboat. This means that she was built to withstand the rigors of ocean crossings and as such is strongly built. Excluding the private cabins, all of the common areas are for your use. This is a sail boat and as such, at times, you will find yourself in close quarters with others on board. It's all part of the adventure. Welcome to life on board!
Most people consider Scheel Delight a nice boat. You be the judge. Scheel Delight is set-up to comfortably provide up to 2 guests plus crew with a safe and enjoyable sailing experience. She is very well equipped. As a result, she is also very complicated. The crew is prepared to help you with all aspects of using the boat. On deck, a sailing vessel can be a bit like an obstacle course, with winches, lines, and other hardware to negotiate. A boarding ladder is used to get on and off from the dingy or the water. This can make a sailboat charter unsuitable for anybody with physical limitations or medical issues.
Accommodations:
The Vberth has what is roughly a queen bed (Bunk). Your bathroom, or "head" as it is called on a boat, is another small space with a sink and marine toilet -- similar to, but larger than, the lavatory aboard an airliner. Except when sleeping, changing, or attending to personal matters, you will likely not be in your Vberth cabin. Rather, you will be relaxing in the salon, cockpit, on deck, in the water, or doing something ashore. Each bed is made-up with bed linens, pillows, bath and beach towels.
Storage for your use and storage for things like your collapsed luggage is very limited by lack of space. Pack lite. You will find that the majority of your time will be spent in beach wear anyway.
Showering aboard sailboats is like camping. Fresh water is a precious commodity aboard a boat. We can only take a limited amount of fresh water with us to last the duration of your charter. "Navy" showers are the rule – get wet, soap-up, rinse-off. On most charters, the typical place to shower is on-deck or we just jump in the water get out soap up and jump back in to rinse in the salt water then up on deck to rinse with fresh water. Even if you have made arrangements to book the master state room, which has a private shower, the same showering rules apply. If taking more or slightly longer showers is a 'must' for you, arrangements must be made ahead of time. As we must plan a stop to refill the water tanks and this may affect the sailing destinations itinerary; of course will be happy to accommodate this request.
Scheel Delight is equipped with air conditioning which can be made available by request. You will likely find that when under sail or at anchor the breeze is enough to keep you comfortable. Should you find yourself suffering from the heat or just really need a break we can turn on the AC in the salon area. Most areas of the boat also have opening ports to bring the breeze inside as well as fans throughout to circulate air. We expect that you will be comfortable at all times without AC.
Food and Meals:
A varied menu will be designed around the food selections on your general preferences and availability of items in the markets here. Unless you have chartered with the Captain Only option, your crew will prepare and serve your snacks and meals aboard. If you like, you can offer to help. The crew will have some favorite beverages available. If you want something special then it can be arranged for you to purchase it ahead of time or we can pick it up along the way. In the Caribbean, Rum is King -- plentiful, good, and a favorite of the crew for making "boat drinks" before sunset, and sipping after dinner. A welcome cocktail, nightly sundowner cocktail and open boat bar are included with the All-Inclusive Provisioning Plan. The open boat bar has a limited selection of tasty beverages for use during your charter.
Dining Ashore:
Although the food aboard is included if you've chosen the All-Inclusive Provisioning Plan, you may decide to take some meals ashore. You may enjoy the ambiance and menu at some local establishments, which can range from a fancy dinner to a traditional island beach barbeque. When you do dine ashore, you pay the bill. Most guests find a lunch and a dinner ashore provides some additional variety to your charter. The point is for you to enjoy the islands. As part of your all-inclusive package we will be happy to have onshore BBQ's parties on selected beaches.
Weather:
The extremely consistent weather conditions in the British Virgin Islands are one of the reasons this area is considered to be one of the best cruising grounds in the world. The trade winds are nearly constant ranging from 10-25 knots, allowing for wonderful sailing. These cooling trade winds also keep it pleasant aboard. The water temperature ranges from 76°F to 85°F (24°C to 30°C). Daytime temperatures rarely drop below 75°F in the winter or rise above 90°F in the summer. Even on a really warm day, if you are in the shade, you are comfortable because of the breeze. The night temperatures vary by only 10 degrees.
Activities:
The primary activities for your charter will be based from aboard Scheel Delight. These include sailing, swimming, snorkeling, sunning, relaxing, reading, napping, eating, and drinking. Additional activities like diving, parasailing, tours and other excursions are available depending on the island. The cost of these additional activities is not included in your charter fee.
Itinerary:
The itinerary is based on your preferences of activities. The captain will tailor your adventure to fit your requests. The Virgin Islands offer a tremendous variety of bays and anchorages to visit. It is typically not possible to see everything in one visit. You may need to return again in the future for another charter to see more. The itinerary will also be flexible to accommodate your schedule and activities. You may decide that you just need to spend one more night at that amazing anchorage. No worries as we can stay as long or a short as you like. Weather, safety, and other considerations may also affect the itinerary.
Anchoring is free where available. Should a mooring ball be required this cost is paid by you and not included in your charter. Cost of a mooring ball averages about $35.00 USD per night. Dockage can also be accommodated depending on availability of chosen marina and price varies by the location and island. All docking fees are at your cost and not included in charter. The dinghy is our "car" and takes us from the boat to shore. This works well day or night and there is really no need to stay at a dock. All dinghy transportation is included in your charter.
Motion Sickness and Medications:
If you are susceptible to motion sickness, then ask your doctor for a prescription, bring a non-prescription treatment, or use acupressure wristbands. Be sure to treat yourself for motion sickness before you are experiencing symptoms. If you don't know, wager on the safe side and bring something just in case.
Access to pharmacies is very limited so be sure to bring an adequate supply of any medications you require.
REMEMBER! IT IS A BOAT and can be a bit challenging to get on or off if the seas are bumpy! We try to set it up so that you can get on and off comfortably. As mentioned, getting aboard might be a challenge for some, so people with mobility issues and those who succumb to seasickness might want to think twice. We feel that everyone deserves the opportunity to experience a sailing adventure and with prior arrangements we will do our best to accommodate any special needs you may have needs.
Scheel Delight is super comfortable with a comfortable bathroom and spacious sleeping and salon. Wake up and enjoy your coffee/cappuccino/Espresso with a view of the Caribbean! The Caribbean is your pool to enjoy!
Power:
Electrical power in the Virgin Islands is the same 115 VAC as the US mainland, and Scheel Delight also has 115 VAC with domestic type outlets, and 12 VDC with car type accessory outlets. Charging of devices is done when the engine or generator is running. You will not need to bring any special power adaptors or inverters. You should bring whatever power cords and chargers are required for any electronic devices you are bringing.
Attire:
For much of your charter you will either be sailing, aboard at an anchorage, in the water, or going back and forth from a beach or dinghy dock in the dinghy. Figure that most of the time you will be in a swimsuit or shorts and shirt. The privacy and seclusion that being on a sailboat provides may make it acceptable for guests to sunbathe or swim ala natural at times during if so desired.
You will need to cover up properly when ashore. There are some beach bars/ restaurants where swimming attire is tolerated, but most establishments do ask that you wear appropriate clothes like shorts with shirts, or wraps for the women. A few finer restaurants may prefer a collared sports shirt and slacks for the gentlemen. No jackets or ties. "Smart Casual" is the rule of thumb for everyone. Around town, be sure to wear a shirt and shorts, or a cover-up over your bathing suit. Sometimes shoes are optional, but bikini tops are not appropriate.
While aboard we will all be in bare feet. Your sandals, flip-flops, or shoes will be for doing things ashore. If you must use footwear aboard, a dedicated pair with soft soles and non marking bottoms that have never previously seen terra firma would be preferred. Boat shoes are great if you have them.
Packing:
Most folks tend to over pack for their trip. The more you bring, the more you have to carry around and store in your Vberth cabin. If your bag is uncomfortable for you to carry it then you've packed way too much. Consider having a change of clothing in your carry-on luggage as you may want to get into something cooler and more comfortable upon arrival.
Many charter guests simply like to "carry-on" their things. To make this easier with today's travel restriction, we provide the following items; you will not need to bring Soaps, Shampoo, Bathing towels, Beach towels, bedding, pillows, hair dryer, or toilet paper.
As to sunscreen, please do not bring oily lotions that can cause the decks to become slippery and can stain the boats upholstery. Eco friendly products are appreciated in efforts to protect reefs and wildlife. Please, No spray suntan lotion (the acetone chemical in some melts plastic).
Only pack in soft, collapsible luggage, a duffle-bag, or backpack. The storage for your bags is limited, and there is no storage space for rigid suitcases.
Sunglasses are must have as the sun and reflection off the water can prove blinding. A hat is highly recommended. For a week charter we recommend 2 to 4 pairs of shorts, 5 to 6 shirts, 2 to 3 bathing suits and a bathing suit cover-up for women is handy.
There is a saying, "Bring half of the clothes and twice the amount of money that you think you'll need." Some higher end/fancy restaurants require a collared sport shirt and light trousers for men with suitable dress/skirt or pants suit for women. With the exception of a few boat or beach bars bikinis and swim trunks are not tolerated.
Snorkel Gear:
You can bring your own mask and snorkel, or use one from the assortment aboard. Fins can be a bit more difficult for travel. Please let us know the shoe sizes for all guests in your party so we can arrange in advance to have the right size fins available, and let us know if someone is bringing their own fins.
Photography:
Remember your photography equipment to capture those unforgettable memories. We will be happy to take pictures or video using your or our equipment, just ask. We have a water proof camera on board and will use it, with your permission, to help capture your adventure and those special moments. Please be advised that we may use these captured images and video in the promotion of our charters. This is a complimentary service should you agree with our photography polices. At the close of your sailing adventure we will make arrangements to provide you with a copy of all images and video taken. Inquire for further information on this complimentary service.
Music:
For your listening pleasure Scheel Delight has a music system with speakers throughout the boat. We have a large library of music available but you may want to bring some of your own to suit your personal tastes. Feel free to bring your favorite tunes on CD, iPod/iPhone/iPad player. We will be happy to play your music during your sailing adventure. Also, you will find a selection of books aboard to supplement what you bring.
Phone:
With today's roaming services most mainland cellular phones will work in the Virgin Islands. Check with your carrier regarding rates and roaming charges when making a connection from the USVI or BVI. If you have an unlocked phone, service can also be purchased from local retailers.
Money:
The US dollar is the currency used throughout the Virgin Islands. Many places now accept credit cards. Traveler's checks are not recommended. Banking conveniences in the islands are not as readily available as they are stateside, so bring some cash for situations where credit cards are not used.
Internet:
The ability to get on-line to access the Internet and get e-mail is increasing throughout the islands. You may find hot spots and Internet cafes at some of our anchorages. Otherwise enjoy the rare luxury of going off-grid and just relaxing.
Island Etiquette:
The Virgin Islands has its own culture and customs that can be different from the mainland. It is proper to greet the locals with a "Good Morning", "Good Afternoon" or "Good Evening". Virgin Islanders prize their privacy so if you want to take someone's picture, politely ask permission first. Remember that everyone is on "Island Time", so patience is a good thing. Generally, life moves at a slower pace in the islands. This is a natural consequence of the warm climate, since a slower pace is a normal way to avoid overheating in the tropics. This isn't just good manners; it's also an excellent way to enjoy a more relaxing experience during your Virgin Islands travel. After all, you are here to relax.
The beauty of the Virgin Islands is preserved in part by government regulations and the considerate behavior of its visitors. Some of the areas we will be visiting are in marine parks and sanctuaries where the flora and fauna is protected. Do not bring samples of marine life aboard. Leave them in the water or on the beach for others to enjoy. A good philosophy is to "Take only pictures, leave only footprints."
Health care in the British Virgin Islands is predominantly provided by private healthcare providers with an overlay of public support. There is a single public hospital in the British Virgin Islands - Peebles Hospital in Road Town on Tortola. There is also one private hospital - the Bougainvillea clinic (also in Road Town). On Anegada, Virgin Gorda and Jost Van Dyke, there are day clinics to serve non-emergency medical needs of those islands. For emergency medical evacuations from other islands a boat is maintained.
Additional Things to Note
Although we use other mail services be sure to message us through the Air B&B website. If you use reply from your own email provider, we will not get the message, Thanks!
IMPORTANT! The Coast Guard operates a "0 tolerance" drug program. The use, transportation, or possession of illegal drugs or narcotics, including marijuana, or of any other contraband, or the participation in any other unlawful activity is strictly prohibited.
Your just one click away from booking your sailing adventure on S/V Scheel Delight!
We hope to meet and then to exceed your expectations. Welcome aboard!
Thanks, Kam and Tannis
SV.Scheel.Delight
---
---
Common spaces
2 single beds
---
Not safe or suitable for infants (Under 2 years)
Check in is anytime after 10AM
Only pack in soft, collapsible luggage, a duffle-bag, or backpack.
While aboard we will all be in bare feet. Your sandals, flip-flops, or shoes will be for doing things ashore.
IMPORTANT! The Coast Guard operates a "0 tolerance" drug program. The use, transportation, or possession of illegal drugs or narcotics, including marijuana, or of any other contraband, or the participation in any other unlawful activity is strictly prohibited.
Rates
We primarily cater to singles or couples although we can accommodate up to four guests . The two settees in the salon may convert to single "boat size" bunks for additional guests.
The pricing per day is dependent upon the number of guests in each party and the selected charter plan.
Boat minimum price per night is $350.
All-inclusive Provisioning Plan
The pricing per day is dependent upon the number of guests in each party.
Boat minimum price per night is $450
For 2 guests, price is $500.00 per night
For 3 guests the price is $550.00 per night.
For 4 guests the price is $600 per night
This includes food and non-alcoholic beverages and limited stock open boat bar. We will provide you with meal options to choose from. This unless your tastes run to steaks etc. on the grill every night; any extras may result in a surcharge. We will welcome you upon arrival with a tasty cocktail and a nightly 'sundowner' cocktail is a nice treat.
Open Boat Bar: All guest must be of legal drink age. No minors are served alcohol of course!
Open Boat bar includes our selection of beers, alcohol and rum (limits apply). Bar mixes of our choosing are included. We have a few 'house specialties' for you to try, or create your own signature cocktails!
The All-Inclusive Provisioning Plan includes all items previous noted: Snorkeling Gear, beach and bath towels, all bedding, use of all galley equipment, dinghy transportation, Vberth or salon accommodations, use of private head, deck showers ('navy' showers only), use of music system, gourmet style meals prepared by your crew, use of fishing gear, our photography service, shampoo and bathing soap, use of hand held radios for off boat communication, and more.
You have all access to everything on the boat (including Master Stateroom by arrangement). The boat is fully furnished! Even a hammock can be set up on deck while at anchor to relax or nap in.
Captain Only Plan
The pricing per day is dependent upon the number of guests in each party.
Boat minimum price per night is $350.00
For up to 2 guests, price is $350.00 per night
For 3 guests the price is $450.00 per night.
For 4 guests the price is $500 per night.
You supply your own provisions (food, beverages and liquors). Once onboard we will be happy to assist you in the preparation of your meals and show you how everything works in the galley. Provisioning of the boat prior to your arrival for breakfast, lunch, Dinner and snack foods at local market costs is available for guests. If you choose this option you may contact the local store to place your order for delivery to the boat on the day of your arrival. We can also take you shopping to select your items in person.
Vberth or salon accommodations, use of private head, deck showers ('navy' showers only), use of music system, our photography service, beach and bath towels, all bedding, use of all galley equipment, dinghy transportation.
All Plans
We pass along any customs and immigration fees charged per guest within the Virgin Islands… as well as the cost of stays on mooring balls or in marinas first, last or any night if so desired.
Many people like to sample the Caribbean cuisine at the shore side restaurants, this cost not included in charter fee.
NOTE: Excessive drinking, drunk and disorderly conduct, verbal or physical abuse is not tolerated and may result in the untimely termination of your charter with no refunds for unused days. The safety of crew and passengers are our priority. We hope to NEVER have to invoke this safety policy.
The boat layout has 2 cabins (Vberth (forward cabin) and Master Stateroom (aft cabin), and 2 convertible bunks in the salon. Captain and first mate lives in the aft cabin. So Vberth cabin available for charters. For charters with extra people or singles the forward cabin and salon bunks are available.
By special request and honeymooner trips the captain and first mate can bunk in the forward cabin freeing up the aft cabin (surcharge applies, please inquire).
Let us know if you are chartering for your honeymoon or anniversary so we have the opportunity to provide an extra special touch of romance to your stay. Please contact us to make arrangements if you wish to add your own personal special romantic touch to surprise your partner. We are happy to accommodate any special requests.
We can also accommodate day sailing dependent on our availability. Day or half day sails. Prices range from $50 per person and up depending on number of passengers. Please inquire for details.
---
Couple who love sailing and adventure.
Languages:
Deutsch, English
Response rate:
100%
Response time:
within an hour
Explore other options in and around Spanish Town
More places to stay in Spanish Town: