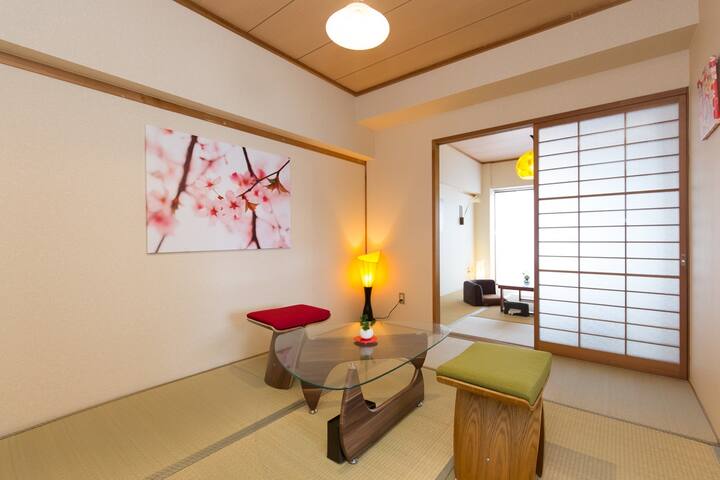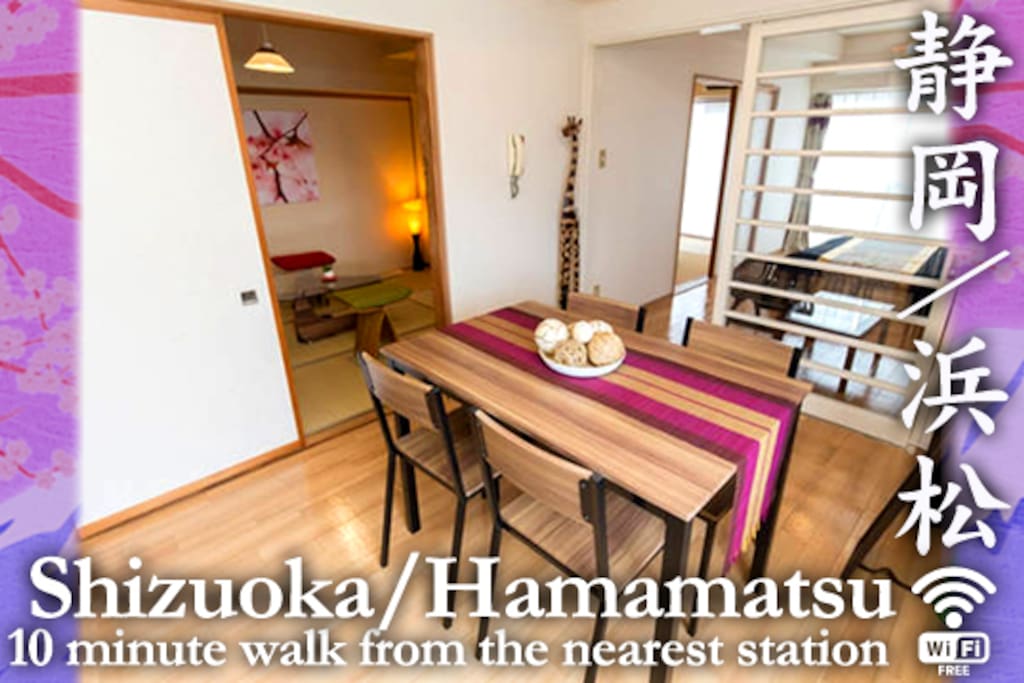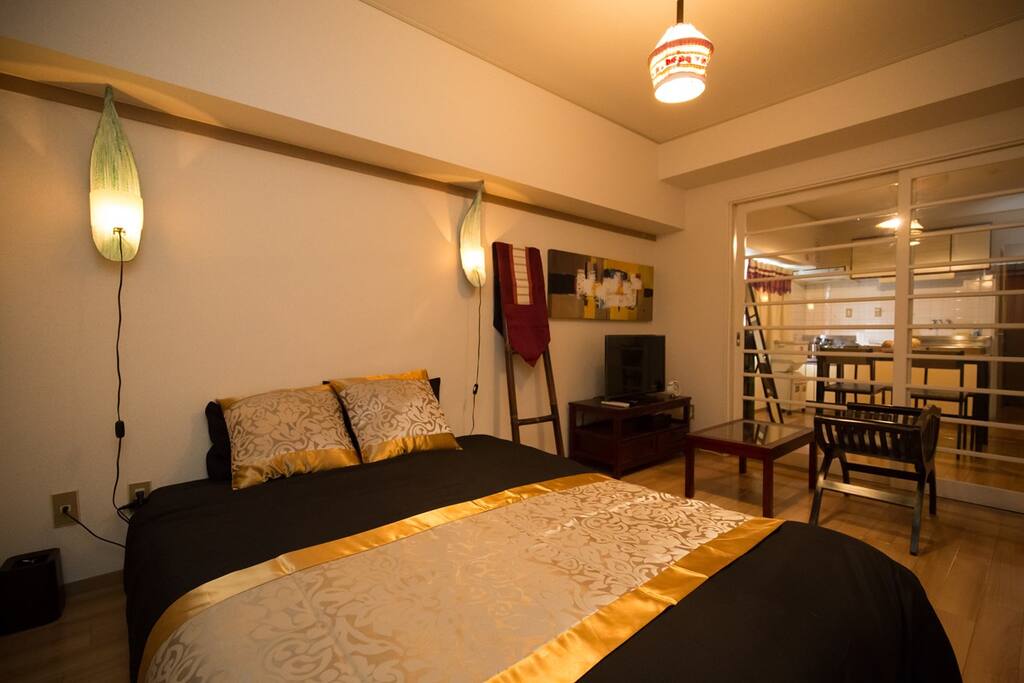 Apt Near Hamamatsu STA Easy Access Wi-Fi!!! #AD501
A spacious, beautiful room located in Hamamatsu, Shizuoka Prefecture. It is close to Hamamatsu station, so you have access to the Shinkansen bullet train, as well as various buses going to different parts of Hamamatsu and Shizuoka. Explore the ancient history in Hamamatsu Castle, or immerse yourself in music-Hamamatsu is also known as the town of music. Free portable WiFi is provided for your pleasure. Have a wonderful stay!
The space
★UNIT★
-- Entirely rented
-- 3 Bedrooms
Western Style Room: 1 Double Sized Bed
Japanese Style Room A: 3 Single Sized Futon Sets
Japanese Style Room B: 3 Single Sized Futon Sets
-- Dining Space
-- Kitchen Space
-- 1.5 Unit Bathroom (Shower and Toilet in different rooms)
-- Elevator
-- Balcony
-- Non-Smoking
★SIZE★
54.90m²
★BEDS★
1 Double Sized Bed (2 Guests)
6 Single Sized Futon Set (6 Guests)
★ACCOMODATES★
MAXIMUM - 8 GUESTS
COMFORTABLY - 7 GUESTS
Guest access
★BEDDING and ROOM★
-- 1 Double Sized Bed (140x200cm)
-- 6 Single Sized Futon Sets (100x200cm)
-- Pillows (1 for futons, 2 for bed)
-- Sun Shading Curtains
-- Television and Television Board
★EQUIPMENT / AMENITIES★
-- Pocket WiFi
-- Television
-- Air Conditioning
-- Heating
-- Standing Mirror
-- Slippers
-- Sorted Trash Bin
-- Trash Bin
-- Washing Machine
-- Laundry Detergent
-- Fabric Softener
-- Peg Hanger
-- Hangers
-- Iron and Ironing Board
★KITCHEN AMENITIES★
-- Refrigerator
-- Microwave
-- Electric Kettle
-- Kitchen Knife/Cutting Board
-- Spatula
-- Saucepan
-- Frying Pan
-- Induction Hob
-- Plates
-- Glasses and Mug Cups
-- Cutlery
-- Chopsticks
-- Dishwashing Liquid and Sponge
★BATHROOM/SHOWER★
-- Bathtub and Shower with hot water
-- Shampoo/Conditioner/Body Soap
-- Body Sponge
-- Facial Foam
-- Hand Soap
-- Face Towel
-- Bath Towel
-- Toilet
-- Toilet Paper
-- Tissues
-- Hair Dryer
★CLEANING★
-- Vacuum
Interaction with guests
I mainly communicate with my guests via Airbnb message system. Please feel free to contact me shall you need any assistance.
Other things to note
※There are coin lockers available at HAMAMATSU station for storing luggage.
※The key will be on-site waiting for you. You can conveniently self check-in after check-in time.

★PLEASE NOTE★
★★★FREQUENTLY ASKED QUESTIONS★★★
1. When can I CHECK-IN / CHECK-OUT?
- Check-in is at 3PM or Anytime after. Late check-in is always available for late night arriving flights.
- Check-out is at 10AM or anytime before.
*Early check-ins or dropping luggage before check-in time may be possible if there is no previous guest checking out at the same day. I can only confirm with you 24 hours before your check-in.
*Late check-outs may be possible if there are no guests checking in on the same day. Please be sure to confirm with me beforehand.
1.2 Can I store my luggage after check-out ?
- This may be possible depending on the situation, such as if there are no check-ins on your check-out date. Please be sure to confirm with me beforehand.
2. When is this room AVAILABLE?
The calendar is ALWAYS UP-TO-DATE. There is no need to confirm availability prior to booking.
One Night reservations are not accepted. Last minute booking is OK. (Please let us know your expected arrival time)
3. DO YOU CHARGE FOR CHILDREN?
-- Age 0 to Age 6: FREE!(Doesn't count as a guest)
-- 7+: Full extra guests fee!(Count as a guest)
Sorry, there is no baby bed available.
4. WHY IS THE PRICE DIFFERENT THAN WHAT I AM CALCULATING?
The total price is composed of three parts:
1) [nightly price] x [number of nights] + (Extra guests fee)
2) Cleaning fee(one-time fee)
3) Service fee(one-time fee set and collected by airbnb, typically between 6% and 12% )
Price will fluctuate during peak seasons, holidays, and special events.
Enter in your specific dates on the calendar to see the current price for those days.
5. Will I get charged for the deposit ?
- Security deposits help cover accidents that occur during a reservation, like spilled wine on the rug, a broken window, or an unreturned key. Hosts must add a security deposit to their listing before a reservation is booked. Security deposits can't be handled off-site in cash, as off-site payments are a violation of our terms.
When a reservation is accepted, the security deposit details and guest's payment information is stored. No charges or authorizations will be made to the guest's payment method unless the host needs to make a claim. A host has 48 hours after the checkout date to make a claim on the security deposit.
---
---
Bedroom 2
3 floor mattresses
Bedroom 3
3 floor mattresses
---
Check in time is 3PM - 12AM (midnight)
Self check-in with lockbox
★House rules★
-----------------------English Version---------------------
Thank you for your interest in my apartment. I really look forward to welcoming you(your group) to my apartment. I will do my best to make your stay as pleasant as possible and offer some advice on local restaurants and things to do :) I really hope you will have a great trip while staying at my apartment. Before placing a reservation I need us to mutually agree if my place is suitable for you(your group) first though. I already received complaints from the neighbors after hosting some guests who made a lot of noise and I might get in trouble next time that happens. If you agree to spend your time at the apartment quietly(regularly quietly) and respect the neighbors, it will be my pleasure to host you(your group). If you want a place where you can be noisy, please consider a hotel, my apartment is just a regular apartment and the neighbors must wake up early to go to work.(I am sure you can understand :)
Thank you for reading and I really really hope to receive you during your stay :) The house rules are very simple. Please read them before your stay.
※If you extend your reservation on the morning of your check-out you will have to pay the cleaning cancellation fee. We may have to pay cancellations fee because our cleaners may already be on their way to the apartment. If you want to extend your stay, please advise us at least 48 hours before your check-out
※HOUSE RULES※
(1) Take off your shoes when entering.
(2) No smoking
(3) No partying or any other type of loud behavior
(4) When nearby the listing, take care not to disturb the neighbors
(5) Turn EVERYTHING off when leaving the house and lock the door
(6) Do not use the towels or linens in the closet. They are for the next guests. Use the washing machine to wash your towels.
(7) Quiet hours are from 9PM to 7AM.
(8) Do not visit, the neighboring apartments/houses.
(9) If the interphone rings, simply ignore it. The person ringing is expecting to speak to the home owner.
(10) Room cleaning starts at 10AM on check-out day. Do not negotiate for a late check-out. Please accept this condition BEFORE booking.
(11) The apartment is just an apartment, not a hotel. Please understand there are no concierge services, daily cleaning, room service, etc as there is in hotels.
(12) Keep the apartment clean.
(13) If the guest loses the key, he/she will be responsible for paying the KEY AND THE LOCK replacement fee. Exact prices will be sent along with proof(receipts/estimate) of the replacement cost. Expect the cost to be from 200 USD $ to 400 USD $.
(14) Do not have anything shipped to the listing.
(15) Lastly, I simply ask you (the guest) to have consideration towards the apartment and the neighbors as if they were your own.
*DISCLAIMER*
-- I take no responsibility in the event of death or injury of any of the guests renting the property. The person who placed the reservation is 100% responsible of himself and of his group.

------------------------한국어버전-----------------------
저희 숙소를 찾아주셔서 감사합니다.숙박하시는 동안 좋은 여행이 될수 있도로 최선을
다 할테니 문제가 있으시면 언제든지 연락 주시길 바랍니다.그리고 예약 하시긴 전에 꼭 확인 부탁드리고 싶은게 하나 있습니다.저녁시간에 너무 시끄럽게 하시면 이웃에서 클레임이 들어올수 있습니다.
그렇게 되면 아주 심각한 상황이 될수 있으니 저녁 시간에는 조용히 지내주시길 바랍니다.이 점만 괞찮으시다면 아주 아주 환영입니다.
※숙박연장을 하실 경우에는 꼭 체크아웃 48시간전에 연락 주시길 바랍니다.체크 아웃 당일 숙박연장 요청하시면 이미 예약된 객실청소 취소가 안되므로 이로 인해 발생한 수수료는 고객님께서 전액 부담하셔야 합니다.
※숙소 이용규칙※
(1) 신발은 반드시 현관에서 벗어주시길 바랍니다.
(2) 건물 그리고 숙소내(방,거실,베란다,복도,로비 등)에서의 흡연은 삼가해 주시길 바랍니다.
(3) 일본에서는 저녁9시부터 다음날 아침 7시까지가 휴식을 취하는 시간이기 때문에,이웃 주민들에게 폐를 끼치지 않도록 조용히 지내주시길 바랍니다.
(4) 하우스가이드에는 쓰레기 버리는 방법,각종 설비 사용방법 등이 기재되어 있으니,꼭 한번은 확인해 주시길 바랍니다.
(5) 인터폰 혹은 인터폰모니터에는 긴급버튼이 있지만 절대 누르지 마시길 바랍니다.그리고 벨이 울려도 절대로 대답하지 마시길 바랍니다.
(6) 숙소 1층에 계시는 관리인 뿐만 아니라 아파트에 살고 계시는 다른 분에게는 말을 걸지 마십시오.긴급상황시에는 저에게 바로 연락하시길 바랍니다.가능한 빨리 처리해 드리겠습니다.
(7) 민박이기 때문에 호텔과 같은 서비스는 제공할수 없으니 양해 부탁드립니다.(타올 등은 1인/1개 이기때문에 세탁해서 사용하시길 바랍니다.)
(8) 열쇠(키)는 절대 잃어버리지 말아 주십시오.만약에 잃어버렸을 경우 전액 부담하셔야 됩니다.일본에서 열쇠(키)를 복사하려면 엄청난 돈이 들기 때문에 유의해 주시길 바랍니다.
※특별히 주의해야 할 점※
-- 숙박기간에 그 어떠한 사고(부상or사망 등)가 발생하여도 책임질 수가 없으니 양해 부탁드립니다.
------------------------中文版本-----------------------
感谢您中意我的公寓,我衷心期待着您(和您的团队)入住我的公寓!我会尽我最大所能让您住得舒服。如您有需要,我可以向您推荐一些当地口碑不错的餐厅和其它建议等等。为了避免交流失误和之后可能的不快,在您正式预约之前,我需要和您确认一件事:由于之前入住的客人在晚上过于吵闹,我已多次收到来自邻居的不满和投诉。如果再次发生这样的事情,那将会造成很严重的后果,因此我希望之后入住我公寓的客人们能接受这一请求,那就是在入住期间,一定要注意自己的音量,避免大声喧哗,维持良好的邻里关系。如果您能体谅这一点,并且确定可以切实做到,那我真的真的非常欢迎您(和您的团队)入住我的公寓!
※房屋守则※
(1) 請在玄關處脫鞋再進入室內。
(2) 請至少讀一次★房屋指南★,因為裡面寫有各種細節信息,比如如何使用房間內的各項設施設備,還有在日本很重要的垃圾分類方法和正確的棄置處、可丟棄日等等,所以一定要看哦~
(3) 公寓是完全禁煙的。包括陽台在內,請不要在室內吸煙,也請不要在公寓大樓的其它公共部分,比如入口處、大廳、電梯內等地方吸煙哦。
(4) 在日本,晚上9點至第二天早上7點是作息時間內的休息時段,因此在這個時間段內,請尤其注意音量,避免大聲喧嘩而影響到鄰居及他人的休息。出入公寓的時候也請盡量保持安靜哦~
(5) 大多數日本公寓的入口處門鈴電子板或者室內的門鈴電子板上會帶有一個緊急按鈕鍵,請避免按到它,因為按響它之後會各種麻煩。另外,門鈴響的時候也請不要回答,直接忽視就行,由於語言以及是否房東本人等條件限制可能會引起一些問題煩,因此請不要回應。
(6) 即使公寓內有管理人在也請不要去咨詢或者尋求幫助;即使在非常緊急的情況下,也請盡量避免和其他公寓內的住客進行交流,如遇這種情況,或者亟待幫助,請直接打我的手機與我進行聯繫,請相信我會盡最大可能迅速做出應對的。
(7) 請理解公寓只是民宿,就像普通的住居一樣,而並非酒店或者旅館,因此實在是沒有辦法提供像酒店那樣的門衛、每日清掃以及客房服務等,公寓內的備品也是住宿期內人均一份,毛巾等煩請自行清洗,謝謝您的諒解。
(8) 如果不小心弄丟了鑰匙是需要全額賠償的。因為日本的鑰匙製作很繁瑣,有時候特別的鑰匙重新製作的費用又相當昂貴,因此鑰匙並沒有備份的。請無論如何一定要保管好鑰匙。弄丟的的話就糟啦!
※不得不事先声明的事项※
-- 在入住期间,若您严重受伤或发生人身事故,非常抱歉,我不能负责。房客本人负全责。请谅解。(抱歉这不是想要乌鸦嘴,但我不得不如此写明,请谅解!)
-----------------------日本語版---------------------
1. 室内では靴を脱いでください。
2. 建物内、廊下、お部屋は全面禁煙です。
3. 建物の外で喫煙をする際に建物の前でたむろすることや吸殻を捨てるなど近隣の迷惑になる行為はしないでください。
4. 21時~7時までは近隣のことを配慮して静かにお過ごしください。
5. 宿泊者以外の立ち入りは原則禁止です。
6. 外出時は必ずエアコン、テレビ、照明などの電源を切ってから外出をお願いします。
7. インターフォンには応答しないでください。
8. 建物周辺やアパート内で住人に何か質問された場合は私の友達と説明してください。
9. ゴミ捨てのルールは、ハウスマニュアルに記載してありますので、そちらを遵守してください。
ご不明な場合はお部屋にゴミを残してチェックアウトしてください。
10. タオルやリネン類は1人1枚ずつの使用でお願いします。汚れた場合はお手数ですが、ご自分で洗濯をお願いします。
11. 滞在途中に清掃はいたしません。お部屋が汚れた場合は掃除をお願いします。
12. ルームキーを無くした場合は弁償していただきます。
13. 緊急時にはすぐに電話やSNSですぐに連絡してください。
14. 自分の家のように部屋では靴は脱いでお部屋に上がってください。
15. 延泊をご希望の場合は2日前までにご連絡下さい。
当日に延泊を申請する場合は清掃費用の半額を清掃のキャンセル料として頂きます。
16. チェックアウトが遅れた場合、20ドルの追加料金と1時間毎に20ドルの追加料金を頂きます。
17. チェックアウトが遅れ、清掃業務に支障が出た場合に追加料金をお支払いいただく場合がございます。あらかじめご了承下さい。
18. アタッシュケース、ベビーカー等、普通ゴミとして処理できない残地物がある場合、処分費用として請求することがあることを予めご了承ください。
---
The appartement is huge well located, close to shops, nightlife, restaurant and with walkable distance to the station. The kitchen and the bathroom are pretty old and the bathroom take very long time to dry out after a shower (so we could never use it). We weren't allowed to have an additional towel to dry out our feet before leaving the bathroom or have a towel for our baby. We were a little unimpressed with the list of detailed rules of the house, do's and don'ts that made our stay less pleasant.
---
Great location, close to shopping, restaurants. Directions with walking video from train station with highlights pointed out very helpful. Would stay here again.
---
This Apt. was amazing. It is a short walk from the Hamamatsu station. Once at the Apt. you have the choice of a mall a block a way with a movie theater. A Daiso 10 min away and a 24 hr family mart across the street! The Hamamtsu castle is also nearby! The city was quiet and peaceful and just a great place to be. Im coming back next time im in Japan!
---
Koe House is very near to the station and at a very strategic place. There are many restaurants, convenient stores and souvenir shops within walking distance! The rooms are spacious and the futons are comfortable! Recommended place to stay in Kawaguchiko~
---
A great find! If you ever come to Hamamatsu this is the place to stay. Walking distance to train and bus stations as well as near markets and the shopping mall. The wifi was great and the place was clean. I would definitely use Hironori's Airbnb again.
---
Thank you so much for taking time writing such a great review for me Chloe. Truly appreciated.I am happy you enjoyed your stay and that everything is to your liking. Such a pleasure hosting you.Looking forward hosting you again. Wishing you the best in your future travels!
---
Languages:
English, Français, 中文, 日本語, 한국어
Response rate:
100%
Response time:
within an hour
Explore other options in and around Naka-ku, Hamamatsu-shi
More places to stay in Naka-ku, Hamamatsu-shi: